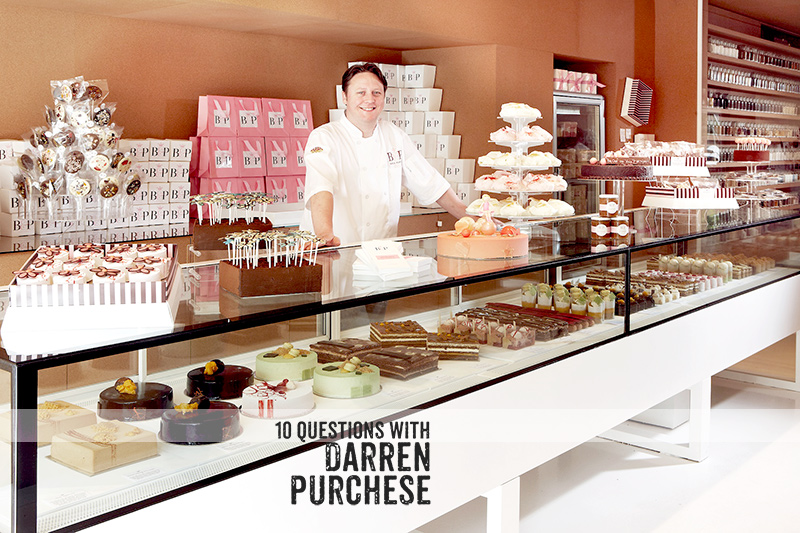 I have partnered with Nespresso in the month of June and pastry wizard Darren Purchese of Burch&Purchese fame to bring you the seduction of the Caramel Flavour in the Great #FlavourDebate. Go Team Caramel!! (I can tell you the Caramelito is just beautiful because I have been having it for two weeks now!). Darren has an obvious soft spot for caramel in the line of work he does and will be sharing a special recipe created using the Nespresso Caramelito coffee. As will I, next week.
Darren Purchese is the owner and pastry chef of the hugely popular 'Burch & Purchese Sweet Studio' in South Yarra, Melbourne. His Sweet Studio has quickly gained a reputation for being one of the most original and innovative dessert shops in Australia (do we hear Sydney calling?). Originally from the UK Darren now calls Australia home and opened his first store in 2011. The studio focuses on new and unique dessert combinations fusing science with sweetness and his celebration cakes are much sought after. Darren is a regular presenter at food and gastronomy seminars worldwide and is a familiar face on our TV screens most notably with Masterchef Australia. His first cookbook,
'Sweet Studio – The Art of Divine Desserts'
is available from Murdoch Books.
Today Darren has taken a little break from being the Willy Wonka of pastry and answered some fun questions for you. He is also offering a generous B&P hamper stuffed full of some of
their favourite treats
including
salted caramel
(how GOOD does that look??) and a signed copy of his book 'Sweet Studio – The Art of Divine Desserts'. Thank you Darren for all the goodies and taking the time out to do this!
Me Five things in your fridge right now
D I have Vegemite, Wine, Meredith Goats Cheese, Osso Bucco (from last night) and smoked ham hock (for a soup at the weekend)
Me Five things that shouldn't be in your shopping trolley, but are.
D Cocoa Cola, Bacon, Jaffa Cakes, Connoisseur Salted Caramel Ice Cream & Bread
Me Biggest bane of a pastry wizard. How do you overcome it?
D Putting on weight from all of the tastings and sweet things that are in the kitchen. You need self control and a strategy when you get hungry…I'm working on it.
Me Most unusual inspiration for a sweet masterpiece you developed?
D have created desserts with may unusual (for dessert) ingredients, including bacon, avocado, parsnip, tomato & wasabi. I was asked to make a dessert with beer in it for the Spring racing carnival last year.
Me Picking one from your amazing array of creations would be like picking a favourite child – quite impossible! But if you were to pick a favourite, what would it be and why?
D My favourites change all of the time, usually it is the newer creations that I favour and of course anything with caramel in it. The one I always go back to though is my coconut, passionfruit, ginger & mint dessert tube
Me If there was one savoury dish to tip the scale from sweet, what would it be?
D Roast beef, yorkshire pudding, veggies, gravy etc
Me Music that makes pastry pleasure?
D Joe Strummer, Paul Weller & Ian Brown
Me When you are not in the kitchen, where would we find you?
D Usually I spend most of every day at Sweet Studio, but if not you will find me at home cooking with my wife Cath.
Me Last Meal.
D My wife's slow cooked lamb shoulder with tzatziki, salad & something nice and white to drink. Maybe a warm pear tarte tatin and vanilla ice cream to finish with some caramel sauce (of course).
Me One piece of culinary wisdom you would like to leave to this world.
D You never stop learning! The thing I am constantly aware of as I get older is simplicity in preparation is becoming more important to me.
Thanks Darren!
TO WIN A SWEET STUDIO HAMPER (Sweet studio goodies, salted caramel, signed copy of Sweet Studio cookbook)
1. YOU MUST have an AUSTRALIAN address.
2. YOU MUST LEAVE A COMMENT BELOW that starts with "Supertaffycaramelistic" and finish this sentence in as many words as you like "I LIKE TO LICK …". (Keep it clean and family friendly people!!)
3. WINNER will be picked on the originality and entertainment value of their answer.
4. Giveaway runs until June 24, 2013 (Monday) and winner will be announced on my Facebook Page, here on the blog and via email.
Note – Don't forget to join the
#FlavourDebate on #Nespresso
to win a glorious $1500 prize pack!! (3 to be won). All pictures are courtesy of Darren Purchese and Burch&Purchese Sweet Studio.