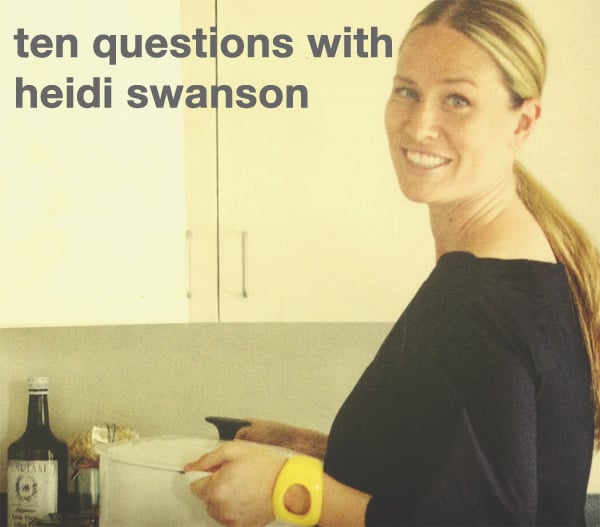 The Spotlight is on. And in the month of January 2012, it is on food-blogger and cookbook author Heidi Swanson of 101 Cookbooks. Heidi has one of the oldest and most original voices in the ever burgeoning world of food blogs and photography. She has a unique perspective of food and its preparation, one that is inspiring and uplifting. With her signature muted photographs and stories accompanied by shots of moody landscapes, Heidi draws you in. Before you know it, you want to cook what she has cooked and set foot where she has traveled. Her passion and love for whole foods is never changing and constantly evolving. She might have been singularly responsible for educating a whole generation of cooks to recognise the difference between tempeh and tofu. For the past two weeks, I have been exploring Heidi's food philosophy in depth and cooking extensively from her latest cookbook Super Natural Every Day. Heidi was kind enough to answer some questions for Cook Republic's readers. It was lovely to get a little peek into her thought process and read her interesting answers. Thanks Heidi!
1. What is the most challenging ingredient you have cooked with?
eggplant.
2. What is your most unusual source of inspiration for a recipe?
dreams.
3. Broccoli is the new potato. What is the new broccoli?
arugula.
4. Something that sneaks into your shopping trolley every now and then.
stacks of magazines.
5. Latest food discovery.
I keep finding new ways to use mesquite flour.
6. What would you bring to a picnic?
soba noodle salad, friends, camera, bubbles, good beer.
7. 5 staples in your shopping trolley
yogurt, almond butter, coconut milk, vegetables, fresh flowers
8. Favourite dish of the season
roasted delicate squash with oregano drizzle.
9. The best and most memorable meal anyone has ever cooked for you.
It's hard to single out one, but the meal cooked over a campfire in the middle of the Serengeti surrounded by hyenas was pretty memorable.
10. Your most cherished food philosophy that you hope to inspire
future generation of cooks with.
Not everyone can draw, or paint, or sing well – but everyone can learn to cook and bake something simple and delicious to share.
Note
– Thanks to
Hardie Grant
for arranging he web interview with Heidi Swanson.