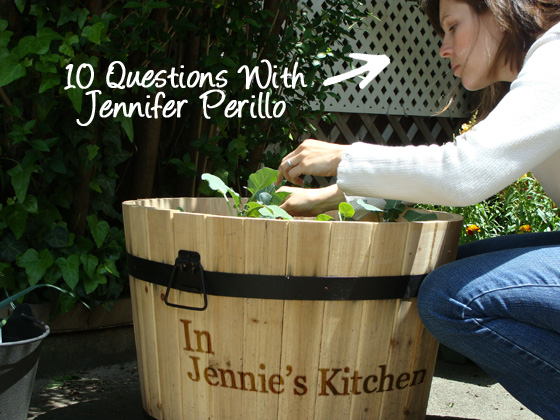 Its 10 Questions time again and our chosen popular food blogger of the moment is Jennifer Perillo of In Jennie's Kitchen. For the past few days I have been sifting through Jennifer's blog and have been delighted with some great finds that always have a unique twist and names that just beg you to cook it yourself. I have filed away the 47-minute Spinach Lasagna, the Square Pistachio Cupcakes, the Same Day Pickle and the Very Coconut Custard Pie as "must make soon" in my bookmarks! What does Jennifer do you ask and where does she come up with such wonderful concoctions? Jennie is a woman of science and all her experiments take place in the kitchen. She is the consulting food editor at Working Mother magazine and developing recipes comes as naturally to her as weaving them into delicious sounding sentences on her blog. When she is not creating recipes, you can find Jennifer tweeting on Twitter as @jenniferperillo.
Thank You Jennifer for taking the time to do this little interview for us. It is much appreciated!

1. Your latest food discovery?
My vegetable garden. I've always believed in to sustainability and supporting local agriculture and have immense respect for farmers. Growing my own garden has helped connect the Farm to Table dots. Seeing how a snow pea goes from a plant to a flower to an edible prize, and the time it takes for it all to happen solidified my belief that food should not be a bargain basement sale. It has deepened my respect for this pure, simple gift from the earth.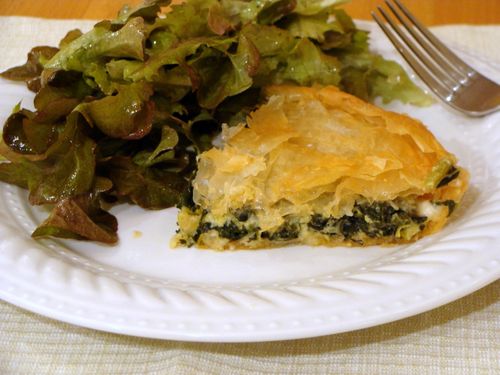 In Jennie's Kitchen : Budget Gourmet Spanakopita
2. What cookbook has inspired you the most?
While I have shelves of cookbooks lining the kitchen wall, it's actually Cook's Illustrated magazine that has had more of an impact. The way they breakdown the stages of testing a recipe and finding the right ratio/ingredients teaches cooks an understanding of how ingredients work. Now, if we're talking drinks, my bible would have to be Nick Mautone's Raising the Bar. I worked with Nick while he was the GM at Gramercy Tavern and his book is without a doubt the only cocktail book you'll ever need.

3. Your fondest food memory?
Oh, that would have to be the first year I started baking cookies with my aunt. She'd been baking hundreds of dozens of cookies for friends and family every Christmas for 30 years. About 10 years ago she was recovering from uterine cancer and was going to scrap her baking plans. I was determined the show must go on, so she mixed batch after a batch, while I rolled, cut, and decorated 120 dozen cookies. It became our tradition ever since, although I've missed it twice with the birth of my daughters.
4. Your most trusty kitchen companion?
Just one? If I were stranded on a desert island can I take two? Please? It would have to be my Wusthof chef's knife and a pair of tongs? They are my third hand. If I can only take one and there's miraculously electricity, then I'm packing my Cuisinart food processor.


In Jennie's Kitchen : Butter 101

5. Quick, tell us 10 things that are in your fridge right now!
Strawberry jam
Kerrygold butter (back up for when I'm not making my own)
Homemade rhubarb syrup and seltzer to go with it
Ronnybrook Farms milk
Leftover Tangerine Tofu from Chinese restaurant (even a cook needs a break!)
Nitrate-free bacon from Esposito's, a local pork store
Fresh mozzarella from Caputo's, a local Italian market
Eggs from Grazin' Angus Acres
Old-fashioned oats? best place to store them for freshness.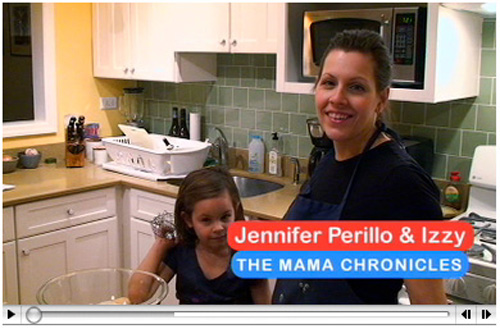 In Jennie's Kitchen : Jennifer With Daughter Izzy Making Muffins

6. One ingredient that frightens you the most? Why?
Anything organs. It may be the unpleasant olfactory memories I have of my mom frying liver cutlets? It was a 70s thing I suppose. I've tried every part having worked at Gramercy Tavern but it wasn't my favorite food memory for sure. Much more fun having tasted Claudia Fleming's creations in the pastry kitchen!
7. What are you doing food wise to be more ecologically responsible?
It's a combination of shopping locally, learning what are acceptable/necessary portions and understanding that meals do not need to be a meatfest. Yesterday I opted for a small chicken from my local farmer. The chicken is $6/pound and worth every penny but I didn't want to add another $24 to my budget to buy a big bird. Instead I decided to use meat from a smaller one for chicken tacos and the carcass will probably be the perfect size to make soup for four, which I'll serve with a big salad.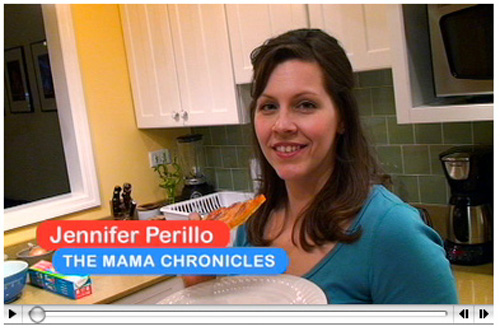 In Jennie's Kitchen : Pizza Fridays
8. Which celebrity chef would you invite to dinner? What would you cook for them?
This will inevitably come back to haunt me, but I'm not into celebrity chefs. I mean, I enjoy watching them, reading their recipes but have worked with enough of them (Bobby Flay, Tom Colicchio, Alain Ducasse) to know they are just like the rest of us. In some cases, they spend less time in their own kitchens than everyday people. I do have a celebrity on the rise, though, that I'd love cook with? Jaden Hair from The Steamy Kitchen. I imagine her sass adds lots of flavor and fun to her food!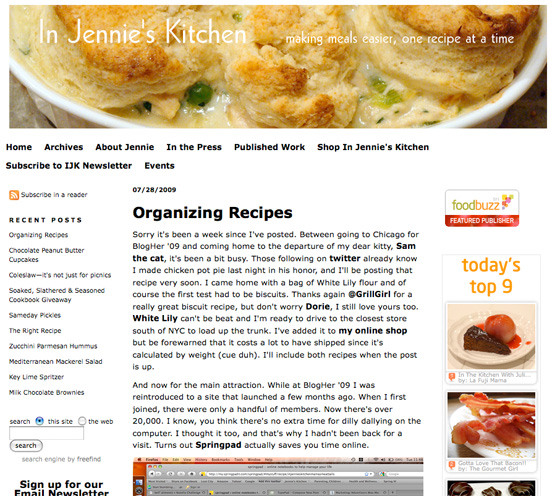 9. What vegetable are you?
Maybe an eggplant. While I'm generally super nice and easy to get along with, I can be a bitter bite if not prepped properly. I also have the occasional dark side…
10. Comfort Food?
A bowl of homemade pasta with tomato basil sauce and meatballs.
So glad to be one of the food bloggers featured! Thanks for the interview Sneh!
And Thank You once again Jennifer for letting us into your little world and sharing some thoughts on food, recipes and sustainability.
[All recipe photographs/personal photo/blog screenshot are Copyright of Jennifer Perillo at In Jennie's Kitchen and have been used in this article with permission from the author]