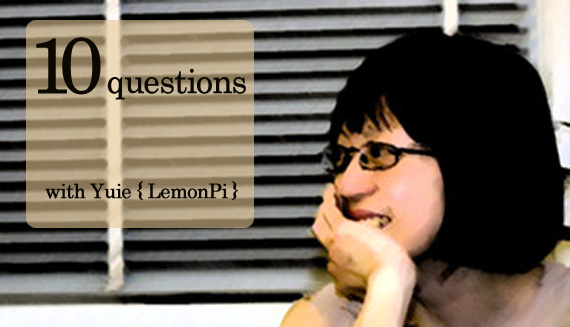 Continuing on with our new series 10 Questions With A Food Blogger, we have today the lovely Yuie from Lemonpi joining us to answer some fun questions. I discovered Yuie's blog earlier this year and was fascinated by her extremely unique take on the subject of food and blogging. You will find some really rare recipes on her wonderful blog with delicious photos and a writing style that ebbs and flows delicately. When I started chatting with her on Twitter, I decided to ask her to do this feature for my blog and she graciously accepted. So without further ado, meet Yuie or Y as most everyone refers to her as and read about her thoughts and takes on food discoveries, cookbooks and going green.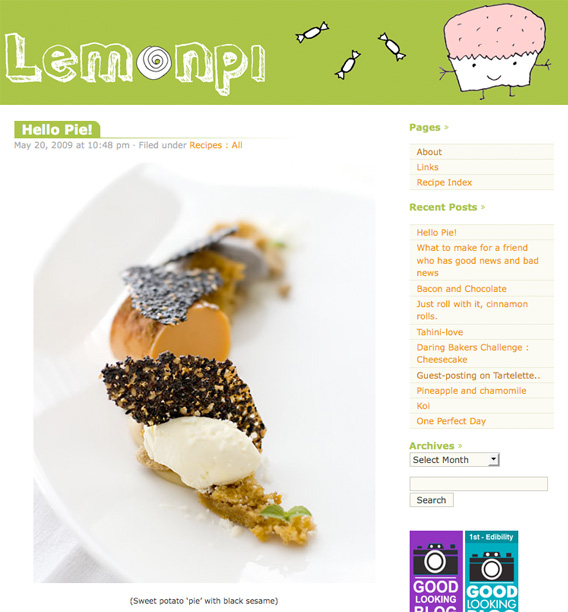 1. Your latest food discovery?
I have been incorporating more Japanese influences into my dinners recently. I'd like to explore this more in desserts too, and not just yuzu, black sesame, green tea or red bean flavours. Kinako (roasted soy bean flour) for example, is incredibly tasty.
2. What cookbook has inspired you the most?
At the moment, Dessert by David Everitt-Matthias.
3. Your fondest food memory?
Peanut butter on toasted white bread at my beloved grandmother's house in Penang, Malaysia. Peanut butter was forbidden in our house, so there was always that extra treat to look forward to, when visiting grandma. Crunchy peanut butter, of course.
4. Your most trusty kitchen companion?
My wooden spoon. I've had it for years and it is never noisy (unlike my food processor), has never broken down (unlike countless digital thermometers) and doesn't require any batteries (unlike the battery-hungry digital scales) or electricity to operate! I also love my collection of knives.
5. Quick, tell us 10 things that are in your fridge right now!
Chocolate espresso ganache, tempered chocolate sheets, chocolate soil (all three were leftovers from a birthday cake I made for someone), miso paste, cultured butter, vanilla extract, sweet potatoes, anchovies, truffled pecorino, beer.
6. One ingredient that frightens you the most? Why?
Nothing really comes to mind, although chocolate does puzzle me sometimes.
7. What are you doing food wise to be more ecologically responsible?
Trying to buy organic/fairtrade where possible. In the future, I'd love to live in a house with a backyard where I can grow my own vegetables and herbs, and also recycle my kitchen waste as compost.
8. Which celebrity chef would you invite to dinner? What would you cook for them?
I can't think of one. I'd much rather be cooking for friends. I used to hold very elaborate dinners that would take the whole weekend to plan, prepare and make. Exhausting!
9. What vegetable are you?
My dad used to call me a potato. (!?)
10. Comfort Food?
Pickles, chilli fish and rice.
Thanks!
And Thank you Yuie for sharing your thoughts with us today. It was fun doing this interview with you.