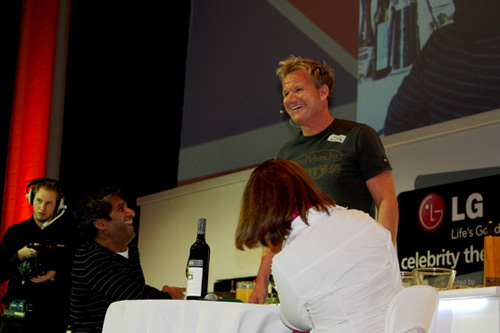 Gordon Ramsay works his charm at the Sydney Good Food And Wine Show 2009
I have been heading over to the Good Food And Wine Show in Sydney religiously for the past 2 years and each time has been extremely eventful. The first time around I was 4 months pregnant and battling severe all day morning sickness. I remember taking breaks and splashing water on my face to calm the nausea that was triggered every now and then by the sight and smell of something which would have under normal circumstances made me swoon with delight. The second year, we all went. Nick and me and the kids. It was chaotic and crowded and we lost my eldest for 70 minutes after the show when it was dark and Darling Harbor was swarming with people. The police were notified, a bunch of really nice families were running around with us helping us look, the rangers were doing their best to co-ordinate the whole search. And we found him, I thank God for that every day, but that story is for another day.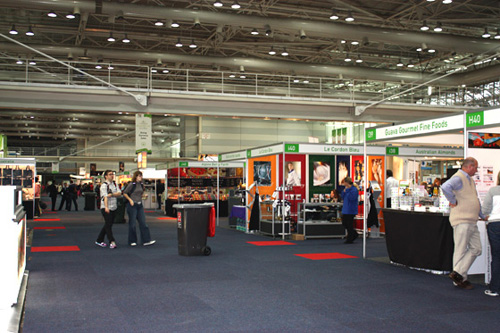 The almost empty food and wine halls at 9:00 am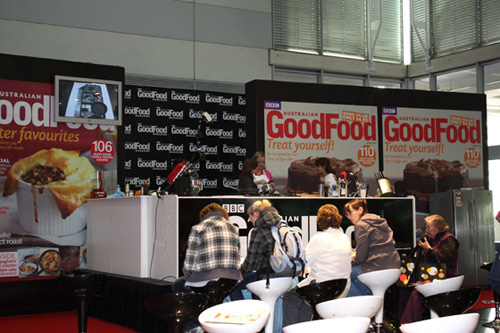 Getting ready for cooking demonstrations at BBC Australian Good Food's Stage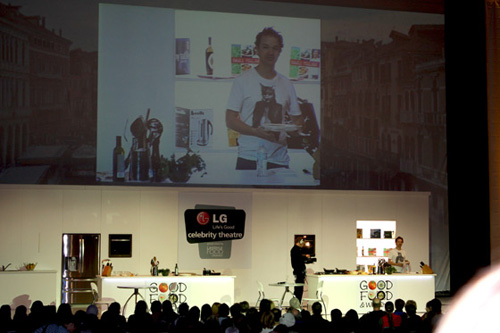 Tobie Puttock demonstrates a rotolo
This year I decided to go, sans the kids and husband. It was a wise decision and I had a fabulous time which was also accompanied by peace of mind, knowing that no children of mine would be lost today. I went on the last day of the show, which was surprisingly a not-so-crowded-Sunday. The first thing I noticed this year was the reduced number of stalls in the halls of the Sydney Convention Center at Darling Harbor. The global credit crunch was rearing its ugly head at the GFWS 2009 for sure. I had tickets to watch Gordon Ramsay. As I wandered around, tasting this and sipping that, I scored a free ticket to watch Tobie Puttock. I headed straight to the Celebrity Theater and watched him live for the very first time. He invited two lucky ladies on the stage and proceeded to cook for them. He made a lovely rotolo with mushrooms and fresh ricotta and baked meat in a dough. He also mentioned wanting to start a "Fifteen" restaurant in Sydney a couple of times. After the show I headed to get Tobie's Caramelized Brioche with berries for my now ravenous tummy and I chanced upon Alistair MacLeod and Manu Fieldel being their charming, goofy selves at the Lindeman's Early Harvest Restaurant. Alistair joked whether I could stay with him all day because I made him feel really tall and they both let slip that Peter Everett actually wears a mask on Ready Steady Cook and that he needs make-up unlike them.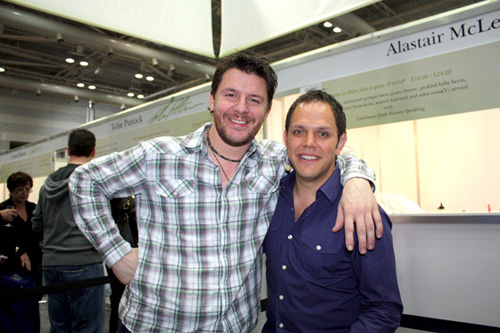 Manu Fieldel and Alistair Macleod say cheese.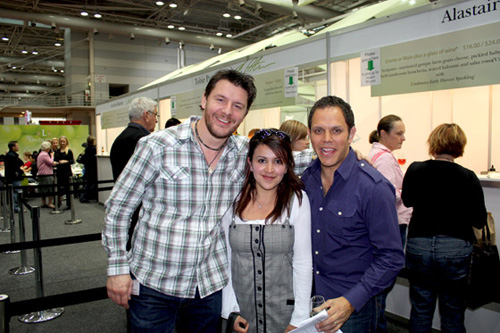 Manu and Alistair pose with me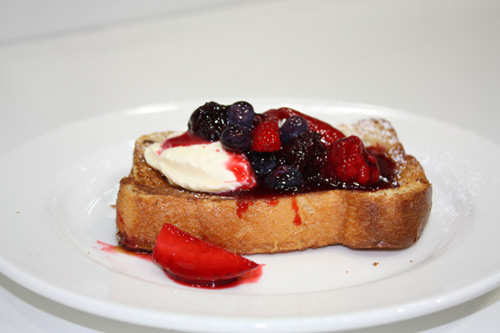 Tobie's gorgeous brioche with berries and cream
After the scrumptious dessert, it was Gordon time. I sat in awe in the front row of the celebrity theater as he came on stage with a black tape covering his mouth, which he proceeded to rip off not so very gently. I have only watched him a couple of times on television and read about his bad boy persona everywhere. He was fun to watch, courteous, charming, knew what he was doing demeanour, funny with a smattering of light swearing and very cool. He cooked cod and tomato chowder, glazed salmon with spinach and radish salad and poached pears in mulled wine served with caramelized figs which he served very graciously to his 4 guests on stage. It all ended very quickly amidst Masterchef predictions, giveaways, some hilarious banter about how Gordon lagged behind in a marathon and taking potshots at Matt Moran who popped up on stage once.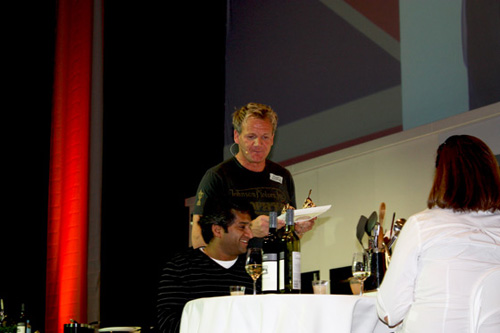 Gordon serves delicious poached pears to his guests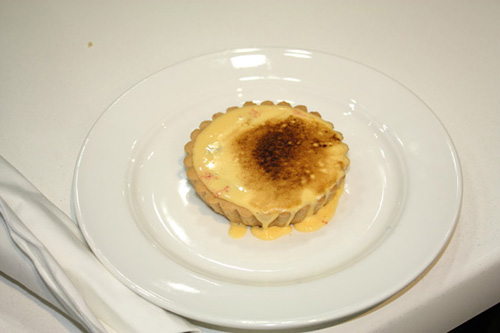 Matt Moran's Raspberry Tart with Champagne Sabayon
Speaking of Matt Moran, after the show I headed back to get some luscious Raspberry Tart with Champagne Sabayon by the man himself and I had a brief encounter with two lovely ladies who let me get ahead in the queue. Later when I was sitting alone at a table for 4, I invited them to join me as there was no other empty seating anywhere in Lindeman's Restaurant. They did and we started chatting. It was then that I found out that they were Matt Moran's mum and aunt. What a lovely twist to my already fun day. I chatted with them about Matt and Aria and about countless random things. They were lovely and I spent a wonderful half hour with them.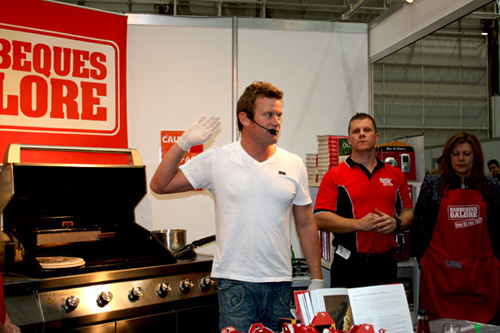 Ben O'Donoghue demonstrates at the Barbeques Galore stall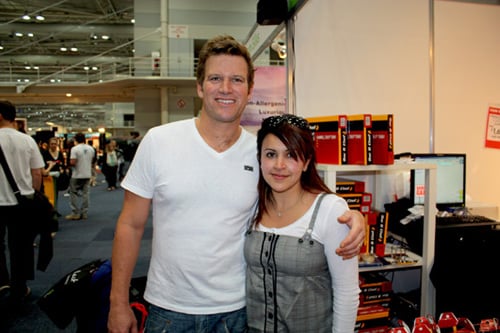 Picture moment with Ben O'Donoghue
I watched Ben O'Donoghue's demonstration at the Barbeques Galore stall and instantly became shutter happy. Later when I was renewing my subscription at the delicious stall, I had a chance to speak with Ben and score a picture. He was most gracious and even larger than life in person than he is in his books and on television.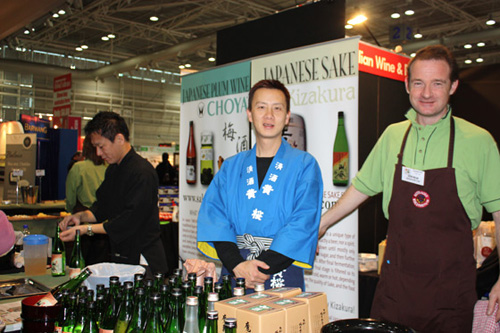 Choya and Kizakura at Kevin Nolan's Stall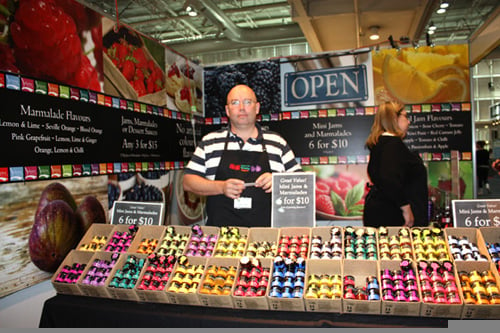 Mini Jams!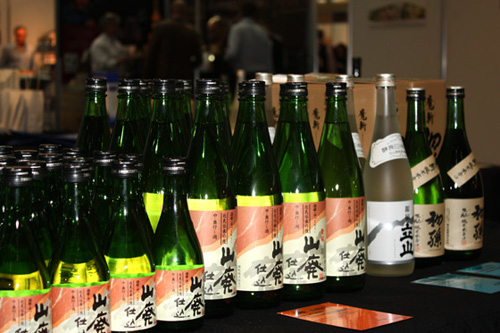 Japanese Sake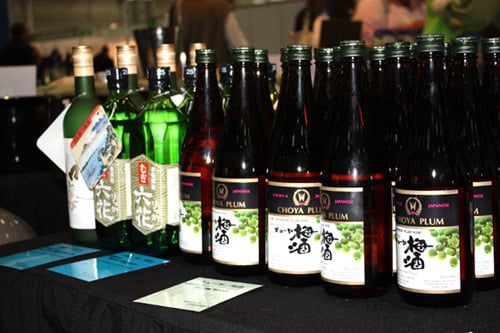 Japanese Plum Wine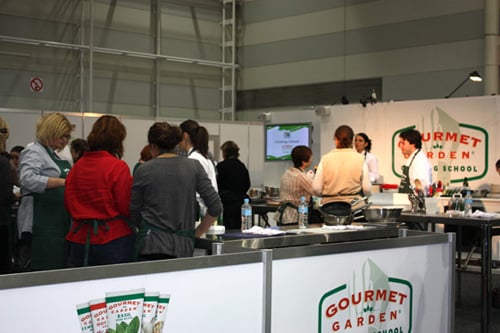 Gourmet Garden Cooking School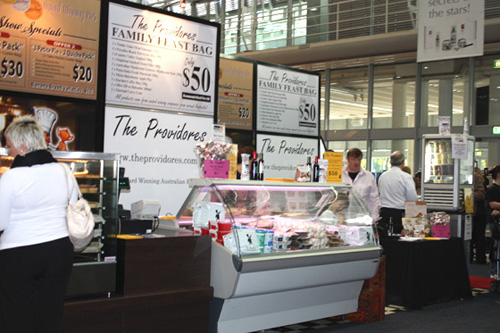 The Providores Pies
After a quick rotation throught the wine hall, tasting some glorious wines and some exquisite liquers, I was ready to leave with a huge bag of goodies. The Sydney Good Food And Wine Show 2009 was every bit what I hoped it would be. Can't wait until the next one!