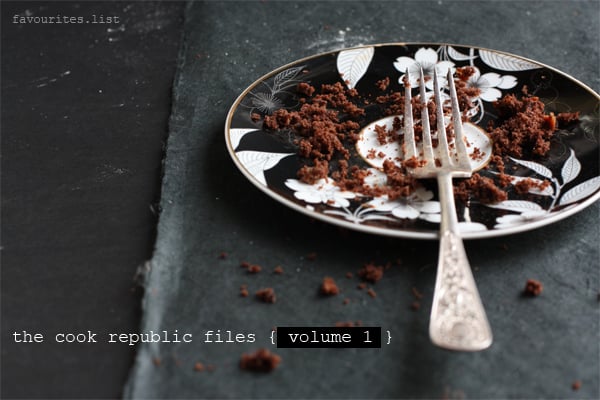 Today has been one of those days. I worked like a well greased wheel, things happened like clockwork and I felt like I was two steps ahead all through the day until I eventually crashed on the couch to write this post. That usually doesn't happen to me. But it did today. And I am not complaining. When things go your way, you feel a surge of adrenalin that either makes you do stupid things that negate all the good that happened, or fantastic things that you wouldn't think of otherwise. When my day is all sorted out and I am caught up on work on all fronts, I feel creative. That is my thing. The creativity! Whether I do something with the burst of pure inspiration that strikes is a whole different story. But as I wrote earlier, today is one of those days. Today I want to introduce you to The Cook Republic Files.
I am a social media fanatic. I have mellowed over the past year or so, but still quite crazy. So needless to say, I am on every social, visual, networking and bookmarking site that is out there. I have my favourites. I share. I discover. I share some more. I see. I hear. I experience. I collect. I group. I share even more. For a while now, I wanted to create a space on this blog where I shared some of the stuff that visually and mentally stimulated me. A scrapbook of sorts with favourite recipes, food photography that inspired, styling that wowed, cookbooks that begged to be bought (or nicked from the library), gadgets that impressed, kitchenware that was meant to obsessed over, bloggers that blogged their souls, stories that were meant to be told. A place where I could file a favourites list every time it struck my whim and fancy. For some reason, I couldn't come up with a clever or right name for this culinary list of discoveries. Until tonight.
And now for the winner of the giveaway!!
Mel Marshan
and this is what she wrote
Congratulations Mel! I could almost smell the sea breeze and feel the tasty tang of the anchovies. Hope you enjoy your pasta machine as much as I do. You will be contacted by email shortly for your prize.