* Winner Of The January 2011 M Cups Giveaway – Sheena *
Congratulations Sheena! Watch out for an email from me.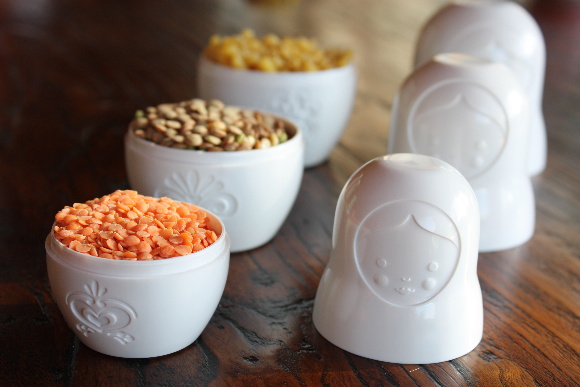 If you are a baker, a good set of measuring cups is your saviour in the kitchen. I bought an OXO Good Grips measuring cup set a few years ago because it had 6 cups in it. Most measuring cups only have 4. It served me well until a few months ago when I realised that the measurement marking on each cup in bold black circles had started washing off. Over the December baking frenzy all the markings were completely washed off and I was left blind, having to line them all up in order to confirm the measurement by the size of the cup.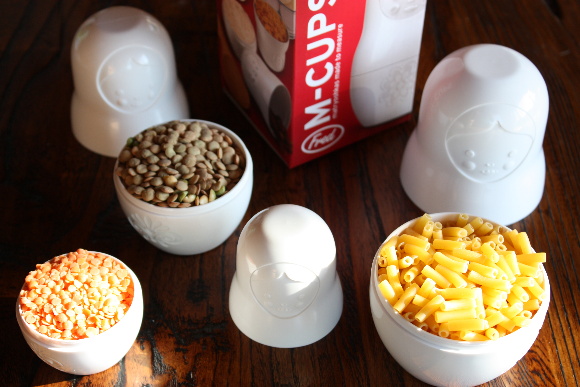 Right about the same time I was becoming more and more enamoured by the quirky M-Cups by Fred. Three gorgeous, shiny white matryoshka nesting dolls that were actually usable measuring cups when opened up. A little chat with kaybscakes confirmed my initial concern that these wouldn't be the most convenient as they didn't have any handles like most measuring cups do. But she loved hers despite that. I was sold.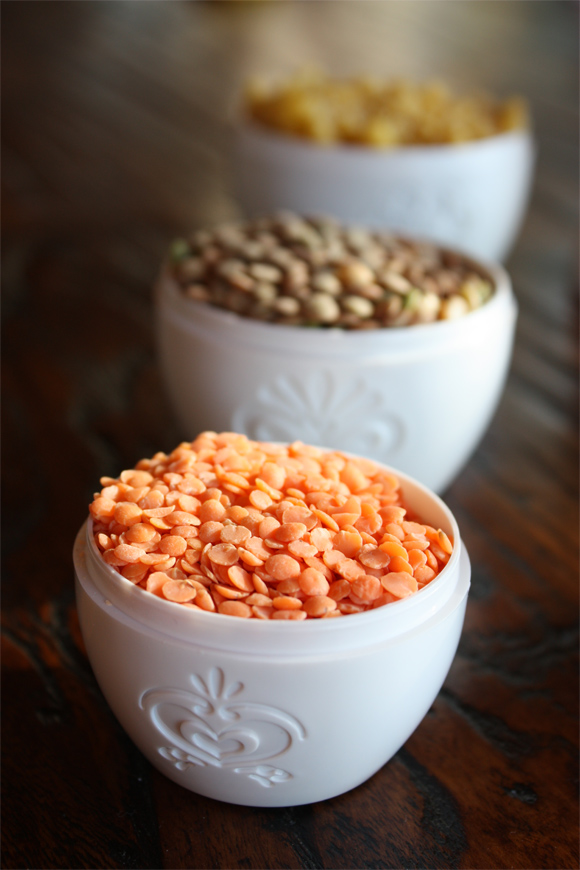 When I got my M-Cups in the mail, I was absolutely smitten. The matryoshkas were fabulous and glamorous. The quality was amazing, the shiny white a delight every time I ran my fingers over the smooth curves of the dolls. Then I rummaged in the pantry for some dry lentils and pasta to photograph in the cups and I found that it was really quite easy to scoop stuff out. I imagine fingers getting dusted when scooping flour out, but that is more a joy than a handicap. They also have the quantity embossed on the inside base, so no more worrying about "washed out" markings!
And they make an art statement on my bench top, which I love! In fact, I love them so much that I decided to give away one set of M-Cups on Cook Republic this month.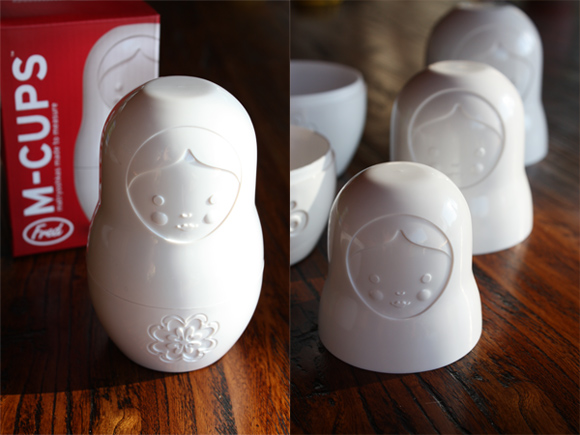 To win Fred's M-Cups, all you have to do is
1. Be In Australia or have an Australian Postal Address.
2. "Like Cook Republic" on Facebook.
3. Leave a comment here (with a valid email address) saying that you have "liked" Cook Republic on Facebook.
The giveaway contest will run from January 23, 2011 to January 30, 2011. A winner will be picked at random and announced on the blog and on Cook Republic's Facebook page on January 31, 2011. The winner will be contacted by me via email to arrange for the prize to be posted to them.
Good Luck!
There will be a fantastic "foodie" giveaway on Cook Republic every month in 2011. To be in the loop, please subscribe to Cook Republic's RSS Feed.
**** January 30, 2011 – 8.25pm Eastern Australian Time. Comments Are Now Closed ****