Introducing The Cook Republic Files And The Marcato Winner Announced
7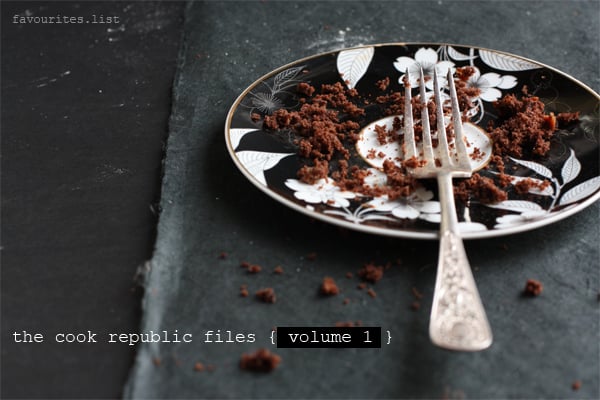 Today has been one of those days. I worked like a well greased wheel, things happened like clockwork and I felt like I was two steps ahead all through the day until I eventually crashed on the couch to write this post. That usually doesn't happen to me. But it did today. And I am not complaining. When things go your way, you feel a surge of adrenalin that either makes you do stupid things that negate all the good that happened, or fantastic things that you wouldn't think of otherwise. When my day is all sorted out and I am caught up on work on all fronts, I feel creative. That is my thing. The creativity! Whether I do something with the burst of pure inspiration that strikes is a whole different story. But as I wrote earlier, today is one of those days. Today I want to introduce you to The Cook Republic Files.
I am a social media fanatic. I have mellowed over the past year or so, but still quite crazy. So needless to say, I am on every social, visual, networking and bookmarking site that is out there. I have my favourites. I share. I discover. I share some more. I see. I hear. I experience. I collect. I group. I share even more. For a while now, I wanted to create a space on this blog where I shared some of the stuff that visually and mentally stimulated me. A scrapbook of sorts with favourite recipes, food photography that inspired, styling that wowed, cookbooks that begged to be bought (or nicked from the library), gadgets that impressed, kitchenware that was meant to obsessed over, bloggers that blogged their souls, stories that were meant to be told. A place where I could file a favourites list every time it struck my whim and fancy. For some reason, I couldn't come up with a clever or right name for this culinary list of discoveries. Until tonight.
After Nick and I had discussed the 16 entries for the
Marcato Pasta Giveaway Contest
to decide on a winner for almost an hour (if you want to know who the winner is, scroll to the bottom of the post right now!), I pestered him for a name for my favourites list, for the upteenth time. As we sat knocking around a few names, it just came to me.
So without further ado, I am happy to introduce The Cook Republic Files, Volume 1. See what's been on my mind lately and what has been inspiring me.


—————————————————————————————————————————————–
And now for the winner of the giveaway!!
Mel Marshan
and this is what she wrote
"
I had my most amazing pasta experience when i was lucky enough to be living in Italy. It was a quintessential food experience – the joy of fresh ingredients, cooked in a minimilistic way, yet complimentary to eachother in every way – It was in Puglia in the south of Italy, i had just spent a few hours lying on the black pebbled beach, and watching fishing boats come in. Across the road from the beach was a small trattoria and the fisherman were walking straight in with their catch- the chef was making orecchiette with broccoli which is famous from the area, and then laying fresh anchovies straight from the fisherman onto the top of the pasta. The pasta had a firm bite, the little "ears" holding the bright green clumps of broccolini, that were so fresh, and then the taste of the sea injected by the oily little fish… And just a small shaving of fresh parmesan, a sea breeze… and a glass of white wine! Perfect!
"
Congratulations Mel! I could almost smell the sea breeze and feel the tasty tang of the anchovies. Hope you enjoy your pasta machine as much as I do. You will be contacted by email shortly for your prize.