We spent the last day of the year in 2010 at Newport Beach, one of Sydney's most unpretentious north shore beaches with golden sands, gorgeous sunshine, relaxed families, couples and friends and plenty of parking for one and all. After a few hours in the water and basking in the hot sun, a short walk to Ocean Master was perfect for our ravenous appetite. The freshly cooked seafood was hot, crunchy and full of flavour.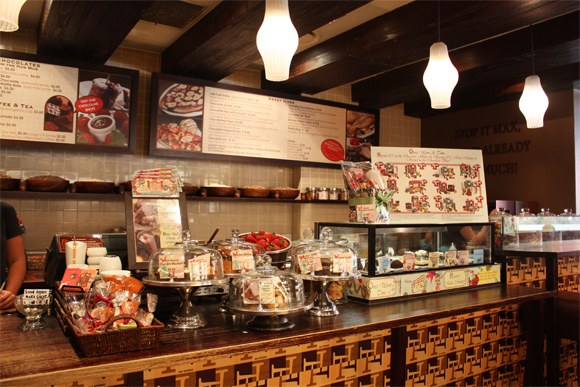 We packed up our stuff, loaded our boot and headed back, excited for our first visit to Max Brenner's chocolate bar in St. Ives, Sydney. Located opposite the St. Ives shopping village on Mona Vale Road, Max Brenner sits tucked in next to Pattinson's. I see the bold cocoa coloured quirky graphics that are Max Brenner's trademark straight away. The covered outdoor seating looks cosy and dotted with comfy brown leather chairs that look like they might accomodate at least 80 people. We open the door and set foot into what looks like a modern day miniature version of Willy Wonka's chocolate factory.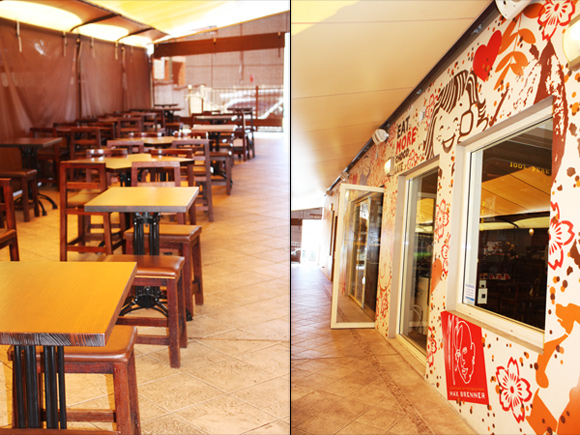 The kids squeal with joy as they see large waist high tanks swirling melted white chocolate and cocoa coloured pipes leading to the serving counter with a bold "chocolate" stamped across them. The whole place is brown with colourful graphics, sacks with cocoa beans and chocolate discs and an array of retro and art deco tins filled with delectable concoctions.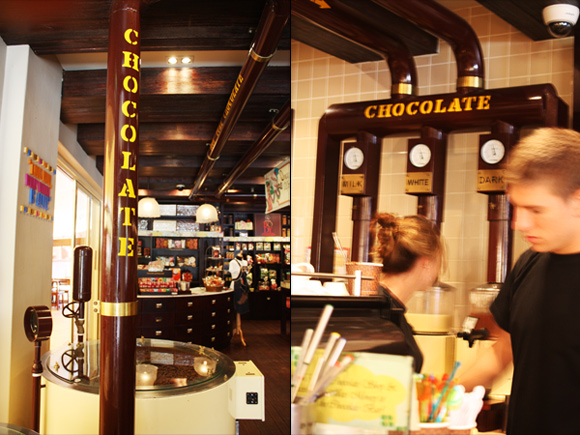 We peruse the menu for a bit. I decide to get the Mexican Spicy Chocolate which is served in a Hug Mug that according to their promotional material is a must for chocolate drinking ceremonies. It is a leaf shaped ceramic mug that nestles cosily in the palms of my hand as I sip the rich dark hot chocolate spiked with red chili, nutmeg, pepper and cinnamon. Robust, warming and just what the doctor ordered for my sore throat.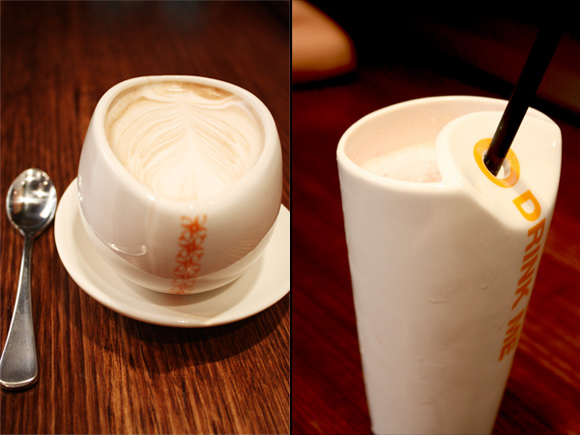 Mexican Spicy Chocolate ($6.00) | Strawberry Float ($8.20)
Nick has the Strawberry Float and it turns out to be the most insanely delicious thing I have ever tasted. (Yes, I always taste his stuff and always decide that his tastes better than mine!). The Strawberry Float is white chocolate and fresh strawberries blended with ice cream and is served in an Alice mug that is specially designed so you can tilt and relish your choctails without having to so much as lean forward.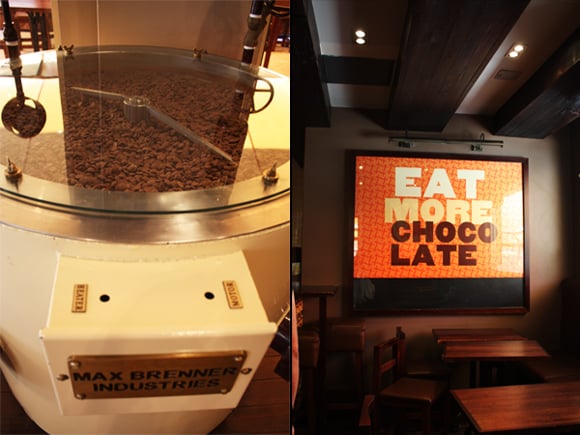 At this point the friendly staff come by and with a flourish, proceed to leave a small white dish of gummi bears on our table. The boys go bananas. I only blink once to see at least 6 of the gummi bears disappear before I admonish them to conduct themselves in an appropriate manner. The Chocolate Lick arrives then. It is their very own personal pot of pure molten liquid milk chocolate topped with white chocolate bits. *Sighs*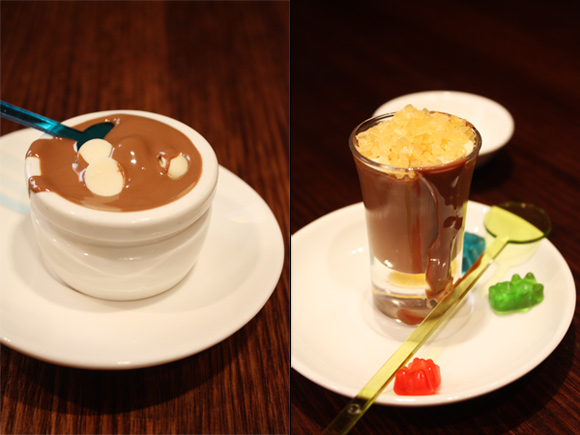 Chocolate Lick ($2.50) | Exploding Chocolate Shock ($5.50)
Nick and I decide to brave round two. This time around I ask the staff for a recommendation and they suggest the Cookieshake. The Cookieshake is white chocolate, cookies and caramelised pecans. After the Strawberry Float, the Cookieshake is a bit of a downer. Nick gets the Exploding Chocolate Shot and boy is it good. It is pure melted chocolate with popping candies strewn like careless jewels on top and dotted with white chocolate droplets. All this sugar is served on a bed of gummi bears and the twinkle in Nick's eye reminds me once again of what a little boy he can be around candy.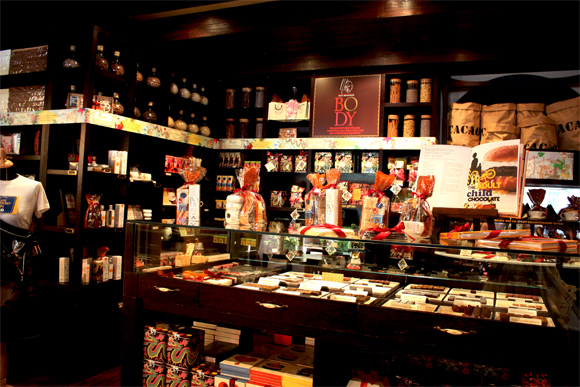 Sated and in a state of absolute bliss, we take our leave, but not before we buy a tin of orange cubes. These milk chocolate cubes filled with orange infused praline with caramelised pecan bits are perfect for our after dinner sweet cravings.
I can't wait to go back and try the highly recommended waffles and crepes.