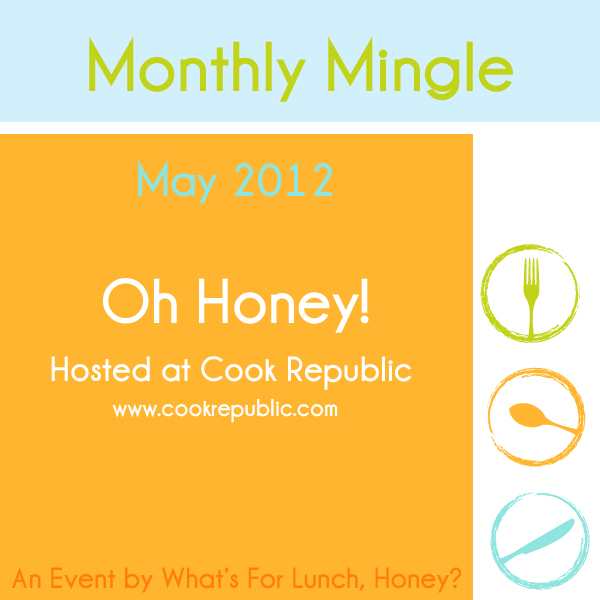 When Meeta asked me if I would like to host Monthly Mingle a few months ago, I was very enthusiastic about it. I have always observed Monthly Mingle from afar, always excited to see what theme the new month will bring. Now it was my turn to pick. I love picking themes. I had too many to choose from. In the end I settled for one that had universal appeal, would always bee in season and in stock no matter where you went in the world. Oh Honey, it truly is a sweet theme. Have you guessed it yet? The May 2012 Monthly Mingle theme is Oh Honey!
I loved honey as a child, then I had a parting of ways with it for many years as I fell deeper into the sugar trap. A few years ago at the Sydney Good Food And Wine Show, I was introduced to New Zealand Manuka honey. Now, not a day goes by without honey. From a little stir in my lemon tea to slathering it on grain toast with peanut butter to oaty honey flapjacks baked for an after school treat to sticky honey ribs for dinner, it dominates my kitchen quite a bit. It is golden, it is rich, it is a natural immunity booster and bacteria fighter. It is the newest fad amongst preppy city folk who have become urban bee keepers on their city terraces, cultivating the freshest honey experience they can get. So this month, get excited with me. Oh Honey! Please do!
The theme demands that you create a dish with honey as one of the main ingredients, important enough to have the word "Honey" in the recipe title. Like Mango Honey & Banana Bread, Honey Nut Shrikhand, Wheatgerm Honey & Raisin Muffins, Spelt Honey Bread, Lemon & Honey Ice Cream, Honey Roasted Goat's Cheese Bites, Honey & Ginger Cookies, Red Honey Pork Ribs … you get the gist?
The Nitty Gritty
The May 2012 Monthly Mingle will run from the May 1, 2012 through to May 31, 2012.
So create a dish that fits the theme for this event, Oh Honey! Alternatively, if you had the foresight to cook and photograph a beautiful dish with honey in it, why not submit it to this event?
Post about it on your blog during May 1, 2012 through to May 31, 2012. (entries must be in English, please).
Have fun, don't stress too much. This is not a competition, just a virtual gathering!
Once submitted to the May 2012 Monthly Mingle, your post cannot be entered in any other blog event.
You must provide a link to this post and the original Monthly Mingle post. You must send the details to me at sneh[dot]roy[at]cookrepublic[dot]com by May 31, 2012 with "MM-May 2012" as the subject line.
Then check back on June 3, 2012 to see a roundup of all the recipes submitted to Monthly Mingle May 2012 – Oh Honey!
I look forward to seeing all your wonderful and creative posts!
***** See The Oh Honey! Monthly Mingle Recipe Roundup Here *****