Photography
I am a budding food stylist and photographer based out of Sydney, Australia. I am a Canon girl. I use my Canon 450D EOS (now going on 6 years) for all the photography that you see on this blog and for my portfolio and client work. I use the Canon EF 50mm f/1.4 lens exclusively for my food shots. I am in awe of the light it creates and the amazing clarity it renders to my pictures. I always shoot in natural light which is very often quite early in the day.
I love prop hunting and see food styling as an evolving art. I love setting up shoots while the food is cooking and adore honest pictures. Food that is not tampered with and absolutely delicious either warm from the oven or hot and simmering from the cooktop. If I wouldn't eat it and relish it, I wouldn't shoot it. I experiment with a lot of different looks to suit different moods and seasons. I try to inject a lot of my quirky, folksy and rustic personality into my pictures. My own personal style tends to be messy, edgy, often dark and eye catching!
Find Me On Photography Social Media :



To license my photographs or buy high resolution prints, please contact me for a quote.
My Recent Work (Food Styling And Photography)
*News* I was on the judging panel for the 3rd Australian Eat Drink Blog 2012 Photography Contest. It was amazing to be on the other end of the competition spectrum and to be given a chance to pick from amongst some very talented entries across Australia.
*News* I won the 2nd Australian Eat Drink Blog 2011 Photography Contest. I was the winner of the prestigious IMPACT award that was judged by a panel of photography elites. This was the winning photo. The photo is titled Tomato Mustard Chutney.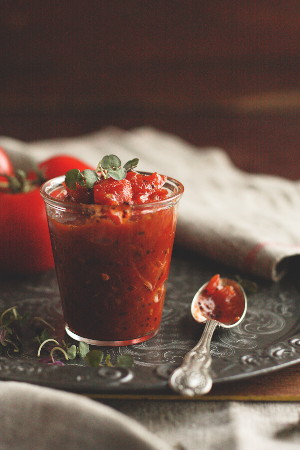 In July 2011, I embarked on a new photographic journey. My Project 365 that I call A Delicious Life. In this self project and photography experiment, I will shoot a food picture (cooked, raw, cultural) everyday in an effort to document the little delicacies and joys of my everyday life and in doing so, learn something new and flex my inner creativity. You can follow my progress on Flickr – Project 365, A Delicious Life.