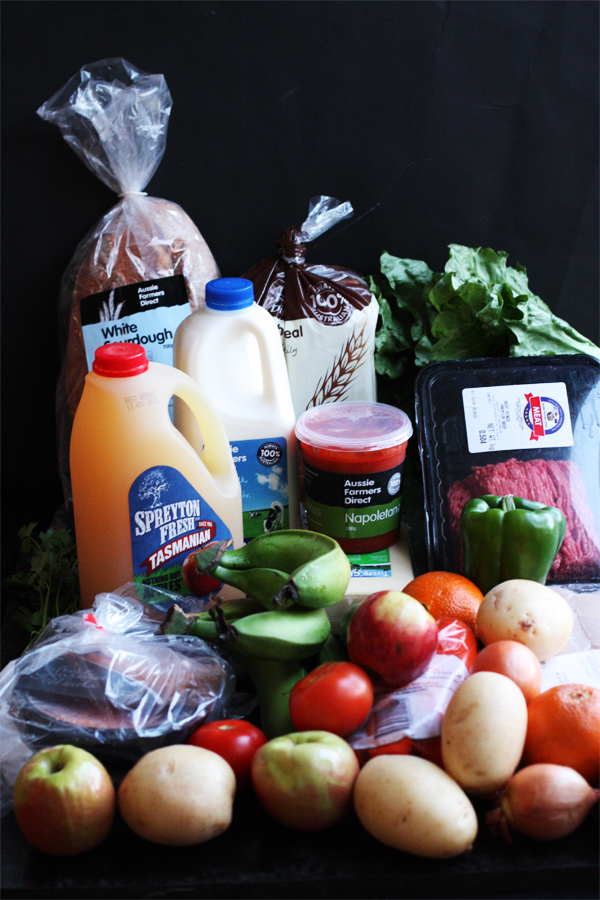 Regular visitors to the blog know that I am always looking at growing fresh produce in my veggie patch, shopping at local markets, buying from CSA co-ops and trying to reduce bills and eat healthier. To that effect, I had a community discussion going on about How To Plan And Organise Your Meals. When Wrights PR contacted me to try out an interesting offer from Amex Connect and Aussie Farmers Direct, I was very eager. The following week a massive $99 worth grocery pack containing fresh fruit, veggies, meat, milk, cheese, pasta, sauces, ready meals, muesli and bread was delivered at my doorstep.
Aussie Farmers Direct source fresh 100% Australian meat, veggies, fruit, dairy, groceries and eggs from local farmers and deliver it straight to your home. They have a variety of boxes to suit the needs and size of every family. Amex Connect is a brand new club that every American Express card holder has access to. You can buy a range of products, perishables, non perishables, experiences and more in the club. Amex Connect have tied up with Aussie Farmers Direct to bring their members a great deal in the months of September and October 2012. They are offering a massive $99 grocery pack for just $66. Here are some details about the pack.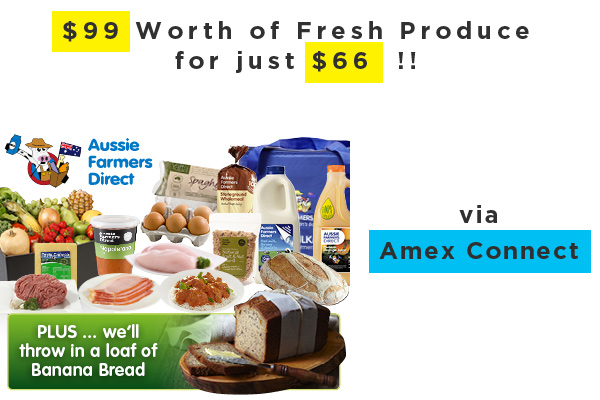 All new Aussie Farmers Direct customers with a bank issued American Express
®
Card can save when purchasing this great American Express pack below throughout September & October 2012.
PLUS… receive a
COMPLIMENTARY
soft esky bag AND a loaf of banana bread with either order.
PLUS…
delivery is included
*
The American Express Pack – only $66
Normally $99 – save $33!
Includes:
1x Couples Fruit & Veg Box

1x Natural Fruit & Nut Muesli (500g)

1x Dry Pasta – Spaghetti (500g)

1x Chicken Breast Fillet (500g)

1x Free range eggs (6) (330g)

1x Napoletana Sauce (500g)

1x Gourmet Sourdough

1x Beef Mince (500g)

1x Tasty Block (500g)

1x Wholemeal Loaf

1x Whole Milk (2L)

1x Apple Juice (2L)

1x Butter Chicken

1x Bacon (175g)
This pack has everything and if you plan your meals right, can feed a family of four for upto a week with a few extras from your pantry. $66 for a whole week (and maybe $20-$30 for the extras) for four people is amazing value in my opinion, especially when the produce is fresher than what you find at the supermarket, is easily accesssible online, is delivered hassle free to your doorstep, in an esky that proved to be the most useful for me touting it to the park for a picnic and an impromptu playdate.
The muesli, milk and fruit sorted our breakfast on some mornings. The ready cooked butter chicken which I was the most skeptical about was surprisingly delicious and the kids lapped it up hungrily. The eggs fuelled my baking needs. The beef mince and pasta provided two weeknight meals as did the chicken fillets and vegetables. The bread, herbs, cheese, bacon and pasta sauce were added bonus that I had fun planning with. I also got a lovely call from Aussie Farmers Direct after the groceries were delivered. They wanted to welcome me and make sure that I was happy with the produce. That is a big tick for personable customer service for me. I will be definitely buying from them again!
If you are pressed for time and spending precious minutes and dollars at the supermarket is harrowing, give this offer a go. And be sure to check out the Amex Connect and Aussie Farmers Direct websites for some amazing deals that will save you more than just money.