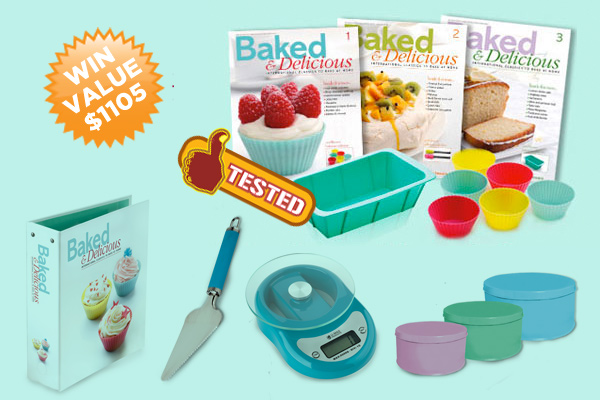 Baked And Delicious is a new 60 part cooking compendium launched in Australia earlier this year. The gorgeous glossy issues showcase international classics to bake at home. The photos and recipes cover baking stalwarts from every possible country and region. There are sweet and savoury recipes galore, Christmas and holiday classics, cookies, pavlovas, cake, breads and heaps more. Many of the recipes come with step by step picture instructions to make baking a breeze. Each issue comes with a free silicone bakeware! Eeeek!! So many freebies and so much love!
A few weeks ago, I was sent two issues of the beautiful little cookbooks to test drive in my dodgy little kitchen. I tried out a recipe for
Lebkuchen – German Spice Cookies
and a recipe for
Parmesan Olive And Herb Loaf
. They turned out to be winners. They were easy to follow, simple enough for the novice baker and really delicious. I also tried out one of the silicone bake wares and it held up well in my ancient oven.
Now for the exciting part! Do you love giveaways!!! I do, oh I do!! Someone is going to be very happy before Christmas. The awesome team at Baked And Delicious are offering
one lucky reader
of Cook Republic all
60 issues of Baked And Delicious (including magazine and silicone ware) plus 4 fantastic free gifts (a recipe binder, cake slice server, cake tin set and electronic kitchen scales)
which you can see for yourself on their
subscription page
. The
prize package
is worth a total of
$1,105
!! Win it for yourself!! Win it for a friend or family member!!
To win this amazing prize, all you have to do is follow the instructions in the comment box below! You MUST be an AUSTRALIA RESIDENT!!