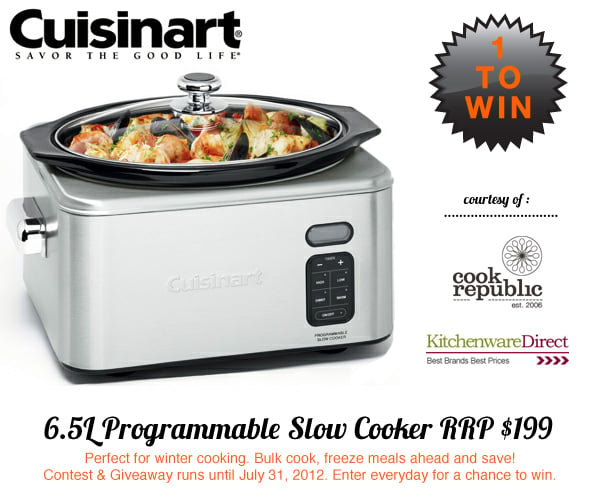 The onslaught of winter continues and we find ourselves constantly craving warming soups, comforting casseroles, slow cooked stews with meat falling off the bone. I bought a Breville Avance Slow Cooker several years ago which I have been abusing, really. Which means I am using it a lot and wisely, please don't report me to the "Kitchen Equipment Battery Prevention Department" ! I have been making slow cooked ham soup, my beloved slow cooked Oriental Pork Stew With Mandarins, slow cooked Hickory Smoked Ribs, slow cooked Chickpea Curry and a crusty sourdough loaf – all in my trusty slow cooker. Can you see where this is headed?
Yes, you smart cookie, you! I have a beautiful Cuisinart 6.5L Programmable Slow Cooker Worth $199 to give away to one very lucky reader, courtesy of KitchenWare Direct and my friendly contact. Slow cookers are great all year round for the budget conscious and time poor family. Does that sound like yours? It sure sounds like mine! Take the hassle out of cooking by chucking in ingredients, turning the switch on and forgetting about it till meal time. The 6.5L capacity makes sure you feed the whole brood generously. Have a smaller family? Well, cook a lot anyways and freeze it so you can have a day or two off cooking later in the week!
The
Cuisinart Slow Cooker
The Cuisinart Slow Cooker features a glazed ceramic pot with tempered glass lid, 0 to 24 hour cooking timer, adjustable temperature settings and a rack for use with ramekins and other bakeware. As well, it comes complete with a spiral-bound bound book containing 70 mouth-watering recipes. Simply set the timer to the desired cooking time (up to 8 hours) and Cuisinart does the rest. When your food's finished cooking, the cooker automatically switches to 'warm' to keep your food ready to eat until you are.

Fully encased in stainless steel, the Cuisinart Slow Cooker looks stunning and is easy to maintain. Its oval cooking pot is made from dishwasher-safe glazed ceramic and lifts out for easy cleaning or transport. The tempered glass lid is shatter-resistant and stays cool to the touch. Features include three separate temperature settings on an easy-select control knob and side handles for carrying. Also includes a stainless steel rack for use with ramekins and other delicate dishes. It comes complete with a spiral-bound book containing 70 mouth watering recipes.

Includes:
Cooking rack for use with ramekins or other bakeware
Spiral-bound recipe book with 70 basic to gourmet dishes
Instruction book
Glass Lid
Here is how it works!
The giveaway is open to AUSTRALIAN RESIDENTS only!
The giveaway runs until July 31, 2012. Winner will be announced on the Blog, Facebook And Twitter on August 1, 2012.
You MUST enter and do all your tasks via the Rafflecopter Box below to be in the running.
You can enter the giveaway via a variety of means (see AND enter in Rafflecopter Box below). You earn a fixed number of entries in the giveaway for completing tasks like "leaving a comment", "tweeting on twitter", "liking on Facebook". The more you do, the more entries you earn and higher your chances of winning the great prize. There are certain things you can do "everyday" so make sure you do it to gain extra entries!
And remember to Click on the "Green" Enter Button after you do each task to make sure your entries get recorded. And in the spirit of fairness to all, No cheating!
——————– * * * * * ——————–
After over 5800 entries, a lucky winner was picked at random on August 1, 2012.
TRACEY DRESCHER you have got yourself a Cuisinart Slow Cooker!
Congratulations!!!
I will be in touch shortly for your prize.
Thank you all for playing this game. Watch out for more amazing giveaways this month on Cook Republic.
——————– * * * * * ——————–