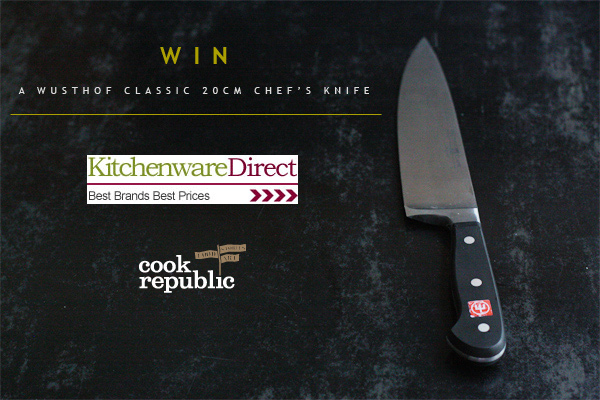 They say that a true test of a good knife is when it has to cut through a pumpkin. We are not talking fancy carving here, but plain old cut the pumpkin to make some delicious soup kind of cutting. A good knife will have a pointy tip, a heavy hilt to drive the tip and a sharp blade to seal the deal. To test this theory last Halloween (how apt!), I road tested several 20cm chef's knives on some pumpkins. I stood the pumpkin upright, angled the pointy tip at the top of the pumpkin and putting pressure on the hilt, drove the blade all the way down.
Now there were some that did the job well and some that struggled. But the winner for me was the Wusthof. To read my experience with the Wusthof Classic 20cm Chef's Knife (which I love dearly), head on over to Kitchenware Direct's fabulous new blog. To celebrate the launch of their spanking new blog, the good guys over at Kitchenware Direct are generously offering one reader of Cook Republic a Wusthof Classic 20cm Chef's Knife worth $259. If you would love to win a knife that will make all your cooking dreams come true, well this is what you have to do.
TO WIN A WUSTHOF CLASSIC 20CM CHEF'S KNIFE
You MUST have an AUSTRALIAN POSTAL ADDRESS
You MUST enter via the Rafflecopter Box below.
You MUST leave me a COMMENT and tell me "What one task in the kitchen are you an expert at?"
You can do the other things in the box for BONUS ENTRIES.
Winner will be picked at random on November 13, 2012 after give away ends and announced on the blog and facebook page.
GOOD LUCK!!! And be sure to check out my review of the Wusthof on the Kitchenware Direct blog.