Simple, stylish and delicious dishes for people on the go.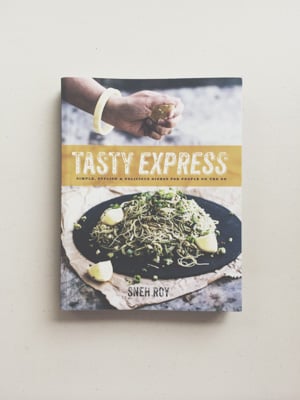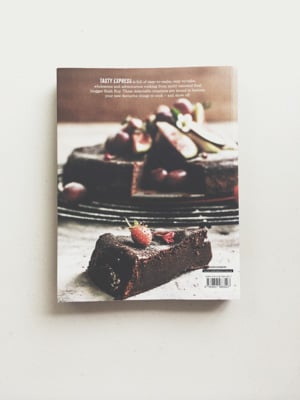 Tasty Express, the first cookbook by Sneh Roy published by Random House, Australia releases on April 1, 2014. With over 100 recipes, stunning photographs and heaps of tips, tricks, stories and step-by-steps; this cookbook will become an essential part of your everyday cooking. Easy-to-make and easy-to-take mainly vegetarian recipes will become your lunchbox and weeknight staples. 
Drawing inspiration from her childhood in India and the bustling foodie scene of inner-city Australian life, Sneh's recipes embrace a healthy take on modern classics, drawing comparisons to the healthy 'fast food' phenomenon made famous by the likes of Jamie Oliver, but with all Australian ingredients. With easy-to-reference chapters such as Cafe Culture, Urban Lunchbox, Green Kingdom, Supper Club and Treat Factory, Tasty Express also includes handy hints, such as how to make fail-safe quinoa, how to grow sprouts from legumes with just a jar and a paper towel, and how to make bread that goes from flour to loaf in under an hour. The book has little express extras on fresh and robust chutnies, healthy smoothies, spice mixes, nuts and nibbles.
With stunning photographs for each and every recipe there are lots of textures, smears, sprinkles, drips and crumbs making this a highly tactile visual experience. This is food as we eat - casually with messy abandon and sharing with loved ones, the way it should be.  Tasty Express will make your life more delicious. 
Coconut Bircher Muesli, Carrot Cake Muffins, Kulfi Milk, Eggplant Lasagna Steaks, Kale Soup With Grilled Cheese, Brown Rice Biryani Salad, Quinoa Spice Croquettes, Sweet Potato And Pepita Burgers, Tofu And Cashew Curry, Burnt Butter Caramel Slice, Coconut Froyo and Gingerbread Tiramisu are just some of the delicious recipes you can whip up in about 30 minutes.
*******
Available in Australia And New Zealand in all good book stores from April 1, 2014.
Buy Tasty Express SIGNED COPY  (Australia Only)
International Onlne Orders
*******
What People Are Saying ..
It's such a beautiful reflection of Sneh - like we've just visited her home, met her 'boys', joined her on a few road trips…it's wonderful! The book really showcases her enormous talent - recipe writer, stylist, photographer. Wow, the trifecta! I love how her Indian heritage sneaks in from time to time, a nod to India with the Bombay potatoes and crispy pancakes right after celebrating country Australia with her sheet scone. Her Bombay sandwich right after the Banh Mi which is a couple of pages past a bistro salad. Love it! The book is just, simply, delicious! Recipes and photographs that really make us want to COOK and EAT, although we all found it hard to decide where to begin. I started with the Chicken Curry (cauliflower and chickpeas) and the family adored it. We now have to work our way through the post-it notes on many of the pages. I love how Sneh has transformed the simple flatbread with the addition of beetroot leaf and yoghurt, and given us all a brand new concept for spaghetti bolognese. Frittata? Who would've thought! And I'm so pleased that she has shared her secret tandoori paste recipe with us, I assume it's come from her family. I think it's safe to say that it will now become part of our family's repertoire as well. It's such a wonderful thought that so many people across Australia (and the world, soon) will be making 'Sneh's tandoori' in their homes, and her traditions will become theirs. To us, it's not simply about the recipe. It actually ensures the preservation and continuation of traditions and culture as well.  It is an amazing achievement to have produced such a beautiful book. - Lisa Goldberg, co-author of Monday Morning Cooking Club & The Feast Goes On
I love when a cookbook is a labour of love. And Bocconcini Lollipops? Why didn't I think of that? - Billy Law, author of Have You Eaten 
The introduction to Tasty Express describes Sneh's recipes as "simple but imaginative"; words you'll find and hold true - Tarika Singh, blogger 
An inspiring collection of mostly vegetarian recipes from the creator of the Cook Republic blog! - Readers Feast

A stunning picture of food can have me lusting to consume it as soon as possible but Sneh's book has me do more than that. The uncomplicated directions and fresh ingredients have me longing to make it myself and that is saying something from someone who is time poor and a tad lazy. I will be buying copies for all of my besties this year for sure! - Tessa White, founder of Hard To Find
Sneh has a unique knack for coming up with recipes which are actually deceptively simple to do (my personal favourite style of cooking). Not only are the dishes in Tasty Express delicious and  tasty, but those clever photography and styling skills make me want to beg her for an invite over for dinner. Is there anything this woman can't do? If you haven't tried her One Minute Coconut Mug Cake (or her Gingerbread Tiramisu for that matter), then you haven't lived. - Amy Starr, Beauty & Lifestyle Associate ELLE Australia.
In this day and age of fad diets and hard-line limitations Tasty Express is refreshingly real in its approach. Wholesome recipes are predominately vegetarian, and for the most part accessible even on a busy weeknight. The overall tone is spiked with the flavours and colours of Sneh's Indian heritage, making for a new and sometimes unexpected twist on classic dishes. - JJ, author of 84th & 3rd. 
Food is a sensory experience and since we can't taste or smell it on paper, Sneh engages us to partake in the feast with her words and emotive imagery. Her food and recipes are fun and comforting. Many inspired by her Indian background but with a modern Australian twist. - Martyna Angell, author of Wholesome-Cook.
*******