In late March, we went apple picking. We went to pick apples and I think we went little nuts.One thing you must know about PYO, short for Pick Your Own is that - It Is Hard To Stop! There is just something about being in the midst of nature's bounty with trees heaving under the weight of fresh ready-to-pick fruit that skews your perspective and warps your sense of quantity. Suddenly 15 kilos of apples for two medium-sized adults and two tiny fussy beings isn't a lot at all.
One of the first things I baked, after we lugged four bags of mixed apples home, was Apple Crumble. Honest to good, old-fashioned, buttery, golden apple crumble. I have been baking this crumble for ten years and it never grows old. It used to be quite popular on my old food site and I deemed it was finally time to share it here as well. I like to bake this in what seems to be a vintage Lemon Meringue Pie dish - ironic, I know! But it works for me. A pie dish is really great because this crumble is essentially an open pie. Originally baked with granny smiths, I bake it with whatever variety of apples I have on hand, even mixing varieties on occasion.
There is something wonderfully vintage about crumbles. The way they are unadorned and almost peasant-like in appearance and preparation. It makes me wax lyrical of simpler days, of cozy spaces and warm homes. I still believe that one of the greatest pleasures of life is for loved ones to gather around a big bowl of something warm, spoons in eager hands, the clatter of plates, and a crescendo of incessant chatter and laughs. This apple crumble embodies that bowl of something warm, something sweet, a bowl meant for sharing
Recipe
Hungry For More Recipes? Subscribe to my newsletter. Check out Facebook, Instagram and Pinterest to see everything I share! And if you love cooking and new cookbooks, join my free Cooking Club on Facebook!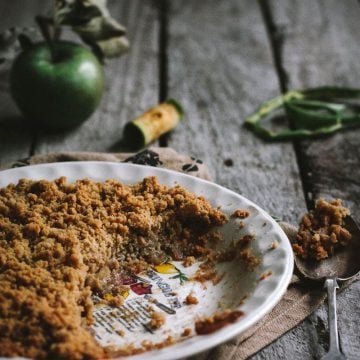 Ingredients
For The Filling
450

g

apples

,

peeled, cored and cut into 1cm pieces

1

tablespoon

plain flour

,

or spelt flour

1

teaspoon

ground cinnamon

50

g

brown sugar

,

or rapadura sugar
For The Crumble
a pinch of salt

a pinch of ground nutmeg

150

g

plain flour

,

or spelt flour

110

g

unsalted butter

,

softened

80

g

brown sugar

,

or rapadura sugar
Instructions
Preheat oven to 180°C. Butter a 9 inch ovenproof dish.
To Make The Filling
Place fruit in a large bowl. Sprinkle with sugar, flour and cinnamon. Mix well with a spoon and set aside while you make the crumble.
To Make The Crumble
Place flour, salt, nutmeg and sugar in a large bowl and mix well. Take a little butter at a time and rub into the flour and sugar mixture. Keep rubbing until all the butter is used up and the mixture resembles breadcrumbs.

Spoon fruit mixture into the bottom of the dish. Sprinkle crumble on top. Bake for 30 to 40 minutes until top is golden.

Serve warm with clotted cream or vanilla ice cream.
Notes
Make It Gluten-Free - To make a gluten-free version, substitute plain flour in the recipe with almond meal or hazelnut flour.
Did you make my recipe?
I'd love to hear how you went! Tag me on Instagram @cookrepublic