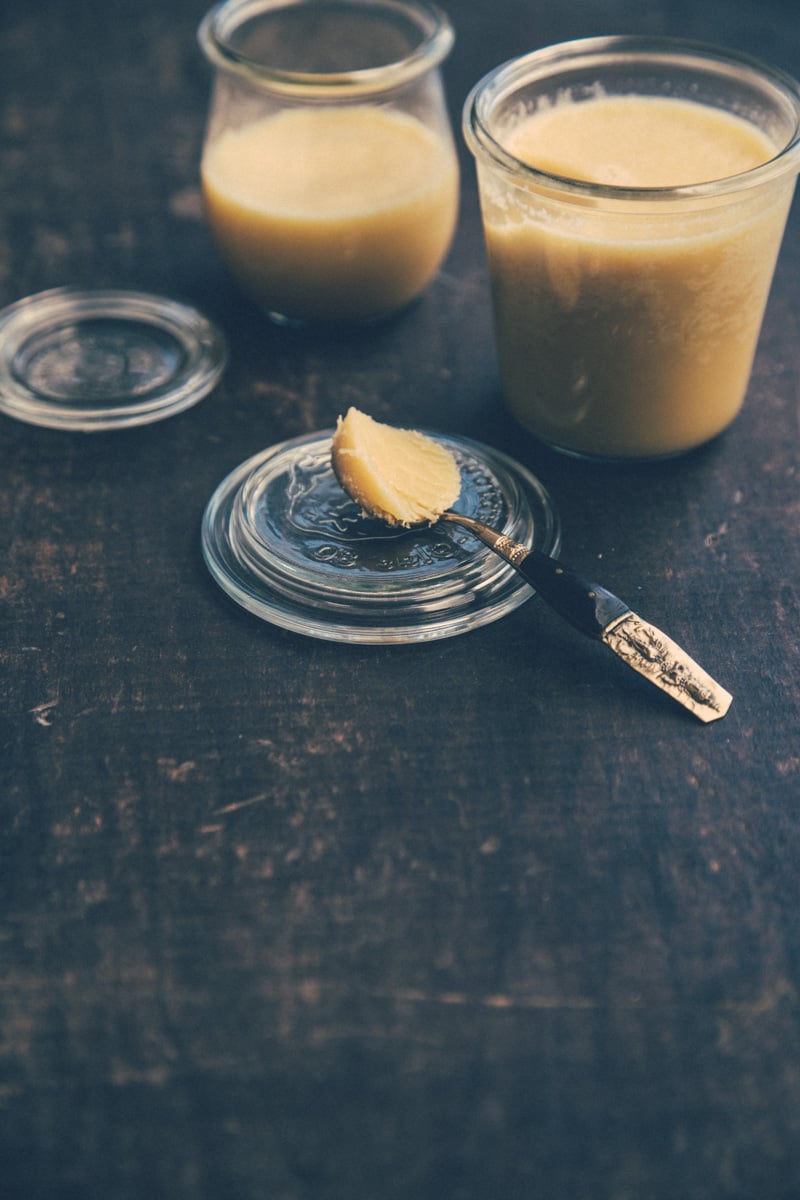 I was lucky enough to be involved in many an artisan process since early childhood. Out of all the artisanal things mum practised in the kitchen, my favourite was the art of making butter. I wasn't taught. I was probably brainwashed from watching mum go through her rituals every single day. Education via osmosis. It was like living in a churnery (is that a word?) where fresh cream was religiously skimmed off the top of boiled milk and collected in an earthen pot. When it started going sour, it was churned with a long wooden handled contraption by gently rolling between the palms of her hands (something that I do in my Kitchenaid stand mixer now). The luscious fluffy white butter would separate from the whey. And it is this butter that I would lap up with bread, flatbreads and everything in between. It was unsalted, cold, creamy and had a slight sour tang. I loved it.
Once a month, mum would deny me my addiction and simmer half a pot of home churned butter till it filled the house with a rich caramel aroma. We had a special pot for it that was burned, scuffed and marked with years of ghee making. With every batch of butter that was cooked, the bottom of the pot would resemble a coral reef with porous beehive shaped brown solid formations while the clear liquid gold floated to the top. This was collected in glass jars and used for cooking. Homemade ghee. Clarified butter. That special something which gives Indian dishes their authentic flavour.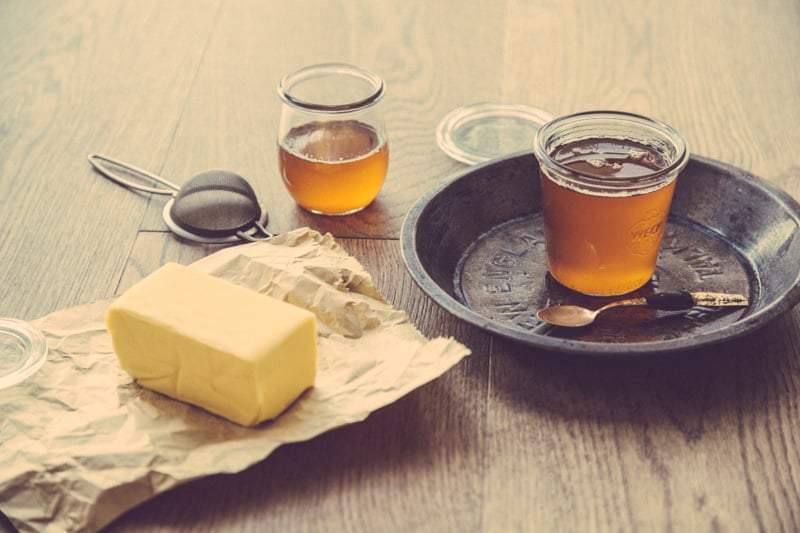 Making ghee is ridiculously simple. You only need a good quality butter, homemade butter is even better for which you will need some good quality cream. So you basically simmer butter in a heavy bottomed pan, occasionally skimming the foamy bits that float to the surface. After about half an hour, your ghee in liquid form will be clear and the colour of caramel. You strain this liquid in a glass jar and let it cool. Once cooled, it becomes much lighter and golden. It also becomes solid.
Ghee is one of my favourite fats to cook with, Ayurveda considers ghee to be the best fat you can eat, enriching the body and increasing longevity. It is lactose free despite being made with butter and has a rich divine nutty aroma. It has shorter chain fatty acids which are better absorbed in the body and keep the joints lubricated, thereby reducing ailments related to arthritis. You can make a jar full as and when you need it. It tastes fantastic too!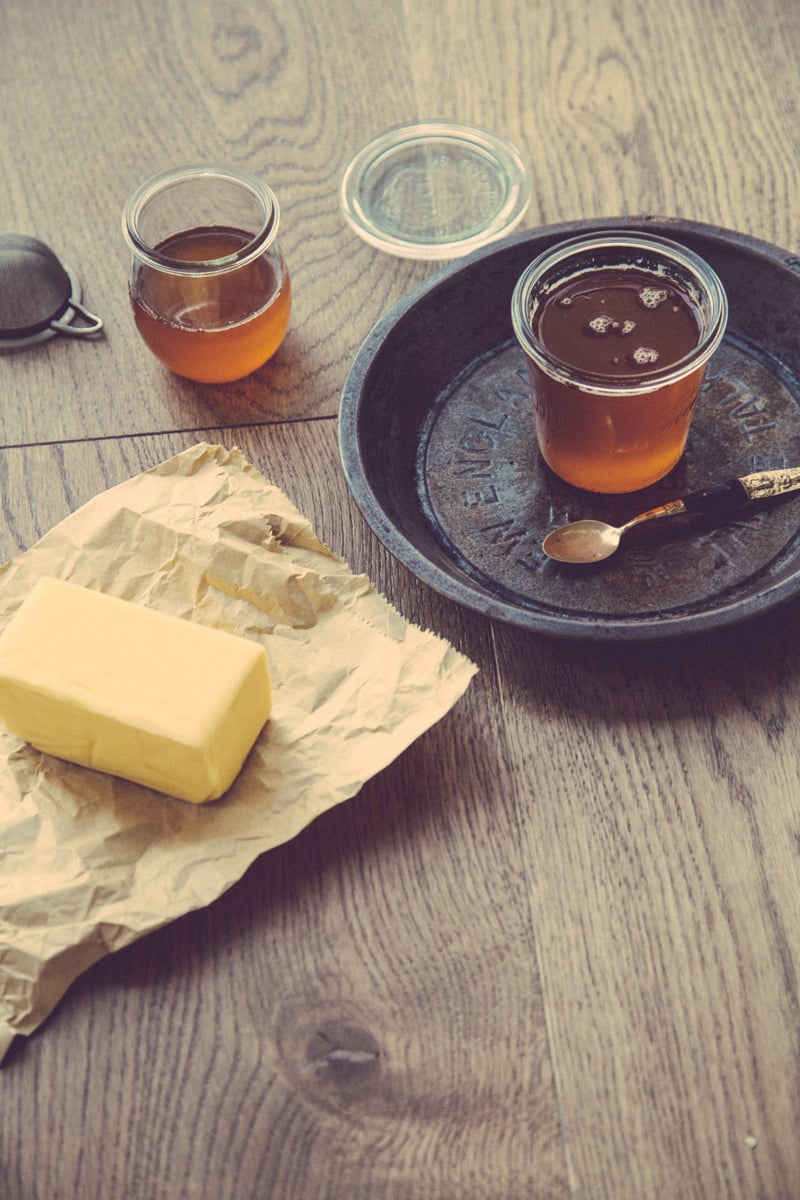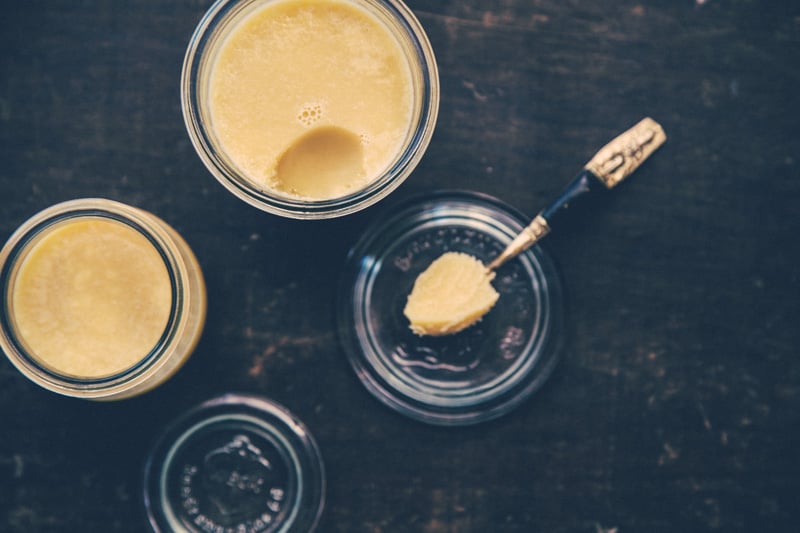 Recipe
Hungry For More Recipes? Subscribe to my newsletter. Check out Facebook, Instagram and Pinterest to see everything I share! And if you love cooking and new cookbooks, join my free Cooking Club on Facebook!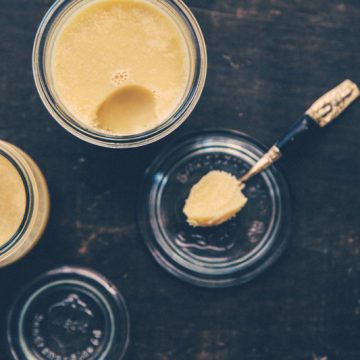 Instructions
Place butter in a medium heavy bottomed saucepan on medium heat.

Simmer till butter is melted. Reduce heat to low and give the melted butter a stir. Let it simmer slowly for 20-30 minutes ensuring that the heat is low enough for it to not start burning.

Using a netted skimmer, skim the foamy bits off the top of the liquid (these are the milk solids separating from the liquid and burning off). Check from time to time (every 5 minutes) and skim the foam from the top.

At the end of 30 minutes, you will have a reasonably clear golden liquid. You will see a solid brown (beehive patterned) residue at the bottom of the pan.

Remove pan from heat. Cool for 10 minutes.

Strain hot liquid carefully in a glass jar and allow it to cool completely before covering with a lid.

Ghee will keep at room temperature for up to 3-4 weeks.
Did you make my recipe?
I'd love to hear how you went! Tag me on Instagram @cookrepublic