If you thought making a batch of kimchi at home was hard and time-consuming, think again! With my 30-minute recipe (and the additional fermenting time of course!) for making authentic kimchi that tastes just like the real thing AND is also vegan, you will be making a fresh batch of homemade kimchi every week!

Why I wanted to create a vegan version of my homemade kimchi!
It is true. I have had a slow-burning, escalating obsession with kimchi for a while. Like baking bread, once you start making your own kimchi there is no turning back. I first shared a step-by-step Vegan Kimchi recipe with heaps of process and stage shots two years ago. I give away a lot of kimchi jars every year to friends and a couple of them are allergic to seafood which was why I devised a vegan recipe that called on the umami flavour of mushroom and seaweed.
That and the fact that I like to open the fridge door, get my kimchi jar out, unscrew the lid and eat straight off the jar with my nimble fingers at least once a day (Hey! Probiotics are good for you!) and too much fish sauce was hampering this ritual. I wanted something softer, a bit more rounded but equally pungent and spicy.
Re-inventing traditional homemade kimchi with a vegan version that has a secret ingredient!
After happily eating that kimchi for a couple of years, a chance lunch date at a Korean restaurant revealed a much superior kimchi to me. This one had a slight sweetness to it, had a deeper texture and a more viscose quality to it and packed a punch.
So began a relentless quest to create jar after jar of kimchi, scouring websites and blogs, trying to absorb everything there was to the art of fermentation. Much like the mad bread-baking spree of 2013. But then after a few weeks of experimentation, I hit the jackpot. I used rice flour to create a viscose base for the cabbage and a brand spanking new vegan fish sauce recipe that was made with pineapple juice. This kimchi batch was vibrant, red, spicy, thick and hit the spot without overpowering me with that fish smell. And it went pretty quick. So I made another and am sharing it today so you can make your first batch too!
Helpful tips for making the best jar of homemade vegan Kimchi.
Once you mix your kimchi, make sure you pack it in a large airtight jar with plenty of room for the gases to form. I use an Italian Fido jar with a tight rubber seal. Leave it in a warm spot in your kitchen out of direct sunlight and within the first few hours, you will see the foggy breath of the wonderful fermented gases form in the empty space above the kimchi.
It is a magical process called lacto-fermentation that is a by-product of the clever pairing of cabbage and radish with salt and sugar. As you know everything has good and bad bacteria. The salt brining is to kill off the bad bacteria. Meanwhile, the good bacteria pair up with the sugar to create lactic acid which preserves the vegetable and gives it that amazing tangy taste. The probiotics are created as a result of this wonderful process.
Scientific lectures aside, this kimchi only needs to ferment for a day, another day if you want it to take your head off. After the fermentation, comes the bottling. You need smaller tight-lidded glass jars. Like 750ml or 1 litre mason ball jar. And the most important thing to remember is to pack your kimchi in real tight. Like, squish it down with your fingers (or spoon) making sure all the gorgeous liquid sits on top and there is barely a centimetre of space between the top and the lid. And then refrigerate. This is to prevent it from fermenting further. Lack of space and cold temperature will stop the fermenting process and more gases from forming. So there!
Vegan fish sauce made with pineapple juice!
Before I wax lyrical some more about why this kimchi is amazing (30 minutes, that's why!) let's talk about this vegan fish sauce made with pineapple juice. Even more amazing! Imagine all those Thai dishes you couldn't eat because of a seafood allergy or couldn't make for a friend who broke into hives the minute you said "crustacea!" .. that is a thing of the past because this sauce has no fish but tastes like fish sauce and takes 2 minutes. What!!! .....
I now have the freedom to create Thai recipes for seafood-intolerant friends with ease without losing any of that glorious salty, sweet and sour fish sauce flavour. This one will change your life. I love splashing this through my pad thai and pineapple fried rice. Yum!
A kimchi makes a great weekend kitchen project. If you make yours this weekend (because it only takes 30 minutes!), I'd love to hear all about it in the comments below and if you love it, please do rate the recipe so it can encourage others to try their hand at making it too. Share your kimchi experiments with me on Instagram using #cookrepublic. I think I have been prepping and writing this post for over 10 hours now and seriously deserve a glass of wine. Plus its Friday! So I bid adieu. Happy weekend folks. xx
Recipe
Hungry For More Recipes? Subscribe to my newsletter. Check out Facebook, Instagram and Pinterest to see everything I share! And if you love cooking and new cookbooks, join my free Cooking Club on Facebook!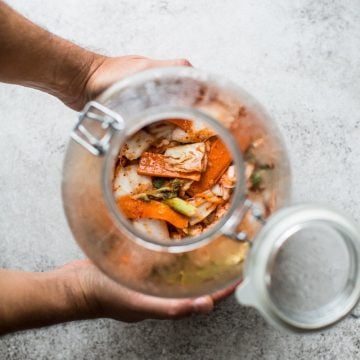 EASY 30 MIN KIMCHI AND VEGAN FISH SAUCE
A gloriously red and spicy kimchi with the most beautiful glutinous texture ready in 30 minutes made with a delightful vegan fish sauce (from pineapple juice). A must in every pantry/fridge! Get your ferment on!
Print Recipe
Rate / Comment
Ingredients
for the cabbage
1

kg

wombok

,

Napa cabbage

1

litre water

1/2

cup

salt
for the kimchi sauce
2

tablespoons

rice flour

2

tablespoons

golden caster sugar or coconut sugar

1/4

cup

water

4

garlic cloves

2

tablespoons

vegan fish sauce

,

see below

2

tablespoons

Korean red pepper flakes

,

gochugaru

1

eschalot

,

peeled

3

cm

piece ginger
additional veggies
2

spring onions

,

green and whites sliced

1

small carrot

,

100g, shaved into ribbons

1/2

cup

100g daikon radish, grated
Instructions
Wash, drain, trim and quarter a whole wombok. Cut each quarter into 3 cm slices.

Bring water and salt to a boil in a saucepan. Place cabbage in a large, wide and deep bowl (I use an enamel basin). Cover with salted boiling water for 20 minutes.

Drain water. Rinse. Drain. Return cabbage back to the bowl.

While the cabbage is soaking, place rice flour, sugar and water in a small saucepan. Heat on medium-low, whisking until smooth and thickened. Remove from heat and cool slightly.

Place the rice paste along with garlic cloves, vegan fish sauce, Korean pepper flakes, eschalot and ginger in the bowl of a small food processor. Process to a fine sauce.

Add kimchi sauce to the cabbage along with the spring onions, carrot and radish. Massage the cabbage and sauce together, mixing everything well.

Scoop kimchi in a large 4 litre glass jar with a tight rubber seal. Allow to ferment in a warm spot in your kitchen out of direct sunlight for at least an hour before consuming. I leave it overnight or 24 hours for it to reach the right pungency.

When ready, bottle your kimchi in smaller 750ml or 1 litre glass jars with tight seals and refrigerate for up to a month.
Did you make my recipe?
I'd love to hear how you went! Tag me on Instagram @cookrepublic
Recipe
Hungry For More Recipes? Subscribe to my newsletter. Check out Facebook, Instagram and Pinterest to see everything I share! And if you love cooking and new cookbooks, join my free Cooking Club on Facebook!
VEGAN FISH SAUCE
A vegan fish sauce made with canned pineapple juice for that truly authentic Thai taste of sweet, sour and salty. Adapted from Vegan Miam blog.
Print Recipe
Rate / Comment
Ingredients
1/4

cup

warm water

1/4

cup

pineapple juice

,

canned pineapple

2 1/2

tablespoons

coconut sugar

2

tablespoons

light soy sauce

1/2

teaspoon

sea salt flakes
Instructions
Place all ingredients in a glass or non-reactive plastic jug and mix well.

Store in the fridge for up to a week.
Did you make my recipe?
I'd love to hear how you went! Tag me on Instagram @cookrepublic