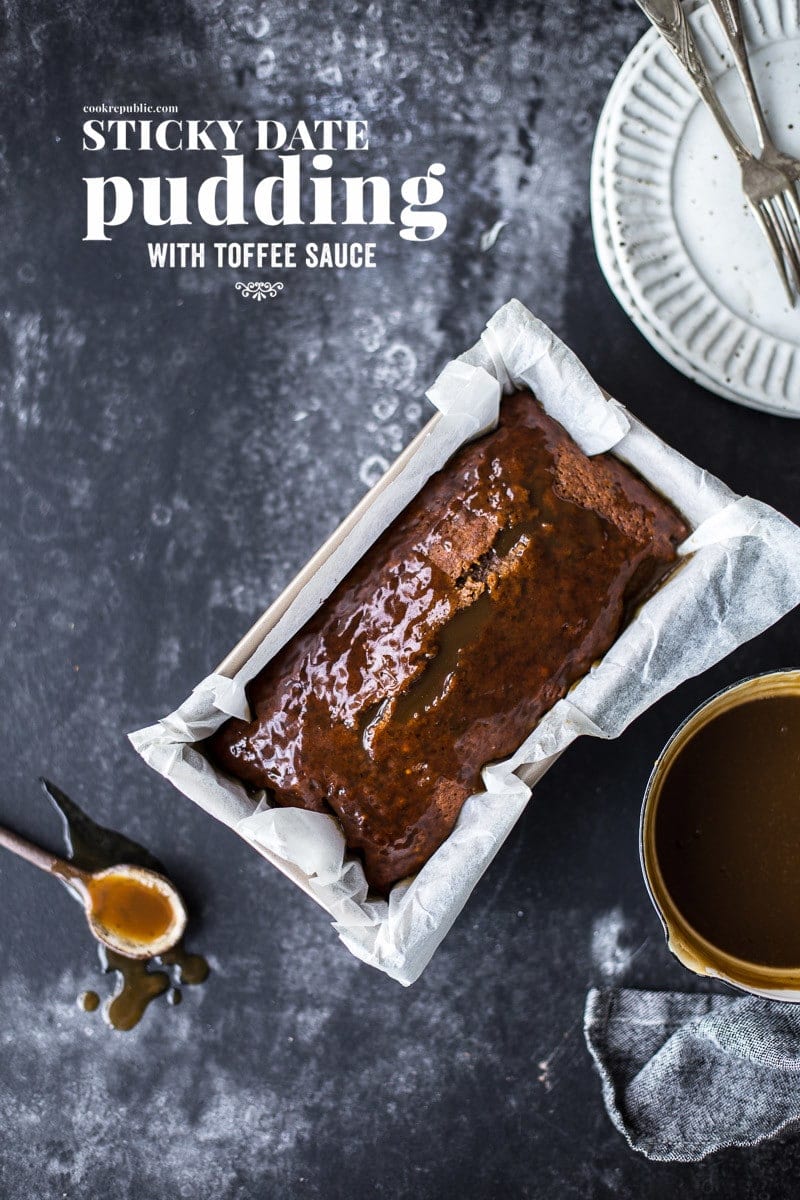 Would you believe it if I told you that the first time I tried a sticky date pudding was less than a month ago. And I liked it. In fact, I liked it so much that I wanted to make it at home especially because the boys got into a fork fight over the last slice of the pudding we bought at a school cake stall. Now a sticky date pudding is a true classic. With a short list of ingredients and a no-nonsense technique; you are bout to find copies of this recipe on every single recipe site out there. So why would you need my recipe?
Because when I was browsing all those recipes to bake it one night, I realised that all of them used white sugar or brown sugar (and lots of it!). In recent years, it has become a ritual of mine to bake with spelt flour and rapadura sugar. I wanted to bake this Sticky Date Pudding with these staples from my pantry and I also wanted to make the Toffee sauce with rapadura sugar. A healthier sticky date pudding if you will. Although calling a sticky date pudding healthy is a stretch but one made with more wholesome sensible ingredients and enjoyed in moderation is definitely a joyful indulgence.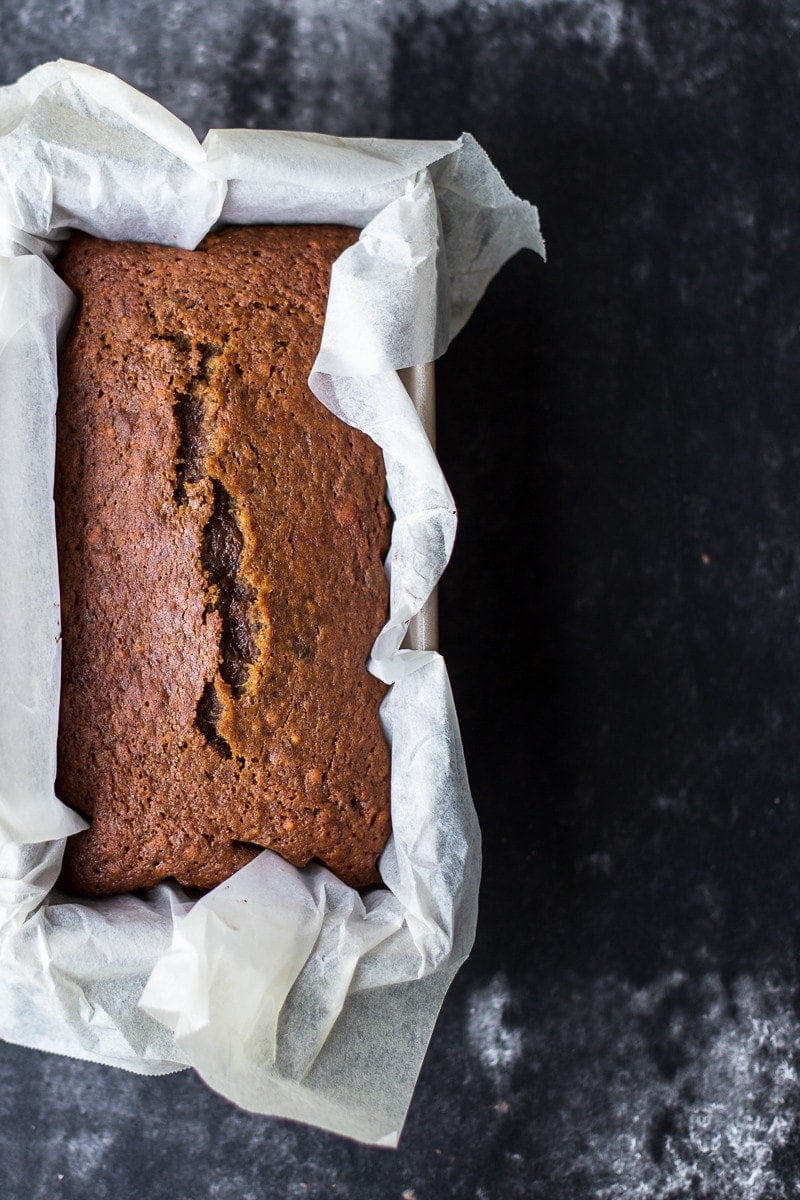 The Sticky Date Pudding that you see in the pictures was a result of an evening of recipe testing and boy was it gorgeous! It was rustic and wholesome and had buttery caramel tones - the best kind! I must admit, I often use plain self-raising flour (see notes) because it imparts that perfect light pudding texture that is so highly coveted. But the spelt version which I share below has to be my favourite.
And what makes this better for you, you might be wondering? I have not only made it low sugar but have used rapadura sugar which is unrefined sugar. Rapadura sugar is basically the pure juice extracted from sugar cane and then cooked off. It is produced organically and contains no chemicals. Because the sugar is unrefined and separated from the molasses, it retains a lot of its nutrients. It also metabolises slowly in your body, thereby not causing crazy spikes in your blood sugar levels. To top it all, it has a beautiful muted sweetness and caramel tones that you won't find in other sugars. I always use salted butter for the sauce recipe as the result is pretty spectacular. Think salted caramel! Yum!
It is Friday and a cocktail might be the order of the evening while I plan a wood-fired Italian feast for a weekend of entertaining (so many exciting recipes coming your way in the following weeks!) but first, I am baking this wicked Sticky Date Pudding for tonight's dessert. I can't wait to hear the squeals when I bring this out after dinner. If you make this and love this, I would love to hear your feedback/rating in the comments below. Happy Friday lovelies! Hope you have an amazing weekend. x
Recipe
Hungry For More Recipes? Subscribe to my newsletter. Check out Facebook, Instagram and Pinterest to see everything I share! And if you love cooking and new cookbooks, join my free Cooking Club on Facebook!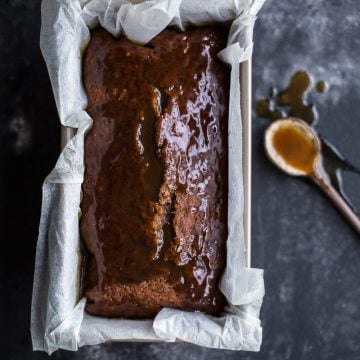 Ingredients
for the sticky date pudding
160

g

fresh pitted dates

250

ml

(

1

cup

)

water

1

teaspoon

bicarbonate of soda

1/2

teaspoon

vanilla powder

100

g

unsalted butter

140

g

rapadura sugar

,

Note 1

2

organic eggs

150

g

(

1

cup

)

spelt flour

1/2

teaspoon

baking powder
for the toffee sauce
100

g

salted butter

160

g

rapadura sugar

250

ml

thin pouring cream
Instructions
Pre-heat oven to 180°C (convention)/160°C (fan-forced/convection). Grease a 16x26cm base measurement loaf tin with butter and line with baking paper with the paper hanging over the sides.

Put dates and water in a small saucepan over medium heat. Bring to boil, reduce heat and cook for 3-8 minutes until pulpy. Remove from heat, add bicarbonate of soda, mix well and rest for 20 minutes.

Cream sugar and butter for the pudding in an electric mixer for a few minutes. Add eggs and beat until pale and creamy.

Use a metal spoon to fold date mixture into the egg mixture. Add flour and baking powder (or just *self-raising flour if using that - see notes) and fold until just combined.

Spoon batter into the prepared tin. Bake in the pre-heated oven for approximately 35 minutes until risen and cooked through when tested with a skewer down the middle. Remove from oven and allow to cool a bit.

To prepare the toffee sauce, put butter and sugar for the sauce in a small saucepan. Cook on medium until butter is melted. Add cream. Bring to just a boil then reduce heat and simmer for 2 minutes, stirring constantly until smooth and golden. Remove from heat.

Pour toffee sauce over the warm pudding as required and serve with fresh cream or ice cream on the side.
Notes
Note 1 / Rapadura Sugar - If you don't have rapadura sugar on hand, any other sugar can be used in the same quantities. Rapadura sugar is unrefined and has distinct caramel tones making this pudding less sweet but perfectly balanced with a delicious rich caramel flavour and infinitesimally more wholesome.
*For a lighter and fluffier pudding - You can substitute spelt flour and baking powder for a cup of self raising flour.
Did you make my recipe?
I'd love to hear how you went! Tag me on Instagram @cookrepublic