Imagine this? You have a serious hankering for a delicious, creamy Indian curry dotted with golden cubes of paneer, but you can't find paneer at your local shops. Look no further! I have a 15-minute super easy, homemade paneer recipe for you that you can make with two common ingredients - milk and lemon!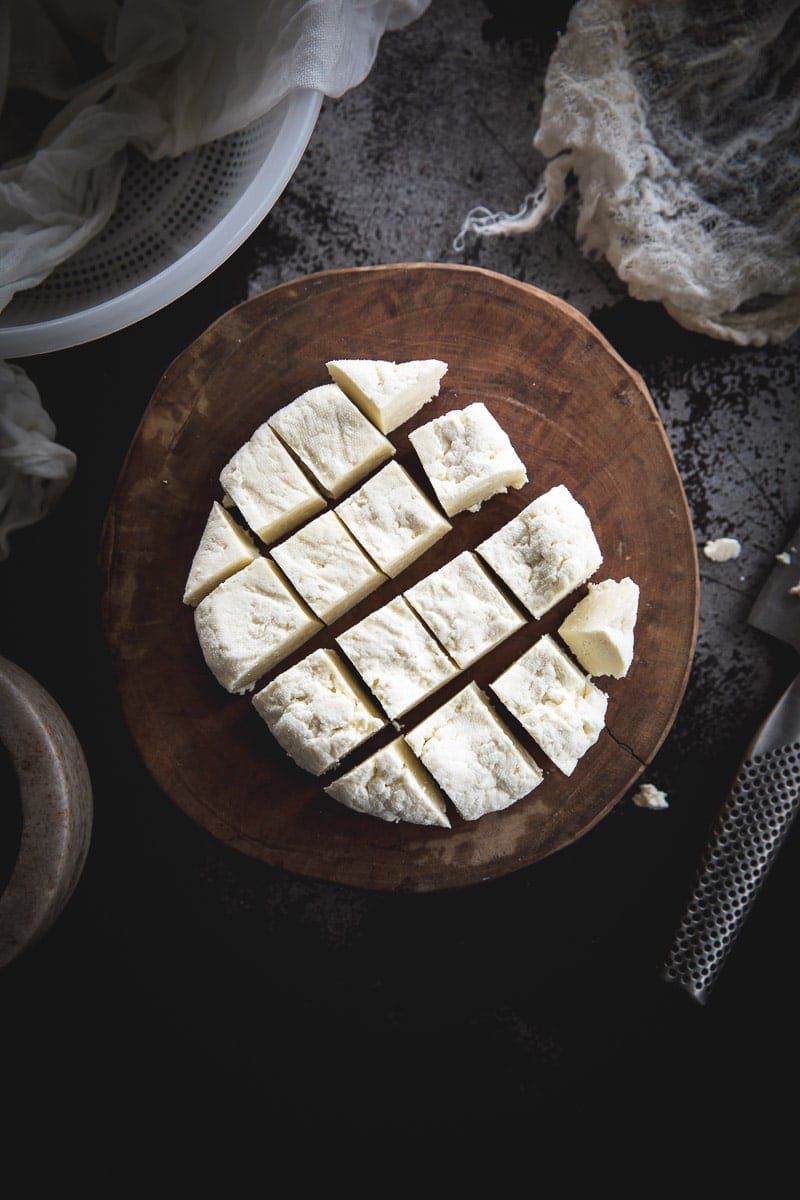 Making paneer is the easiest thing ever. It only takes 15 minutes of your time and a maximum of an hour to set for a delicious, additive-free ingredient that you can create fabulous Indian dishes with. You basically just boil the milk, add lemon juice, stir and leave it to curdle for a few minutes. You then strain the milk curds in a cheesecloth, rinse them and squeeze them. Allow it to set with some weight on top for a couple of hours. And finally, cut and enjoy by frying, baking or just adding to curries.
Tips And Tricks For Making Perfect Homemade Paneer
Try and make it with non-homogenised milk as this will give you the best creamy results. You can use pasteurized milk too but avoid using low-fat milk.
Lemon juice will give you softer, creamier paneer (this is what I prefer) whereas vinegar will give you firmer paneer.
Remember to rinse gently but well in cold water to remove the tang of the lemon juice/vinegar.
A pressing of 4-5 hours or overnight will give you really firm paneer that will hold its shape well and allow you to bake or fry without crumbling.
Once cut into cubes, refrigerating the paneer will also firm it up and prevent it from crumbling when used in cooking.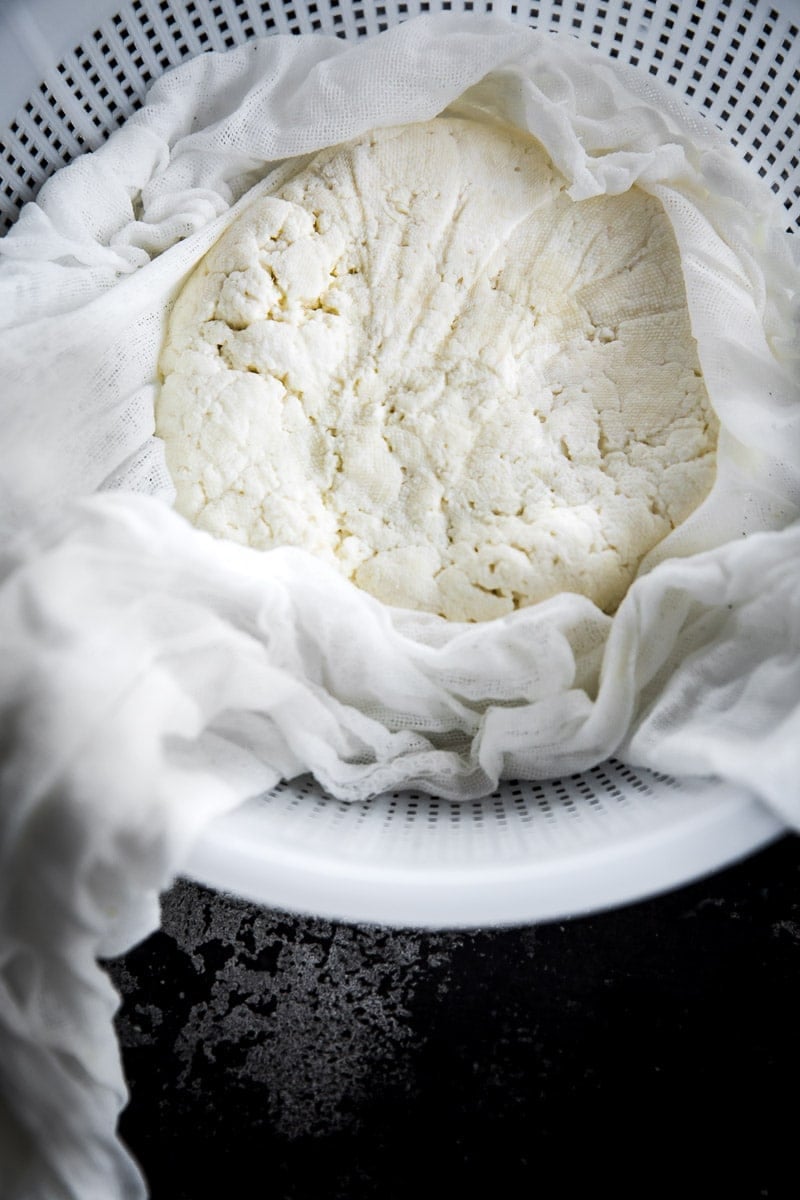 Once you make your paneer successfully, try out these delicious Paneer recipes from the blog
And these are some yummy Indian Curry sauce you can try to with your homemade paneer
Recipe
Hungry For More Recipes? Subscribe to my newsletter. Check out Facebook, Instagram and Pinterest to see everything I share! And if you love cooking and new cookbooks, join my free Cooking Club on Facebook!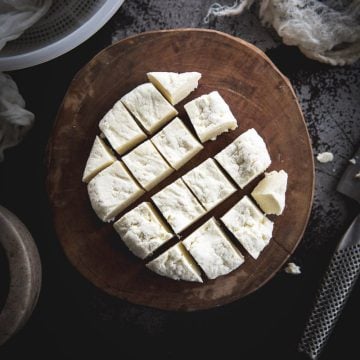 HOMEMADE PANEER
An easy recipe to make delicious, soft, creamy homemade paneer with just two ingredients.
Print Recipe
Rate / Comment
Ingredients
6

cups

(

1500

ml

)

non-homogenised milk (or full fat milk)

1/3

cup

(

80

ml

)

freshly squeezed lemon juice or white vinegar

,

approx 6 tablespoons
Instructions
Bring milk to a boil gradually on medium heat in a heavy-bottomed saucepan.

Once the milk has boiled, turn off the heat and add lemon juice (or vinegar). Mix gently, ensuring that you are stirring in only one direction (either clockwise or anti-clockwise).

The milk should start to curdle with the whey appearing clear and greenish in colour. If the milk doesn't start to curdle straightaway, turn on the heat for a couple more minutes and then turn it off. Allow the mixture to cool for 5-10 minutes.

Line a colander with cheesecloth and place it in a sink or large bowl. Strain the milk curd into the cloth. Gently rinse the milk curd under cold running water to wash off the lemon juice and to cool down the curd. Don't disturb the curds too much.

Gather the ends of the cheesecloth and squeeze the excess water off.

Holding the gathered cheesecloth in one hand, press down on the milk curds with the palm of your other hand to shape the paneer into a disc or square at least 1-inch thick. Twist the top of the cheesecloth tightly. Place the cheesecloth disc on a baking tray. Place a heavy weight on top. (I put another baking tray or a heavy cast iron frying pan on top and weigh it down with a big heavy pumpkin or 4-5 of my heaviest cookbooks.) Set aside on your counter or in the fridge for 3-5 hours to allow it to set.

Gently peel off the cheesecloth. Place the paneer disc on a cutting board and cut into cubes or any desired shape. Store in an airtight container in the fridge for up to 3 days or in the freezer for a couple of months.
Notes
To make the paneer creamier, add 200-300ml full cream to the milk when boiling.
Remember to only stir the curdled milk mixture in one direction so as to not break up the milk curds into little pieces. Larger pieces will set well.
You will get best results with non-homogenised and full-fat milk as opposed to pasteurized milk or low-fat milk.
Allow the paneer to set for at least 3-5 hour. The longer you set, the firmer it will be. I also like to refrigerate the paneer for a couple of hours before using it. This also allows the paneer to firm up so that it holds its shape when added to curries.
Did you make my recipe?
I'd love to hear how you went! Tag me on Instagram @cookrepublic