A Fire Cider Tonic is an ancient herbal remedy created by steeping a whole array of nutritional foods in apple cider vinegar. It is a crafted blend of horseradish, ginger, garlic, onion and chilli. It is strong, tart, spicy, sour and sweet and has one sole purpose – to warm you to your core during winter and boost your body's immunity to fight germs and ward off colds.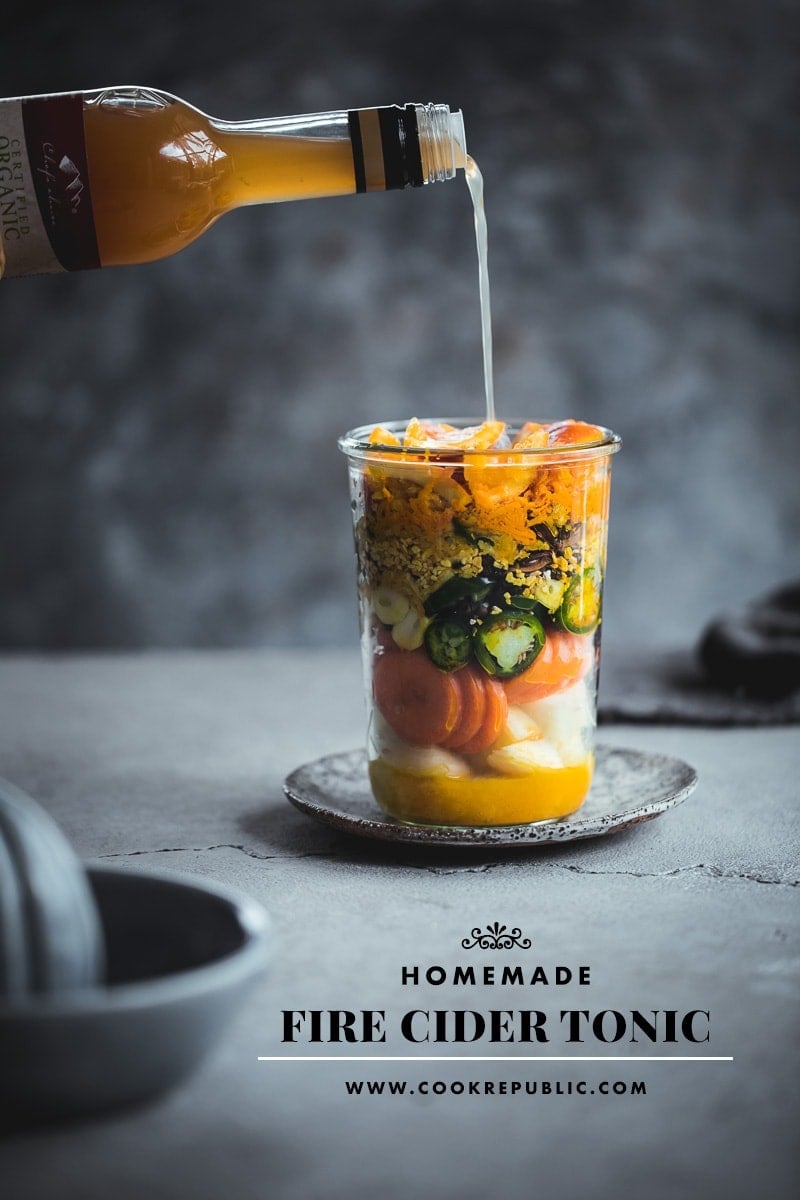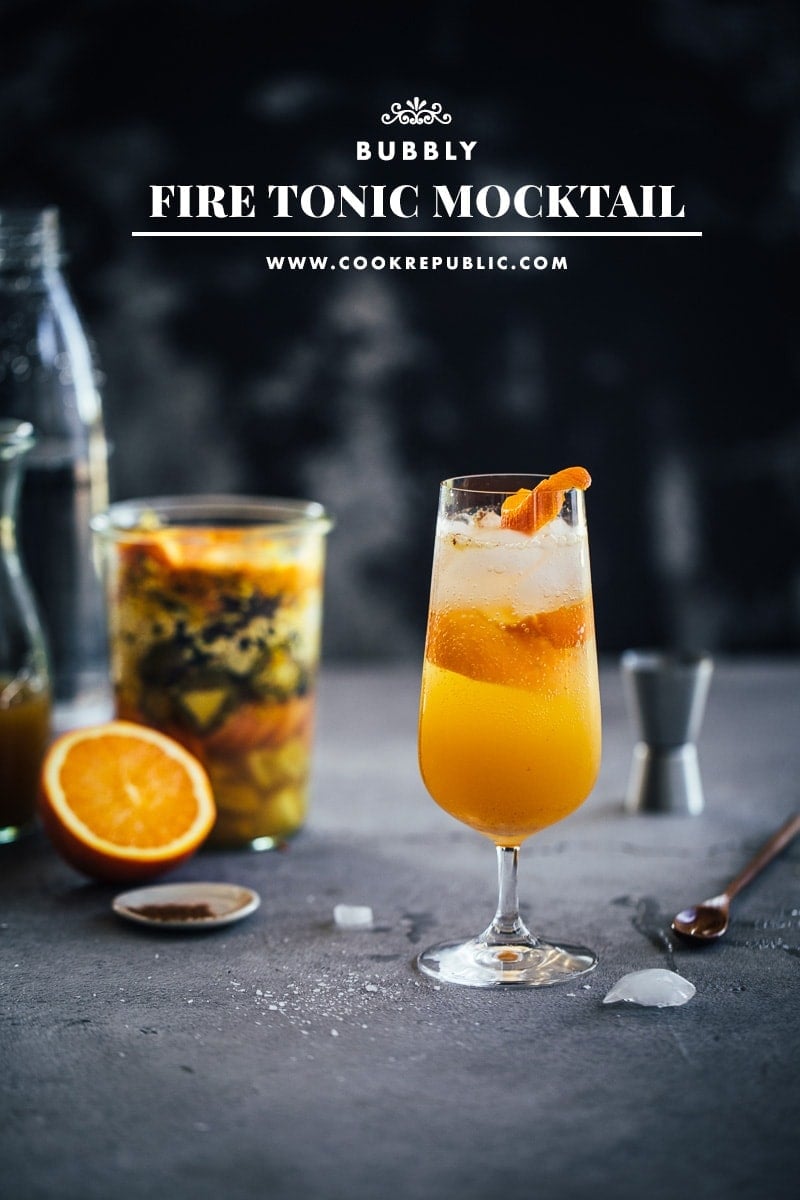 Food as Medicine For Healing And Nourishing
I have always been fascinated by the concept of using food as medicine. Having grown up with an Ayurvedic style of cooking and eating, I understand to a large extent and embrace the role of food as life-giving sustenance. Different foods create different kinds of energies in your body, fuelling fire (heat) or water (cold) elements to either warm you or cool you down.
A homemade Fire Cider Tonic is one of the most satisfying things you can create in your kitchen. Using the best organic ingredients, you can craft a tonic to your liking and taste. Traditionally, a fire tonic would have to steep for at least a month before being used. After studying the role of each and every ingredient that goes into a Fire Tonic and all the possible ingredient substitutions and stand-ins, I set out to test and craft a fire tonic that is not only delicious and potent but one that you can easily create in your own kitchen. My fire tonic is also an express version that is ready to use in just two weeks.
The main herbs essential to crafting a Homemade Fire Cider Tonic
Fire Cider Tonic is crafted from five main herbs – horseradish, ginger, garlic, onion and hot chillies. Besides the main five, other healing herbs are added to boost the potency and improve the taste of the fire tonic. These include rosemary which is a restorative herb with antimicrobial properties and turmeric which is an excellent anti-inflammatory. And finally, a bit of sweetness from honey rounds up the flavours perfectly and boosts the antibacterial quality of this powerful home remedy.
Horseradish - The core ingredient of any Fire Cider Tonic is horseradish. Horseradish is used to help clear sinus congestion and alleviate headaches. Fresh horseradish root can be found in supermarkets or specialty grocers. But if you can't get your hands on it, there are a few online herbal stores/spice-markets that sell dried chopped horseradish root.
Ginger – Fresh ginger is extremely warming and has antiviral properties. It aids in digestion and reduces muscle aches and soreness.
Garlic – Garlic is a powerful natural antibiotic that can help ward of cold and flu. It also aids in lessening respiratory ailments and symptoms.
Onion – Onion has properties similar to garlic and is especially rich in quercetin which is a strong anti-inflammatory.
Hot Chillies – Hot Chillies like Cayenne and Jalapeno assist in blood circulation and are very warming.
A Sparkling Fire Tonic Mocktail For All Ages
We have been having doses of Fire Tonic sporadically during the cooler months, usually, a quick teaspoon gulped down in a flash followed by a lot of water to mask the taste. It is especially challenging for children. So, to remedy that, I wanted to craft a delicious Fire Tonic Mocktail using my SodaStream Sparkling Water Maker. Infused with citrus and spices and a generous dose of my homemade fire tonic, this Sparkling Fire Tonic Mocktail is absolutely delicious and brimming with nature's immunity-boosting and healing properties.
One of the things I love about my SodaStream Sparkling Water Maker is the ease of having sparkling water on hand whenever I need it. Sparkling water is so underrated because it can actually be used to create such amazing recipes. This Fire Tonic Mocktail is a great example of that. Ideally, my boys would wrinkle their noses at the prospect of having the fire tonic but presented in a beautiful beverage form thanks to the sparkling water, they actually love having it.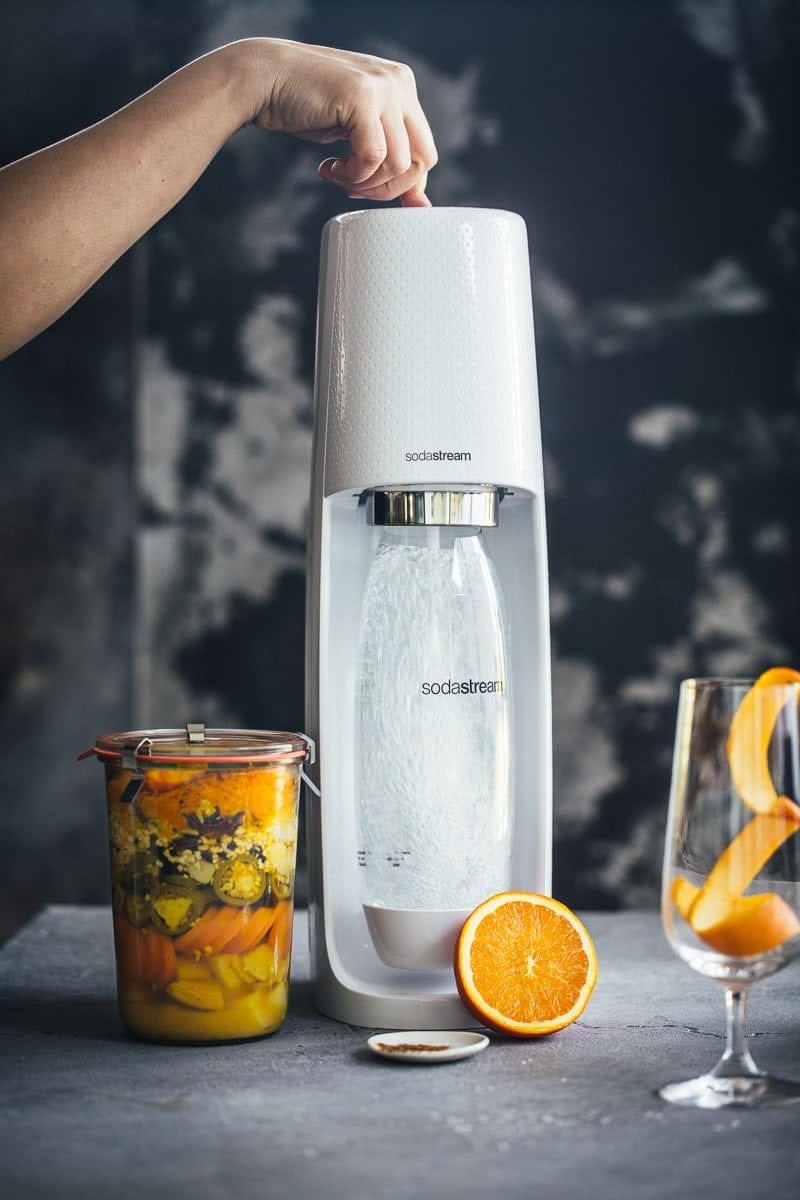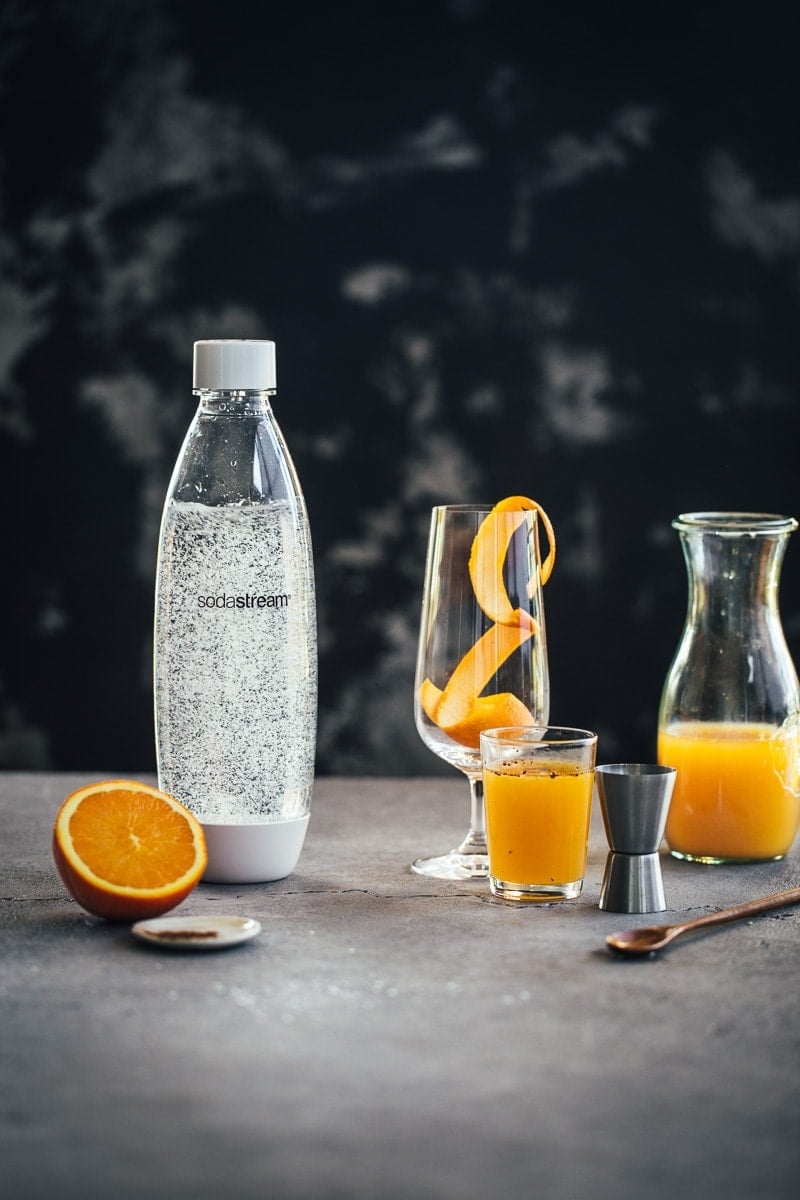 How To Use Your Homemade Fire Cider Tonic?
Ideally, one to two teaspoons of your homemade fire cider tonic is enough during the cooler months or when you feel a cold coming on. Some people take that amount every 4-6 hours when they are unwell. Regardless, it is actually very beneficial to take this herbal remedy in some form or another just to reap all the immense gut boosting, antibacterial, antioxidant-rich properties. Here are some other ways in which you could use your homemade fire cider tonic
Crafted in a mocktail
A tablespoon added to your juice or smoothie
A tablespoon added to your vinaigrette or salad dressing
A couple of tablespoons stirred through your curries or soup
A dash added to your hot herbal teas.
Recipe
Hungry For More Recipes? Subscribe to my newsletter. Check out Facebook, Instagram and Pinterest to see everything I share! And if you love cooking and new cookbooks, join my free Cooking Club on Facebook!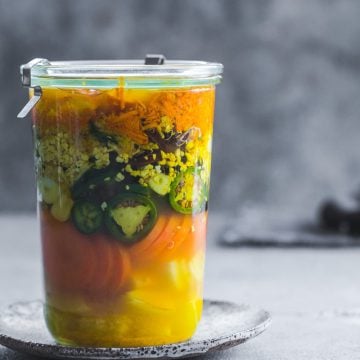 Ingredients
1

brown onion

,

peeled and chopped

1

small carrot

,

peeled, trimmed and thinly sliced

2

jalapeno peppers

,

sliced

10

garlic cloves

,

chopped

¼

cup

grated fresh ginger root

¼

cup

(

30

g

)

dried horseradish root

1

tablespoon

fresh grated turmeric

1

orange

,

chopped

2

tablespoons

fresh chopped rosemary

1

teaspoon

brown mustard seeds

1

teaspoon

peppercorns

4

star anise

Zest and juice of 1 lemon

pinch

of salt

250

ml

Organic apple cider vinegar

¼

cup

organic honey or maple syrup
Instructions
Thoroughly wash and dry a lidded 1-litre wide-mouth glass jar.

Start layering ingredients starting with onion, carrot, jalapeno and garlic. Add ginger, horseradish and turmeric. Using a cocktail muddler tamp down the ingredients in the jar.

Add orange, rosemary, mustard seeds, peppercorns, salt and star anise. Finally add the lemon zest and juice. Slowly pour the organic apple cider into the jar, till it fills every crevice. Use the cocktail muddler to tamp down and compress the ingredients and top up remaining space with the apple cider.

Close tightly with the lid and leave in a cool, dark corner of your kitchen for a minimum of 2 weeks and as much as up to 4 weeks. Remember to shake the glass gently everyday, turning it around and over slowly so that the apple cider moves and travels in between all the ingredients.

After 2 weeks (or 4 weeks), open the lid and strain the fire cider into a clean and dry jug. Add honey or maple syrup and mix well. Check the taste. Add more sweetener if desired. Bottle in a clean, dry lidded glass jar or bottle and use over the next few weeks. Store in a cool, dark corner of your pantry.
Did you make my recipe?
I'd love to hear how you went! Tag me on Instagram @cookrepublic
Recipe
Hungry For More Recipes? Subscribe to my newsletter. Check out Facebook, Instagram and Pinterest to see everything I share! And if you love cooking and new cookbooks, join my free Cooking Club on Facebook!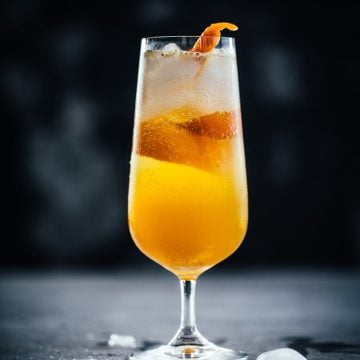 Ingredients
15

ml

Homemade Fire Cider Tonic

70

ml

fresh orange juice

Pinch

of sea salt flakes

Pinch

of ground cinnamon

Chilled SodaStream Sparkling Water

Orange peel strip

,

for garnish

½

cup

ice cubes

,

to serve
Instructions
Place ice cubes in a 400ml stemmed cocktail glass. Arrange the orange peel strip along the inside of the glass in a spiral fashion.

Add fire cider tonic, orange juice, salt and cinnamon. Top with Sodastream Sparkling water. Stir and enjoy.
Did you make my recipe?
I'd love to hear how you went! Tag me on Instagram @cookrepublic
Disclaimer - This post is sponsored by SodaStream. I am a long time user of the SodaStream Sparkling Water Makers and use them extensively in my recipe creations. All opinion and musings are my own.