This cake is more than a tongue twister – it is a celebration of the end of summer and the promise of autumn. Plum Pecan Crumble Cake, is a rustic afternoon tea cake that would make your grandma proud. Delicious lemon-scented, almond-rich golden cake topped with slices of tart red plum and crunchy buttery pecan crumble. Must have with a cup of tea!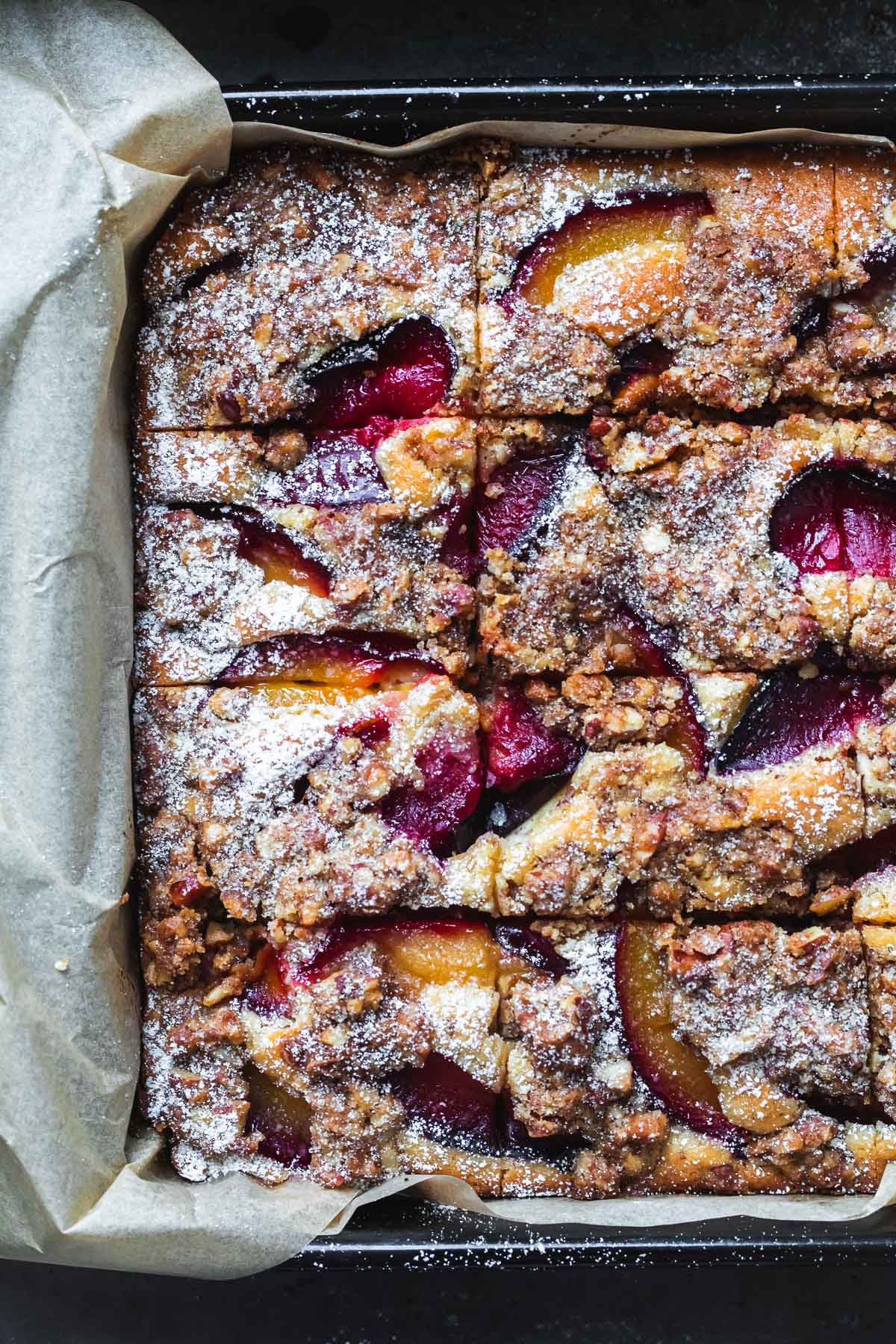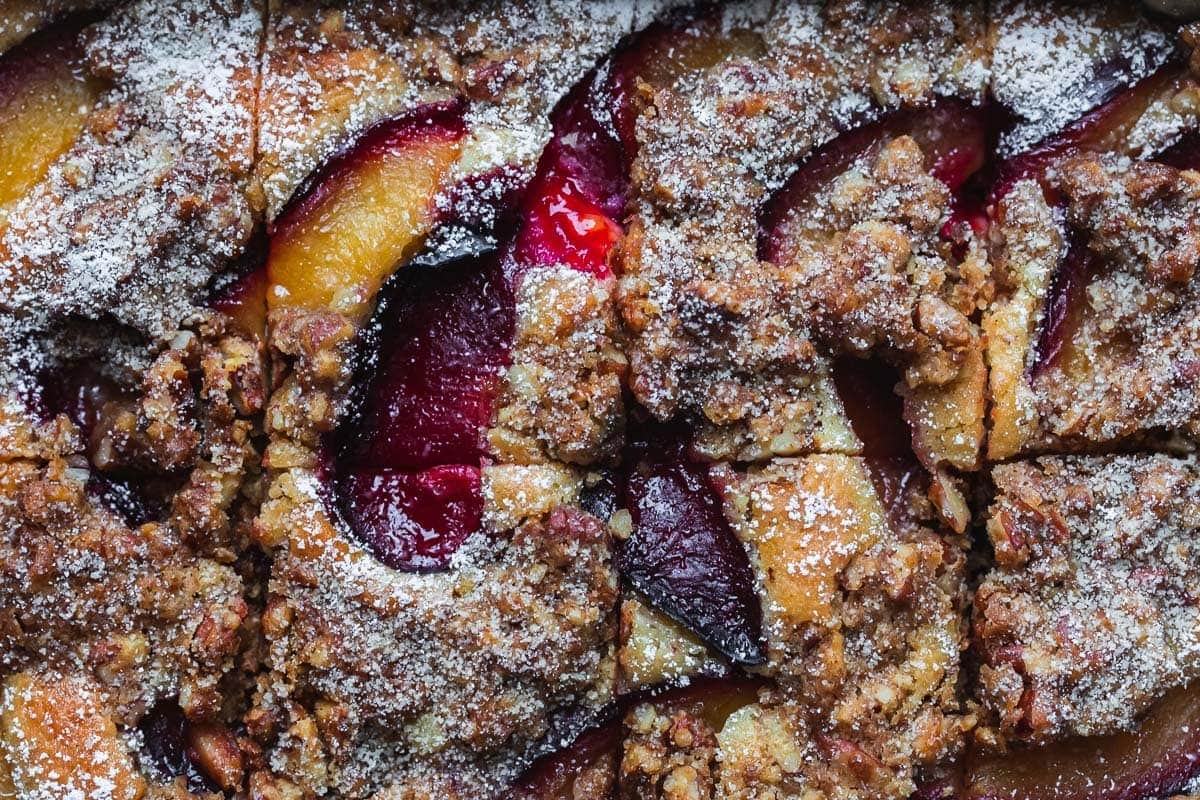 A Summer Cake  With The Promise Of Autumn
This beautiful Plum Pecan Crumble Cake is basically a sensible pound cake baked with fruit and nut on top. You could call it a pudding or a cobbler. The fact remains that no matter what the name, it is reminiscent of good old-fashioned country-style baking. And an ode to the leaves that will turn golden soon and float their way to the carpet of red and yellows already laid out on the ground.
A summer cake because plums are the last jewels of summer popping up in abundance despite it being March. The last hurrah of sweet and tart flavours before the richness of sweet apple and quince sets in. And when you have exhausted the last of your plums along with the leaves of the Liquidambar trees on your street, you can bake this same cake again. But this time with apples while cozied up in a big wooly jumper.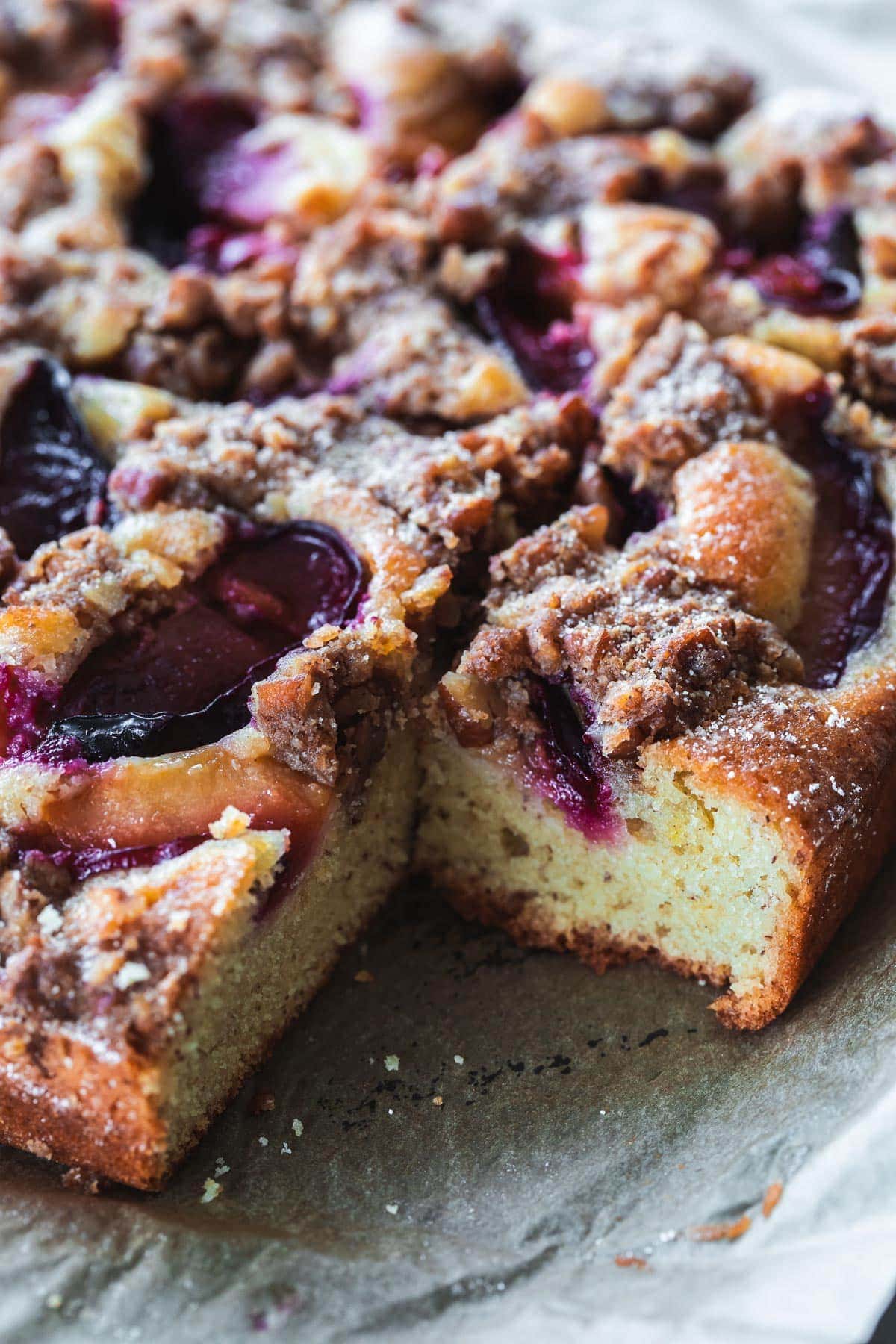 How To Make A Pecan Crumble Topping For A Cake
I love a simple nut crumble so much so that every other time I bake a cake, I top it with a good crumble. It bakes into a crunchy, golden brown, nutty topping. It instantly makes a fruit cake more delightful to eat. My cookbook from years ago has a gorgeous layered nut crumble cake recipe that is always a hit at my get-togethers, afternoon teas and workshops. Pecan is the best nut to make a crumble, it pairs beautifully with so many flavours. These are the key ingredients of my Pecan Crumble
Melted butter
Brown sugar
Cinnamon
Chopped pecan nuts
Plain flour
I mix everything up in a small bowl until it forms a thick, textural paste. Follow the order of mixing to ensure that the crumble mix doesn't get too wet – Butter, sugar, cinnamon followed by nuts and flour. I drop this randomly on top of the cake in the pan and bake the cake as per the recipe. The crumble crisps up as it bakes and even more after baking when it has cooled. It adds a lovely crunch to the cake. Cakes with baked fruit on top especially benefit from the added crunch to counteract the soft-baked fruit. I have used two kinds of plums for this cake. You can use peach, cherries or a combination of all three. Also great with apples when the weather cools down.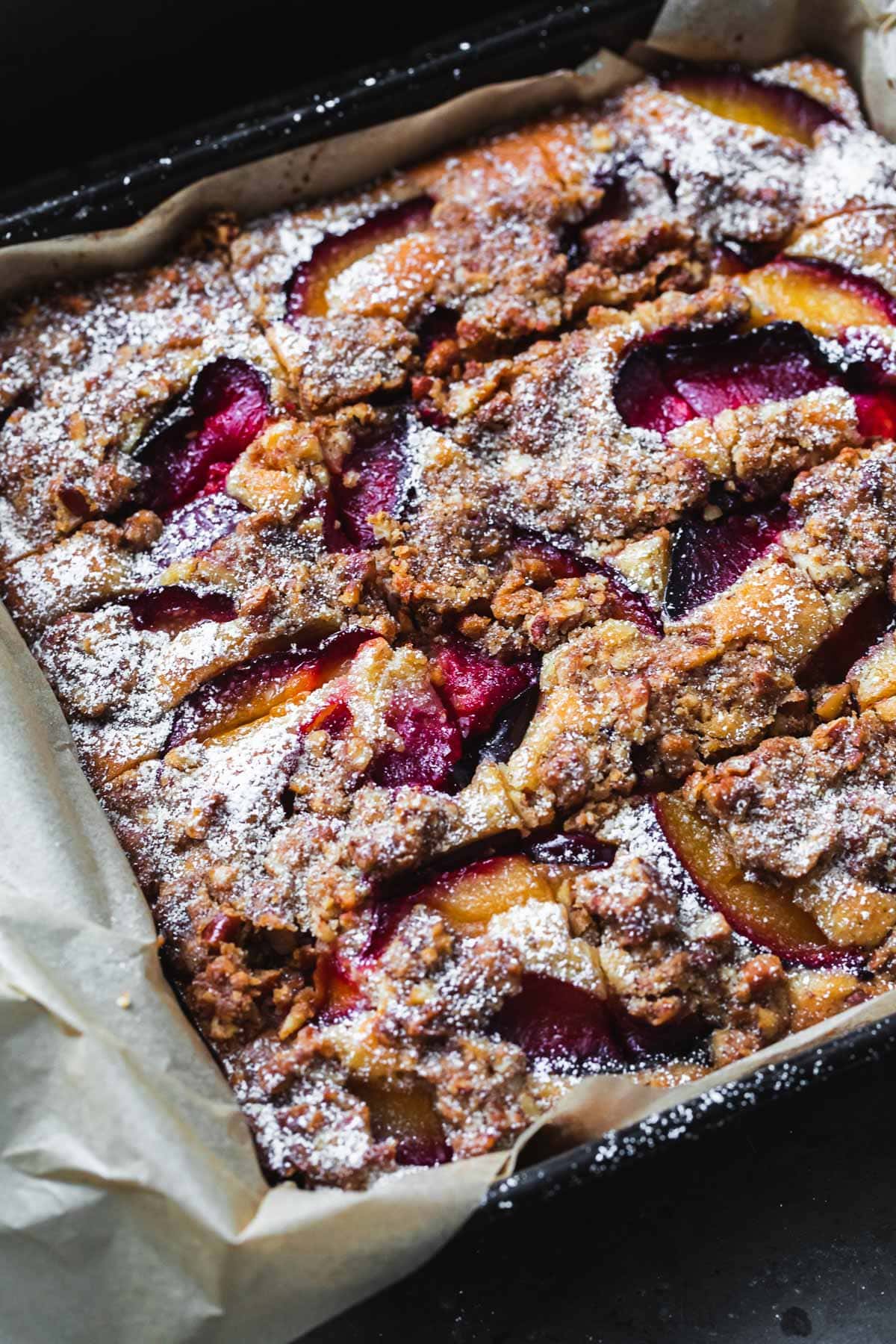 STEP BY STEP
How To Make A Plum Crumble Cake
1. Mix your wet ingredients – Place eggs, sugar and vanilla extract in the bowl of an electric mixer and beat until light and fluffy. This takes about 3-4 minutes on medium-high speed.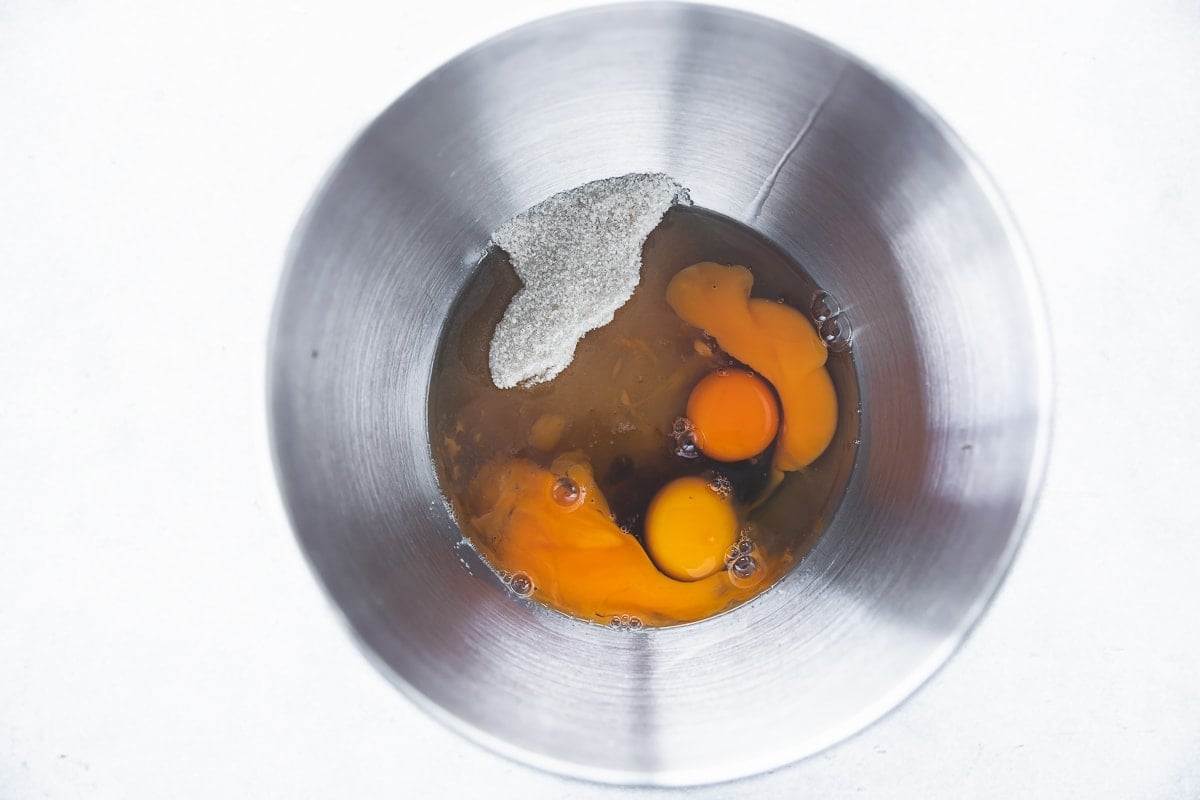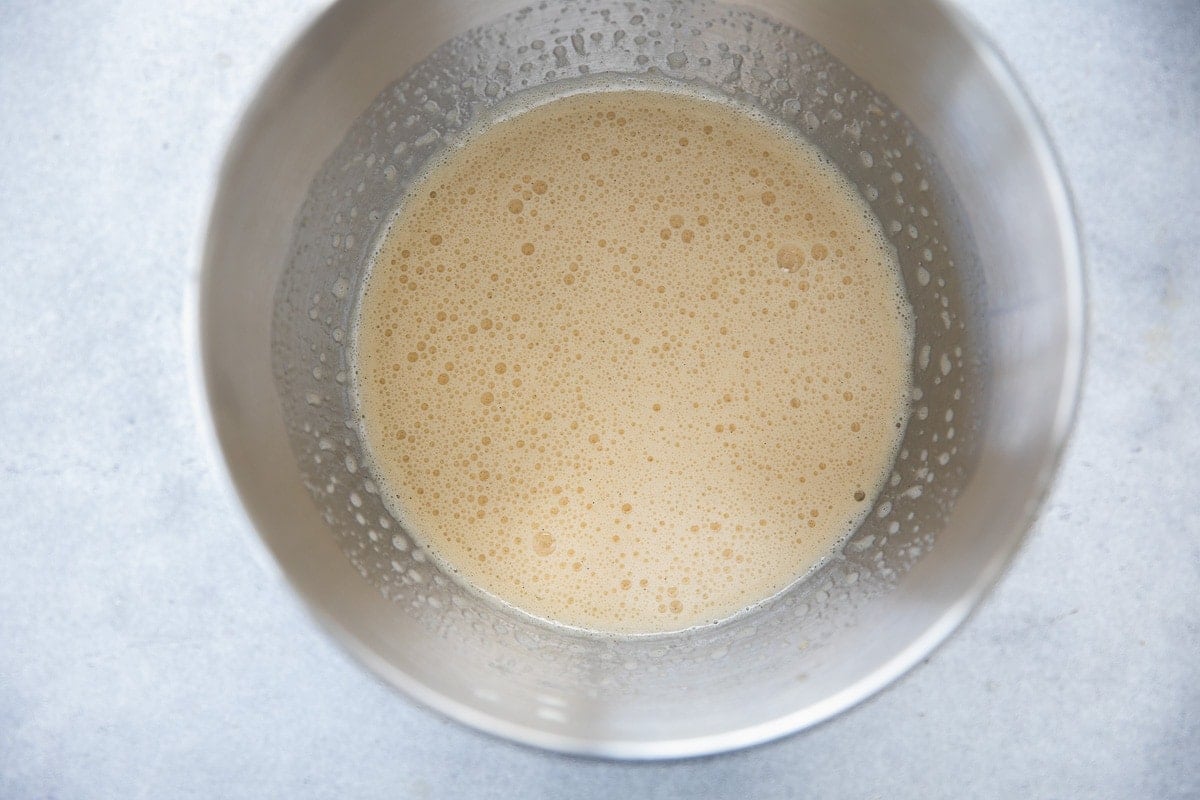 2. Mix your dry ingredients – Sift flour in a large bowl. Add almond meal, baking powder and lemon zest.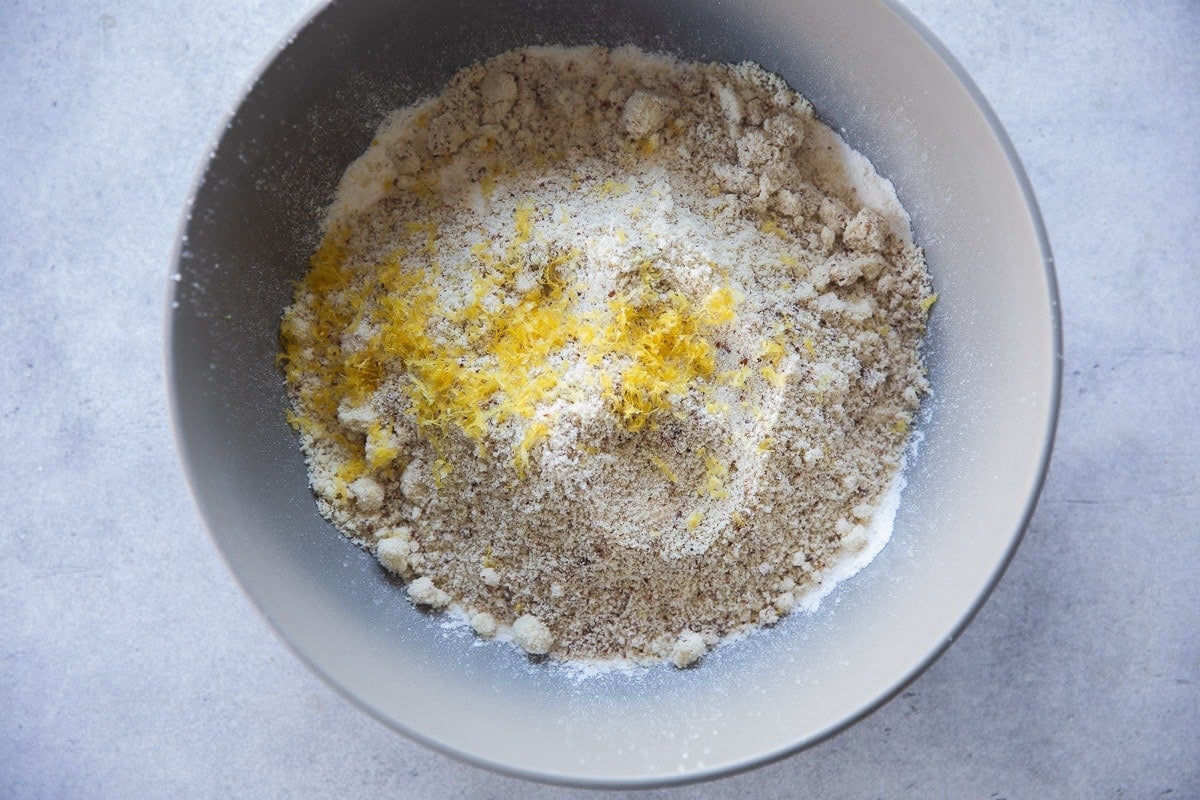 3. Mix wet and dry ingredients – Add the egg mixture to the dry mixture and mix using a wooden spoon. Mix gently until just combined. Add butter to the cake batter and mix gently with a wooden spoon until the batter is smooth and all ingredients are thoroughly combined.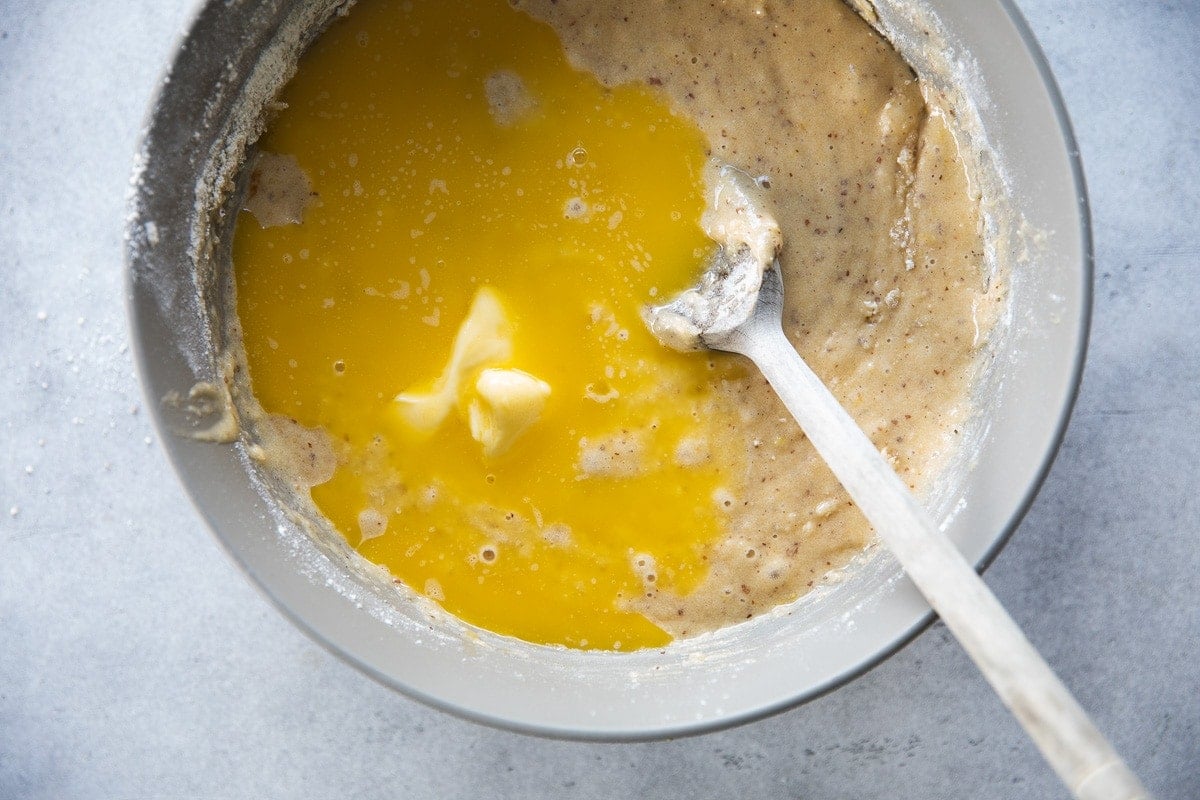 4. Make Pecan Crumble – Mix all ingredients for the crumble in a small bowl to form a lumpy mixture.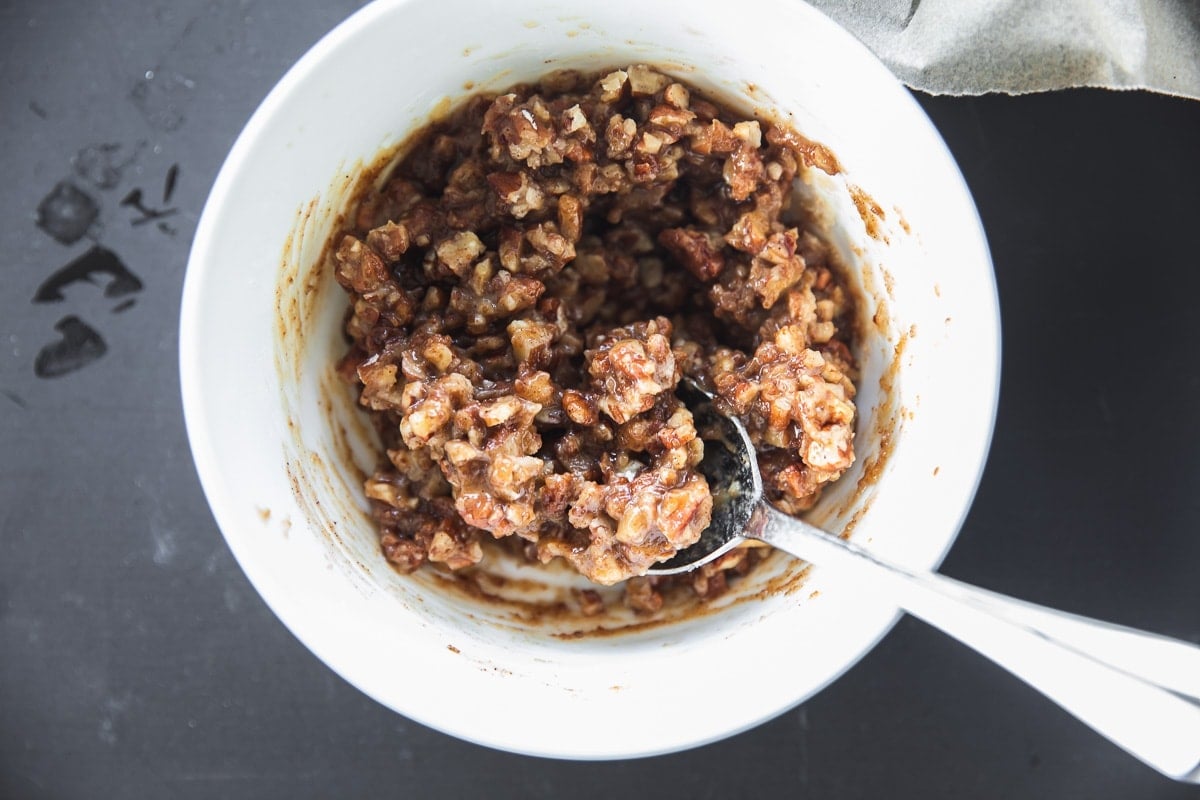 5. Add toppings – Spoon batter into a lined square cake tin. Smooth the top with a wooden spoon. Arrange slices of plum over the cake batter. Drop teaspoons of crumble mixture over the plums and cake batter. Bake the cake as per the recipe.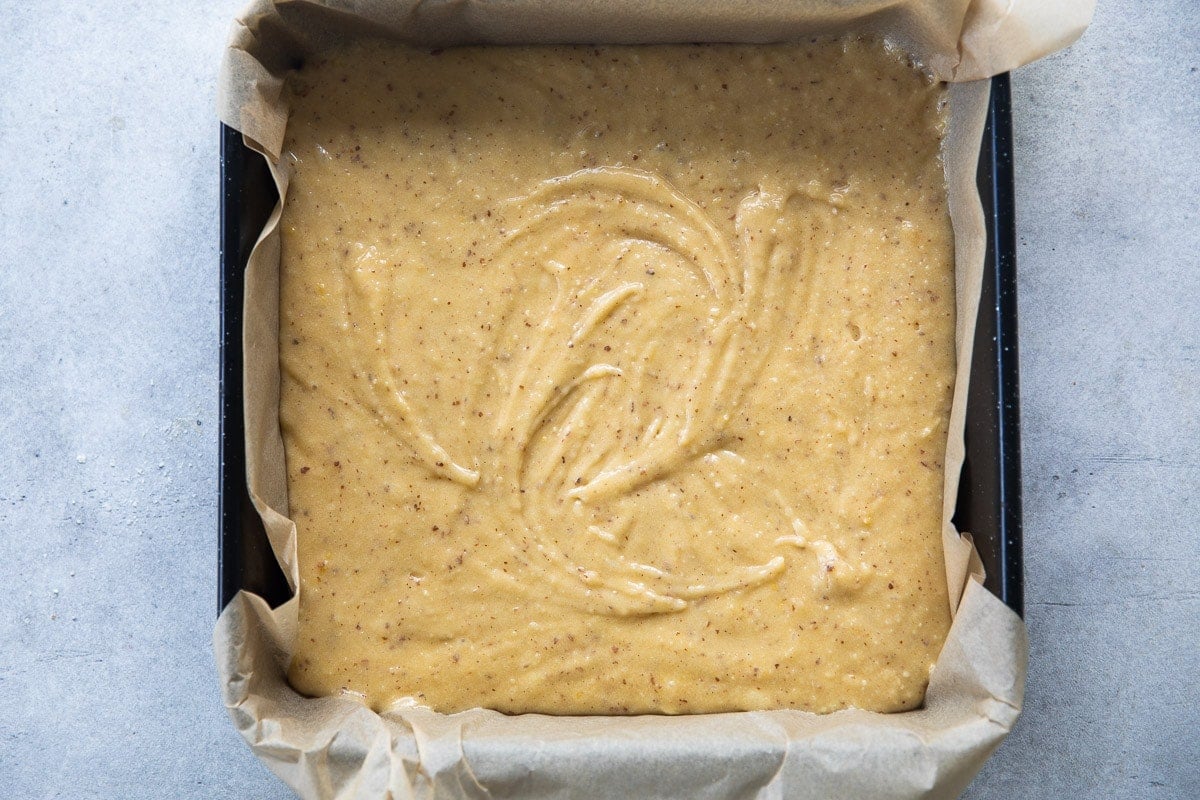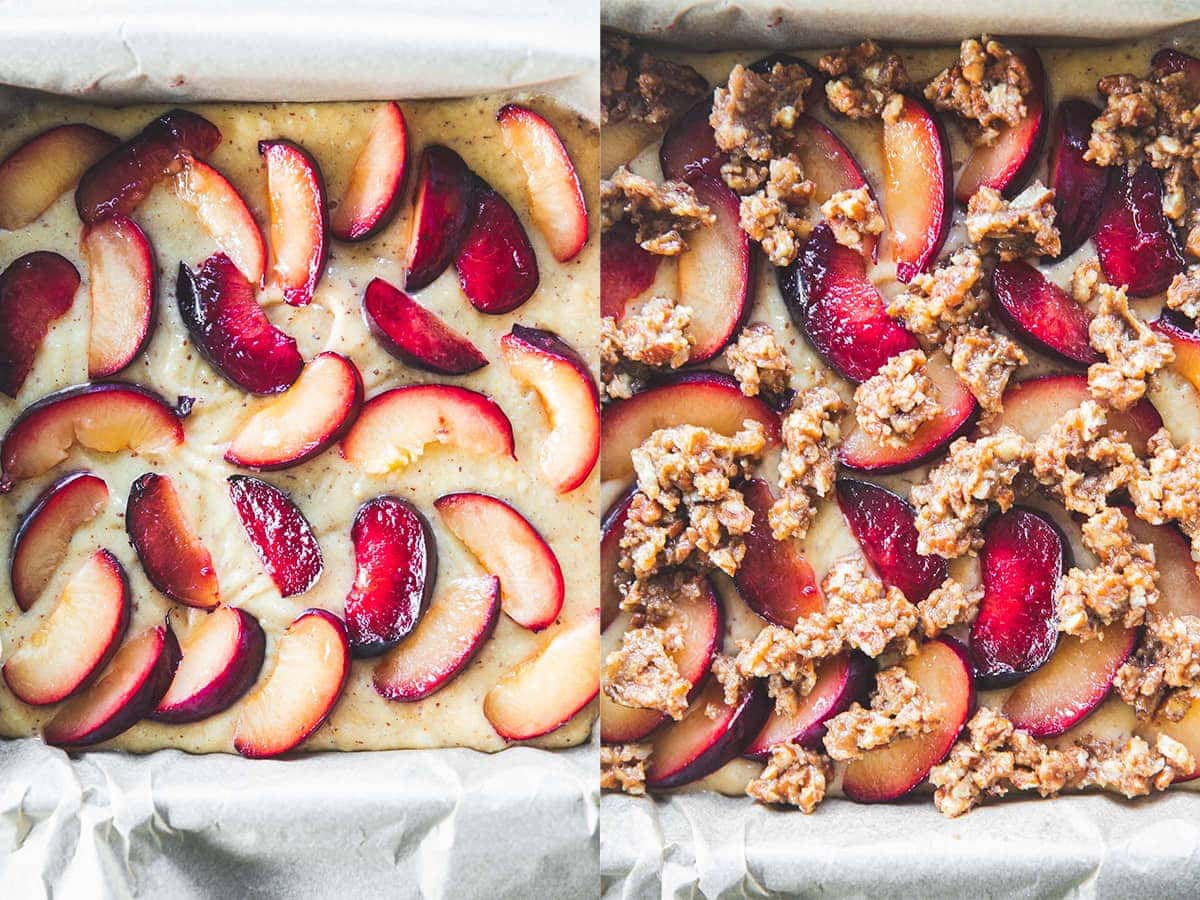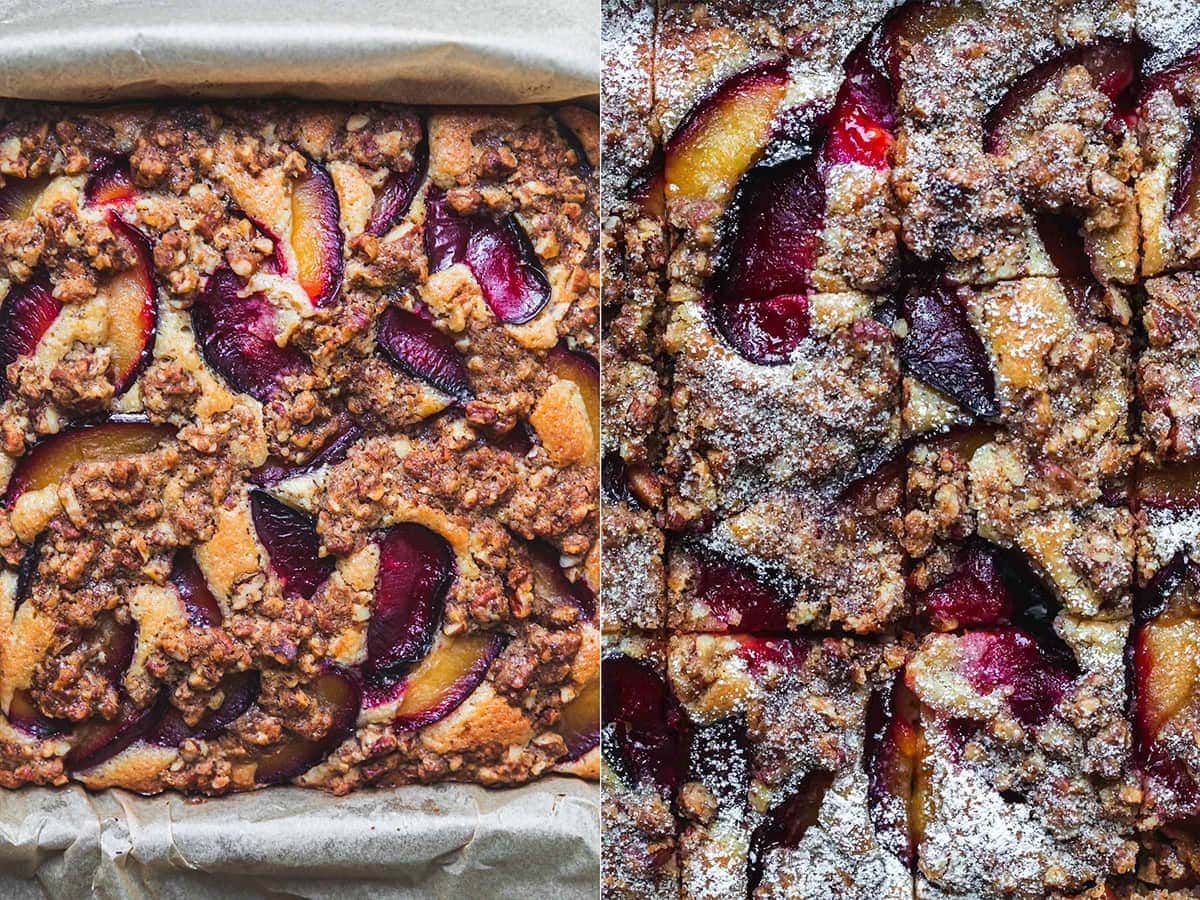 The cake keeps well in a cool corner of the kitchen for up to 1-2 days. It will stay fresh in the fridge for up to 4 days. If you make and love this cake, I'd love to hear your feedback below.
Hungry For More Recipes?   Subscribe to my newsletter and check out  Instagram, Facebook and Pinterest to see everything I share! I also run a free Cooking Club on Facebook. Come and join as we learn new stuff every week!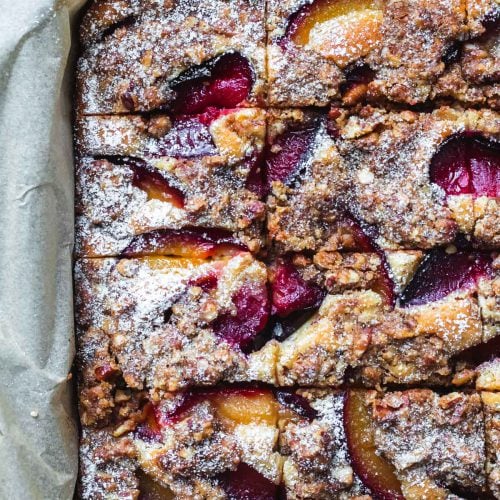 Ingredients
1

cup

(

220

g

)

raw sugar

4

eggs

2

teaspoons

vanilla extract

1

cup

(

150

g

)

plain flour

,

sifted

1

cup

(

120

g

)

almond meal

1

teaspoon

baking powder

1

teaspoon

lemon zest

,

finely grated

80

g

butter

,

melted and cooled

2

plums

,

destoned and cut into thin slices

Icing sugar

,

to dust
For the Pecan Crumble
60

g

butter

,

melted

¼

cup

(

45

g

)

unrefined sugar

,

or brown sugar

1

teaspoon

cinnamon

½

cup

(

60

g

)

pecan nuts

,

chopped

1/2

cup

(

70

g

)

plain flour
Instructions
Preheat oven to 160°C (140°C fan forced).

Grease and line a 24cm square cake tin with baking paper.

Add sugar, eggs and vanilla extract to a bowl. Beat with an electric beater for approximately 3-4 minutes until light and fluffy.

Add sifted flour, almond meal, baking powder and lemon zest to a large bowl. Add the egg mixture and gently mix with a wooden spoon until just combined.

Add the melted butter and mix gently until butter is incorporated (do not overmix).

Spoon batter into the prepared tin and smooth the top.

Arrange plum slices evenly over the cake batter.

Prepare the crumble by mixing all ingredients for it in a small bowl. Follow the order of ingredients as follows to ensure that your crumble is crunchy after baking - sugar, butter, cinnamon followed by nuts and flour. Mix only until just combined, do not overmix. Drop small teaspoons full of the crumble over the cake batter and plums.

Bake the cake in the preheated oven for approximately 45 minutes until the crumble is browning and the cake is golden and risen.

Turn off the oven and allow the cake to sit in the. Warm oven for a further 3-5 minutes.

Remove cake from the oven and cool completely in the tin.
Notes
Storage - Stone fruit like plum, peach, nectarine, mango and fresh berries are more likely to spoil rather quickly at room temperature. This cake is best eaten within the first 1-2 days. It can be stored in a cool corner of your kitchen if the weather is cool and crisp. Otherwise, the fridge is the best place to store it. Keeps well in the fridge for up to 4 days.
Nutrition
Calories:
508
kcal
|
Carbohydrates:
59
g
|
Protein:
8
g
|
Fat:
28
g
|
Saturated Fat:
10
g
|
Polyunsaturated Fat:
3
g
|
Monounsaturated Fat:
7
g
|
Trans Fat:
1
g
|
Cholesterol:
38
mg
|
Sodium:
179
mg
|
Potassium:
119
mg
|
Fiber:
5
g
|
Sugar:
32
g
|
Vitamin A:
502
IU
|
Vitamin C:
2
mg
|
Calcium:
118
mg
|
Iron:
3
mg
Did you make my recipe?
I'd love to hear how you went! Tag me on Instagram @cookrepublic