Roasted chickpeas are truly delicious! Roasting cooked chickpeas in the oven makes them crispy and ideal for a healthy snack or as a salad topping. A jar of roasted chickpeas prepped on a Sunday can add valuable protein and other nutrients to your weekly meals. They are gluten free and vegan too. The easiest way to roast chickpeas is to use canned ones. Ensuring they are completely dry by patting them with a tea towel will mean crispier chickpeas when roasted.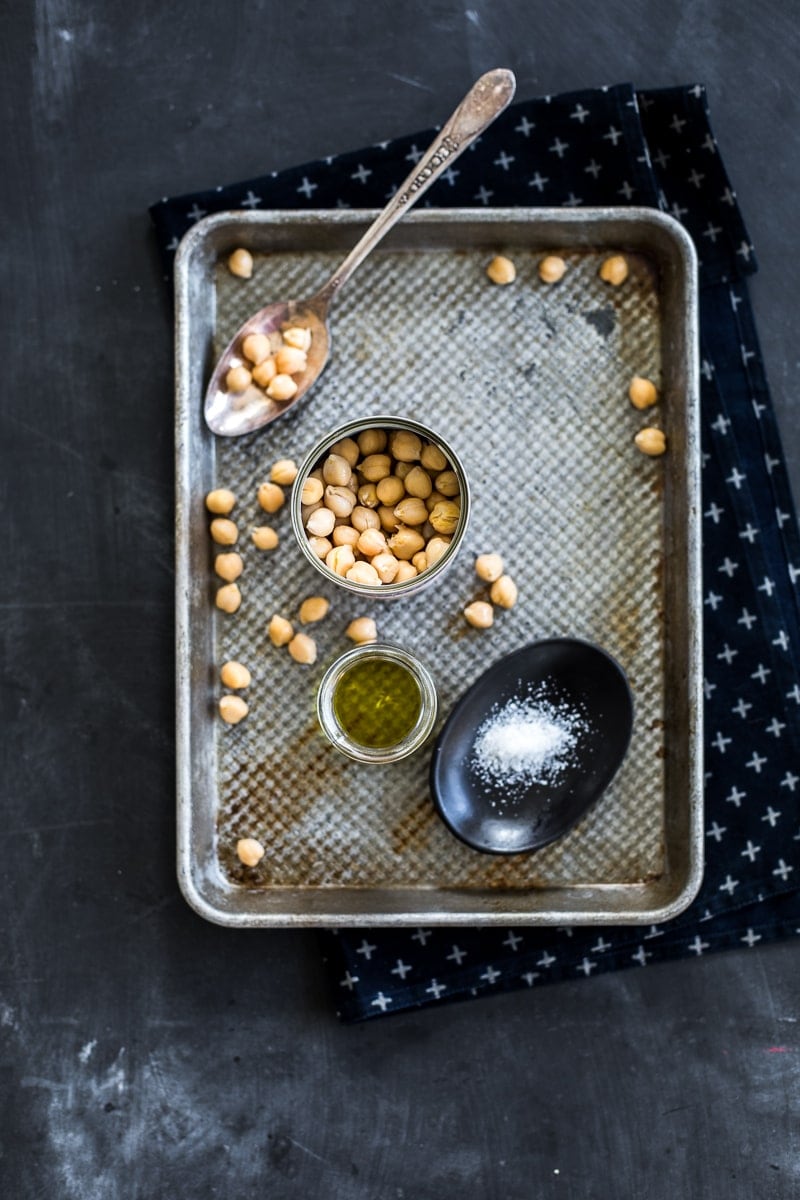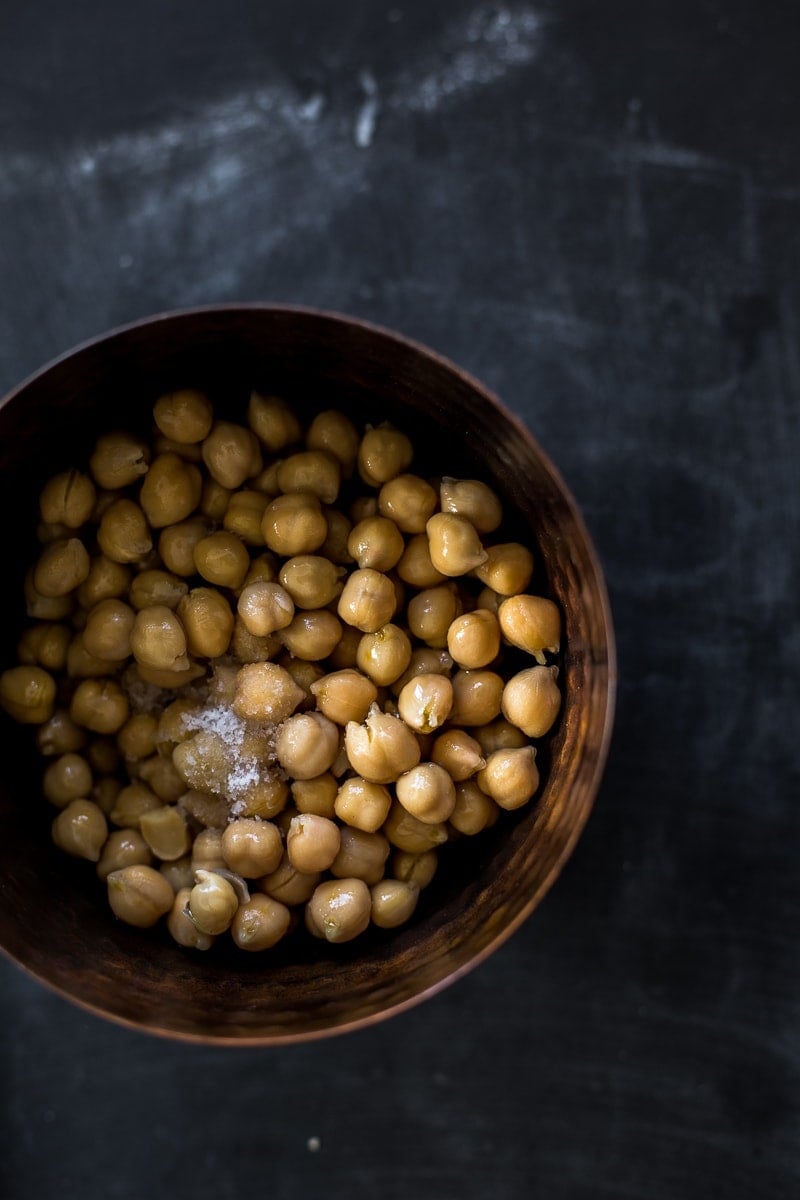 Some Things To Remember :
A. Always rinse, drain and pat dry the canned chickpeas with a tea towel.
B. Removing the skin at this point will ensure a crunchy chickpea when roasted as the skin traps moisture under it. Although the skin is quite nutritious for your gut bacteria, in a lot of of people it can cause bloating and flatulence so removing it might be a good idea. Roasting with the skin on will make your chickpea crispy but not super crunchy (I prefer it this way).
C. Always mix the chickpeas with oil and salt in a bowl to ensure they are coated evenly.
D. If you want to flavour your chickpea with spices (see Notes for great spice combinations), add them to the fully roasted chickpeas after the baking process to avoid burning the spices in the oven.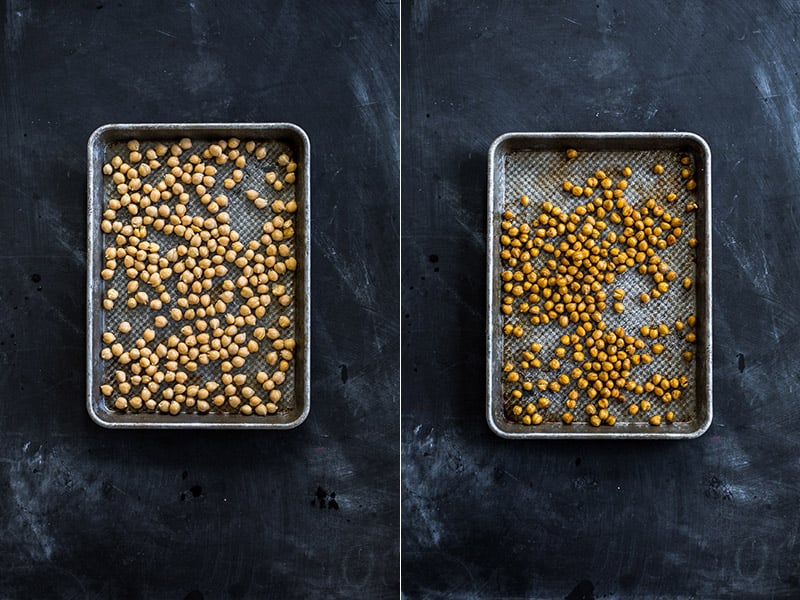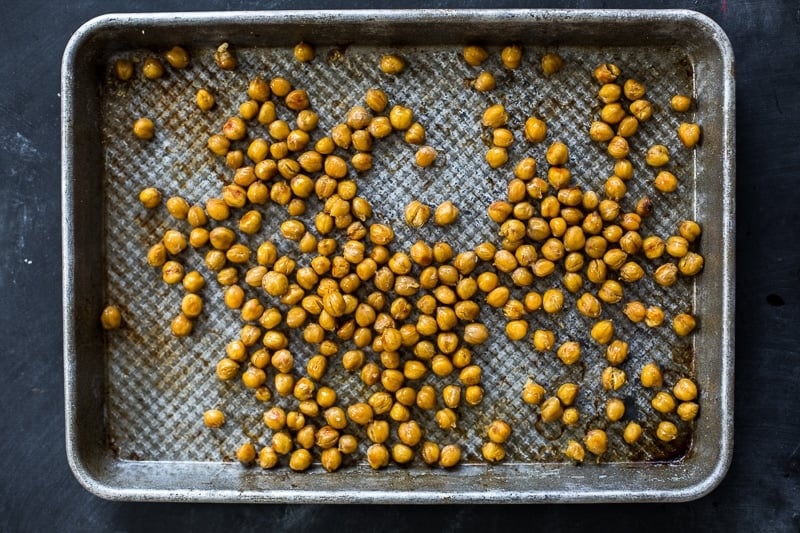 Recipe
Hungry For More Recipes? Subscribe to my newsletter. Check out Facebook, Instagram and Pinterest to see everything I share! And if you love cooking and new cookbooks, join my free Cooking Club on Facebook!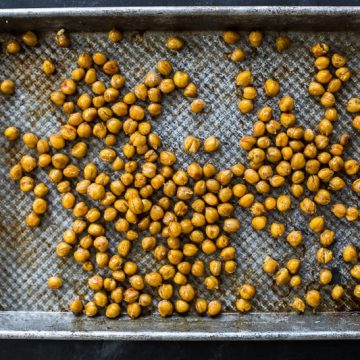 Ingredients
1

X400g can chickpeas

,

rinsed and drained

1

tablespoon

olive oil

1/2

teaspoon

sea salt flakes
Instructions
Pre-heat oven to 180C convection/160C fan-forced.

Place rinsed chickpeas on a tea-towel and pat them dry. The drier they are, the crispier they will be once roasted. (At this point of time, many recipes call for peeling the skin. You can absolutely do this as it makes the chickpeas crunchier as opposed to just crispy. But I don't as I like a bit of that soft centre when I want to use it in a stir fry or salad).

Place in a small bowl with salt and olive oil. Mix well to coat evenly.

Spread on the baking tray.

Bake in the oven for 20-25 minutes for crispy chickpeas (to be used in stir-fries, salads) or 30-35 minutes for crunchier chickpeas (to be tossed with spices for a snack).
Notes
You can easily double the quantity by just doubling every single ingredient.
For flavoured chickpeas, always add the spice mix after roasting them while they are still warm. Here are some delicious spice combinations for the original recipe above.
Mexican Chickpea Spice Mix - 1/2 teaspoon smoked paprika, 1/2 teaspoon ground cumin, 1/2 tsp dried garlic flakes.
Mediterranean Chickpea Spice Mix - 1 teaspoon freshly chopped rosemary leaves, 1 teaspoon grated lemon zest, 1/2 teaspoon dried garlic flakes.
Indian Chickpea Spice Mix - 1/2 teaspoon ground cumin, 1/2 teaspoon garam masala, 1/2 teaspoon red chilli flakes, 1/2 teaspoon dried garlic flakes.
Did you make my recipe?
I'd love to hear how you went! Tag me on Instagram @cookrepublic