A traditional shortbread would have white sugar. We haven't done white sugar in our home in years. Hence, I haven't baked a shortbread at home in years. But while reading A Cup Of Jo blog recently, I came across a recipe for Brown Sugar Shortbread that looked it was kissed by caramel and sunshine and everything that was honeyed and gold.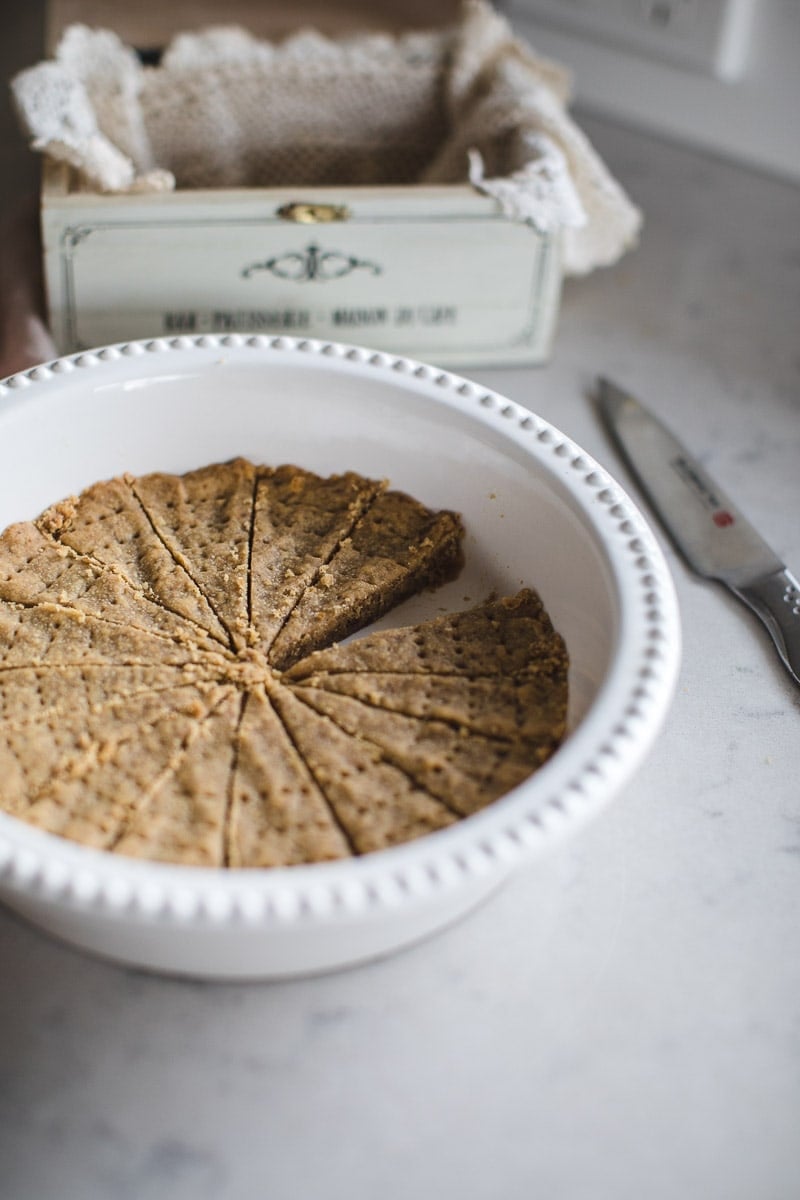 Baking a shortbread with brown sugar was totally a thing, I realized. And I was going to do it. So after reading through the comments on the recipe (always read the comments, because just like this intro that you are reading; the comments will have helpful insights into tweaks and can be the difference between a recipe success or fail!), I made my own tweaks to the recipe and had a beautiful and simple Five Ingredient Caramel Shortbread in about half an hour.
I was worried that the addition of unrefined rapadura sugar would make this very brown. But it didn't. Instead, it gave it that caramel, honeyed glow. And the taste was delicate and autumn-inspired with caramel notes and the utterly melt-in-your-mouth crumb. The recipe itself is stupidly simple but there are a few interesting tips and techniques to note that will give you these beautiful shortbread wedges with the pinched edges.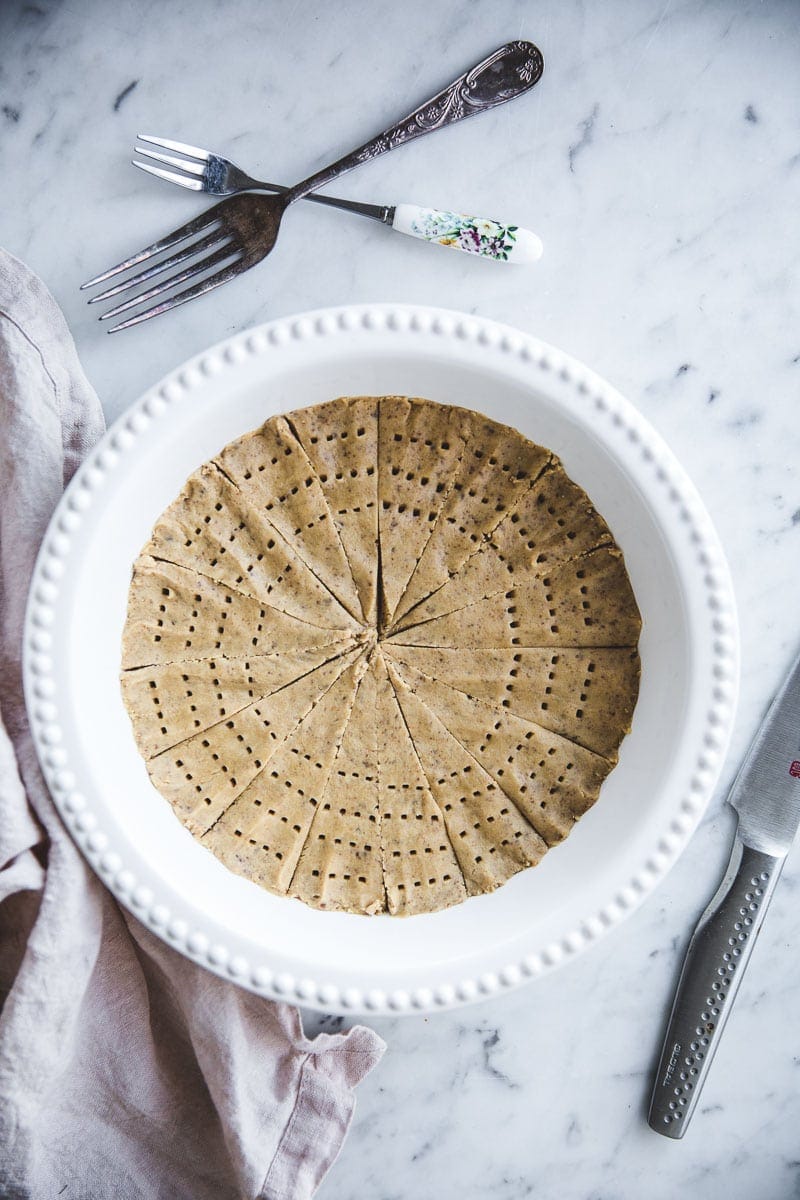 It is important to use a small to medium-sized round pan. I used ceramic because I felt that would be the best to cut slices out of (and that is true as my other experimentations with metal weren't as fruitful). I also used two different sized forks to prick the dough in a visually pleasing manner. But the biggest trick here is to press down the shortbread dough into the tin and then using a very sharp paring knife, cutting the shape you want (in this case - thin pie slices). You then freeze it and bake it. After baking while it is still warm, you use the same knife to cut through the shortbread guidelines you made earlier. And just like that, you will have clean slices, ready to be pulled out of the pan when cooled further.
My boys said it was the best, most delicious, melt-in-your-mouth baked thing I had ever made for them. Big call. But they are sticking with it even after the shortbread is all gone and I have baked other things. So I believe them and can't wait to bake another batch just before Easter. I imagine this would also make a great present, baked and gifted in a beautiful pie dish. I hope you make this and love this as much as my boys do. It is definitely a healthier shortbread with a very low amount of unrefined sugar and can easily be made gluten-free (see notes). As always, please leave me your feedback in the comments below and share your shortbread with me on Instagram.
Happy Easter to you and your families! x
Recipe
Hungry For More Recipes? Subscribe to my newsletter. Check out Facebook, Instagram and Pinterest to see everything I share! And if you love cooking and new cookbooks, join my free Cooking Club on Facebook!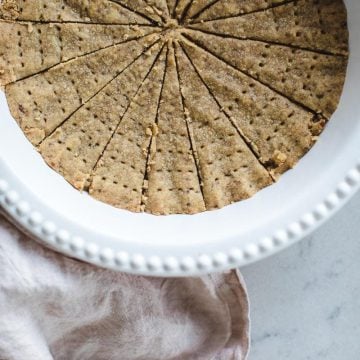 Ingredients
125

g

butter

,

melted and cooled

1/4

cup

(

60

g

)

unrefined sugar (rapadura or coconut)

1

cup

(

160

g

)

plain flour

1

tablespoon

rice flour

pinch

of crushed sea salt flakes
Instructions
Pre-heat oven to 160°C (conventional) / 140°C (fan-forced/convection).

Place butter and sugar in the bowl of an electric mixer and whisk for a few minutes until creamy.

Add flour, rice flour and salt. Mix well with a wooden spoon until thoroughly combined.

Scoop into a round or square ceramic pie/cake pan (7.5-8inches base measurement). Press down the doughs in an even layer with your fingers. Indent the edges with your fingertips to get a scalloped pattern.

Using a sharp paring knife, score the dough all the way to the bottom into 16 triangles (if using a circular pan) or 24 squares (if using a square pan).

Prick the dough evenly using a fork. Cover the top of the pan with a cling wrap and chill in the fridge for 20 minutes.

Remove the cling wrap and place the pan in the oven. Bake at 160°C (conventional)/140°C (Fan-forced) for approximately 25-28 minutes.

Towards the end of the baking cycle watch to see if the shortbread has reached the golden shade you like and pull it out sooner if you feel it is dark enough. It will continue to darken slightly as it cools.

When you pull the shortbread out of the oven and it is hot, cut the dough again with the paring knife over the previously scored guidelines. Allow the shortbread to cool completely. Go over the cuts once again with the knife to ensure the pieces are separated. Lift one out gently and then separate the rest.

Store in an airtight container in a cool corner of your kitchen for up to 4 days or in the fridge for up to 2 weeks.
Notes
Make It Gluten Free - Substitute regular plain flour with gluten-free flour.
You can substitute rapadura sugar with coconut sugar or brown sugar.
Did you make my recipe?
I'd love to hear how you went! Tag me on Instagram @cookrepublic