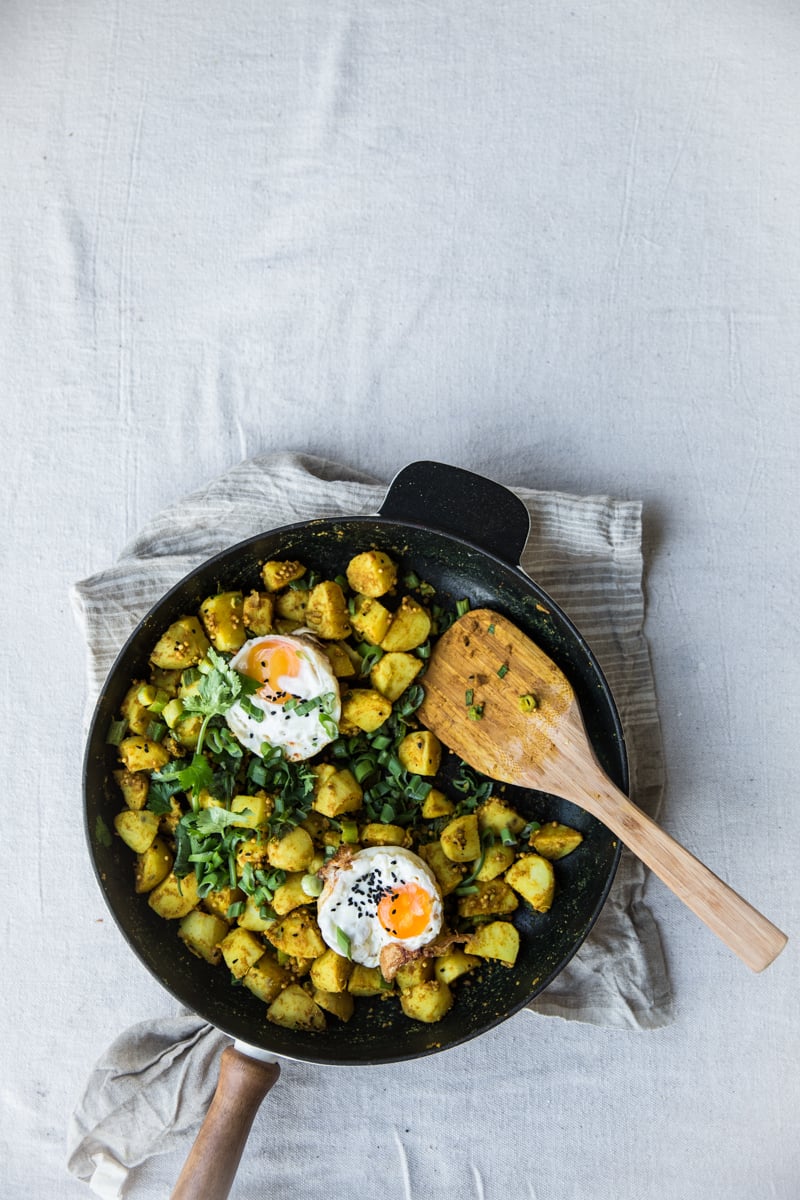 Anyone who grew up in Bombay (India) will tell you that these quick spice tossed crispy cooked potatoes were India's answer to the British Raj's Fish and Chips, minus the Fish of course. A staple in every home, these potatoes grace restaurant menus, tiny eateries, lunch services, and canteens in what is now called Mumbai. A quick filling meal, these turmeric laden potatoes are as cheap as they are satisfying and nutritious. Ideally eaten with a chapati (flatbread) and a salad on the side, I love serving them up for brunch with perfectly fried eggs on top. I will often make a big batch of these Bombay Potatoes and use the leftovers to make grilled sandwiches (jaffles) or roll inside quick chickpea crepes (this recipe is in my cookbook Tasty Express) with a generous dollop of mango chutney. Stuffed inside moon shaped shortcrust pastry and deep fried, these become exotic samosas on the go. They are also excellent for stirring through a herb and spice based rice salad. One pan of potatoes, endless possibilities.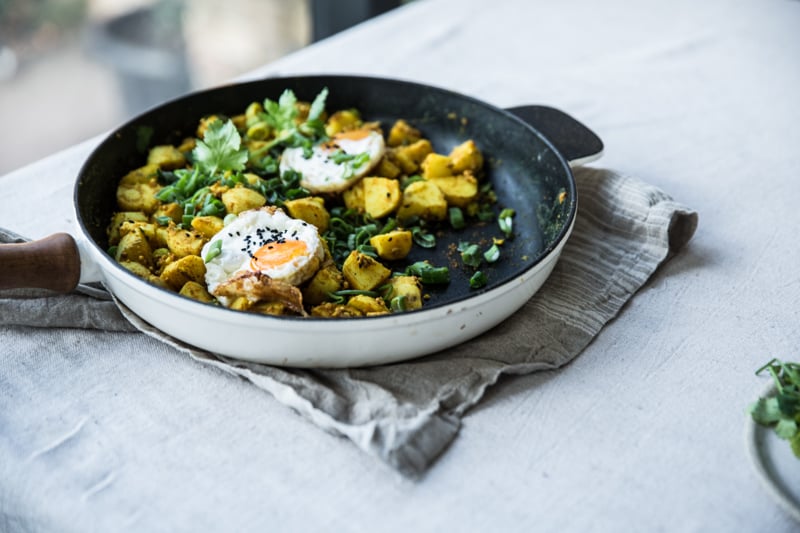 My version is different from the traditional in the use of curry powder. People don't use curry powder in India despite having a million other spice mixes. Originally thought to have been brought to India by the British with their generalisation of the word "curry", the curry spice mix can be traced back to ancient India. Somewhere along the course of history the Portuguese, the South Asians  and the British added their own spin to the mix and it is now a more Western interpretation of what curry is. I like this brand (Bolst's) of curry powder because the taste is subtle and not very overpowering with the heat being just right. Made up with just seven spices (coriander, turmeric, chilli, mustard, ginger, cumin and fenugreek), this is one of the purest brands of curry powders I have found. And curry is known to have many health benefits right from the liver cleansing effect of turmeric to the inflammation fighting properties of fenugreek.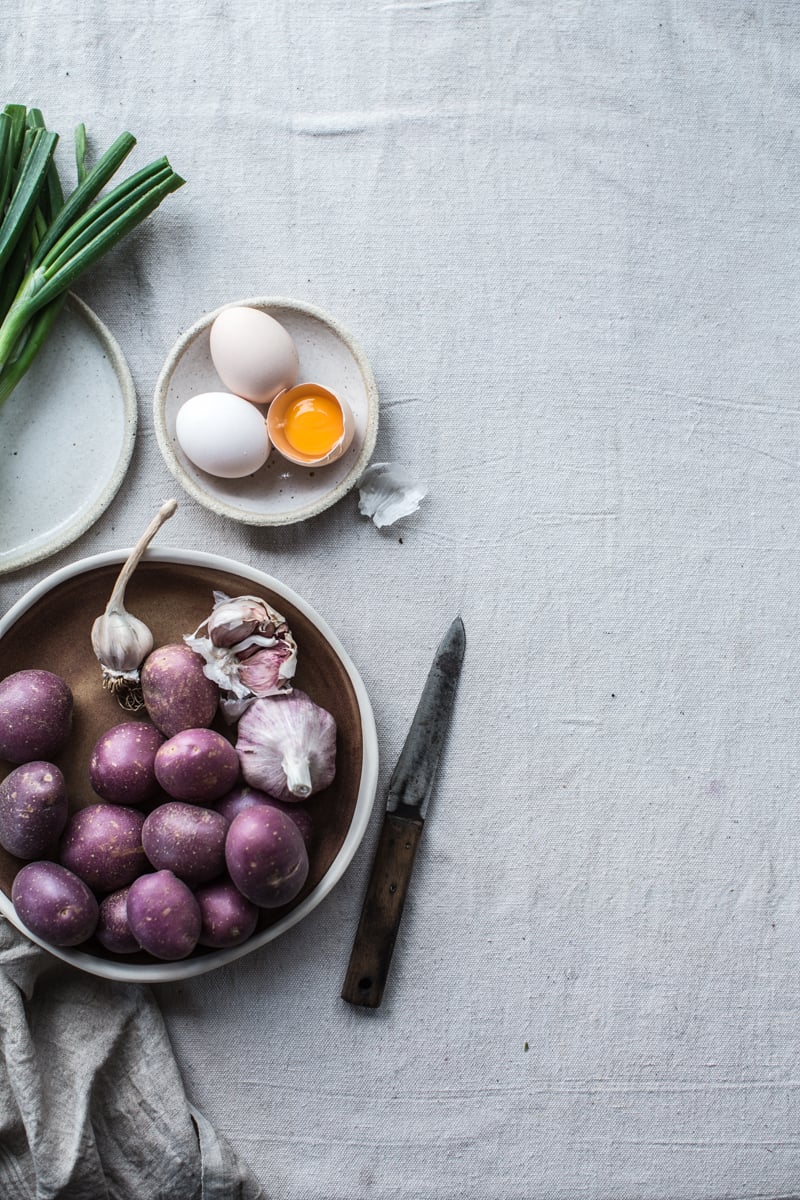 I have used baby blue potatoes. Using baby potatoes reduces the cooking time. The idea is to boil them in a pot of boiling water to tenderise them slightly and then sauté them in a frying pan until they are cooked just right. No one likes mushy potatoes unless they are in a mash. This particular cooking technique keeps the potatoes quite firm with a really nice texture. If you like them a tad softer, then cover the pan towards the end of the cooking after you add water. I have used a small bunch of salad onions to chop and stir through in the end. I will often use the green and the white part so the entire dish feels more like a spiced salad with a bit of green and crunch. On other days, I only use the greens. Other wonderful additions can be handful of frozen peas, chopped up kale or raw grated carrot and zucchini for added colour. This dish is truly a market day green bonanza. If you cook this, don't forget to share your variations with me on social media using the hashtag #cookrepublic or by tagging me or rating the recipe below.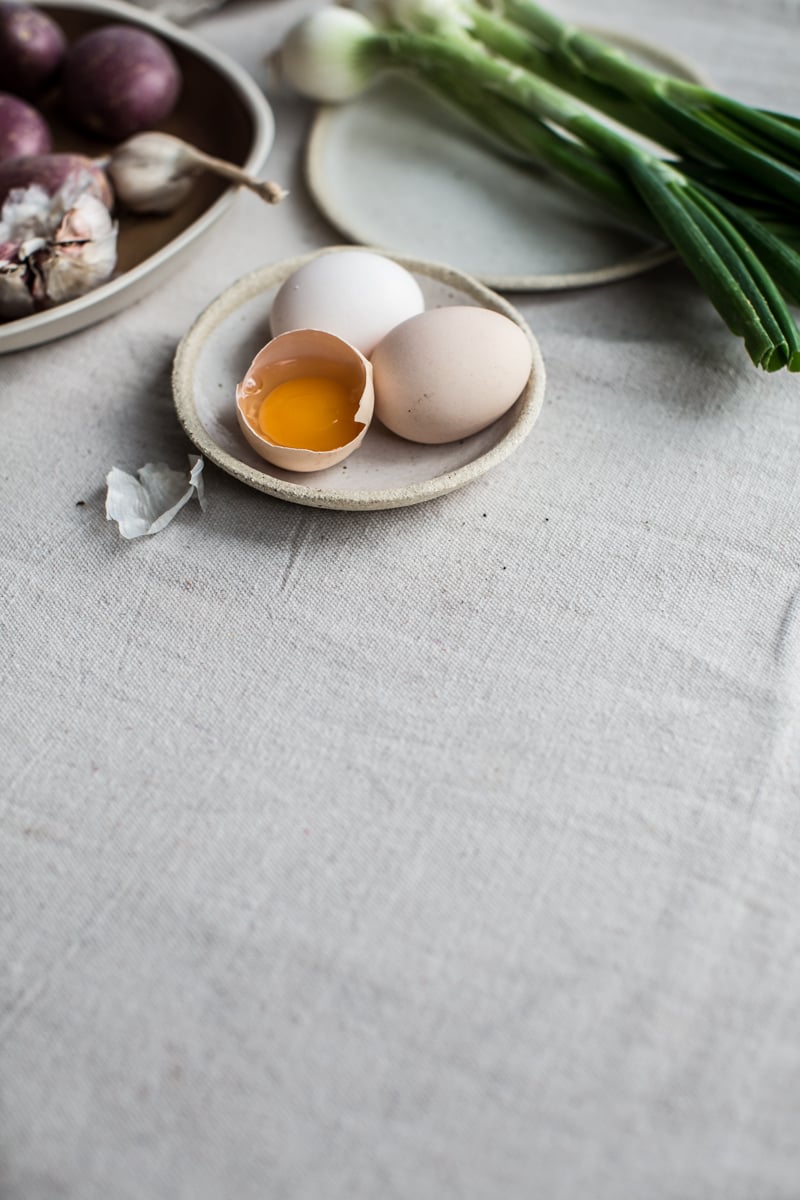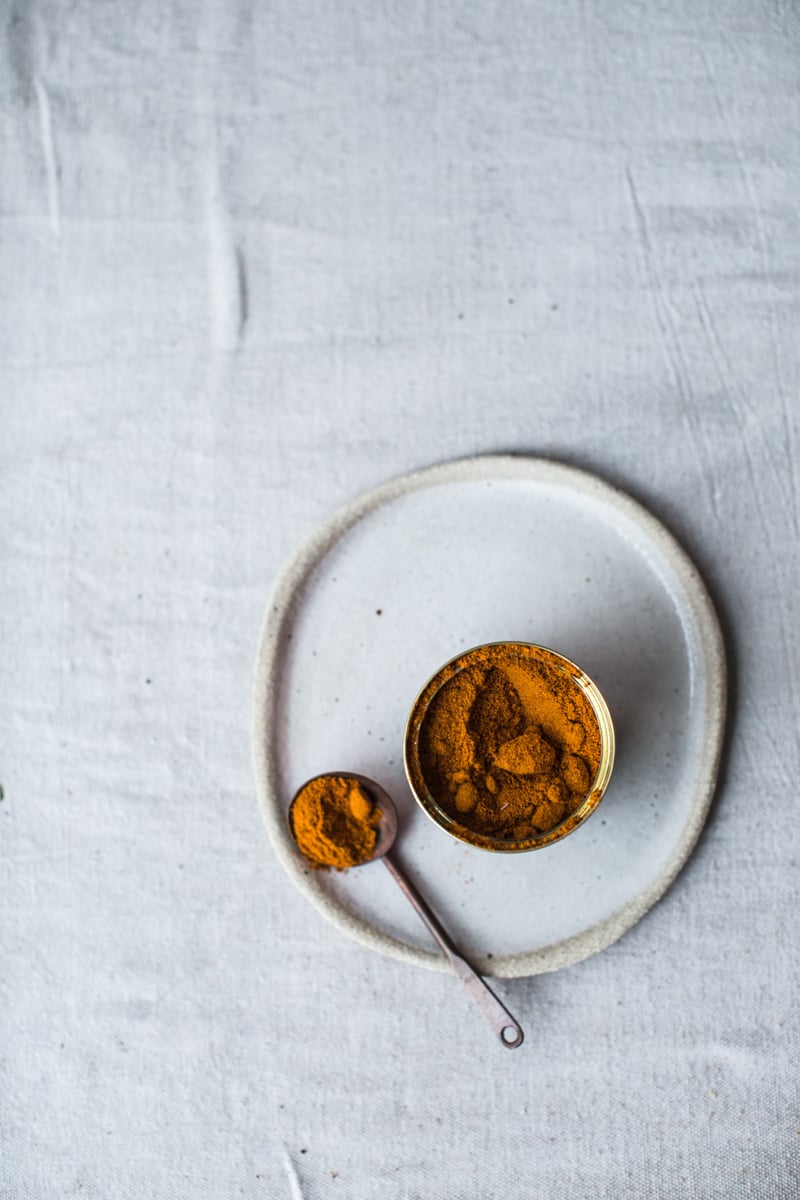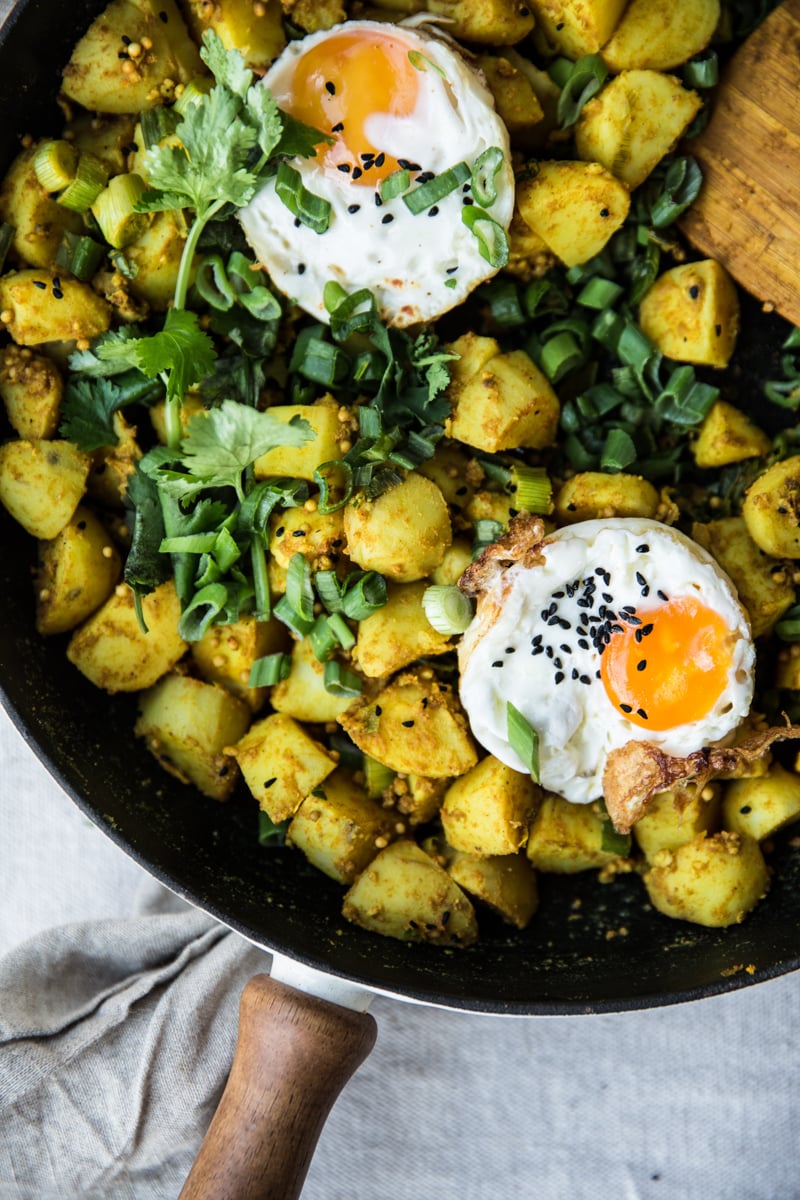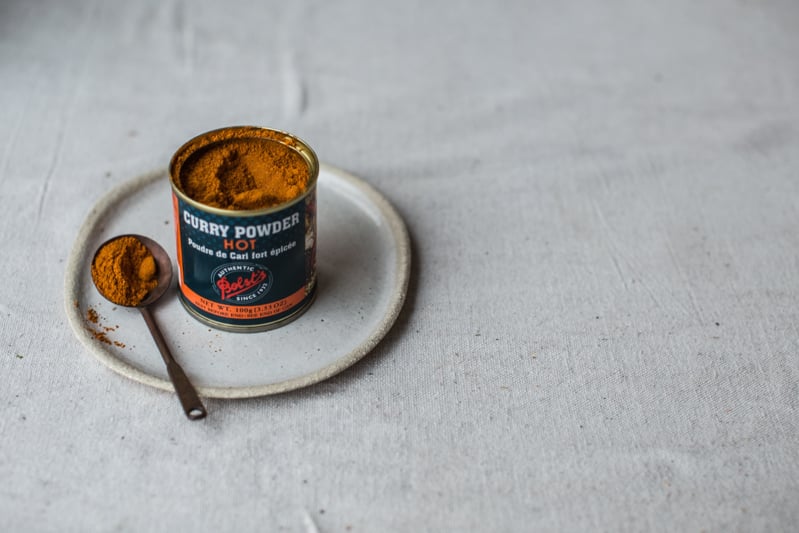 Recipe
Hungry For More Recipes? Subscribe to my newsletter. Check out Facebook, Instagram and Pinterest to see everything I share! And if you love cooking and new cookbooks, join my free Cooking Club on Facebook!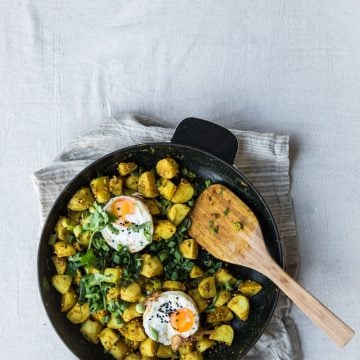 BOMBAY POTATOES
A quick vegetarian brunch dish that comes together in just over half an hour, the Bombay Potato is a classic Indian take on "Chips". Eaten with a flatbread/naan or just on its own topped with fried egg and salad greens, this is cheap, hearty and nourishing veggie fare. Leftovers taste even better and can be jazzed up in a number of ways from stuffed sandwiches to wraps and salad fillers.
Print Recipe
Rate / Comment
Ingredients
14

(

600

g

)

baby potatoes

,

peeled

2

tablespoons

ghee

,

or olive oil

1

teaspoon

yellow mustard seeds

1

small green chilli

,

finely chopped (optional)

3

garlic cloves

,

minced

2

teaspoons

fresh grated ginger

1

teaspoon

ground cumin

1

teaspoon

hot curry powder

1/4

teaspoon

ground turmeric

1

teaspoon

sea salt flakes

1

bunch salad onions or spring onions

,

sliced (green part only)

4

fried eggs

1

teaspoon

nigella seeds

,

to serve

handful of fresh coriander leaves

,

to serve
Instructions
Place potatoes in a saucepan of salted water (1 teaspoon to 2 litres) and bring to a boil on medium high for 20 minutes. Remove from heat, drain water and refresh potatoes with cold water to stop the cooking process. Drain and cut potatoes into half inch cubes. Set aside.

Heat ghee in a large frying pan on medium. Add mustard seeds. In a few seconds when they start to crackle and pop, add the chilli (if using), garlic and ginger. Sauté for a couple of minutes until the garlic and ginger starts turning a shade darker.

Add the potatoes, spices and salt. Sauté gently to coat potatoes evenly with spices. Add 1/4 cup water and mix well. Reduce heat to medium low and cook for 10-15 minutes until water is evaporated and potatoes are done.

Remove from heat and stir through the salad/spring onions. Top with fried eggs, nigella seeds and coriander. Serve warm with naan or just on its own.
Did you make my recipe?
I'd love to hear how you went! Tag me on Instagram @cookrepublic