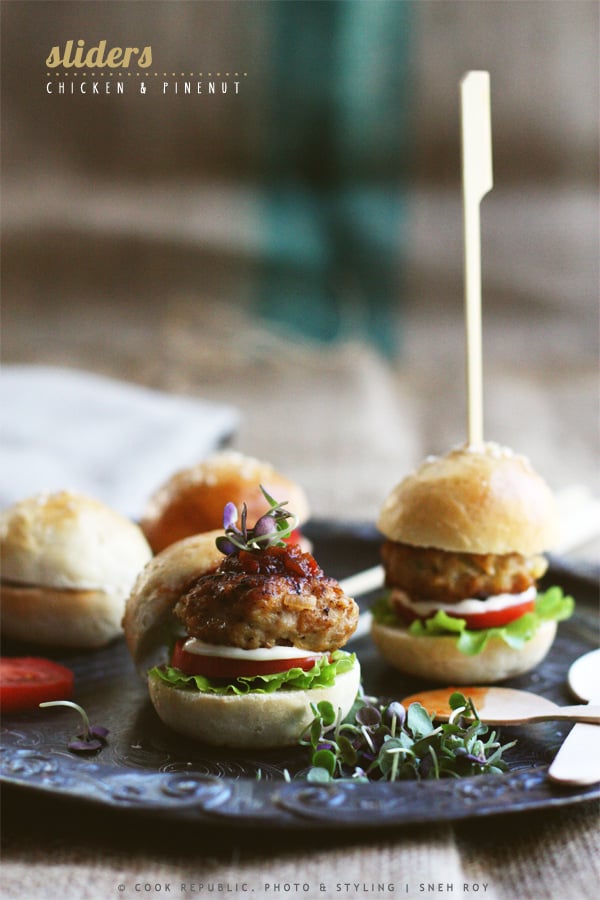 A slider is a term, which as a foodie you might have heard but would not have a concrete idea as to what it was. For those who know what it means, well; yayyy! You beat me to Google and Wikipedia in that precise order. A slider is a miniature burger or a very small sandwich usually only 2 to 3 inches wide. Because of the small nature of the burgers, they are served in groups of twos, threes, sixes or even a dozen. They are great for parties, game nights and maybe portion control? The term was created by an American fast food company in the mid eighties and has been used, adapted and elevated ever since.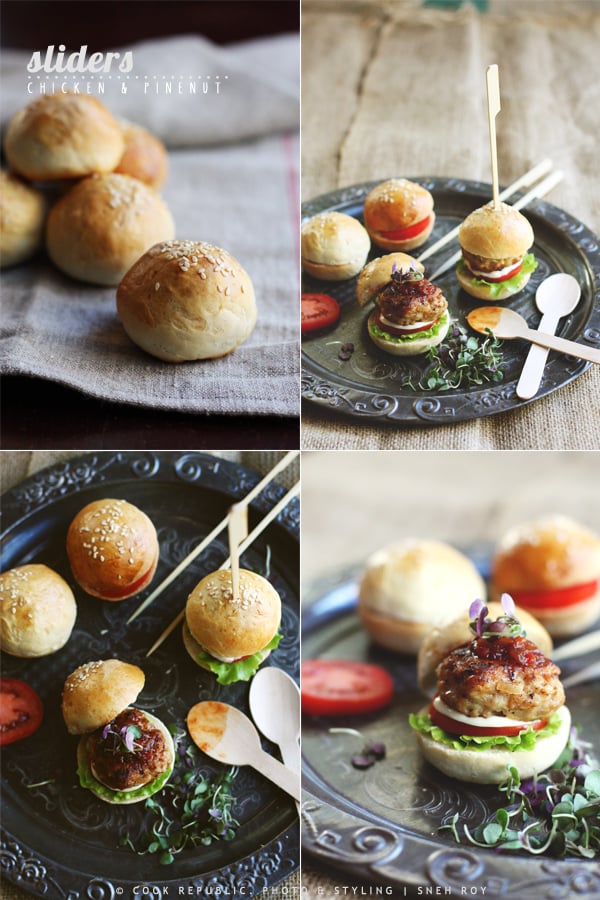 Sliders are perfect for your little dudes or dudettes. They are even more fun if you are a grown up with big stubby fingers. There is no greater joy than picking up food in its beautiful miniature form and devouring it like Gulliver would. Gleeful, happy and with the potential of popping more than one, two or six without feeling the slightest bit guilty.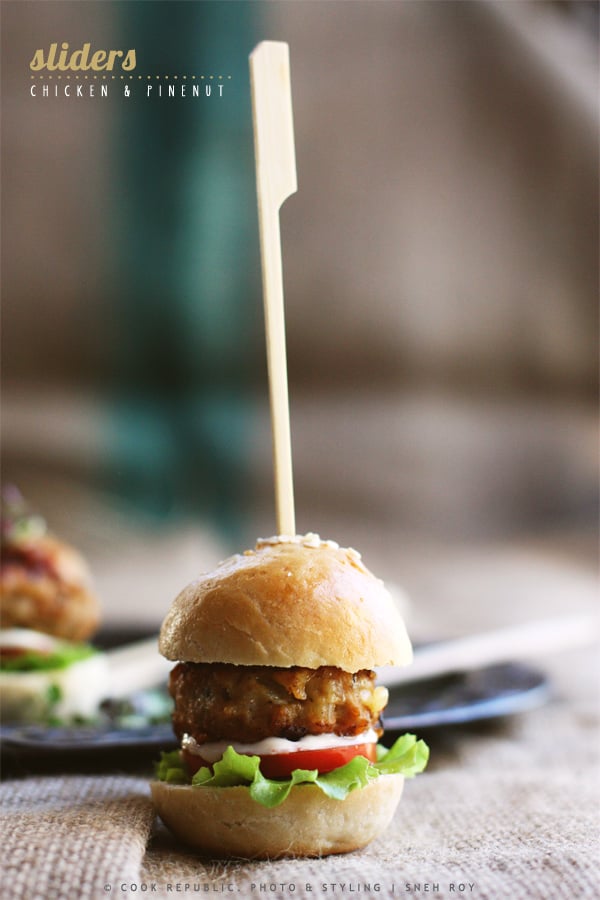 Yesterday, I shared a simple recipe for baking mini burger buns. Today, I am about to share my favourite thing to do with the buns. Make them into Chicken And Pinenut Sliders. The chicken patty recipe that I use here is the same I use to make my meatballs for weeknight pasta dishes. I just flattened it into juicy little mini patties to go with the mini buns.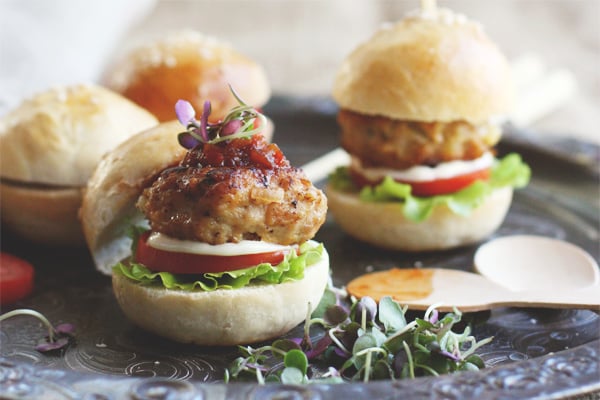 [print_this]
CHICKEN AND PINENUT SLIDERS (MINI BURGERS)
A juicy, succulent chicken patty bursting with herbs and pinenuts is paired with mini burger buns and layered with fresh salad and tangy chutney for a delightful snack.
Preparation Time - 15 Minutes
Cooking Time - 20 Minutes + Time To Make Burger Buns
Makes - 24

Ingredients
24 mini burger buns
500g chicken mince
1 red onion, finely chopped
1 clove garlic, finely chopped
2 heaped tablespoons pinenuts
1/4 teaspoon ground cinnamon
1 teaspoon dried oregano
1 teaspoon dried thyme
1 teaspoon dried rosemary
1 teaspoon paprika
1/4 cup fresh basil leaves, chopped
1 cup dried breadcrumbs
2 eggs
freshly ground black pepper
salt to taste
oil to grease and fry (I use olive oil)
Method
Sauté onion and garlic in a small frying pan on low-medium heat until they start turning golden (approximately 3 minutes). Remove from heat, stir through the cinnamon and set aside.
Combine all other ingredients in a large bowl and mix well with a wooden spoon. Add the onion mix to the bowl and mix until thoroughly combined.
With oiled hands, shape the mixture into little patties that are no more than 2 inch in diameter and 1/2 inch in thickness. You should easily get 24 patties from this amount of the mixture.
In a large frying pan, heat 1/4 cup oil on medium heat. In batches of 3, pan fry the patties until golden and cooked through for about 4 minutes on each side. Make sure, you stand them vertically in the pan after cooking both sides to seal and cook the edges. Repeat with remaining patties. Patties can be kept in a warm oven until time to serve or heated through in a microwave for a few seconds.
To serve, warm mini burger buns and slice them in half. Spread chutney on one half and top with salad and patty before covering with the other half and passing a burger skewer through the entire bite sized burger.
My Notes
If you find the patty mixture too sticky to work with, add more breadcrumbs until it is less sticky.
Uncooked patties can be fozen in freezer safe boxes with freezer sheets between them (to avoid sticking while freezing) for upto a month. To cook from frozen, thaw in the fridge for a few hours before cooking as directed. Alternatively, cooked patties can also be frozen and reheated in the microwave for a quick snack.
[/print_this]