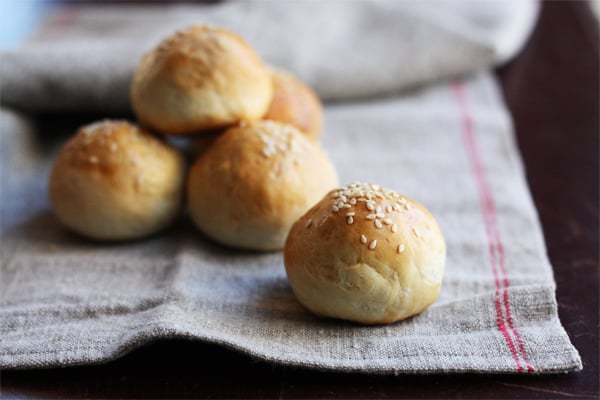 Every two months, I take some time off real work to cater more exclusively to my offsprings. Yes, you guessed right! School holidays! I look forward to them. There is a promise of extra cuddles, cooking together, board games, picnics and exploring new yumcha places. Speaking of picnics, I have a recipe for you today that might be perfect for your day out with friends or a night in, entertaining them.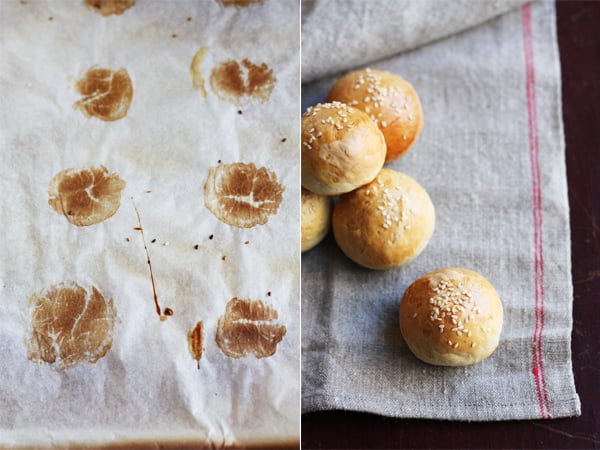 This recipe is for darling little mini burger buns that look amazing on a platter or packed in a picnic lunch box. They have a beautiful crusty exterior and soft middle. People love the idea of mini-anything and cute little burgers with big fat patties fit the bill quite well. Serve them with my garlic and thyme quinoa patties, some gorgeous kachumber relish or tomato mustard chutney.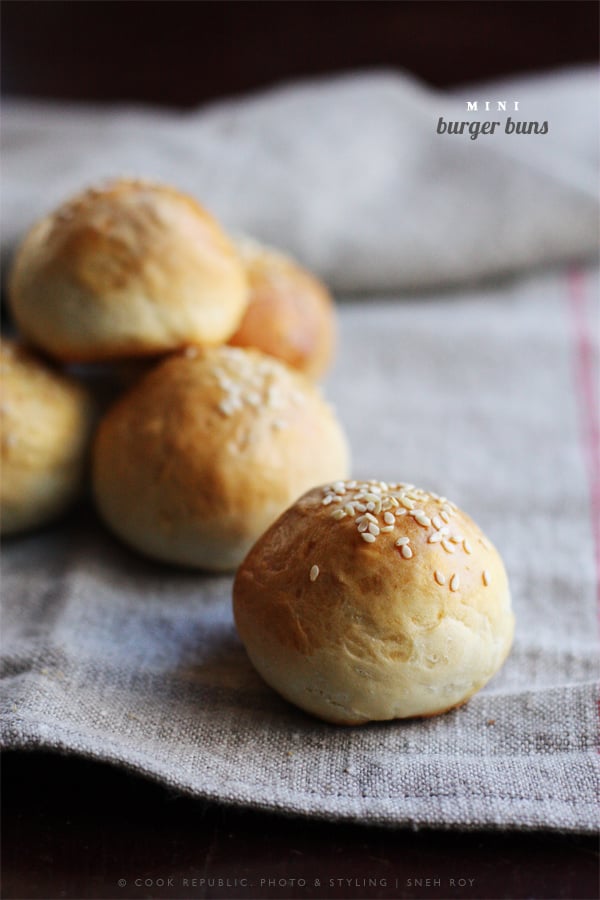 [print_this]
MINI BURGER BUNS
A no-brainer recipe for gorgeous mini burger buns that can be baked ahead to serve Silver Dollar Burgers at a party with a patty or filling of your choice.
Preparation Time - 60 minutes
Cooking Time - 10 minutes
Makes - 24
Ingredients
7g dried yeast
400g bread flour, extra for dusting
250ml lukewarm water
1/2 teaspoon salt
sesame seeds
eggwash for brushing
oil for brushing bowl
Method
Preheat oven to 250C. Combine yeast and water in a large bowl. Set aside for about 5 minutes until foamy.
Add flour and salt to the yeast mixture. Mix it lightly. Turn the wet dough on to a lightly floured surface and knead until smooth and elastic. This takes about 10 minutes.
Transfer to a lightly oiled bowl, cover with plastic wrap, set aside until doubled in size for about 30 minutes.
Knock dough back, divide into 24 small rounds (size of golf balls). Roll each ball in the palm of your hand and place it on a lightly floured surface. Using a cupping motion with the palm of your hand, roll the ball on the surface gently till it tightens (I press down on top gently with the palm of my hand, then cup the ball with the top exposed and bring it together. I keep alternating these motions until the ball is tight and firm)
Place balls on baking paper lined trays with plenty of room around each to expand. Cover with tea towels and set aside for 10 to 15 minutes until doubled in size.
Brush with eggwash, sprinkle sesame seeds and place tray in oven. Spray bottom of oven with a mist of water. Cook until buns are golden for approximately 10 to 12 minutes.
Serve warm, slice burger buns and fill with patty, relish and salad. You can also freeze these for upto 2 months.
[/print_this]