Summer is long gone and our chilli plants have gone into deep winter hibernation. But not before they gave us a parting gift of abundantly long, green, shiny chillies. When the chillies are so nice and firm, they are the perfect candidates to be fritter-ised as I like to call it. Give them a light rinse in the water and pat them dry. Slit them down lengthwise from crown to tip, but not right through, so you can peep through inside and get rid of all the seeds that might otherwise burn your tongue and spoil the entire "I enjoyed a Chilli Fritter!" experience. Well, that is all the preparation needed for this fast recipe that would be perfect for a snack on a cold evening or adorning a large tapas platter of familiar and unusual pick-me-up food. There are a number of variations to this recipe, but this one is the most basic and my favorite. By keeping things simple, the flavor of the chillies is really enhanced. I have not specified the exact amount of water as I usually never measure it, but play it by ear. The consistency of the batter should be like pancake batter.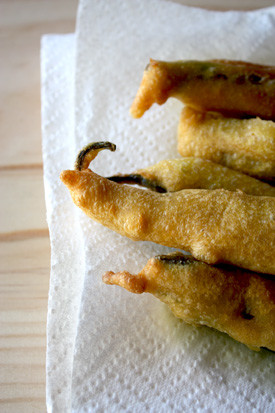 GREEN CHILLI FRITTERS
[Preparation Time : 10 minutes/ Frying Time : 5 minutes/ Makes : 10 Fritters]
Ingredients
10 long, green chillies, slit and deseeded
1 cup chickpea flour [besan]
1 to 2 cups water
1/4 tsp bicarbonate of soda
1/2 tsp salt
Oil for frying
Method
Heat oil in a fryer or wok over high heat till just below smoking point. In a large bowl, combine chickpea flour, bicarbonate of soda, salt and water to form a thick paste of pouring consistency.
Working quickly and carefully, dip each chilli in the batter till well coated and gently slide into the hot oil. Fry on high for 3-4 minutes, turning occasionally till golden and cooked through. Remove and drain on paper towels before serving hot with ketchup or chutney.