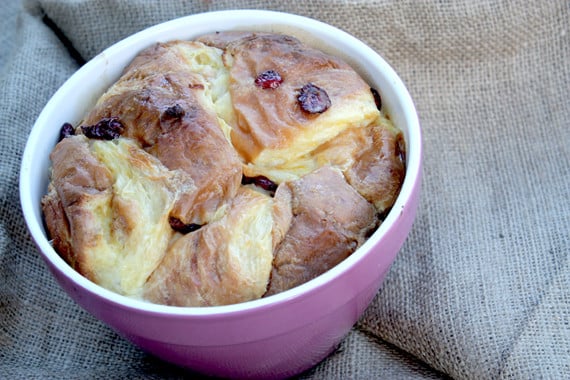 The other night dinner was cooked and ready way before dinner time. Which is a very rare occurrence in our home as I struggle to work and also cook up something on the side to tame our growling bellies later in the evening. I had not baked my trusty bread pudding in a while, so decided to plunge ahead and make dessert. Then I saw the oversized pack of 10 croissants that we had bought the previous evening from the supermarket. Instead of using bread, I thought it would be fun to use croissant instead. I have seen bread pudding recipes use croissant in cookbooks in the past. I also thought adding dried cranberries [which are fast becoming an addiction] would add a sweeter touch than the boring old sultanas [raisins] that I always add in my puds. And it did.
[print_this]
CROISSANT AND CRANBERRY PUDDING
Preparation Time : 20 minutes/ Resting Time : 10 minutes/ Baking Time : 20 minutes/ Serves 4-6
Ingredients
10 plain croissants, buttered and cut in half
3 cups milk
3 eggs
3/4 cup sugar
1/2 cup dried cranberries
1 tsp vanilla extract
Method
Preheat oven to 180°C. Grease a large, deep souffle dish. Arrange the croissant halfs in the dish. Scatter the cranberries on top. Set aside.
In a heavy bottomed saucepan, simmer milk gently with sugar and vanilla extract till just short of boiling. Remove from heat. Add the eggs and whisk for a minute, mixing well till the mixture thickens slightly. Pour this over the croissant in the dish. Set aside for 10 minutes to soak. Bake in the oven for 20 minutes.
Serve hot with ice-cream or a sprinkling of icing sugar.
[/print_this]