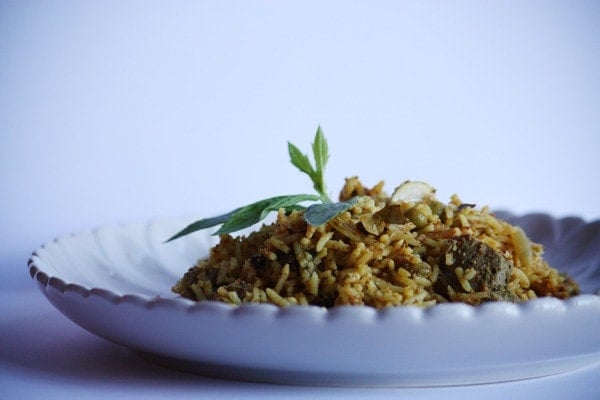 What do I really mean when I use "quick" and "biryani" in the same phrase? Everyone knows that cooking biryani is a long, slow albeit very rewarding process. What I really mean is that it is actually possible to cook a biryani in under 1 hour flat and it would taste as fabulous as its slow cooked counterparts. An experiment over the weekend proved that with brilliant results. This year has been an amazing exercise in the kitchen to cut down on preparing and cooking meal times.
With the birth of NTTC [No Time To Cook Series], I decided to tackle more complex recipes as well that take an awfully long time to cook. These recipes are such treats that making time quicker would mean making them more accessible and doable to home cooks. With that purpose in mind, I tried out the lamb biryani and it worked! Cooking fast is all about making smarter choices. If you can get "heart-smart", lean, diced, organic lamb at the deli or supermarket then go for it! Don't get big chunks of meat from your butcher and then laboriously set out to separate the fat and make cuts. Well, do it occasionally because it's good for your soul. But not every time.
Before you start with the biryani, soak and set aside the rice. That will save you plenty of time. Assemble all your ingredients. I cannot stress this fact enough. Not only will this ensure that you are done in an hour, but it will also save you from potentially burning your onions because you forgot to get yogurt from the fridge and now can't find it. The measurements of spices, and seasonings are according to my taste, I don't follow a strict regime. I usually have a taste and throw in a couple of things, a la Remy in Ratatouille. So, feel free to add or subtract to the recipe. Make it your own!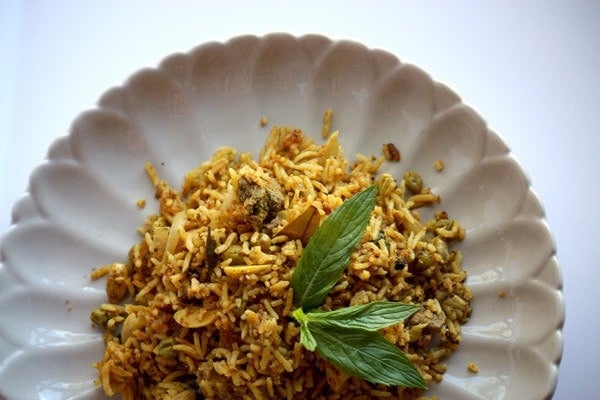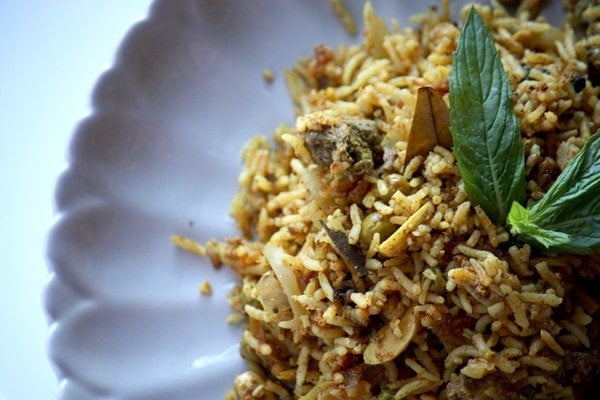 Recipe
Hungry For More Recipes? Subscribe to my newsletter. Check out Facebook, Instagram and Pinterest to see everything I share! And if you love cooking and new cookbooks, join my free Cooking Club on Facebook!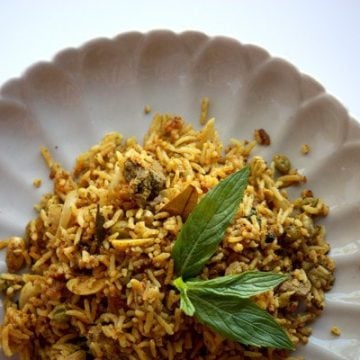 Quick Easy Lamb Biryani
This 1-hour lamb biryani recipe with that delicious traditional flavour will become an instant family favourite. Easy and fuss-free.
Print Recipe
Rate / Comment
Ingredients
3

cups

basmati rice

,

soaked in 5 ½ cups water with 1 tsp salt for 1 hour

1

tbsp

ghee/butter

6-8

saffron strands

¼

cup

cashew nut

¼

cup

sultanas

2-3

cinnamon sticks

,

broken

8-10

whole peppercorns

6-8

cardamoms

,

crushed

2

bay leaves

2

tbsp

ginger garlic paste

500

g

lamb fillets

,

diced

3

onions

,

finely sliced

½

cup

yogurt

1

tsp

ground turmeric

2

tsp

ground cumin

1

tsp

chili powder

1

tbsp

garam masala

2

tbsp

biryani masala [optional]

1

cup

frozen peas

1

cup

frozen chopped spinach leaves

½

cup

light pouring cream

1

tsp

salt
Instructions
Heat ghee in a pressure cooker [I use pressure cooker because it is super quick, gives me the freedom to go and do other things while it cooks itself and really tenderizes the meat. If you don't have access one, then a heavy-bottomed deep saucepan with a firm lid would do the trick].

Lightly fry cashew nut, sultanas, cinnamon, peppercorns, cardamoms, bay leaves and ginger garlic paste for a minute. Add lamb, onions and salt. Saute´ on high heat for 5-6 minutes till lamb is cooked and onions are glazed [It is very important to pan fry the lamb on high heat so that it browns on the outside and is still rare on the inside. This traps the moisture and retains its tenderness].

Add yogurt, turmeric, cumin, chilli powder, garam masala and biryani masala. Mix well and cook on medium heat for 4-5 minutes.

Add soaked rice, saffron, water, peas, spinach and cream. Adjust seasoning according to taste. Cover with the pressure cooker lid [or the regular lid if you are using a saucepan].

Cook without a whistle for 20-25 minutes on medium heat. Remove from heat and rest for 10 minutes. Garnish with mint leaves and serve hot with raita or sweet mango chutney.
Did you make my recipe?
I'd love to hear how you went! Tag me on Instagram @cookrepublic