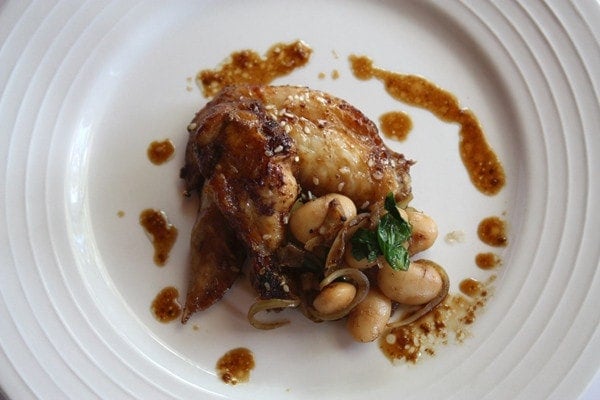 I bought Bill Granger's "Holiday" cookbook quite a few months ago. I have browsed it on a number of occasions, mentally filing away recipes to try out. And there have been many that have been filed away in the deep recesses of my mind. But I came across an advertisement for his new book in one of the cooking magazines this month and decided that it was about time I tried out a few from his last book and did a little review. I wanted an easy lunch recipe on a lazy Sunday that would not require much cooking on my part, dealing with two sick kids was draining enough. I settled for a simple looking sweet, sticky chicken recipe. So out came the kilo of chicken wings from the fridge that I cut up into manageable pieces for easy eating. I marinated the chicken and rested it for about 15 minutes before shoving it in the oven to bake for 30 minutes. I made a nice Butter Bean And Spinach salad to go with it but more about that later.
[print_this]
Sticky Chicken Wings
[Preparation Time : 15 minutes/ Cooking Time : 30 minutes/ Serves : 4]
Ingredients
16 chicken wings, tips removed and halved at the joints
3 tbsps mirin
3 tbsps soy sauce
1 tbsp ginger paste
2 tbsps caster sugar
1 tbsp chicken stock powder
2 tsps sesame seeds
Method
Preheat oven to 200C. Combine mirin, soy sauce, sugar, stock and ginger paste in a shallow, non-metallic dish. Coat the chicken pieces with the marinade in a shallow oven dish and set aside for 15 minutes. Sprinkle marinated chicken with sesame seeds and place in the preheated oven. Bake for 15-20 minutes. Remove, coat with juices and turn pieces. Bake for another 15 minutes. Serve hot with a salad or noodles.
[/print_this]