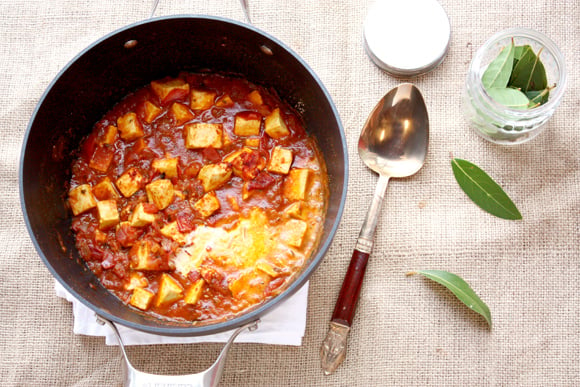 In Indian cuisine, when you stir fry vegetables and/or meat and/or cottage cheese with spices and herbs, the resulting dish is called a sabji or subji. A simple sabji accompanied by daal (lentils) and roti (bread) forms a satisfying meal in most households in India on most days. When the stir fry dish is extended and allowed to simmer in a curry base (usually made up of pureed onions, tomatoes and cream or yogurt), the sabji becomes a curry. A casserole or kadai (Indian wok) is the most suited vessel of choice to cook a sabji or a curry.
After laying to rest my 6 year old, highly abused casseroles; I recently bought a beautiful Cuisinart casserole. I also bought a copper bottomed kadai from my recent trip to the Sydney Fish markets. I have been using both for cooking fragrant Indian curries both dry and wet.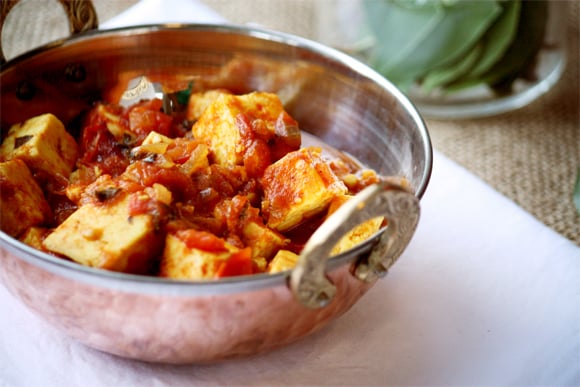 Today I am going to share with a much loved recipe that I have been cooking for over 10 years. It is called Shahi Paneer which loosely translated in Indian means Royal Cottage Cheese. It is a simple recipe that cooks fast and something that you won't usually find in Indian restaurants. My original recipe called for a good amount of chili but lately I have been omitting that because my boys love it that way. I also had a fresh supply of bay leaves plucked from my garden earlier that day.
Paneer can be found in the supermarket cheese section. Homemade paneer can also be found in the chilled section of most Indian grocery stores. I use the Amul brand when I can't find fresh paneer. It is a frozen pack of paneer cubes. The non-frozen fresh paneer I like to use is usually a large firm packaged slab that I can cut into cubes of desired sizes. When I am not so pressed for time, I like to make my own paneer at home. It is extremely simple and not very daunting. Prerna from Indian Simmer recently posted a process for making paneer at home.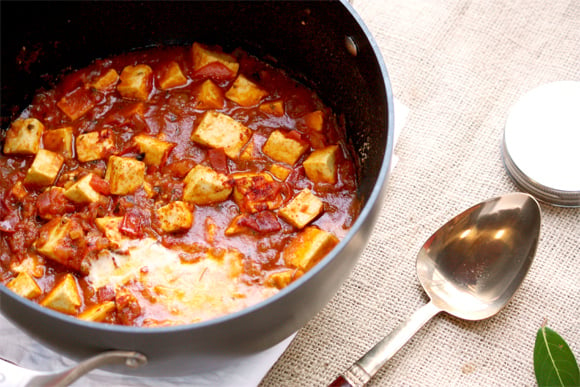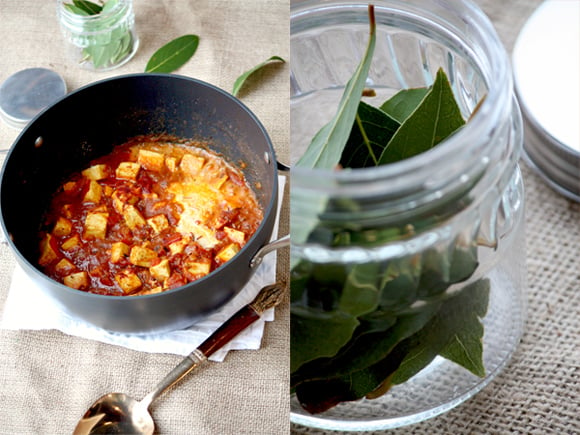 Hungry For More Recipes? Subscribe to my newsletter. Check out Facebook, Instagram and Pinterest to see everything I share! And if you love cooking and new cookbooks, join my free Cooking Club on Facebook!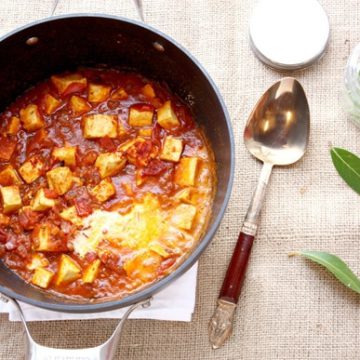 Ingredients
500

g

paneer

,

cottage cheese cut into large cubes

2

tablespoon

ghee or butter

1

red onion

,

finely chopped

4

large red tomatoes

,

diced

1/2

inch

piece ginger

,

finely chopped

1

green chili

,

finely chopped

1/4

teaspoon

ground cardamom

1-2

small pieces of cinnamon

1

bay leaf

1/2

teaspoon

red chili powder

1/4

teaspoon

ground turmeric

1/2

teaspoon

ground cumin

1

teaspoon

garam masala

1

tablespoon

tomato ketchup/sauce

1/3

cup

cooking cream

1/2

cup

water

salt to taste

1/2

teaspoon

raw sugar
Instructions
Heat ghee/butter in a casserole or kadai over medium heat. Add onions and saute till golden.

Add ginger, tomatoes, bay leaf, green chili and cinnamon. Cook on low heat, stirring constantly for 7-8 minutes.

Add water, cardamom, turmeric, cumin, chili powder, garam masala and ketchup. Allow to simmer on low heat for 5 minutes. (At this point, the curry can be pureed into a smooth sauce using a hand blender. I chose to leave the curry chunky and not blend it).

Add the paneer cubes and cream. Season with salt and add sugar. Cover with lid and simmer on low heat for approximately 8-10 minutes.

Garnish with freshly chopped coriander leaves and serve with steamed rice or roti.
Notes
Paneer is known as Indian Cottage Cheese. The cottage cheese that you will find in the supermarket stocked along with sour cream and cream cheese is usually a crumbly, soft version that is only used in baking. The same goes for ricotta cheese. When you want to make an Indian curry, look for the cottage cheese in the cheese section along with haloumi and fetta cheese slabs. The cottage cheese that you will find in vaccuum sealed packeted slabs is the one you want to use in this recipe. The firmness of this cottage cheese makes it easy to cut and handle, like baked ricotta cheese.
Paneer can be deep fried before adding to a curry for a richer taste. This is not always the healthiest of options, but offers you the freedom to stir freely and mix things well. If paneer is not deep fried, it is more delicate and prone to crumbling, hence in the recipe above, it is added right at the end of the cooking process and is not stirred until it is time to serve (as you can see from the pictures, the cream is still as it was poured before simmering).
Did you make my recipe?
I'd love to hear how you went! Tag me on Instagram @cookrepublic