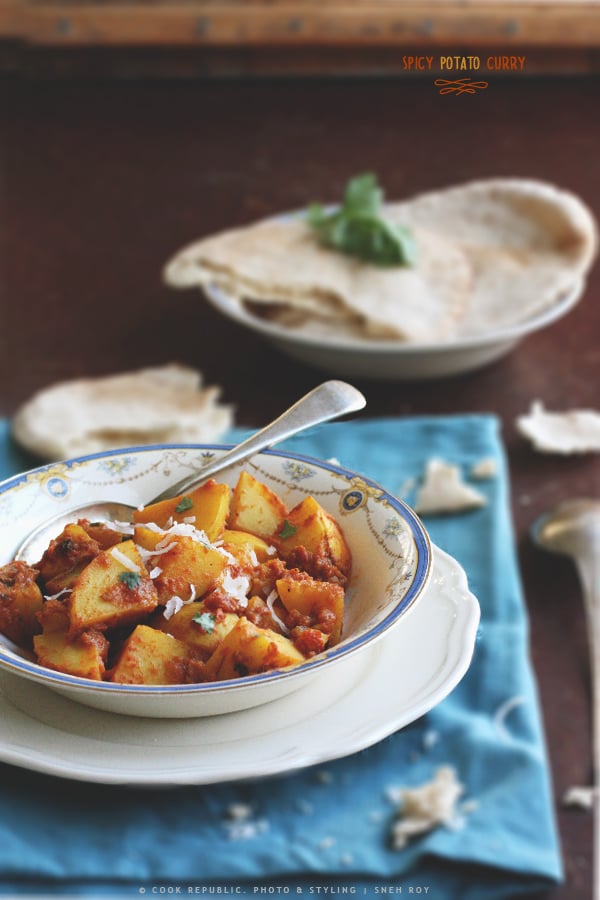 The cuisine in India is as diverse as it's people. A potato curry is the Indian equivalent of a burger. It is cheap as chips, not really served in restaurants and more prevalent in little eating shacks in small streets served with puris (puffed Indian fried bread). It is fast and convenient and graces family tables for a quick weeknight dinner or is ladled into dabbas (steel tiered lunchboxes that are wheeled around by the dozen on bicycles and delivered to offices for lunch). With 28 states, each region has it's own version of a potato curry. The version I share today is from the Western state of Gujarat where I have my roots. It is distinguised by the sweetness accompanying the spiciness. The presence of sugar and the use of coconut instantly pegs it down to Western India. It is a delicious curry which is very easy to make and absolutely fuss free. It freezes well and can be made ahead because it tastes even better after the spices have developed their flavour the next day. Sometimes I like to leave the skin of the potatoes on especially if they are new potatoes and I have managed to scrub them clean. It gives a rustic feel to the curry that is complimented by fire roasted rotis. You can also make variations to this curry by adding some green peas or cauliflower florets when you add the potatoes.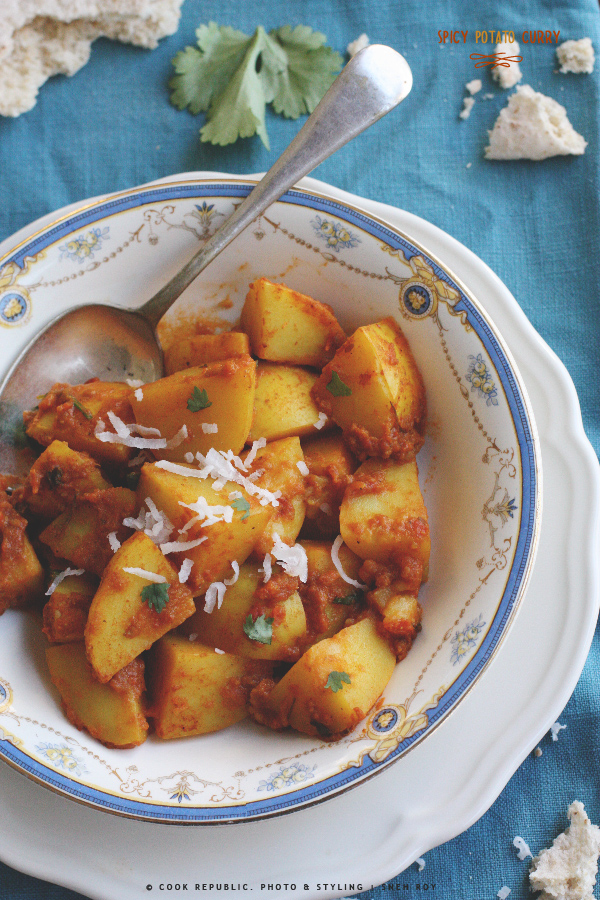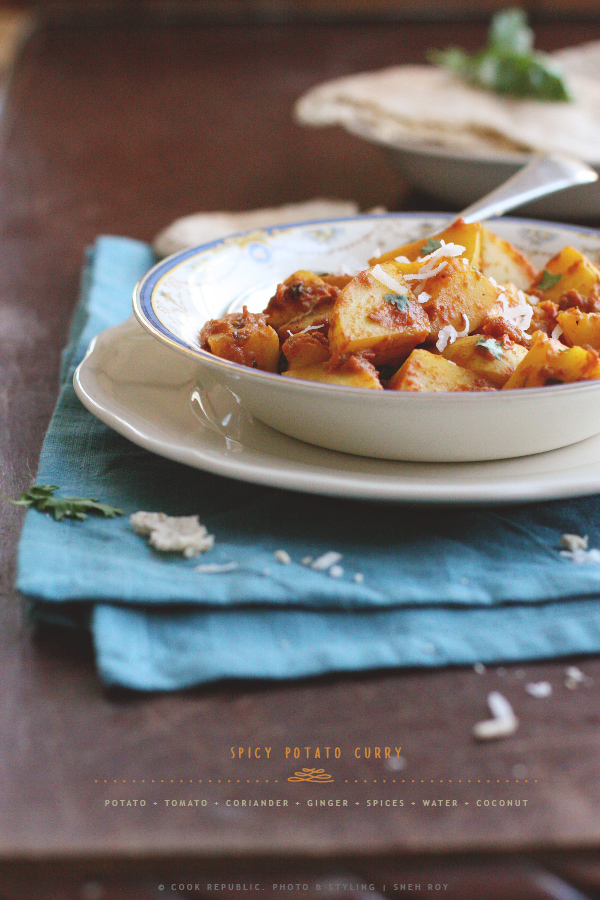 [print_this]
SPICY POTATO CURRY
An easy weeknight meal that is ready in 30 minutes. Great with steamed rice, or storebought naan or even crusty grain bread.
Preparation Time – 10 Minutes
Cooking Time – 30 Minutes
Makes – To Serve 4

Ingredients
4 large potatoes, peeled and cut into 1 inch cubes
2 tomatoes
1/2 inch piece of ginger
1 small green chili
1/4 cup coriander stalks
1/4 cup coriander leaves
2 tablespoons fresh or dried grated coconut
2 tablespoons sugar
1/4 teaspoon ground turmeric
1 tablespoon ground cumin
1/2 teaspoon ground red chili
1/2 teaspoon cumin seeds
1 tablespoon olive oil
3 cups water
salt to taste
Method
Purée tomatoes, ginger, green chili and coriander stalks with a dash of water in a food processor or blender.
Heat oil in a deep pan on medium. Sauté cumin seeds until starting to brown. Add the tomato mixture, sugar, salt, turmeric, cumin and chili powder. Cook for 3 to 4 minutes.
Reduce heat to medium-low. Add the potatoes and water. Cover with a vented lid and simmer for 25 to 30 minutes till potatoes are cooked through but still firm. Make sure the liquid has evaporated if you like a dry-ish curry, otherwise let some of the liquid remain.
Watch the curry to see if it needs more water or lower heat (this happens when all liquid is gone and potatoes start to stick and burn). Adjust heat and water accordingly.
Garnish with coriander leaves and coconut. Serve hot.
[/print_this]