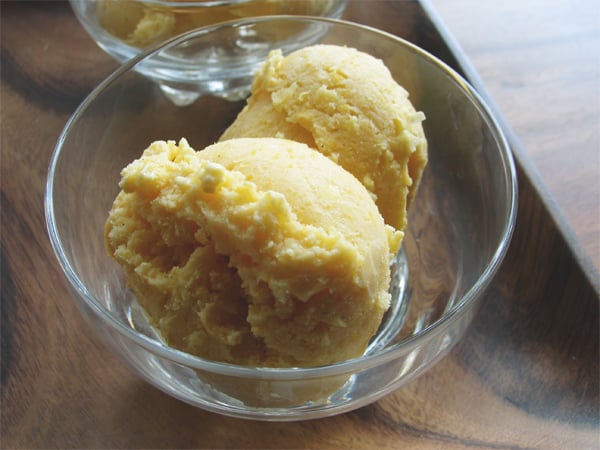 It has been almost three years since I left Singapore and one of the things I have been craving a lot recently is their absolutely delicious sweet corn ice cream. I remember the first time I braved it. It was at a "Paaser Malam" [local fair] which had sprung overnight under our HDB block. We were fascinated with all the local snacks being dished out amidst swirls of steam and a medley of teasing aromas, as we walked through the maze of tiny stalls bursting with colour and goodies.
There were massive steamers churning out sweet, steamed yellow corn, steamed fishballs on a stick and steamed beancurd skin. There was a funny looking portable barbecue spewing out smoke and little banana parcels of the most delicious "Otah/Otak" I had ever tasted. And then we happened upon this dear little man, standing by his cycle, the carrier on the back loaded with a gigantic aluminium cube and the seat equipped with a cutting board of sorts with plastic bags of neopolitan bread [yes, you read that right]. With a huge umbrella shielding his contraption from the night stars, he looked unmistakably like an ice cream vendor and he was swamped by eager hands shoving a dollar coin under his nose and grabbing the interesting looking ice cream sandwiches he was handing out. We immediately headed there, excitement fuelling us like little kids who had just spotted the ice cream van. With our dollar coins firmly clutched between our fingers we made our choice. Sweet Corn Ice Cream Sandwich!!
When we first sunk our teeth through the bread and tasted the creamy ice cream so rich with texture, it was the beginning of a love affair. Over the next 4 years, sweet corn ice cream at Singapore fairs became a regular routine for us, one that I missed terribly after arriving in Sydney. It was then that I thought of googling the recipe and chanced upon some easy ones on blogs. I have modified and adapted one such recipe and the result was fantastic, as close to that first taste I had at the Passer Malam almost 7 years ago. Try it, you won't be disappointed!!
[print_this]
SWEET CORN ICE CREAM

Preparation Time : 20 minutes Cooking Time : 20 minutes Chilling Time : 10 hours Serves : 8 [Makes approximately 2 litres]
Ingredients
4 whole corn cobs [cleaned, cobs shucked, kernels reserved]
600ml thickened cream
5 egg yolks
3/4 cup sugar
1 tbsp vanilla bean paste
5 tbsp full cream milk powder
1 tbsp fresh coconut cream
1 cup water

Method

Simmer cream and the shucked cobs in a heavy bottomed saucepan on low heat for 10-15 minutes. Bring to a boil. remove from heat, remove the cobs and set aside. In a separate saucepan, boil the corn kernels with the water for 15 minutes. Remove from heat and set aside.
Combine sugar, egg yolks, vanilla bean paste, coconut cream and milk powder in a large bowl. beat using a hand blender till mixture becomes pale, fluffy and doubles in volume. Add this mixture to the warm cream and mix well. Add the corn kernels. using a blender or hand blender, process the mixture till corn kernels are creamed and well blended with the other liquids. Pour in a tin bowl. Cover with a plastic wrap, the plastic clinging to the surface to avoid a film from forming over the ice cream.
Allow to reach room temperature, then freeze for 10 hours before serving.
[/print_this]