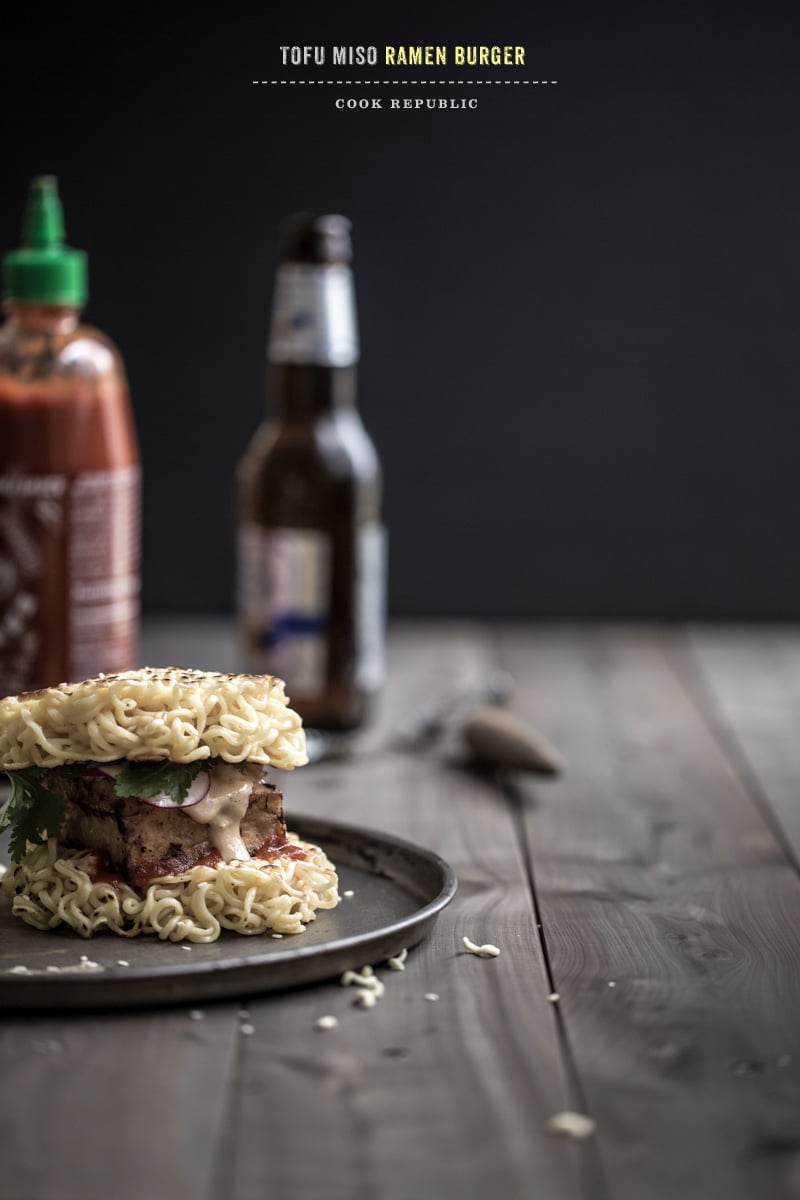 I have a terrible weakness for noodles in unusual eating scenarios. I love noodles rolled up in an omelette, baked in a frittata or noodlecakes. So last night while browsing food news on my iPad, when I came across this headline "Ramen Burger takes over Cronut as the new food craze!"; I had to investigate further. An hour of googling various sources revealed that the Ramen Burger was Ramen noodles shaped into a burger bun and fried. These ramen buns were then used to sandwich succulent meat patties. The buzz was started by Keizo Shimamoto who invented and introduced the Shoyu Ramen Burger at the Brooklyn Smorgasburg food market a few days ago with hybrid food enthusiasts queuing up to get their hands on one of only 150 burgers that were promised. I wasn't going to Brooklyn anytime soon and who knows how long fads last. I had to make it!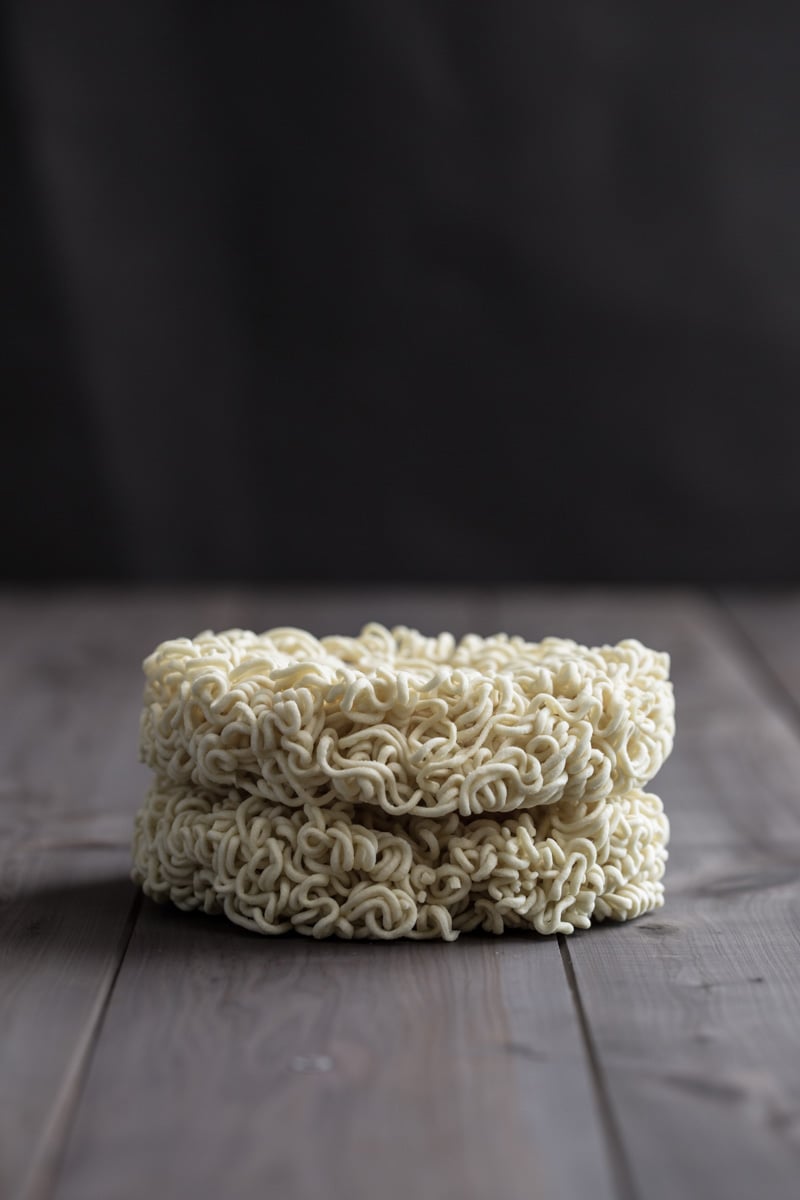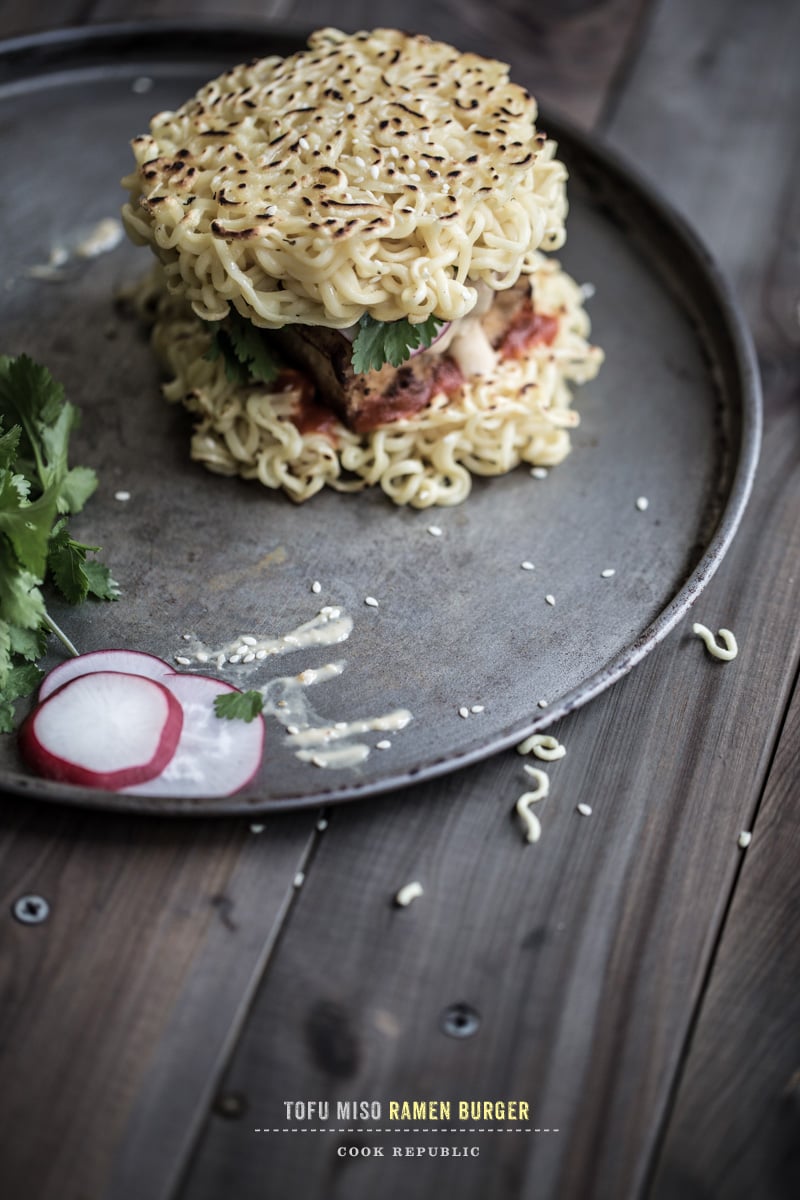 So I traipsed to my Asian grocers this morning and bought a few packets of ramen noodles and some fresh hard tofu. A few hours later, Nick and I sat down to a messy meal of delicious vegetarian ramen burgers. I must warn you, these are fiddly to eat. But nothing that a good set of fork and knife can't tackle. On the plus side, they are a breeze to make and quite fun too. I made a gorgeous peanut butter and miso glaze for the tofu patties. We layered our burger with Asian greens and doused it with my favourite Sriracha sauce. We loved the burgers! Loved the taste, loved the eating-by-a-food-truck-at-the-local-festival flavour to the whole dish. This was my first attempt and certainly won't be my last. Before the year is up, you will see more ramen burger recipes from me. And although the assembly and specs weren't perfect, I wanted to share these with you because they tasted amazing. *Must remember for next time* Thinner ramen buns and thinner patties!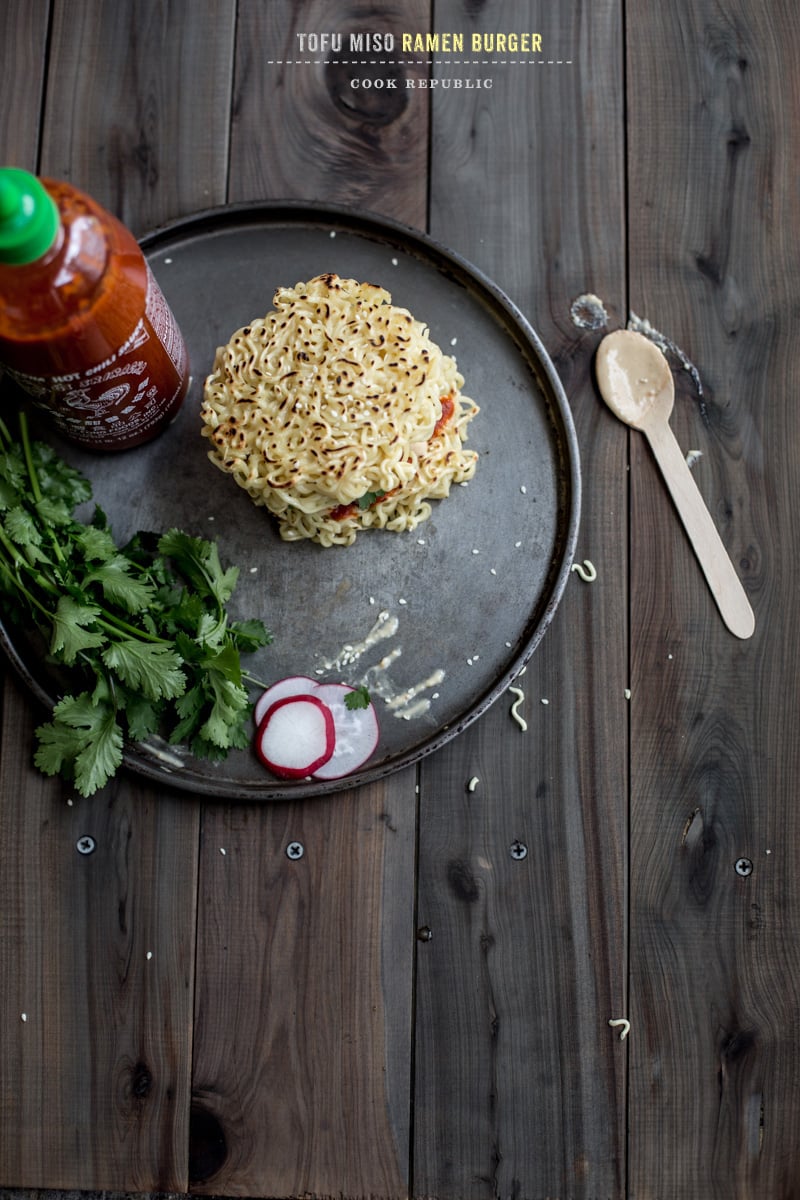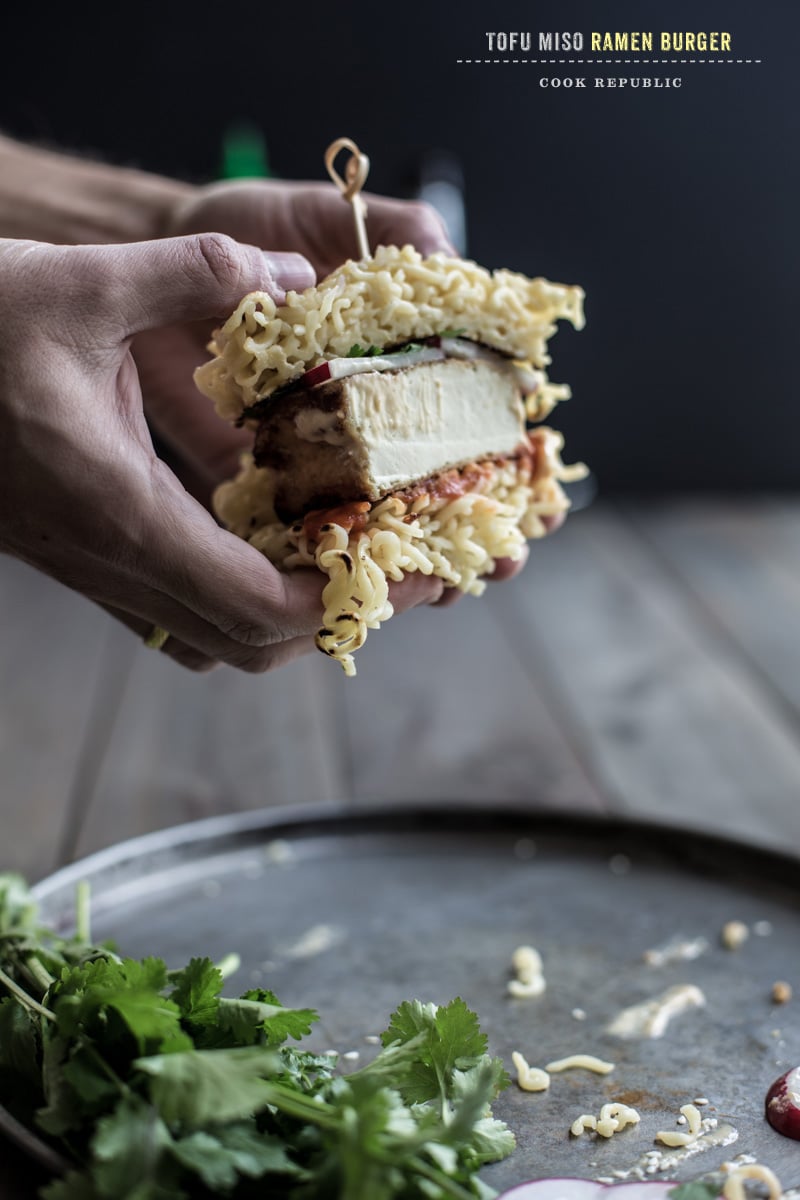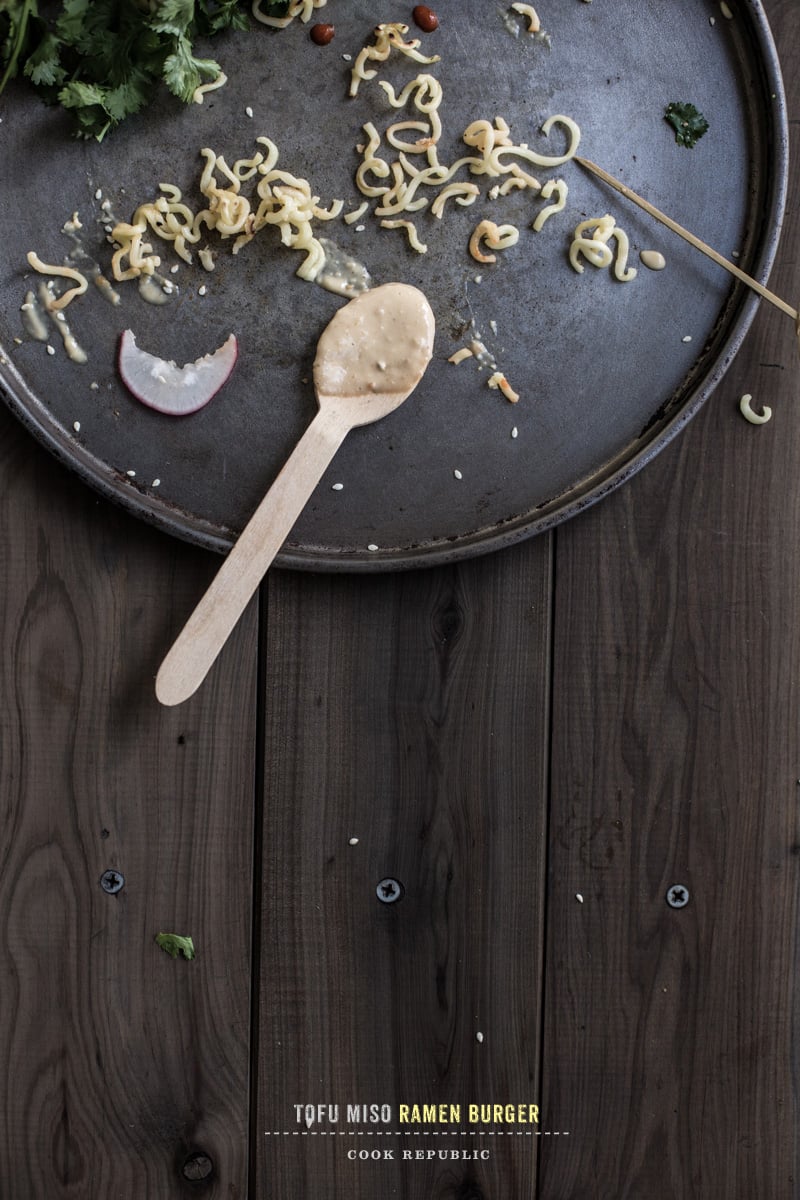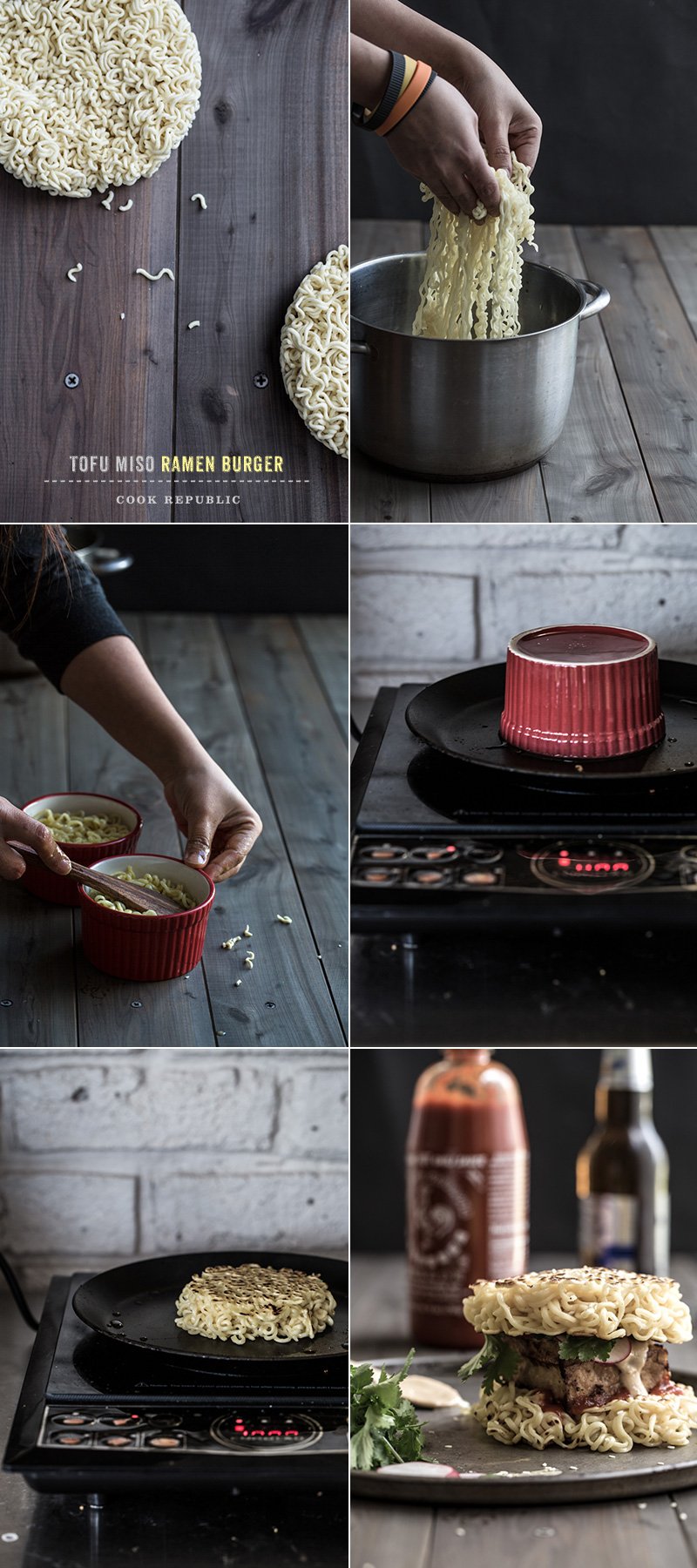 [print_this]
TOFU MISO RAMEN BURGER
An overnight hybrid food craze, the ramen burger is buns made of fried ramen noodles and a patty made of miso glazed tofu served with Asian greens and hot sauce.
Makes - 2 burgers
Ingredients
2 packets dry ramen noodles (220g)
3 eggs
1 teaspoon salt
freshly ground black pepper
2 tablespoons cornflour
fresh hard tofu
oil for pan frying
red radish or Asian greens to serve
Sriracha sauce to serve
for the glaze
1/4 cup water
1/4 cup rice wine vinegar
1 tablespoon sesame oil
1/4 cup peanut oil
2 tablespoons peanut butter
3 tablespoons tahini
2 tablespoons red miso paste
1 tablespoon brown sugar
1 clove of garlic
1 inch piece ginger
salt and pepper to taste
Method
Bring salted water to a boil in a saucepan (approximately 1 litre water with 1 teaspoon salt). Cook noodles in boiling water for 2 minutes. Remove from heat. Drain completely. Refresh in cold water. Drain again. Noodles should be al-dente and strands should not stick or be lumpy. Add lightly beaten egg, salt, pepper and cornflour. Mix well. Chill in the fridge for 20 minutes.
Remove from the fridge. Pack 1 cup of noodle mixture in a flat bottomed bowl or ramekin. Heat oil in a frying pan on medium. Flip the noodle filled ramekin and place on hot frying pan. Cook for a minute. Remove the ramekin gently. Continue pan frying the noodle bun, flipping once gently to cook the other side. Repeat with remaining noodle mixture until you have 4 noodle buns.
Place all ingredients of the miso glaze in the bowl of a processor and process until a smooth paste forms. Heat oil in a frying pan on medium. Place hard tofu squares on the pan. Brush glaze on top of the tofu with a pastry brush. Flip and cook the other side. Repeat brushing with glaze as necessary.
Place cooked noodle bun on a plate. Top with some Sriracha sauce or hot sauce of your choice. Place roasted tofu patty. Top with sliced radish or favourite Asian salad. Add more miso glaze. Top with another noodle bun. Enjoy!
[/print_this]