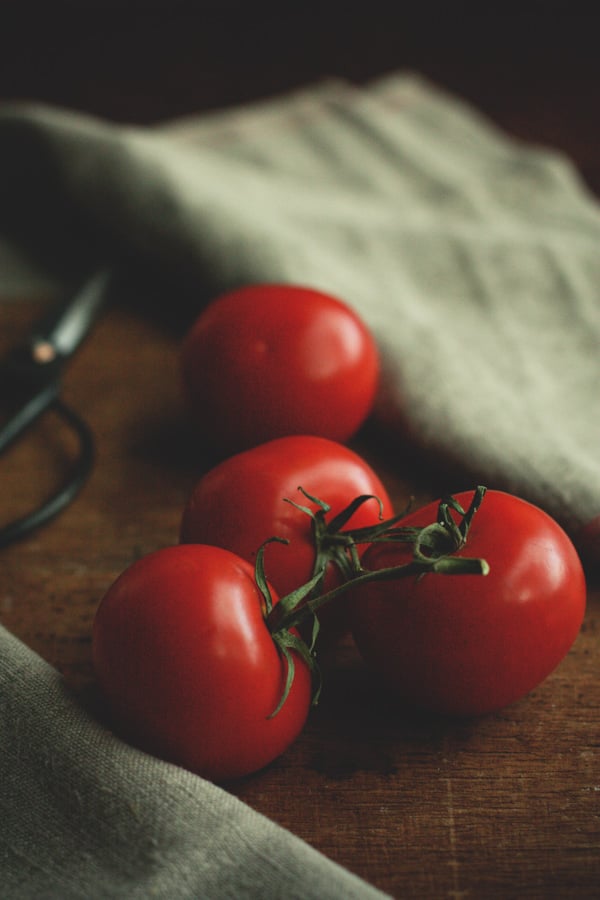 I learnt to make this pungent, sweet, sour and totally zingy chutney from Nick many years ago. An absolute favourite in the houses along India's east coast, this version has been tweaked to suit a wider audience and palate. A great tomato chutney is the epitome of pub food accompaniments. With the right amount of tang, a tomato chutney lifts up the blandest of burgers and compliments the smokiest of sausages. For those who have read my previous posts and have an excellent memory, you will know that I am a sucker for simple recipes with 3, 4 or 5 ingredients. This is one of those recipes and I had to share!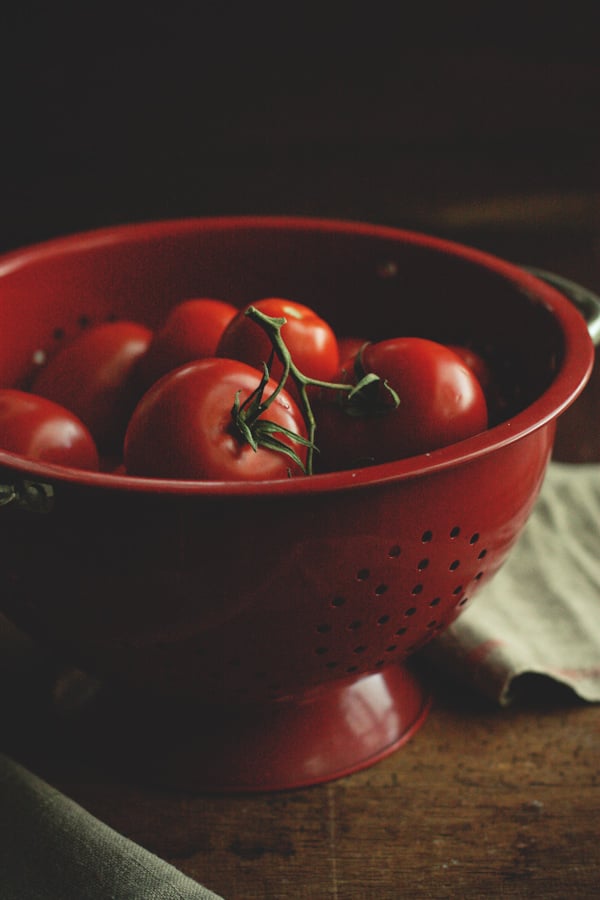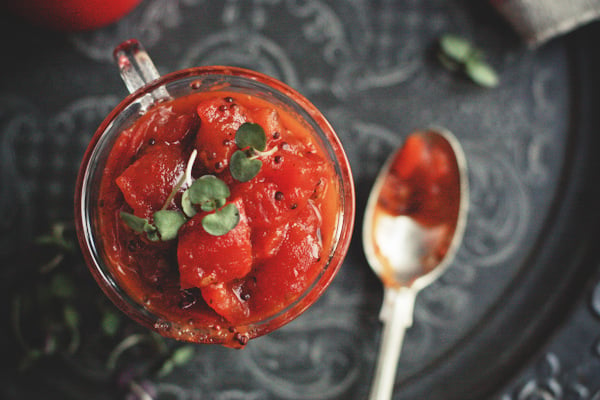 Food Styling & Prop Alert
- The hardened plastic container that holds the chutney is actually a
Nespresso Coffee
Cup that I saved from the Good Food & Wine Show in Sydney earlier this year. The metal plate and silver spoon were thrift store finds. The beautiful antique French linen was sourced from
Grosgrain Homewares
in Wahroonga, Sydney. The red metal colander was a cheap
K-Mart
buy. The micro herbs were $5 for a container from Pyrmont Grower's Market.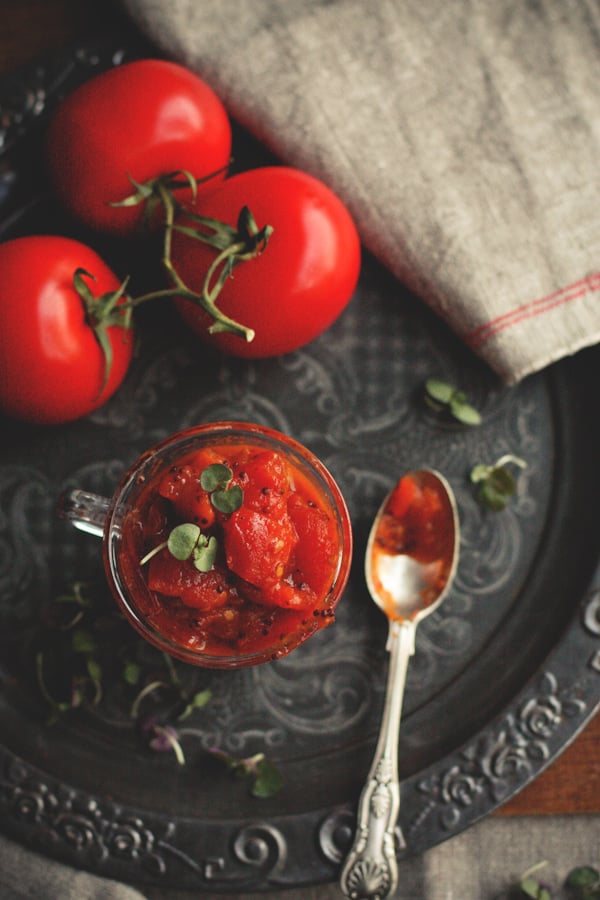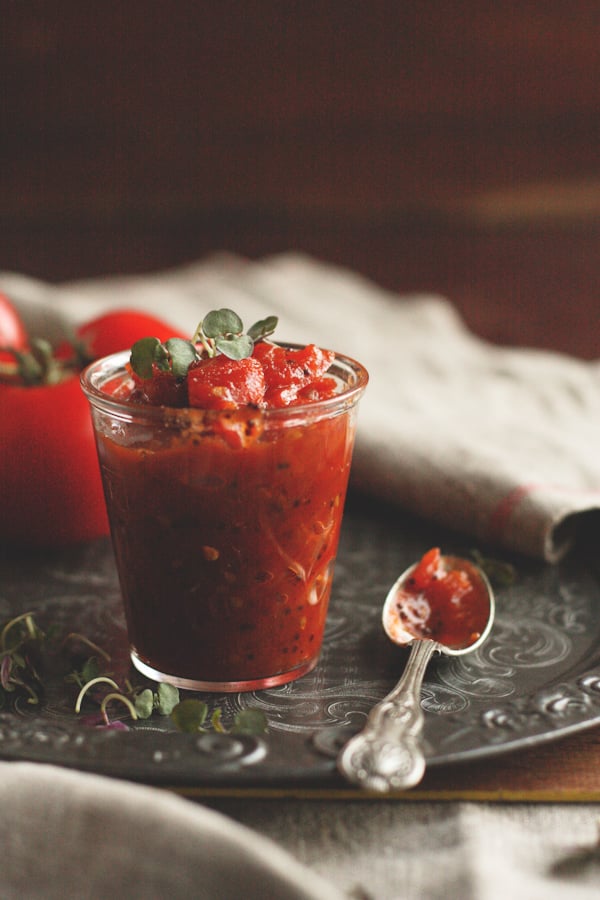 Winner of the 2nd Australia Eat Drink Blog 2011 Food Photography Awards. IMPACT Award.
[print_this]
TOMATO MUSTARD CHUTNEY
Preparation Time - 10 minutes
Cooking Time - 30 minutes
Makes - 2 cups
Ingredients
6 large truss tomatoes, diced
2 tablespoons olive oil
2 teaspoons black or yellow mustard seeds
1 teaspoon salt
3-4 tablespoons sugar
1/2 teaspoon garam masala
Method
In a heavy bottomed saucepan heat oil on medium. Add the mustard seeds. When they start crackling and spitting, add the tomatoes. Add the salt and sugar. Reduce heat to low and simmer, partially covered for 25 minutes. Stir it every 5 minutes to ensure the chutney doesn't stick.
Stir through the gram masala. Cook for 2 more minutes and remove from heat. Cool completely and store in sterilised glass jars in the fridge for a week.
My Notes
The original east Indian tomato chutney called tamater chatni in Bengali, the local dialect uses mustard oil which renders it even more pungent and hot.
The chutney at the end of the cooking time should be almost pulp-like and soft. Salt and sugar can be adjusted to taste.
[/print_this]