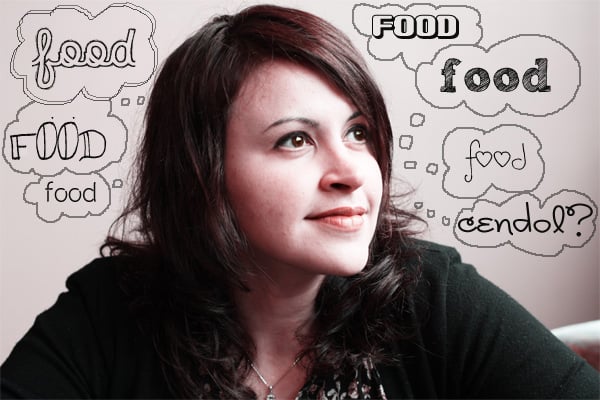 I cannot peel a boiled egg without giving it cellulite.
I have panic attacks before icing a cake for a special occasion.
I cannot sleep if I fail at a recipe, making batch after batch till I get it right. My kitchen looks like a catering house for a party of 60 when that happens.
I need therapy for my cookbook addiction. I think I buy more cookbooks every month than I cook from (Yes, I am blaming marketing departments of those darned publishing houses).
In my next life, I would like to be a pastry chef.
I might be single handedly responsible for the zillion page hits bookdepository.com gets everyday after I indulge myself virtual window shopping for cookbooks. Mind you, I am just looking and wishlisting *cough cough*!
Every now and then I will completely obsess about some particular food. A few years ago it was cupcakes followed by Agedashi Tofu followed by Okonomiyaki followed by soft centered eggs. When that happens, I NEED to have it every other day. Then I start making it every chance I get. This madness usually lasts for a couple of weeks. My current obsession is Cendol!
When the urge to cook something hits, I first head to my windows and visually measure the amount of light streaking in. If it is dark and blustery, I let my whim to cook pass because I know I won't be able to get good shots of the food I cook. Well hello ISO and M mode! I am no longer a slave to the light outside the window!
When I watch movies or television shows, I am sub consciously scoping out surfaces, kitchen props and food on display.
Whenever we go out to dine, Nick sits with an exasperated expression on his face, his stomach rumbling louder with each passing minute as I try to get a decent shot of the food that has arrived at our table. I only feel guilty sometimes.
I grow a cartload of herb varieties in my backyard so I can have a fresh garnish for that perfect food shot.
I once licked my finger and dabbed it on the lens to clean a smudge. ON THE LENS!!! SPIT!!!
As days go by, obsessing about food, food and more food; I find myself becoming something of a food snob. Why buy a birthday cake when I can bake my own! Cookies from the supermarket? Blasphemy!! I need to bake my own gourmet cookies every week.
I have taken up thrifting for unusual food photography props. As I head into a thrift store or op shop, I can feel the blood pounding in my veins and my heart hammering away in my chest. The thrill of scoring a rare vintage English floral plate or a hallmarked ornate silver spoon is tremedously palpable. Who needs to bungee jump after that kind of excitement?
I need to build a separate room to store my kitchen and photography props, cookbooks and cooking magazines.
I need to tweet about every single thing I am eating. The burning need to share with the world that I am having a piece of toast is ridiculously compulsive.
I use Foursquare and Urbanspoon to log my food shenanigans and scope out new places to eat.
I am constantly pinning kitchen, food, props and photography on Pinterest.
I can probably count more celebrity chefs on my fingers than Hollywood celebrities.
I roll sushi at 10 o'clock in the night so it is fresh for an early morning snack.
I have truffle oil, rose petals, squid ink linguini, chocolate spaghetti, 3 different kinds of quinoa, chia seeds, dried porcini mushroom, 3 different kinds of salt flakes, every possible variety of beans, nuts and lentils in my pantry for a cooking emergency.
I have close to 1000 cookbooks and cooking magazines overflowing from my shelves. Even then when the urge to cook strikes, I head to the computer and google the recipe.
I go to bed thinking of food. I wake up thinking of food.
The crusty sound that comes from breaking a freshly baked baguette is pure music. The bread scene in Ratatouille is the best ever!
Vintage, retro and quirky food packaging gets my knickers twisted in a knot. I love bespoke labels, rustic crates and paper bags printed with gorgeous typography.
Fete food is the best. Don't tell me otherwise!
I love playing Cooking Dash and have mastered all versions at all levels of difficulty. Flo rules!
I wish Butterbeer was real and widely sold throughout the world!
I have not eaten rabbit, kangaroo, crocodile and venison. I have no intention of doing so.
I think Food Porn needs to be a legally and globally accepted term.
My first attempt at making macarons was also my last. They looked like whoopie pies who needed to get to the gym.
Shaking Jamie Oliver's hand would be akin to being in the same room as Dalai Lama.
I have peelers and cutters for everything under the sun. Mango, corn, avocado, strawberry, banana, pineapple ... you name it. Do I use them? No. That is where my trusty knife comes in.
At a 2 hatted restaurant for an extraordinary degustation lunch, the thing that I was most looking forward to was their bread and churned butter. I dreamt about it for days and stared at pictures of it longingly on other blogs that had reviewed the restaurant.
I would love to possess knife skills of a fruit ninja. But I am scared to learn. So instead I practice on Fruit Ninja - the APP!
When cutting chicken, I freak out if the head is till on. Sometimes I freak out more, if the head is unattached. So chicken cutting is left to Nick.
Some of the most adventurous things I have eaten have to be tortoise eggs and frog legs.
For all the food influence and thoughts that mark my everyday, I don't eat very much. I love to feed.
So tell me guys, what is your quirky foodie/food-blogger trait?? Come on confess up!!