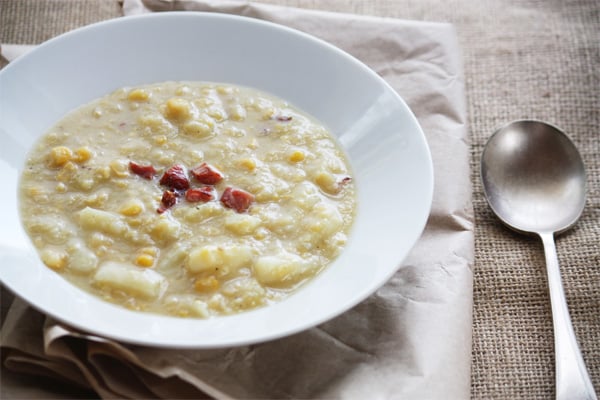 If I were a colour, I would be brown. Although I say that I love white and black (that is the photographer in me talking), I gravitate towards everything brown. Autumn with its russet coloured carpets, warm brown breads laid out on hessian at farmer's markets, chestnuts, camel hued clothes, almost bare branches with crumply brown leaves barely hanging on for dear life, fresh cakes with golden tops, gorgeous dark wood chairs with coloured cushions and a pair of hot brown leather boots. Yes, I would most definitely be brown.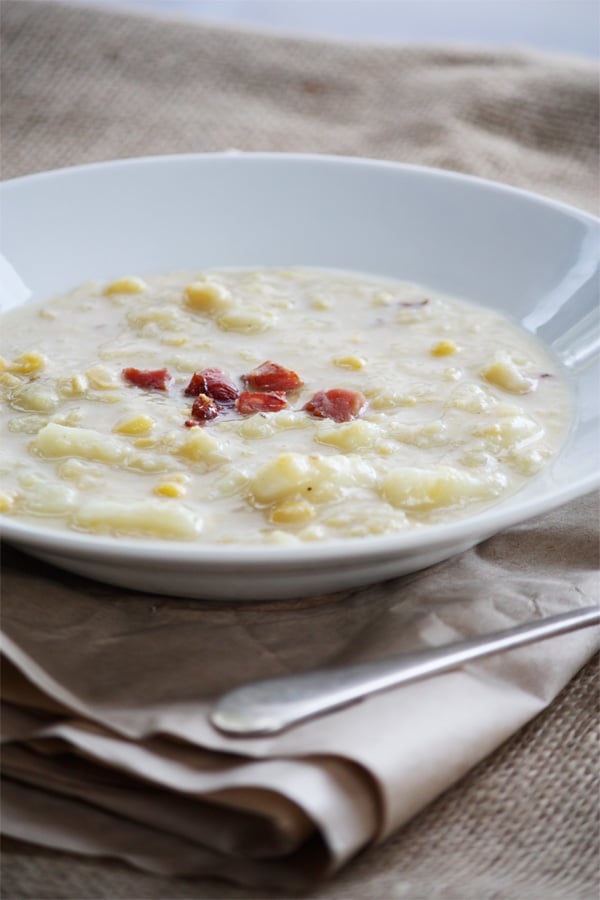 This love for brown transcends into my cooking as well and the overall mood of everything I see and capture on my camera as the weather turns. As you will see in this beautifully rustic sweet corn chowder that I cooked for supper. It is hearty, warming and brimming with flavour. I had the leftovers in my enormous yellow soup mug the next day. It was like a warm hug.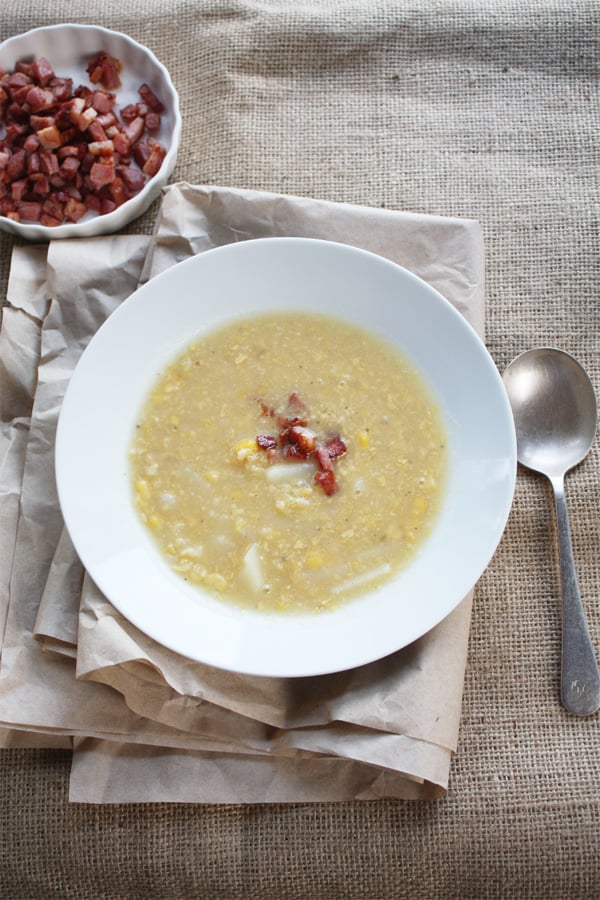 In the weekend, it rained. Scores of used, empty cups lay scattered on our kitchen countertops from our numerous tea and coffee drinking sessions. Sunday was wet and truly lazy. I even slept an extra hour in the morning going slightly over my routine 7 hour sleep every night. It felt like Autumn had truly set in and that made me happy because it is my favourite season. Out came the fleece trackies, ugg boots and a ginormous 3 meter long diamond python. Eeeeps! What? Yep, you read it alright! For those of you who saw my tweets about the snake on twitter, you saw how huge it was. But that grainy picture taken on my iPhone did not do justice to the sheer beauty of the python.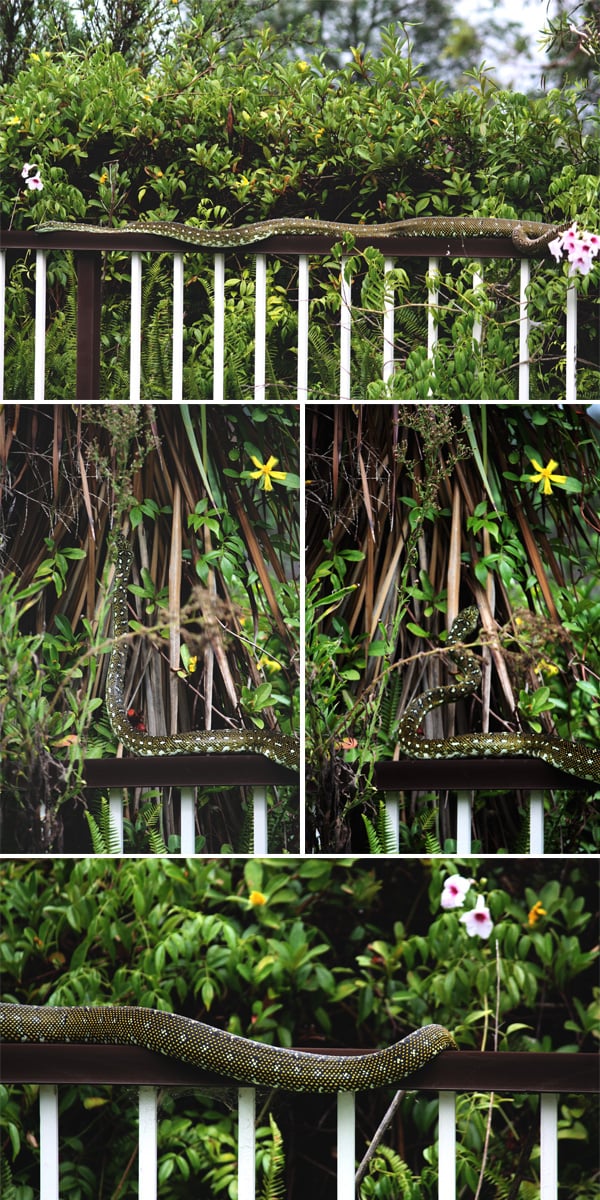 It happened like this. Nick was cleaning the pool, walking around the periphery just inches away from the pool fence. Then he came in and stood gazing at his handiwork while I did a photo shoot setup. It was then that he said "OH MY GOD! That is a snake!". My little boys who were nowhere in sight and usually need to be called a dozen times before they make an appearance, magically appeared like genies going "Pooft". I tore myself away from the styling session and saw this enormous snake sunning itself on our pool fence. He might've already been there, inches away from Nick when he was out earlier (something that probably freaks him out and a fact that we will never know).
We called the fire station and then later an animal rescue and preservation charity. After hearing our description of the snake, we were informed that it was a non-venomous, non-territorial diamond python and that it would slither away eventually looking for rats or frogs. By now, amidst all the squealing, squawking (yes, my boys can be extremely noisy) and excited chatter, I had managed to get several great shots of it via a zoom lens. Upon hearing that it was not going to kill us, we proceeded very bravely to get a closer look. We went as close as a few meters from it.
It was gorgeous, bright green and speckled with yellow, gleaming in the sun. It was so exciting to see an exotic creature in your own backyard. After a few minutes it became evident that this particular snake was very lazy and was in no hurry to perform or go anywhere. With the excitement dying down, my boys fidgeting to get back to their Donkey Kong session and me eager to get that photo shoot out of the way before the light died down, we bid goodbye to our wild visitor.
[print_this]
recipe
SWEET CORN CHOWDER
adapted from Bill Granger's Everyday
Preparation Time - 15 minutes
Cooking Time - 30 minutes
Serves - 4
Ingredients
3 medium potatoes, peeled and dice
400g can creamed corn
250g can corn kernels
1 red onion, roughly chopped
2 bacon rashers, diced
6 cups chicken stock
1 tablespoon olive oil
salt to taste
freshly ground black pepper
1 teaspoon sugar
2 tablespoons thinly sliced spring onions (to serve)
Method
Heat oil in a large saucepan over medium heat. Add the bacon and cook for about 4 minutes until crisp. Remove bacon from pan and place on kitchen tissue.
Add onion, salt, sugar and pepper to the pan. Cook for approximately 5 minutes until onion is soft and golden. Add the chicken stock and potato. Bring to a boil. Add the creamed corn and corn kernels. Cook for about 8-10 minutes on low-medium heat until corn and potatoes are soft.
Puree half the soup and return to the pan. Bring to a boil. Serve hot scattered with bacon and spring onions.
[/print_this]