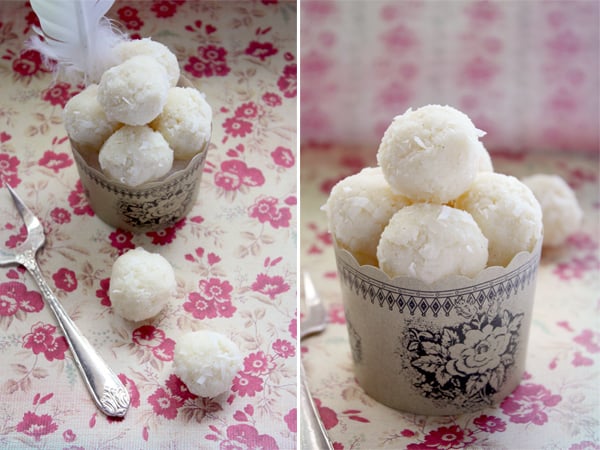 I was totally making up a cake for an impromptu barbecue we were invited to over the weekend and because I was going to decorate the cake with fresh figs and violas, I thought that white frosting would look perfect. But I only had white chocolate bits, not proper white cooking chocolate. So I used that and the glaze was sticky and a tad too thick to pour over the cake. Bummer!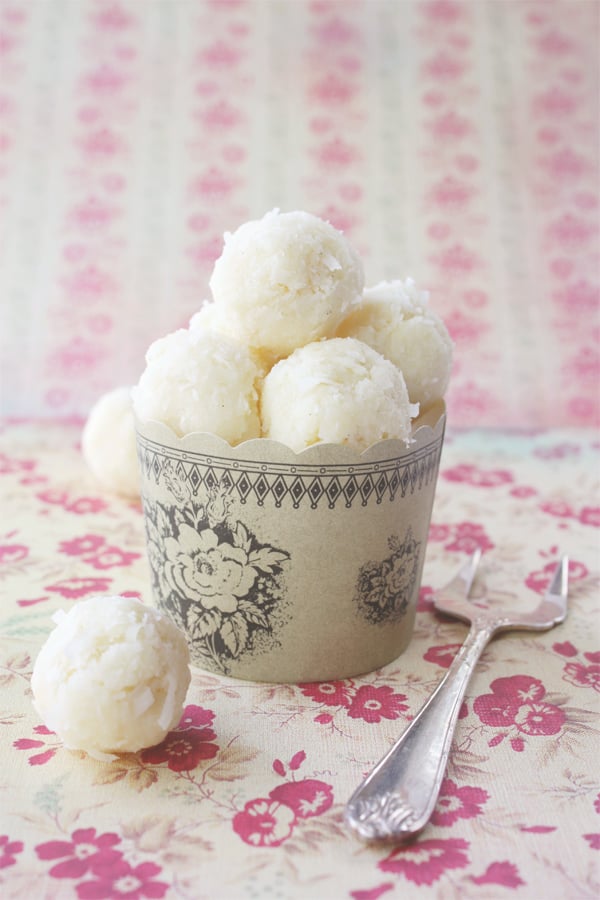 So I made some beautiful dark chocolate and liqueur glaze for the cake (that recipe and story is for another day). I didn't want to waste the white glaze, it tasted fantastic (yep, guilty of too many licks!). So in went an assortment of ingredients and I had 20 incredibly yummy little truffles that were so perfect for mouth-popping. Come to think of it, they might have looked great on top of the cake too!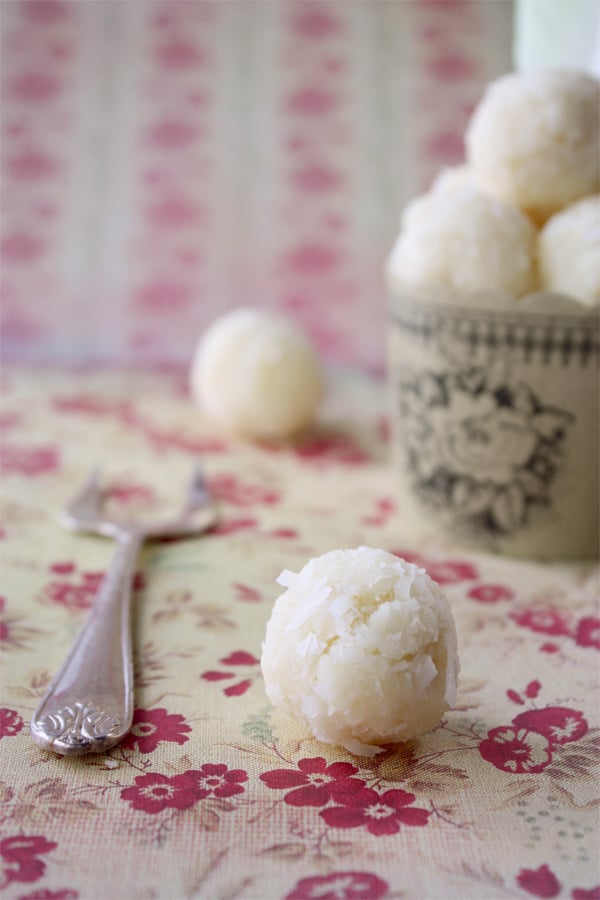 [print_this]
recipe
WHITE CHOCOLATE AND COCONUT TRUFFLES
Preparation Time - 20 minutes
Chilling Time - 45 minutes + 4 hours (optional)
Makes - 20

Ingredients
180g white chocolate bits or white cooking chocolate broken up in pieces
1/2 cup cream
1 teaspoon vanilla extract
1 cup coconut flakes
1 cup dessicated coconut
Method
In a heavy bottomed saucepan (milk pan), combine the chocolate and cream. On low heat, stir the mixture constantly till chocolate is melted and blended with the cream. Add the vanilla extract and remove from heat. Cool a bit.
Add the coconut and mix well. Chill in the refrigerator for at least 45 minutes to an hour till the chocolate mixture firms up enough to roll into balls. Take 1 tablespoon full of the mixture and gently roll it into a ball with your palms. Roll the balls in dessicated coconut or coconut flakes or crushed nuts for a dry and delicious outer crumb. Refrigerate until time to serve.
Notes
The initial tempering of chocolate with cream takes only about 2 to 3 minutes. Watch it and stir for that duration till it is just about blended and smooth. Remove from heat and cool a bit before adding the coconut.
Straight off the heat, the mix is very soft and runny. You will need to chill the mixture (uncovered) in the fridge for at least 45 minutes till it firms up.
When you roll the balls after 45 minutes, handle the mixture gently. If you refrigerate the balls after rolling, they will firm up nicely in a few hours.
Add an extra half cup of coconut, if you feel the mixture is too soft to handle.
These little truffles are great cake toppers. They would also be perfect dipped in dark chocolate. A few drops of food colouring might make them perfect for a child's birthday party.
[/print_this]