Why couldn't I have called today's recipe Tomato Soup instead of Tamatar Shorba? For starters, this soup is very different from your average Cream Of Tomato Soup. A Tamatar Shorba happens when your tinned tomatoes travel back in time to ancient Persia or the Mughal-ruled India.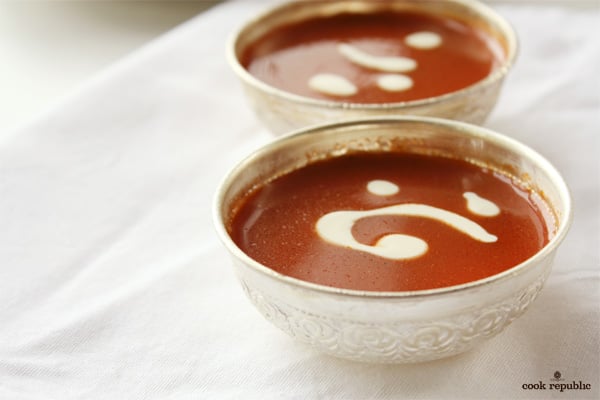 You may use fresh tomatoes of course, but not if you are in Sydney probably. I don't know what the price of tomatoes is elsewhere, but here in Sydney it would be the equivalent of one of those Mughal Sultan's ransom. So we use tinned tomatoes. And this gorgeous soup gets an exotic make-over. Shorba means a soup in very ancient Persian and the origin of shorba dates back to either ancient Persia or India (the Wiki wasn't very clear about it). Tamatar of course, you guessed it, means tomato!
Growing up in India, I was always very confused about how one went about pronouncing tomato. Back then there was no concept of listening to pronunciations on the internet. There was no internet! Thankfully amongst all the tomaato, tomayto and tamatars, I decided to go with tomato.
The essence of this beautifully aromatic shorba is the tadka which means a quick saute of spices to release their flavour and fragrance before the core ingredients are added to it. This soup is ridiculously easy to make and is ready in just about 30 minutes. I love lapping it up with a crusty grain bread.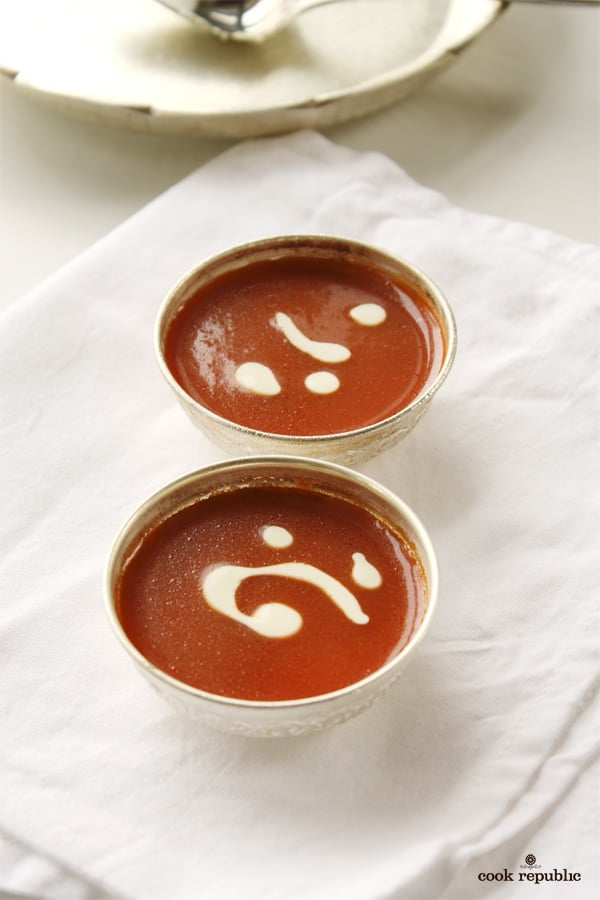 On Sunday, it was Holi, the Festival Of Colours! In India and amongst Indians in the rest of the world, Holi is very popular. It is called the festival of colours because people smear colour on each other's faces which quickly culminates into a full blown water fight with pichkaris (water guns), color bombs (balloons filled with the most stubborn liquid colour that you might have the hardest time scrubbing off your skin), buckets and even hoses (yes, there are no water restrictions in India). Armed with gulaal (the famous pinkish red powder you see being strewn in Holi songs in a Bollywood movie), people shout "Holi Hai!" (It's Holi!) and go about painting every living thing in sight, red.
It is a fun festival for young and old alike because you lose all inhibitions and let loose. The whiter your clothes, the better to get them all coloured up. For the grown ups, it is heightened by indulging in Bhang which has a hint of marijuana (something I found out to my absolute shock while googling a recipe for it). No wonder we were never allowed any! Bhang is a chilled milk based beverage and a very popular Holi drink.
We didn't do anything for Holi other than cook some traditional Holi dinner with sweetened flatbreads (Puran Poli) and deep fried savoury lentil balls (Kachori), but my mum was kind enough to send some pictures of the awesome fun they had playing Holi back in India. It brought back many memories and I thought I'd share a few. Now as I look at the pictures of the shorba, it is very easy to imagine the red being gulaal in silver bowls. How apt! Happy Holi everyone!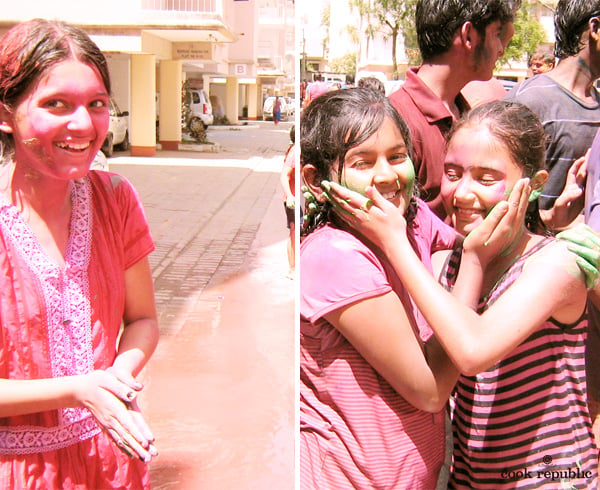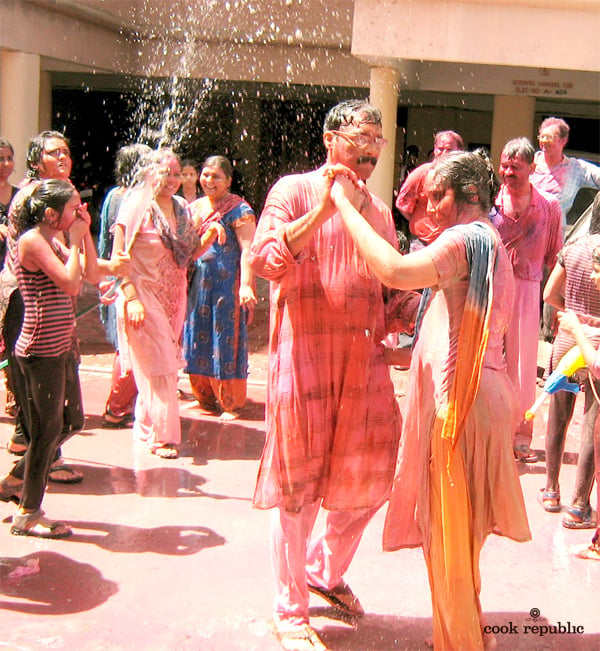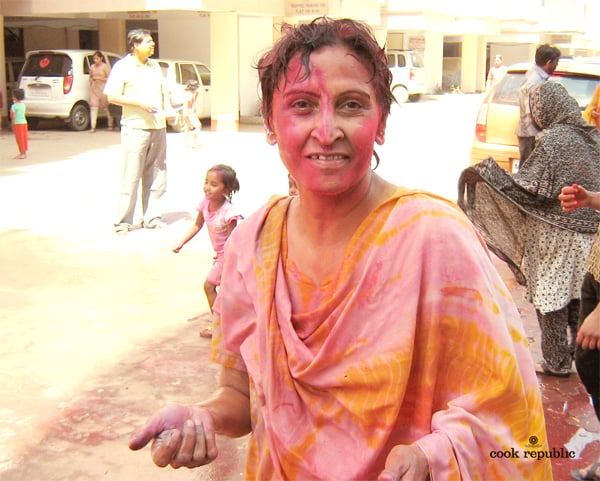 [print_this]
recipe
TAMATAR SHORBA - INDIAN TOMATO SOUP
Preparation Time - 10 minutes
Cooking Time - 20 minutes
Serves - 2
Ingredients
1 tablespoon ghee or salted butter
1 small red onion, finely chopped
3 bay leaves
1 inch stick of cinnamon, lightly crushed
2 teaspoons ground cumin
1 teaspoon garam masala
2 teaspoons sugar
1/4 teaspoon salt or to taste
6 peppercorns
250ml vegetable stock
2 x 400g tins diced tomatoes
Method
Heat the ghee/butter over low heat in a heavy based saucepan. Add the onion, bay leaves, peppercorn and cinnamon. Fry until the onions are soft and caramelized. Add the cumin, garam masala, sugar and tomatoes. Stir and bring to boil. Simmer for 15 minutes on low heat.
Remove from heat and strain the soup by passing it through a sieve. Using a metal or wooden spoon, push against the solids in the sieve to extract as much liquid as you can. Discard what is left in the sieve. Season the liquid with salt and return to heat for 2 minutes. Garnish with fresh cream or coriander before serving piping hot.
[/print_this]