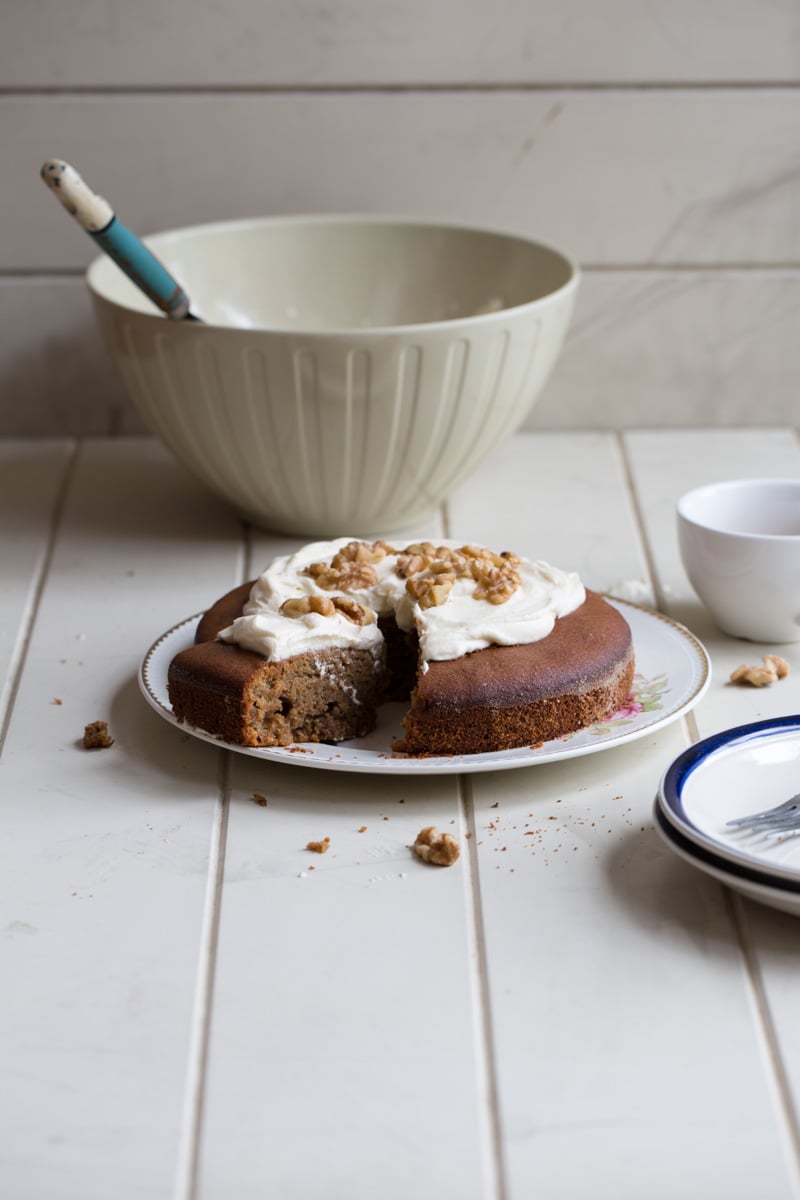 Coffee and walnut cake used to be our staple birthday cake when Nick and I were dating. Every year. Till we had kids. Somewhere along the way we lost big pockets of time to bake each other cakes. Then the kids got older and the way we eat changed. Call it peer pressure, mass commercialism or merely experimental but you cannot escape making wiser/healthier eating choices. And with good reason. When you reduce the amount of sugar in your diet or practice moderation in your cooking or go meat free a few times a week or resort to gluten free baking in the weekends, something happens - you start feeling amazing. On the inside. And then you get addicted to that feeling of clarity and lightness. And it starts becoming a way of life.
I don't believe I have baked a coffee cake since this ghastly offering on the blog years ago (crap photos, great taste!). So amidst boxes of packed books and dismantled furniture (we are about to begin our long awaited kitchen renovations) I took the time out to create a beautiful light and nutty coffee and walnut cake that was amped with amaranth goodness and just a hint of sweetness to balance the rich coffee flavour.
Amaranth is gluten free. The flour is milled from the amaranth seed that dates back over 8000 years to the Aztecs. They apparently had their healthy eating sorted out with quinoa and amaranth and what nots - peer pressure or not! Amaranth flour has a delightfully subtle nutty and sweet flavour. I use the stoneground Bob's Red Mill brand. For this recipe I also used macadamia oil by the lovely people at Brookfarm and Nespresso's newest limited edition Colombian inspired Santander coffee that has toasted bread notes. See my notes for substitutions.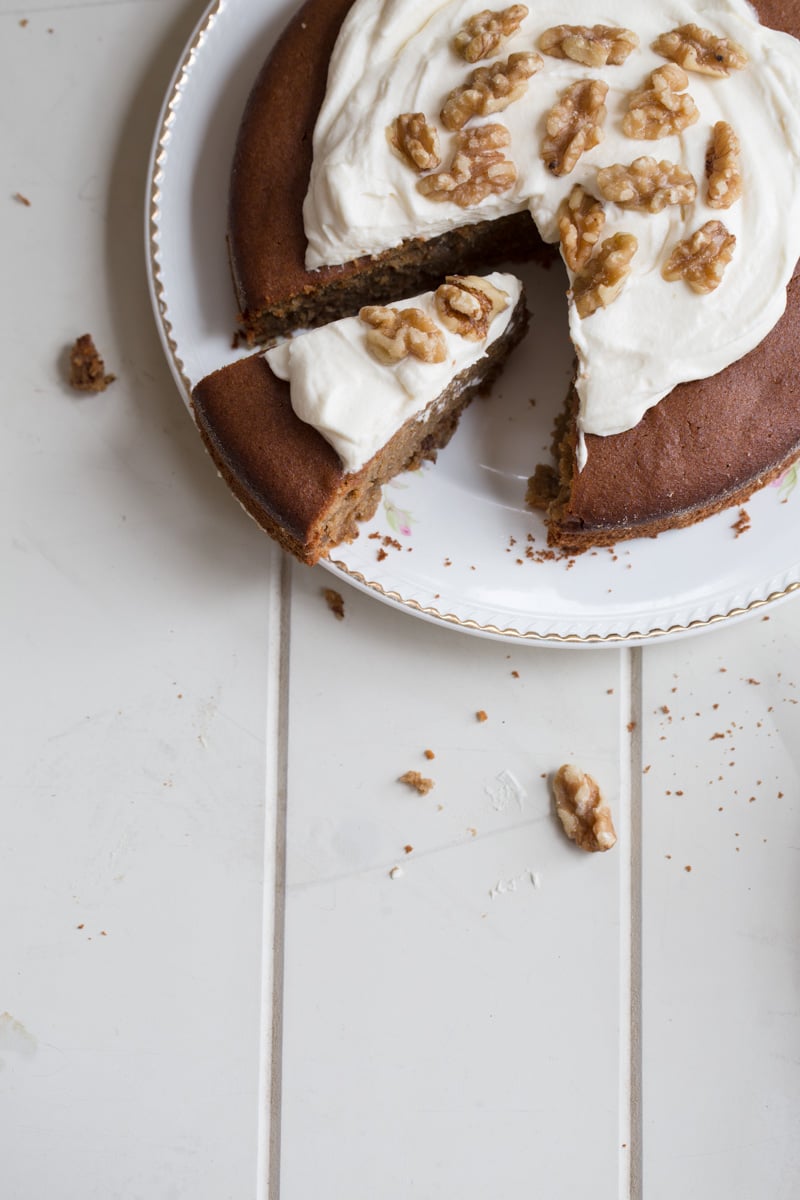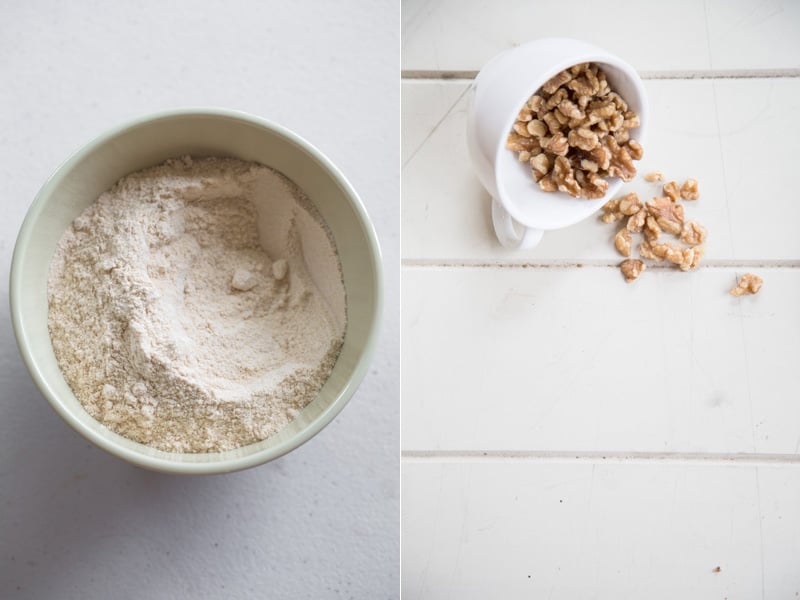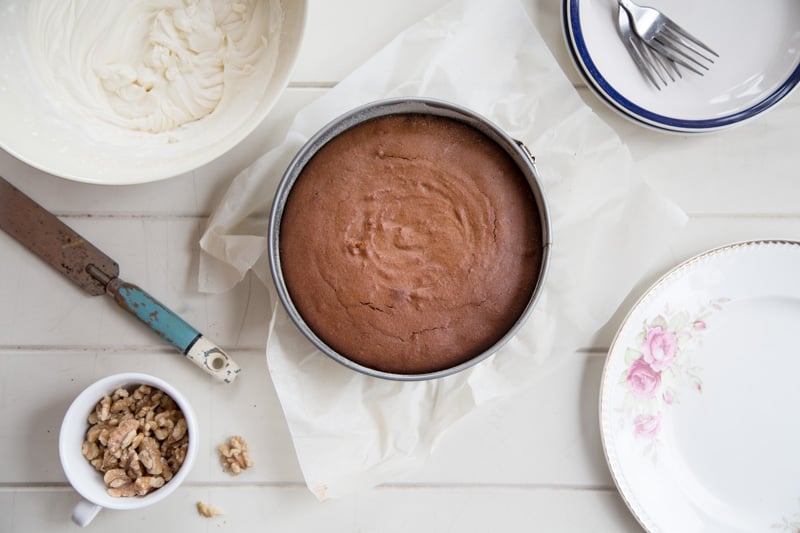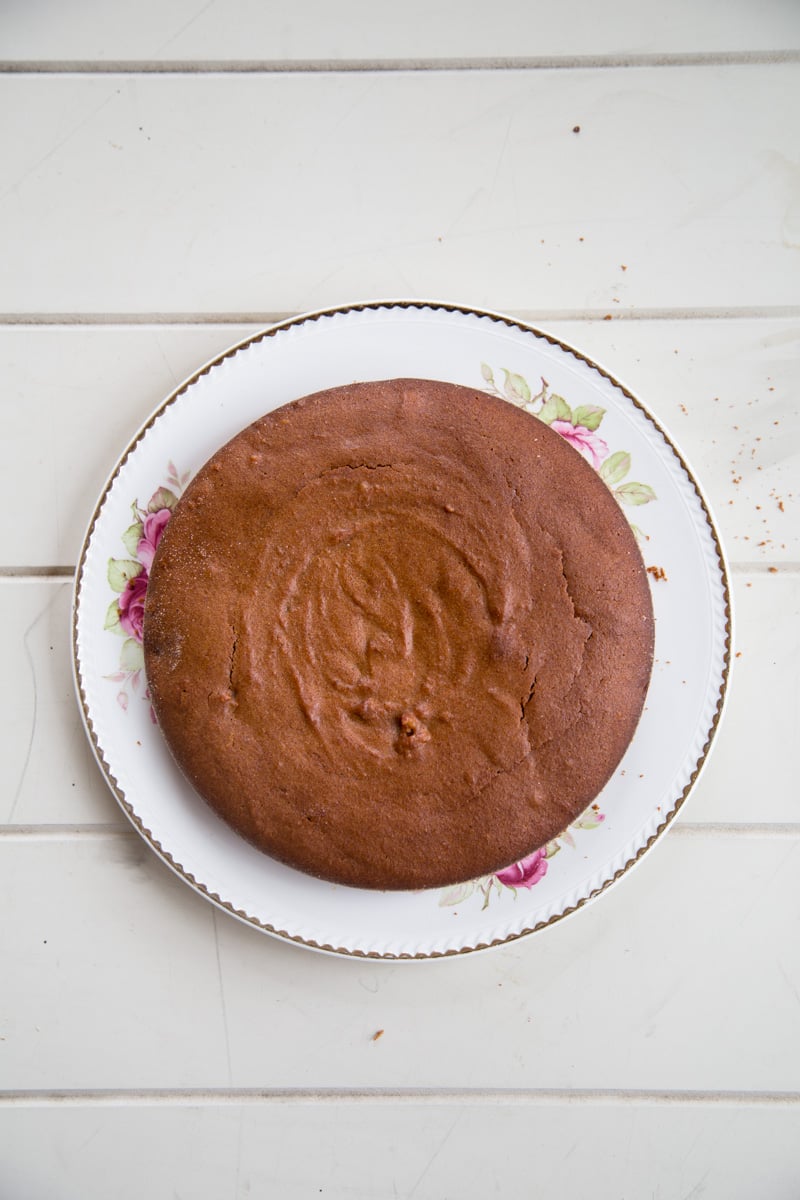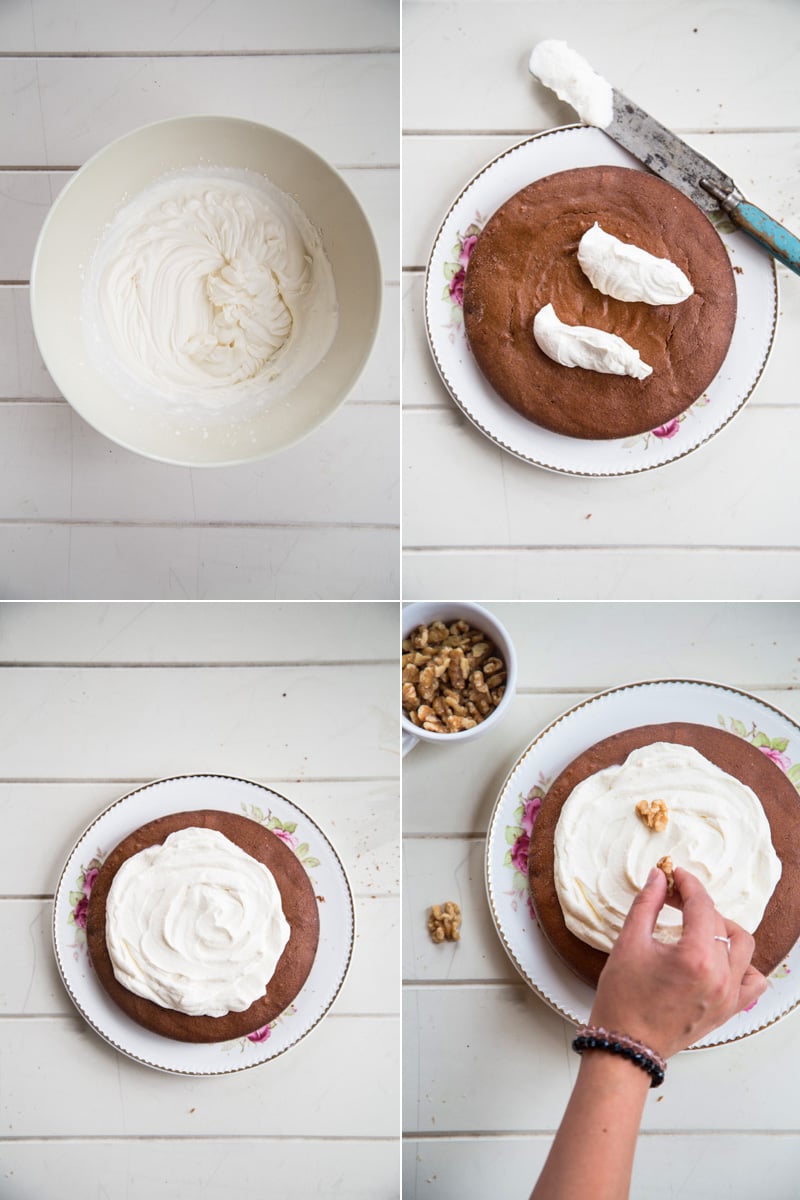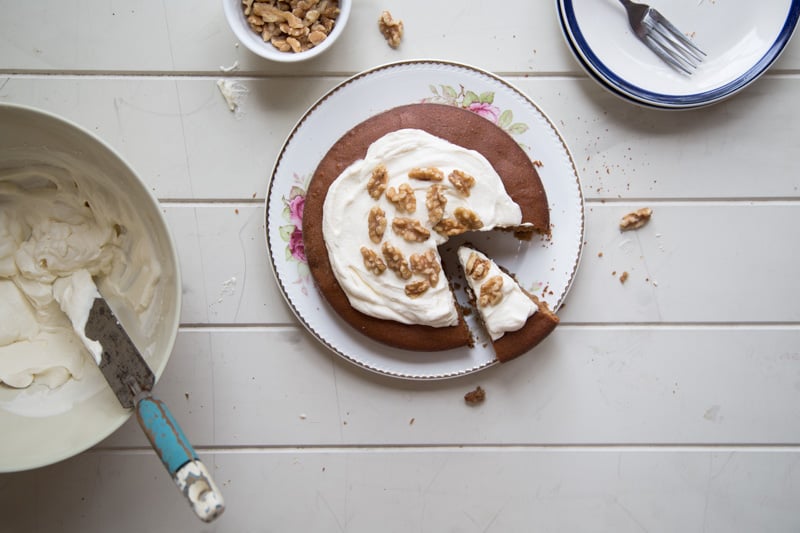 Hungry For More Recipes? Subscribe to my newsletter. Check out Facebook, Instagram and Pinterest to see everything I share! And if you love cooking and new cookbooks, join my free Cooking Club on Facebook!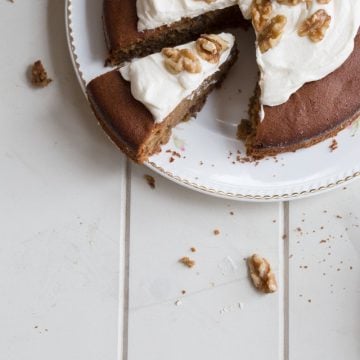 AMARANTH COFFEE AND WALNUT CAKE
A beautiful low-sugar, gluten free cake for afternoon tea baked with the goodness of nutty amaranth flour and a strong cup of espresso coffee.
Print Recipe
Rate / Comment
Ingredients
1

cup

almond meal

1 1/2

cups

amaranth flour

1/2

cup

raw sugar

1 1/2

teaspoons

baking powder

pinch

of salt

1/2

cup

strong espresso coffee

1/2

cup

macadamia oil

3

eggs

1

teaspoon

vanilla extract

1/3

cup

crushed walnuts + extra to decorate

1

tablespoon

milk

for maple cream

1

cup

thickened cream

1

tablespoon

maple syrup
Instructions
Pre-heat oven to 180C. Grease and line an 8 inch round springform cake tin with baking paper. To make espresso coffee, dissolve 2 tablespoons instant coffee in 1/2 cup boiling water (I used my Nespresso machine to make half a cup of strong espresso using two Santander capsules).

Place almond meal, amaranth flour, sugar, baking powder and salt in a large bowl. Mix with a wooden spoon. Add coffee, oil, eggs, vanilla and milk. Beat with an electric blender until fluffy and smooth. Stir through the walnuts gently.

Spoon batter into the prepared tin. Smooth the top. Bake in the pre-heated oven for approximately 40 minutes until cooked through. Remove from the oven and cool completely in the tin.

Place ingredients for maple cream in a clean bowl. Whisk with an electric beater for 8 to 10 minutes until the cream thickens and becomes a spreadable consistency. Using an icing spatula, spread the cream over the cooled cake. Decorate with walnut halves and serve.
Notes
Macadamia oil is wonderful and light. It has a subtle nutty aroma and is high in monosaturated fats. You could substitute with very light and mild olive oil or rice bran oil.
Regular cream can be substituted with coconut cream. Omit the maple syrup as coconut cream has a hint of sweetness.
This is not a very sweet cake and has a good balance of coffee and sweetness accentuated by the nutty flavours in it. If you like your cake sweeter increase sugar amount to 3/4 cup in the cake and more maple syrup in the cream.
Did you make my recipe?
I'd love to hear how you went! Tag me on Instagram @cookrepublic