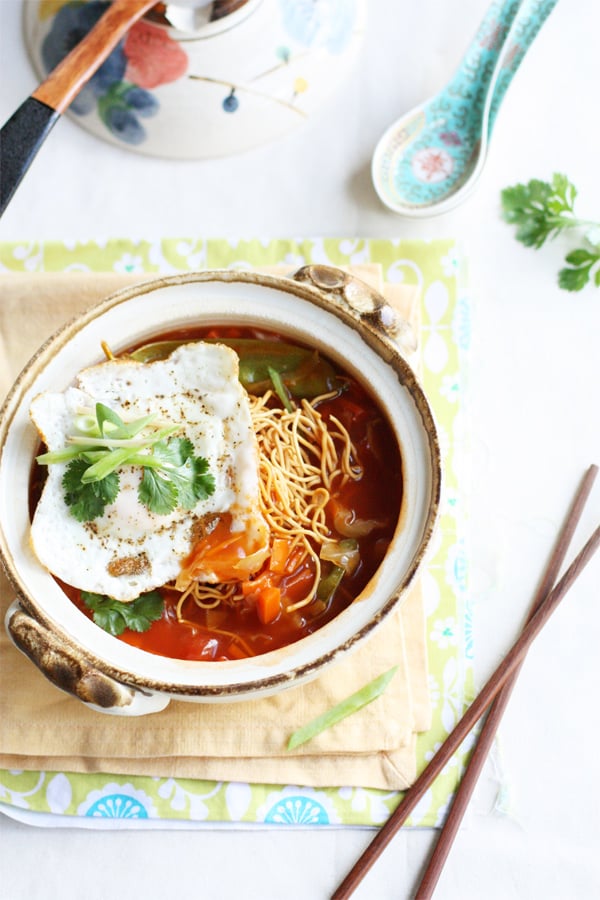 Indo Chinese is a very interesting cuisine. It is also one of the tastiest versions of Chinese fusion food. Adapted for the colourful and adventurous Indian palate, Indo Chinese has a lot of chili, a lot of tang and a lot of oomph. One of the most popular dishes on the menu of a restaurant serving Indian Chinese is a dish called American Chopsuey.
Chopsuey is originally a Chinese dish of meat and vegetables stir-fried in sauce and thickened with corn starch. It is served with noodles and there are many variations in place in different regions of China. The Indian Chinese version of Chopsuey is similar in concept with an interesting twist. The base of the dish is a corn starch thickened almost sweet and sour tasting tangy vegetable sauce topped with a mound of crispy fried noodles and finished off with a perfectly fried egg. It is spectacular to look at and absolutely scrumptious.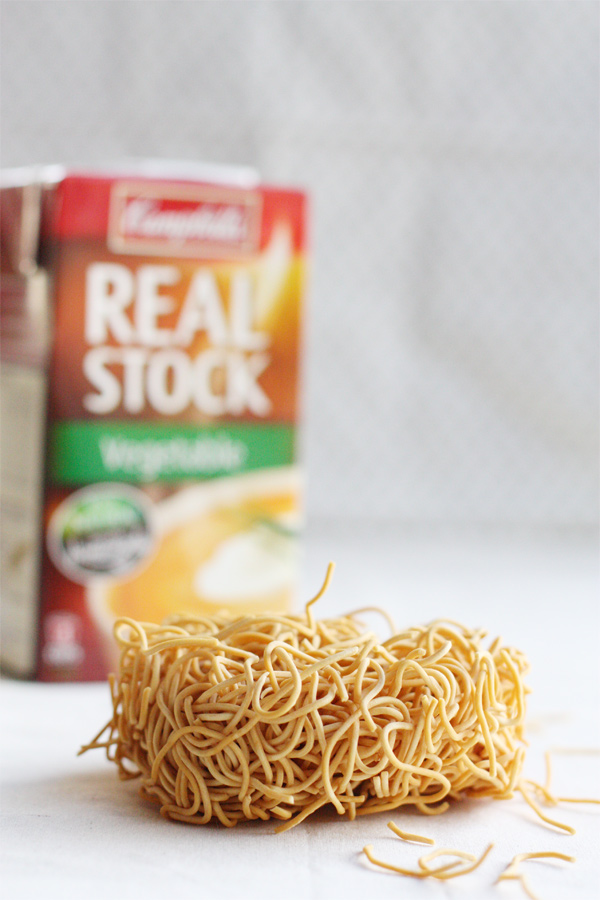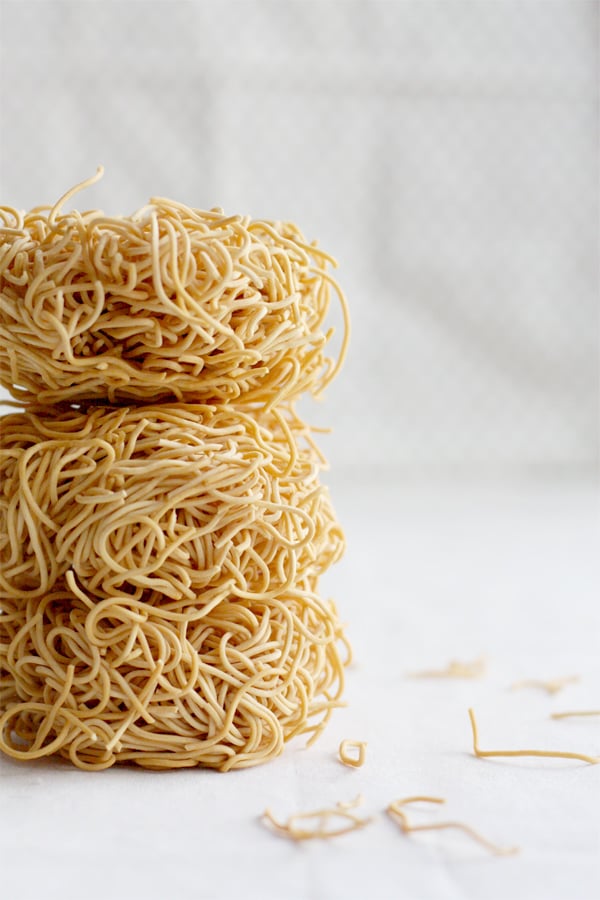 Back in college, we used to have American Chopsuey religiously at our local Indian Chinese restaurant. It was a hot bowl of comfort especially when we returned after a busy day at college braving the traffic and rain. The thick ketchup sauce with stir-fried vegetables had a peppery kick, the noodles were always fried to perfection and whether the egg would have a soft centre would be anyone's guess. The zing of pepper, the slightly charred wok flavour and the abundance of spring onions and coriander was an explosion of flavour that sends goosebumps down my arms even today. Why it was called American Chopsuey, I have no clue. But boy oh boy was it delicious.
Over the years I have tried to recreate the version of American Chopsuey that we loved the most and the one I am about to share today comes pretty close. The sauce is the star of the dish and a good quality stock takes it a long way. For my dish I have used the Campbell's Real Stock Vegetable because I was making this as part of my Meatless Monday resolve. The idea os the dish is to start off with a crunch of the fried noodle and a slurp of the sauce and as you start digging and swirling in the bowl, the noodles cook and soften in the thick hot sauce. It is an adventure in textural food and quite an experience.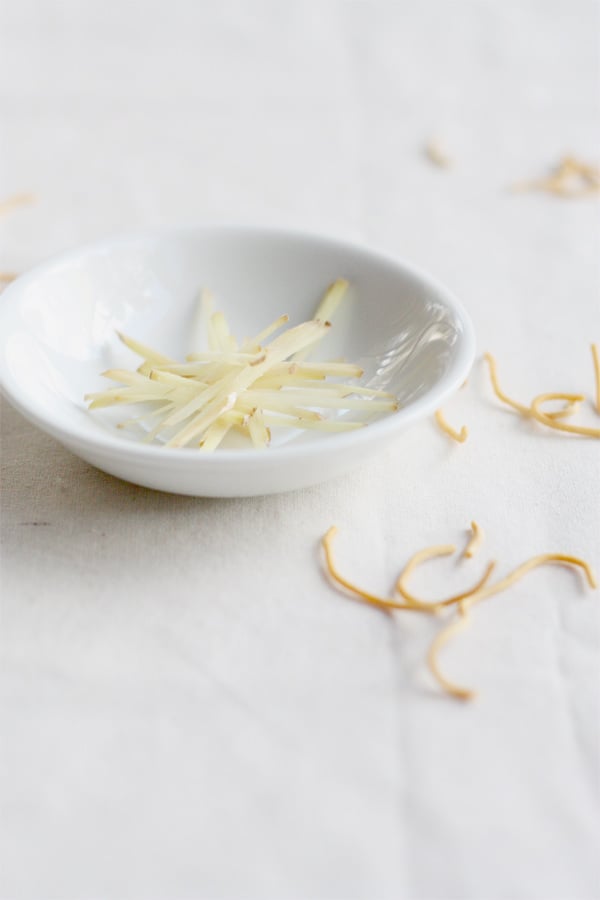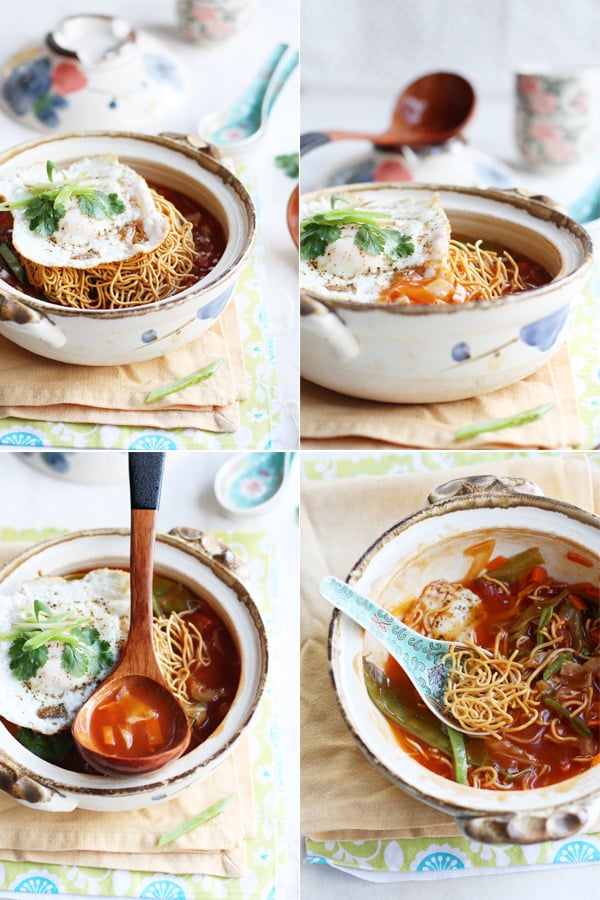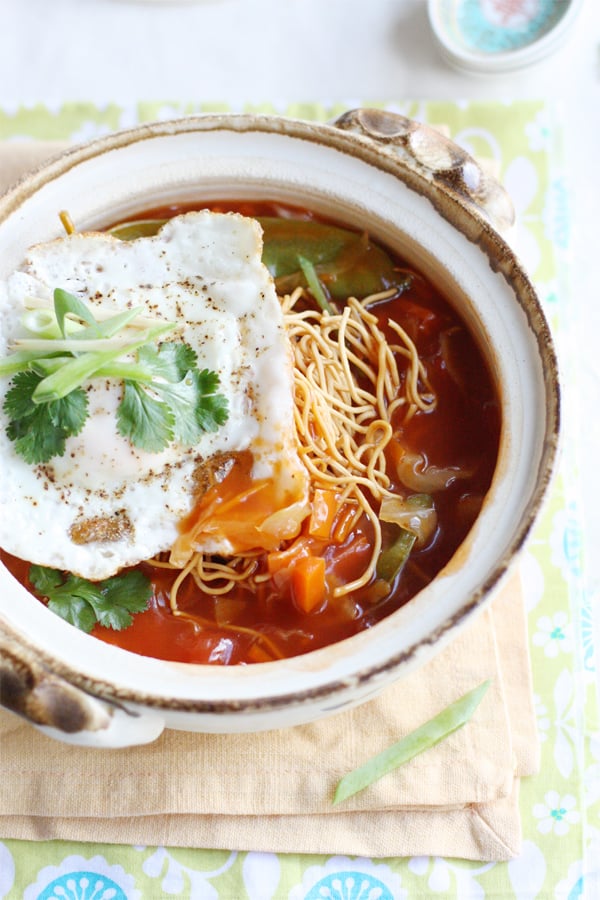 Hungry For More Recipes? Subscribe to my newsletter. Check out Facebook, Instagram and Pinterest to see everything I share! And if you love cooking and new cookbooks, join my free Cooking Club on Facebook!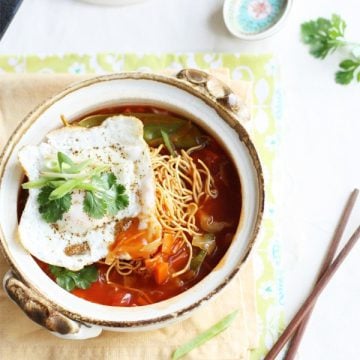 Ingredients
1

cup

cabbage

,

thinly sliced and chopped

1

cup

carrot

,

julienned and chopped

1/4

cup

snow peas

,

finely chopped

1/2

cup

capsicum

,

finely chopped

1

tablespoon

fresh ginger

,

thinly sliced

1

tablespoon

olive oil

1

tablespoon

vinegar

1

tablespoon

dark soy sauce

3

tablespoons

sugar

2

tablespoons

cornflour dissolved in 1/4 cup water

3

cups

Campbell's Real Stock Vegetable

1 1/4

cups

ketchup

1/4

teaspoon

white pepper

1/4

cup

spring onions

,

finely chopped + 2 tablespoons chopped spring onions for garnish

few coriander leaves for garnish

4

round portions cooked

,

fried noodles

4

fried eggs
Instructions
Heat oil on high in a wok. Toss in the ginger and stir fry for a minute. Add the carrot, snow peas, capsicum and cabbage and stir fry for another minute. Add soy sauce, vinegar, sugar, ketchup, pepper and stock. Reduce heat to medium and cook for approximately 6-8 minutes until heated through and starting to bubble.

Add spring onions and cornflour. Increase heat to high. Cook for 2-3 minutes stirring till sauce thickens and is hot. Remove from heat.

In 4 noodle bowls, spoon sauce until halfway full. Top with fried noodle rounds and fried egg. Garnish with spring onions and coriander. Serve hot with sliced green chilies and slivered ginger.
Did you make my recipe?
I'd love to hear how you went! Tag me on Instagram @cookrepublic