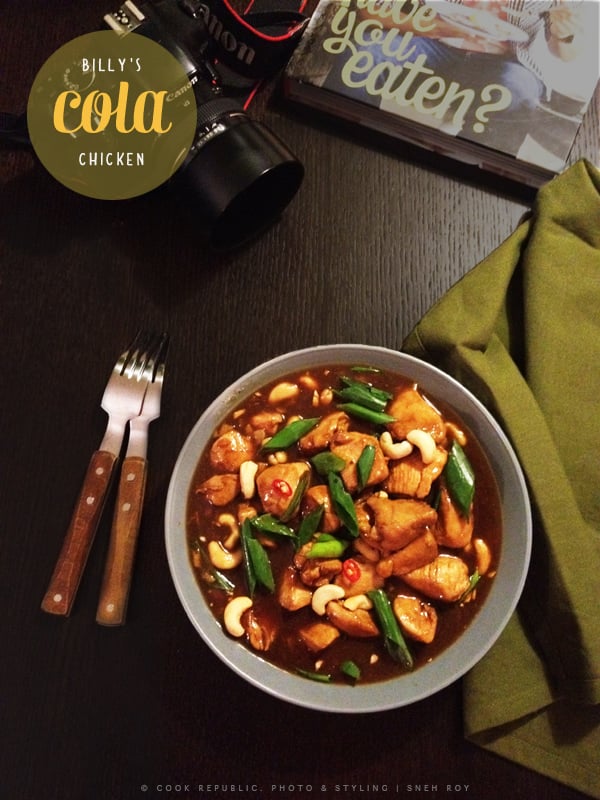 Billy Law's time-pressed, budget-conscious student recipe has become my family's go-to recipe over the past few weeks. I skip the one-hour marinating process, frugally devoting only 10 minutes. In less than half an hour, I have a piping hot Chinese chicken recipe that would put my local takeaway to shame. I am making this for the fourth time this month and it goes down a treat every single time.
We never drink coke, well maybe once a year when we are hot and bothered at the zoo when the vending machine will only dish out a coke or at the local sausage sizzle when caution is chucked aside for once. We are more the organic lemonade or fruit drink kind of people, something lighter and more soothing. The point of that was to tell you that I didn't have any cola at home.
So I went off to the shops and bought back a six-pack of cola. The cola tenderizes the meat and creates a rich caramel sauce for the dish. If you can buy a bottle of good quality peanut oil, use only that when you cook most Asian dishes (a word of wisdom by Bar H maestro Hamish Ingham), the depth of flavour is amazing.
If you like more heat in your dish, by all means, amp up the chili quantity. I only use half a red chili to keep it kid friendly. Taste when done cooking because you might need to add a tiny amount of salt if the soy sauce you have used is not salty enough. This dish deserves to be ladled onto steamed rice in a bowl and tucked in hungrily while you are laid up on the couch watching the new season of Dexter.
A fast, cheap Asian chicken dish that is made interesting by the use of cola for the sauce and comes from the coffers of Masterchef alumni Billy Law.
Preparation Time - 20 Minutes
Cooking Time - 20 Minutes
Makes - To Serve 4

500g boneless chicken pieces
4 tablespoons light soy sauce
2 tablespoons cornflour
2 tablespoons dark soy sauce
3 cloves of garlic, finely chopped
5cm piece ginger, finely chopped
1 small red chili, finely sliced
handful of toasted cashewnuts
handful of sliced spring onions
2 tablespoons peanut (or vegetable) oil
300ml bottle of cola

Combine chicken in a bowl with 2 tablespoons light soy sauce and cornflour. Mix well, cover and marinate in the fridge for 10 minutes (or an hour if you have the time).
Heat oil in a wok on high. Add the chicken and sauté for a few minutes until browned all over. Add the ginger, garlic and chili. Sauté for another minute. Add the soy sauces and cola. Reduce heat to medium low and simmer for 15 minutes until the chicken is cooked and the sauce is slightly thick.
Remove from heat, top with toasted cashewnuts and spring onions. Serve hot with steamed rice.
Note - Lead photo was taken on my iPhone 4s