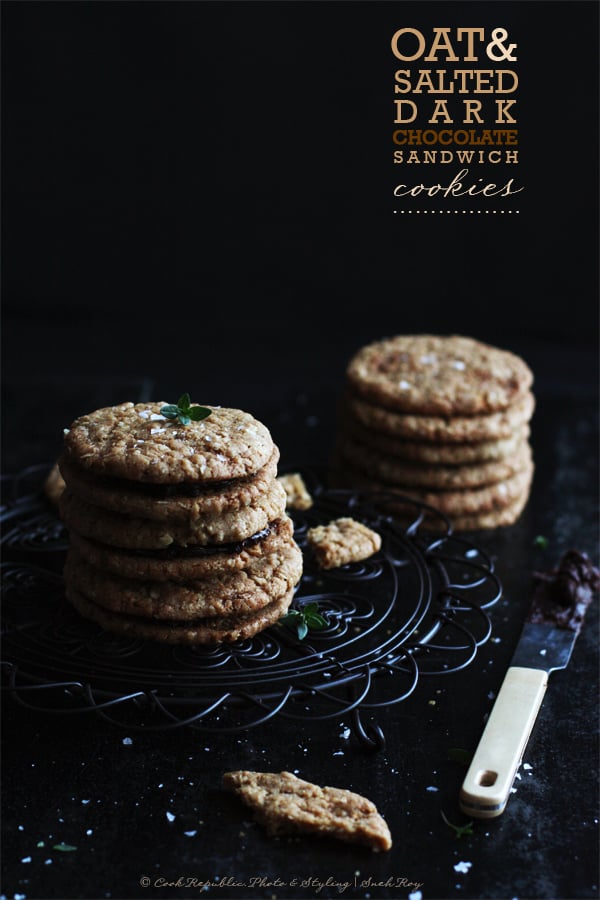 I was sitting at this gorgeous little table in the corner of a cafe, right next to a closed glass panel window. Through the cafe's branding decal stuck to the glass, I got an occasional glimpse of a bicycle being wheeled by, a lone shopper trying to peer back at me wondering what I had ordered. I continued looking out and watching a couple walk hand in hand as my fingers tried to absent mindedly trace the grain of the wood on the table. I was miles away thinking a million things at once yet I was very much in that little corner on a weathered leather seat, grounded by the rich aroma of coffee and the low incessant chatter of other patrons.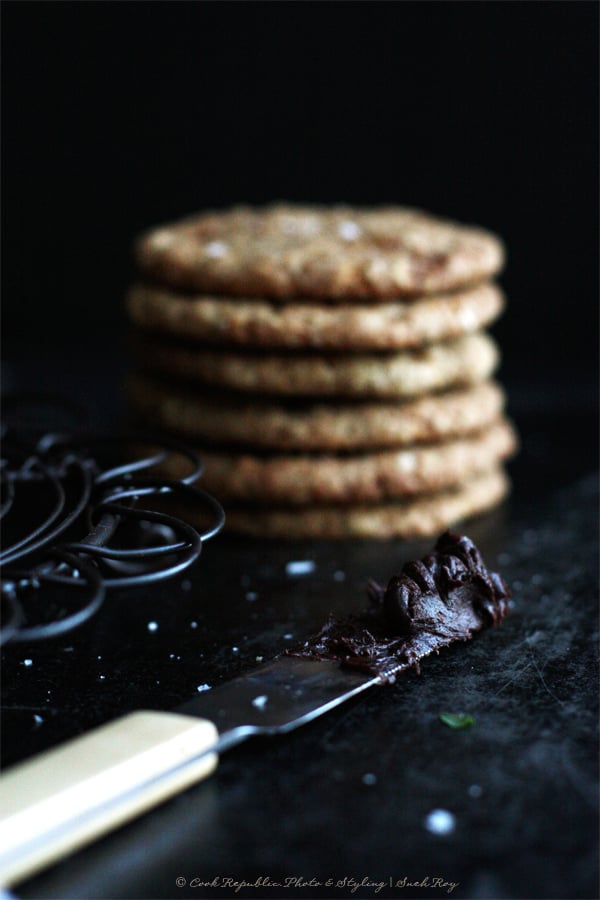 My reverie was broken by a beautiful bone china plate with only a hint of the floral pattern that would have once made it stunning to look at. On the plate was a tower of perfectly stacked golden cookies sandwiched with dark chocolate and flecks of sea salt. I knew it was the wrong order and I looked up at the waitress to tell her that, when she opened her mouth and out came a low humming crescendo of a sound no human can make. My eyes flew open and in the instant I registered the low hum of the alarm, I knew school holidays were over.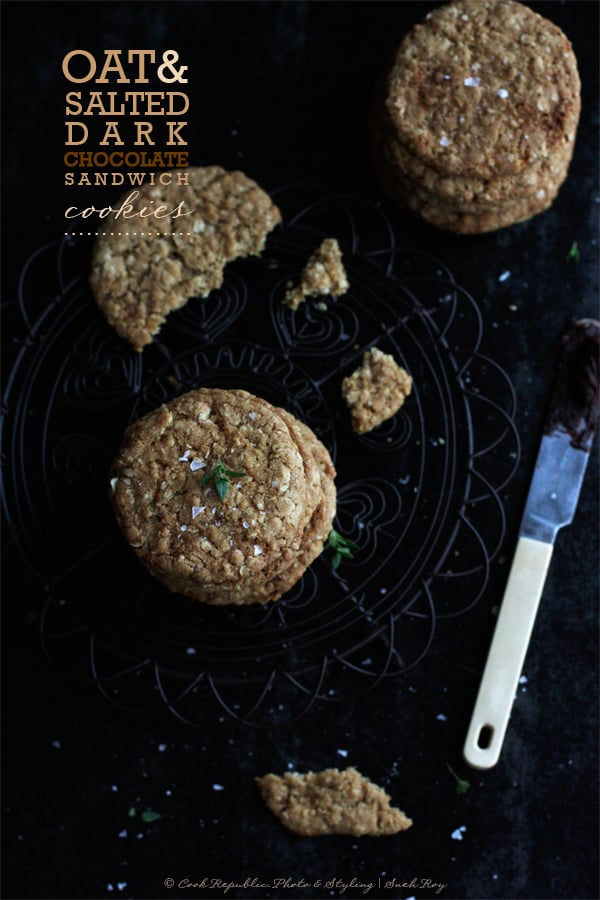 I wish I could tell you that my dreams are usually more exciting than this (well actually they are and I can recount every fine detail on most days), but the truth is that they are driven by my daily life and shape themselves around what I have experienced. I baked a batch of golden oat cookies sandwiched with sea salt dark chocolate filling over the weekend and I mulled about what plate to photograph them in and what wood background I would use. Little details managed to manifest themselves in a continuous story in my head while I slept. I find it utterly fascinating.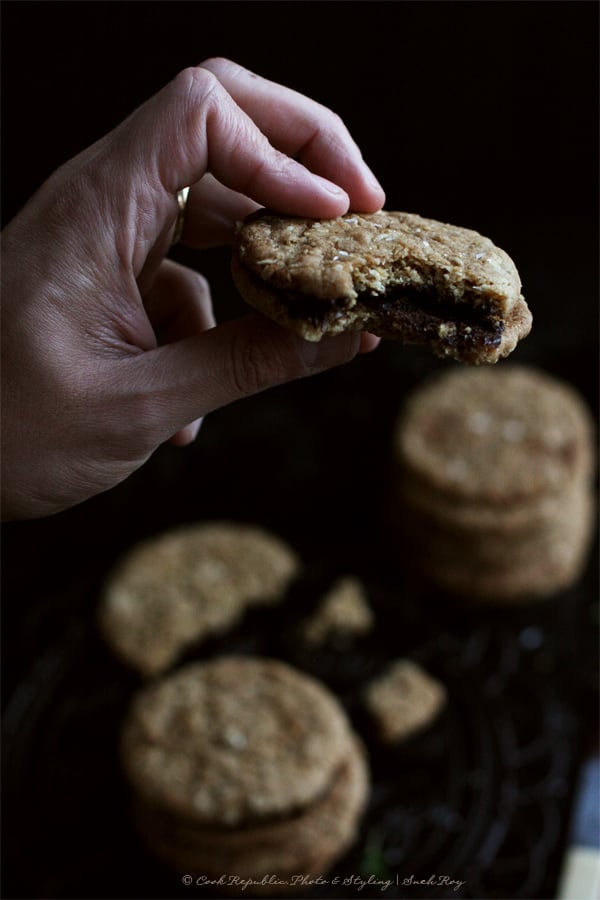 Enjoy these cookies. They are a no brainer, so easy to make. Bake them plain or squash them together with the ganache. If you don't have access to golden syrup, a thick honey will do the trick. Use sea salt flakes, not table salt. These are nut free and egg free, so great for the lunchbox. They also keep well in an air tight box for up to a week if the weather is cold.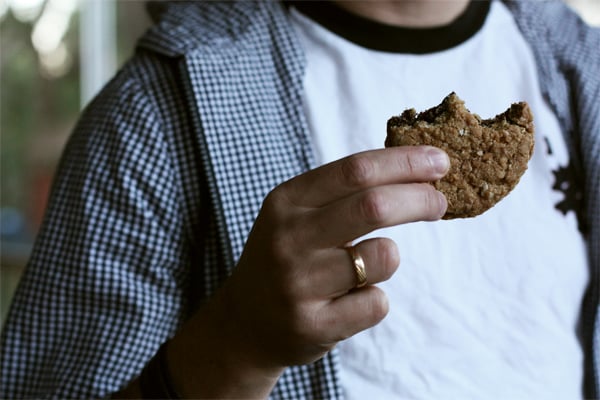 And tell me do you dream about your work, strange manifestations of what you experience during the day? Do you remember your dreams?
[print_this]
OAT AND SALTED DARK CHOCOLATE SANDWICH COOKIES
A simple crunchy cookie transforms into a sophisticated high tea treat when sandwiched together with luscious salted dark chocolate filling.
Ingredients
for the cookies
1 cup plain flour
1 cup quick cooking oats
1 cup brown sugar
1 teaspoon ground cinnamon
1 teaspoon bicarbonate of soda
2 tablespoons boiling water
1 tablespoon maple syrup
125g butter, melted and cooled
for the salted dark chocolate filling
80g butter, softened
60g pure icing sugar
2 tablespoons dark cocoa powder
2 tablespoons golden syrup
2 tablespoons milk
1 tablespoon seas salt flakes (you will only need a tiny bit)
Method
to make the cookies
Preheat oven to 180C. Line 2 baking trays with non-stick baking paper.
Place the flour, oats, sugar and cinnamon in large bowl and stir until well combined.
Combine the water and bicarbonate of soda in a small bowl. Melt butter and maple syrup in a small saucepan over medium-high heat. Stir in the bicarbonate of soda mixture. Add butter mixture and to the flour mixture. Stir until well combined.
Roll heaped teaspoonfuls (or tablespoonfuls if making bigger cookies) of the mixture into balls. Place, about 5cm apart, on the lined trays. Bake in oven for 14 minutes or until golden. Set aside on the trays for 5 minutes to cool slightly before transferring to wire racks to cool completely.
to make the filling
Combine all ingredients in a bowl. Beat with an electric beater for 4 to 5 minutes until creamy and lighter. Chill in the fridge for 10 minutes.
to assemble cookies
Make sure the cookies are completely cooled. Turn cookie over with the bottom facing you. Using a small icing spatula, scoop some filling and apply to the cookie's flat surface in a circular motion all the way to just inside the edges. Sprinkle a few flecks of the sea salt over the filling and sandwich with another cookie, flat side pressing against the filling.
[/print_this]