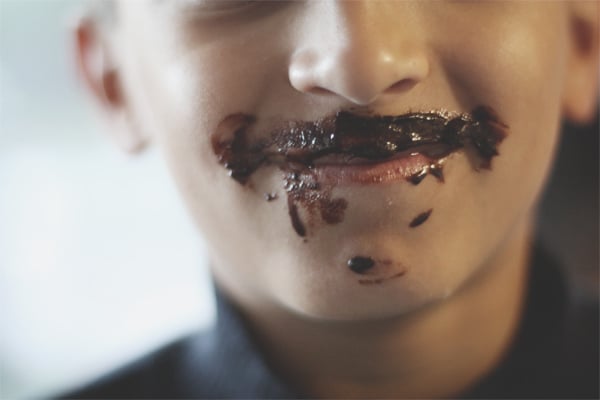 School holidays are on. The kids are home all the time. I don't say that as a bad thing. It makes me anxious about work. My work. I sneak away now and then to catch up. I feel guilty. So I leave it be. We play board games. We sit out on the lawn with our sandwiches. We soak up the sun. I smile enthusiastically as they rattle on the list of trashies they have managed to collect. I nod sympathetically when they express frustration at not having enough pocket money to buy that ultra rare trashie. All of a sudden the tickle monster makes an appearance and within minutes, amidst peels of laughter everyone is piled in a heap on the lawn, in stitches. As we try to catch our breath and I look at their delirious faces, I feel content. I don't feel guilty anymore.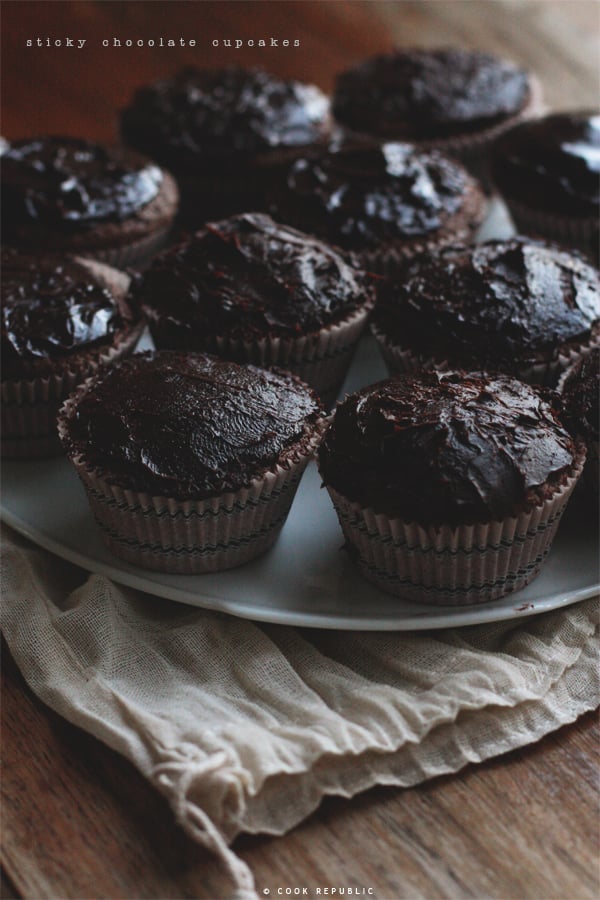 After going through everything there was to do within a few hours on the first day of the school holidays, I started panicking. How was I ever going to keep their short attention spans engaged for two whole weeks? But then in the blink of an eye, a week was gone and we found ourselves mixing a batch of utterly heavenly chocolate cupcakes one afternoon. When they were baked, I yelled "Who wants to ice the cupcakes??" and within seconds two little minions materialized on either side with a stool and icing spatulas. I left them in charge and watched them trying very hard to meticulously ice the little cakes. Brow furrowed in concentration and a chocolate mustache giving away their tiny moment of indulgence, they swirled and twirled little chocolate dollops to the best of their ability. Sticky and not so sweet, we all marched out to the garden again and made sure we finished every last crumb, while the littlest member of our troop made sure the birds in our backyard were well fed on chocolate cupcakes.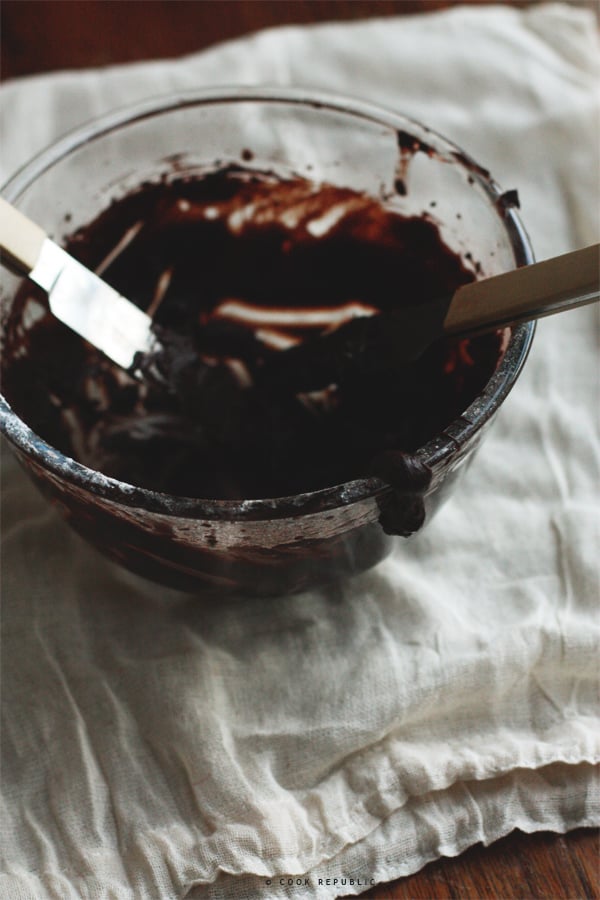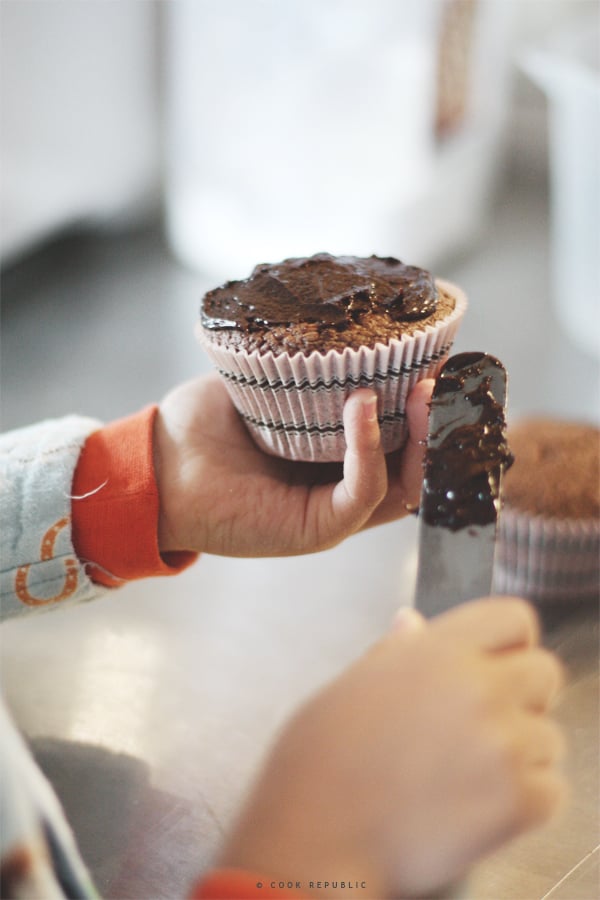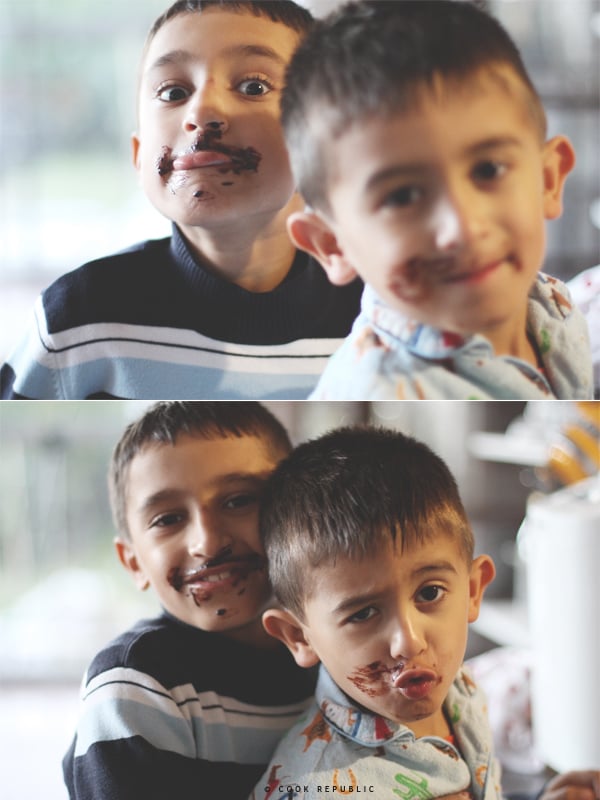 [print_this]
STICKY CHOCOLATE CUPCAKES
Stupidly simple to make, these rich, not very sweet chocolate cupcakes will fill you up with happiness.
Preparation Time - 15 Minutes
Cooking Time - 20 Minutes
Makes - 12
Ingredients
for the cupcakes -
125g butter, softened
165g (3/4 cup) caster sugar
2 eggs
190g (1 1/4 cups) self-raising flour
125ml (1/2 cup) milk
70g dark chocolate, melted
2 tablespoons cocoa powder
for the icing -
80g butter, softened
60g pure icing sugar
2 tablespoons dark cocoa powder
2 tablespoons golden syrup
2 tablespoons milk
Method
to make the cupcakes -
Preheat oven to 160C (320F). Place butter and sugar in the bowl of an electric mixwr and mix until light and creamy. Add the eggs and beat well. Add the cocoa powder, flour, milk and chocolate. Beat until thoroughly combined.
Spoon the mixture into 12 x 1/2 cup capacity muffin tins lined with paper cases. Bake for 20 minutes. Remove from oven and cool opn wire racks.
to make the icing -
Combine all ingredients in a bowl. Beat with an electric beater for 4 to 5 minutes until creamy and lighter.
Summon children (either yours or neighbour's) to spread the icing on the cupcakes.
[/print_this]