Growing up in Bombay (now known as Mumbai - a Western coastal city of India), one of the more popular street foods was Bombay Sandwich. Layers of fresh veggies and steamed potatoes slathered with all kinds of tangy, spicy and sweet chutneys and condiments. Today, I share a basic version of this much-loved sandwich that is bout to be a crowd-pleaser!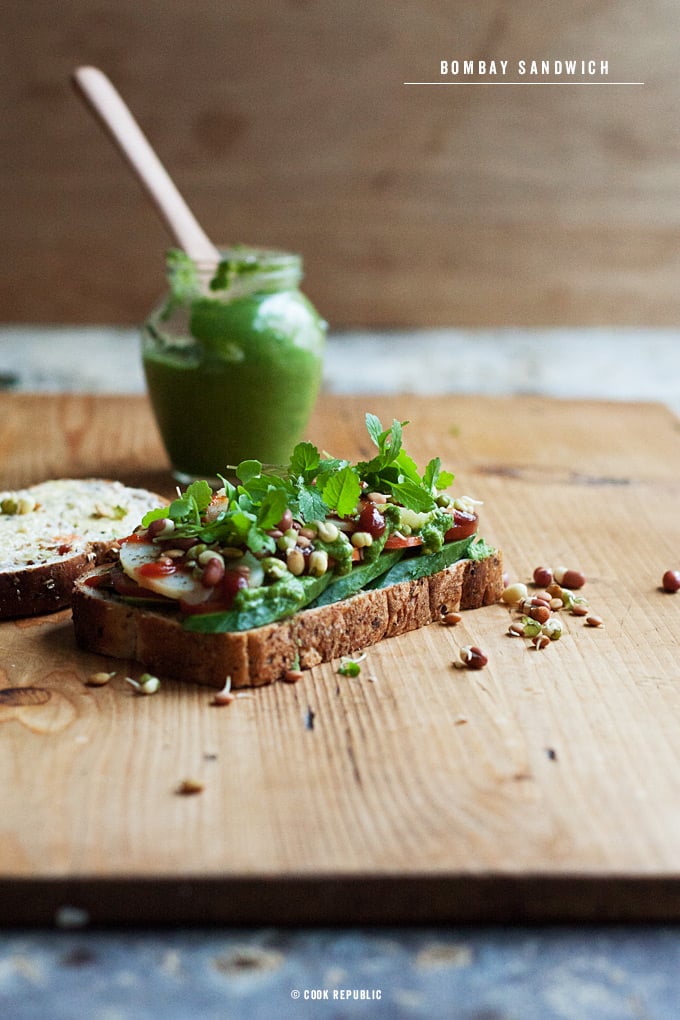 Yesterday I made this chutney. Today I want to show you my most favourite way of using this chutney. In a sandwich. I call it Bombay sandwich. The idea for this sandwich came after I saw a picture of a Cubano (national sandwich of Cuba) burgeoning with delicious fillings spilling off the page of an old Gourmet Traveller magazine. It got me thinking about the place I grew up in which was called Bombay back then and what would embody its flavours in a sandwich.
I then remembered stepping into a fancy restaurant in Bombay when Nick and I were just students almost two decades ago. We had spent most of the money we had earned that week doing projects on books (yes cookbooks!) and movie CDs & Cassettes (gosh I feel old). A cursory scan through the menu told us that we had enough left over for just two coffees and a glorified sandwich. So we ordered, chuckling and marvelling at the fact that we were so broke yet so deliriously happy (do you remember feeling that way?)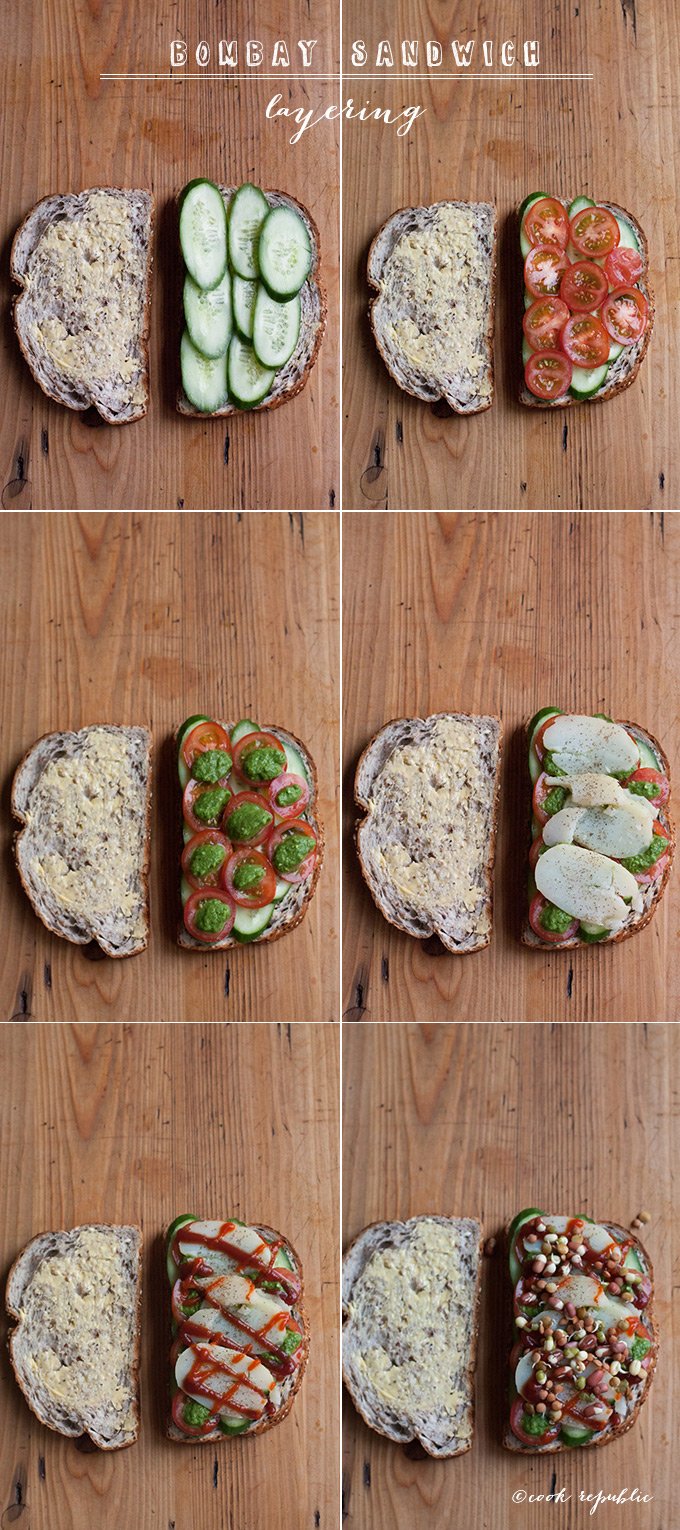 The fact that I remember the sandwich even to this day makes up for how expensive it was. This restaurant was next to the long stretch of sea called Marine Drive. You could smell the salt in the air as the sea breeze blew that cold wet afternoon. The sandwich that was toasted to perfection and held together delicately by long toothpicks had fresh veggies, a gorgeous spread and grilled cheese. It was an upscale version of the street food we were so addicted to. It was beautiful and condensed all the flavours of Bombay in one very flavourful bite.
Over the years, I have made this sandwich countless times but more recently I have chanced upon a healthier, fresher version. It is this version that is layered with veggies, greens, herbs, sprouts and sauces that I share with you today.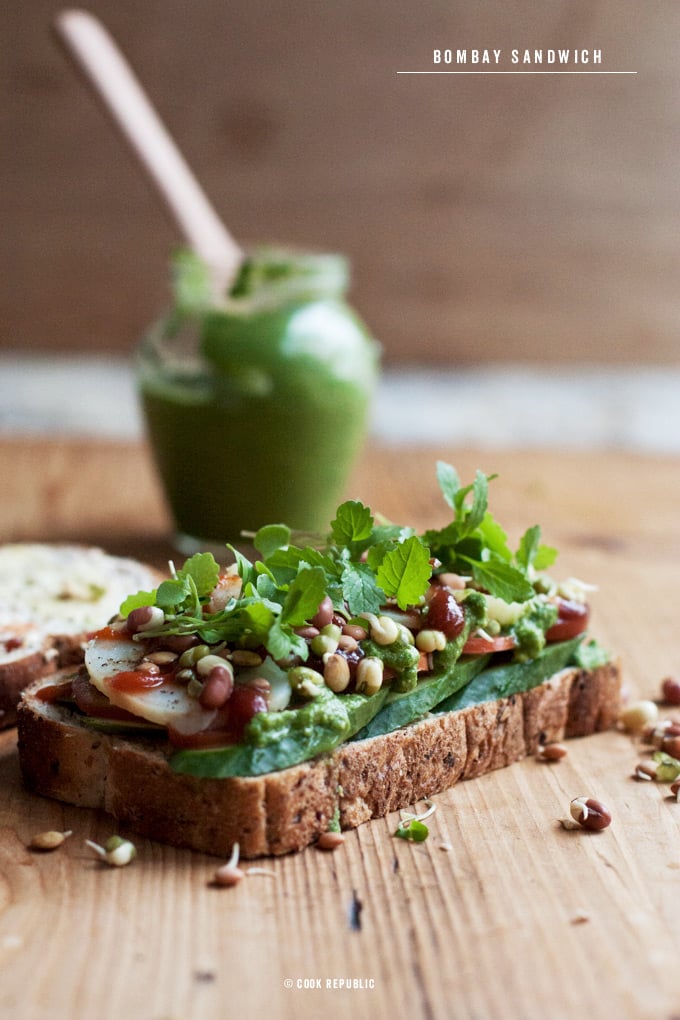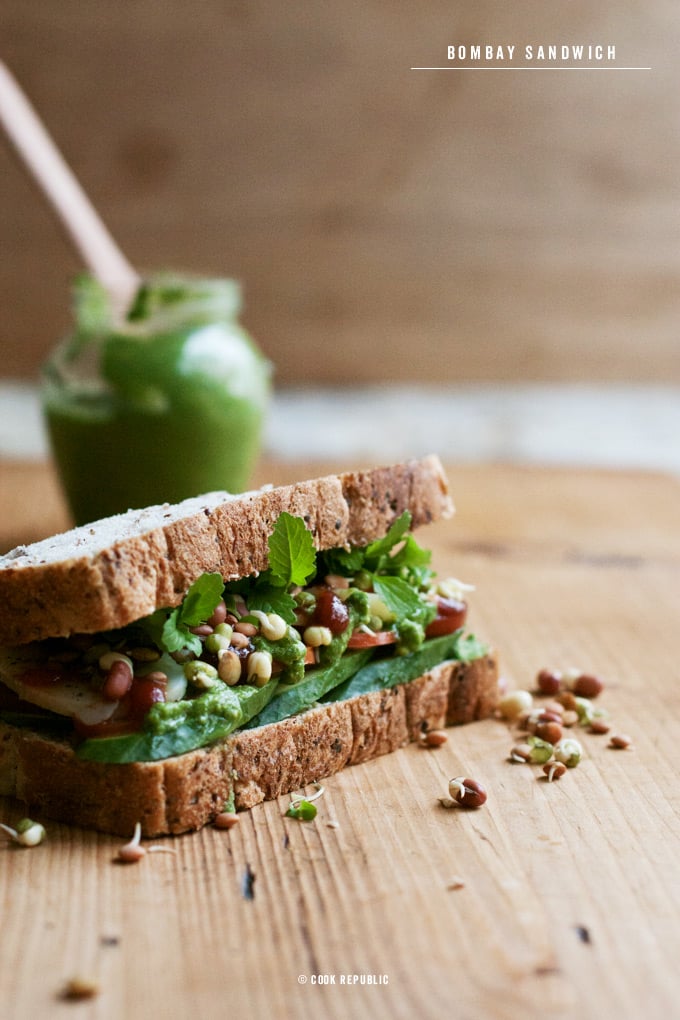 Hungry For More Recipes? Subscribe to my newsletter. Check out Facebook, Instagram and Pinterest to see everything I share! And if you love cooking and new cookbooks, join my free Cooking Club on Facebook!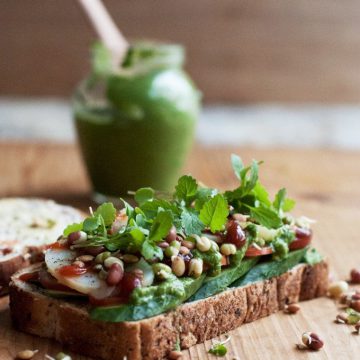 BOMBAY SANDWICH
A beautiful sandwich layered with greens, herbs, veggies, sauces and chutney served on grain bread embodies the flavours of Bombay.
Print Recipe
Rate / Comment
Ingredients
4

slices

of grain bread

butter to spread

6

tablespoons

of coriander chutney

a big drizzle of your favourite red sauce

,

I used Sriracha

2

small cucumbers

,

thinly sliced

2

small tomatoes

,

thinly sliced

2

small potatoes

,

boiled peeled and thinly sliced

1/2

cup

mixed sprouted beans

1/2

cup

micro herbs

,

I used home grown mustard greens

freshly ground black pepper
Instructions
Lay two slices of bread on a cutting board. Spread both slices thinly with butter. Arrange slices of one whole cucumber on one of the slices. Top that with slices of one whole tomato. Drop generous dollops of the coriander chutney on the tomato slices. Top with slices of one whole potato. Drizzle red sauce generously. Sprinkle pepper. Top with half the amount of sprouted beans. Finally top with micro herbs. Cover with the buttered bread slice and serve.

Repeat for the second sandwich.
Did you make my recipe?
I'd love to hear how you went! Tag me on Instagram @cookrepublic