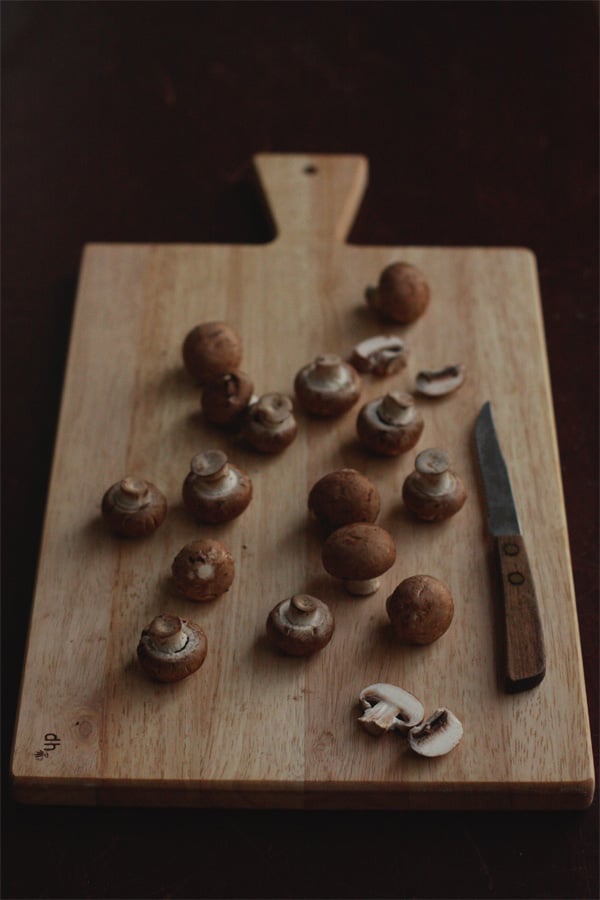 Mushrooms are delicious. They are robust, meaty and have a flavour unlike any ingredient you will ever encounter. From simple white button mushrooms to the delightfully cheery chanterelles and the prized porcini, they make you swoon. I have yet to meet a person who doesn't appreciate a plump mushroom cooked to perfection glazed in balsamic or a light herb sauce. They taste even better slightly charred, either on the pan or on a barbecue.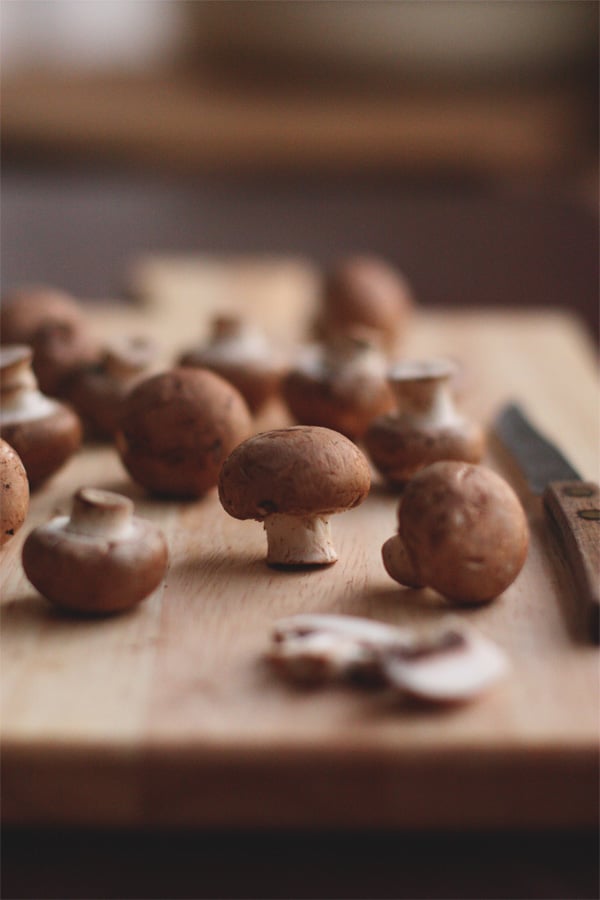 When I was approached by the Australian Mushroom Growers Association to develop a recipe for their Summer Mushroom campaign, I decided to approach it in a very different manner. I wanted to look beyond the trendy mushroom salads and mushroom kebabs. I wanted to create a make-ahead dish that would taste great hot or cold. January is peak summer in Australia. There are barbies (BBQs) being fired up every other weekend especially on Australia Day and games of backyard cricket being played, the smell of Aerogard permeating your skin as you try to keep the mozzies at bay. But this year, we have virtually had no summer. We have had 4 hot days at best and the muggy afternoons have traded places with cool breezes and a night time chill. There are less barbies being fired and it is such a shame!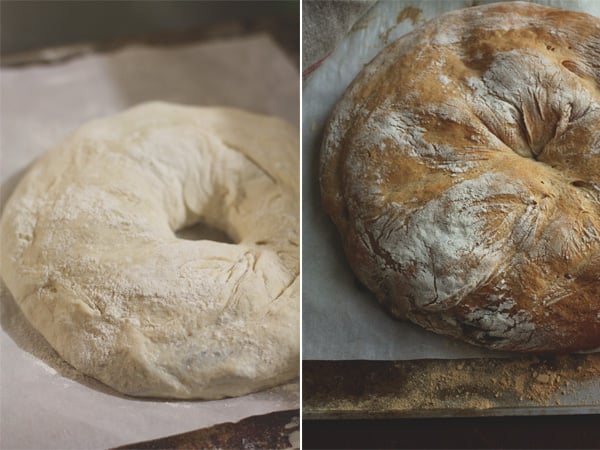 A typical Aussie barbie will have lots of meat - prime cuts and sausages galore. It will have a steady, neverending supply of beer and a variety of salads prepared by the host as well as guests. There will be bread rolls, fruit platters and icy poles for the kids. When we have a barbie, I like to make a huge wok of stir fried noodles. It is our thing. And yes, it has mushrooms. But the next time we are invited to one, I am baking a Brown Mushroom Tortano. It is a gorgeous yeast Napolitan bread, stuffed with balsamic glazed Swiss mushrooms and golden stringy cheese. Drooling much? I hope so. Because there is nothing like "too hot!" or "too cold!" a day to enjoy a slice of good crusty bread.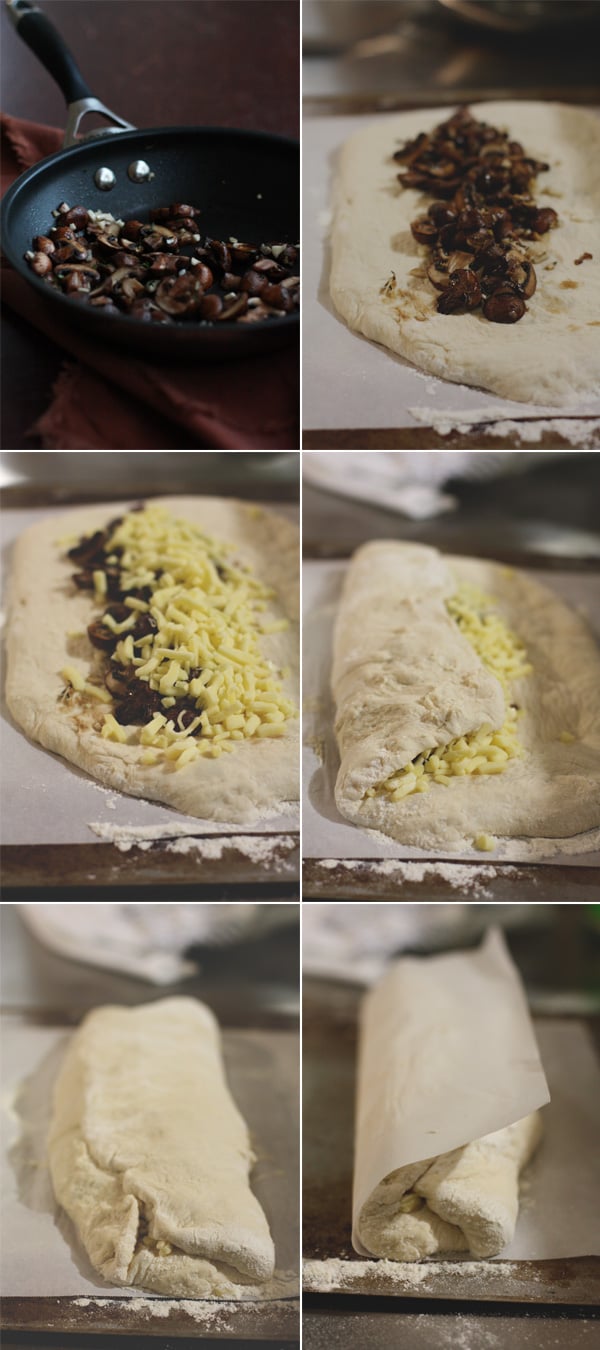 I decided to try baking a Tortano with mushrooms stuffed in it after being inspired by a series of Tortano breads in
Leila Lindholm's One More Slice cookbook
. A Tortano is a yeast bread from the Naples region in Italy. The dough is laid out flat, filled with a stuffing of your choice (read proscuitto, portobello mushrooms, ricotta, ham, olives, roasted vegetables), rolled into a log and then shaped into a wreath. When you cut it into wedges like a pizza or cake, the stuffing sits gloriously in the middle while the soft white of the bread encases it and the crackling crust drives you to your knees. This would be perfect for picnics or any kind of outdoor gathering where a slice of cold bread and a lashing of butter would balance excessive amounts of meat.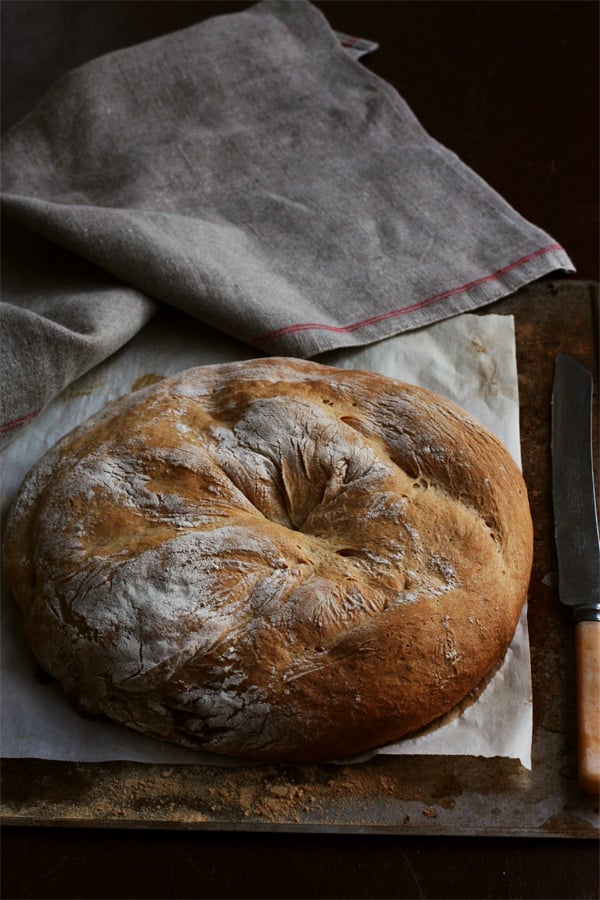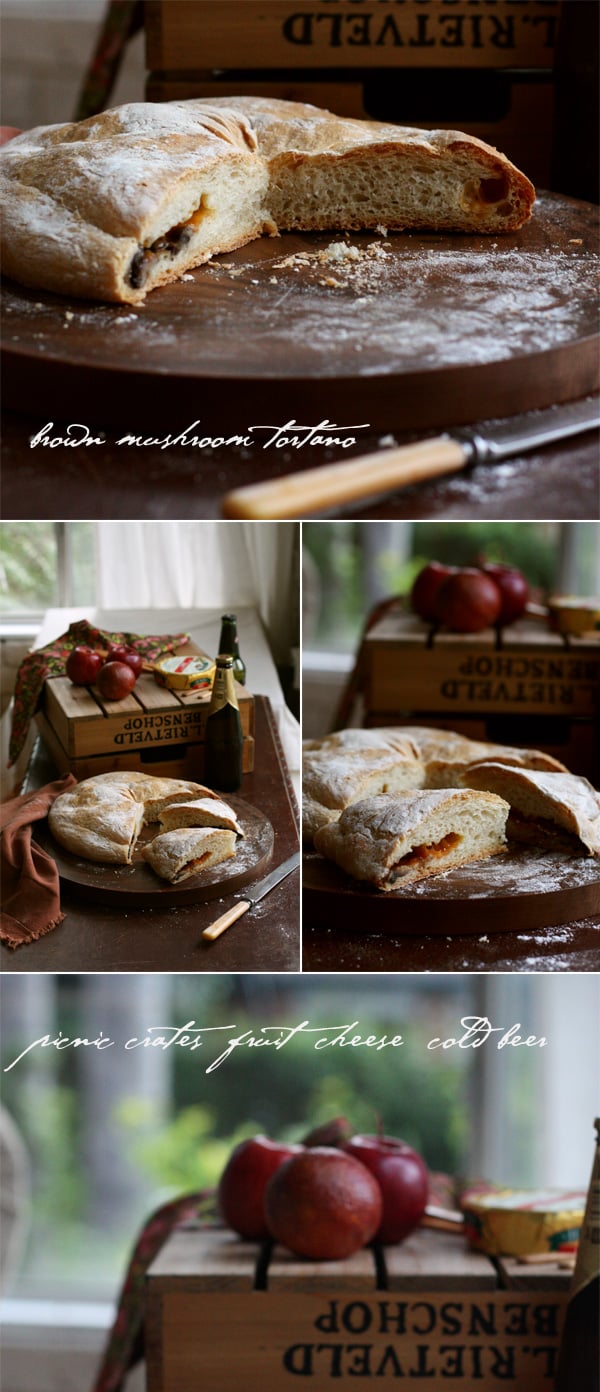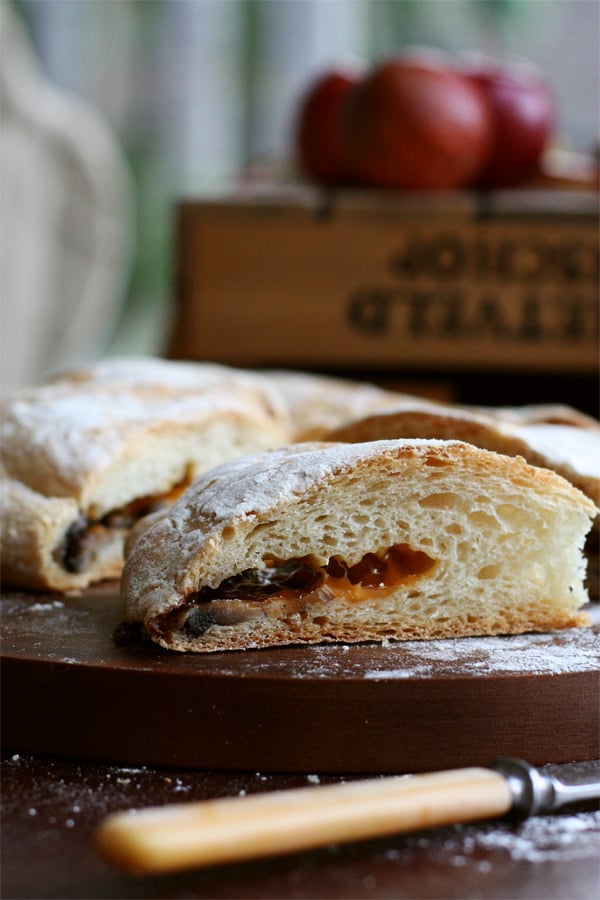 [print_this]
BROWN MUSHROOM TORTANO
Preparation Time - 30 minutes for dough and filling + 90 minutes rising time + 10 minutes assembly time + 40 minutes baking time
Makes - 1 round loaf to serve 10
Ingredients
15g yeast
2 tablespoons olive oil
1 tablespoon honey
1 1/2 tablespoons salt
300ml lukewarm water
175g fine semolina
225g strong white bread flour
1 cup Swiss brown mushrooms, sliced
3 garlic cloves, coarsely chopped
1/4 cup fresh thyme
1 tablespoon olive oil for mushrooms
1 tablespoon balsamic vinegar
1/2 cup grated mozzarella
extra flour for dusting
Method
In a large bowl combine lukewarm water, honey, salt and olive oil. Add the yeast, give it one quick stir and set aside for 10 minutes. When the mixture has become bubbly and frothy, add the semolina and bread flour.
At this stage either knead by hand on a flour dusted surface for 10 minutes until dough is elastic or mix it using the dough hook attachment in a Kitchenaid (or similar processor) at speed 2 for 10 minutes. The dough should be soft, pliable and elastic. It should be slightly wet and sticky. Leave it in the bowl covered with a cloth for about 30 minutes until it rises and doubles in size.
While the dough is rising, prepare the filling. Heat 1 tablespoon olive oil in a frying pan over medium heat. Add the garlic and sauté for a minute. Add the mushrooms, thyme and balsamic vinegar. Sauté for 3-4 minutes until golden but still firm. Remove from heat and set aside.
Line a flat rimless cookie sheet with baking paper and dust the top of the baking paper with flour. Press the dough into a rectangle on the baking paper to about 1/2 inch thickness. Don't roll it. Press it.
Fill the dough with the mushroom filling in a straight line towards one of the longer edges of the rectangle. Top it with the cheese. Roll the edge closest to the filling over the filling. Then gently fold the other long edge over the first edge to get a long sausage shaped parcel. Using the baking paper, roll the the sausage shaped dough once or twice, backwards and forwards, to loosen the dough that might have stuck to the paper. Gently, shape the dough into a wreath and seal the edges of the wreath with a little water. Cover with cloth and leave to rise for a second time, about 30 minutes.
Meanwhile, pre-heat the oven to 200C (400F). After the second rise, place the bread dough in the oven to bake for 35 to 45 minutes (depending on your oven). The bread should be nicely browned.
Serve warm from the oven by cutting into wedges and serving with tomato chutney or pesto.
My Notes
Next time, I would double the amount of filling I have given here as I felt the bread needed more stuffing.
I was making this to cater to vegetarians, hence I left out some proscuitto. Mushrooms are neither vegetable nor animal, but funghi. They are suitable for vegetarians and are often classified under them.
[/print_this]