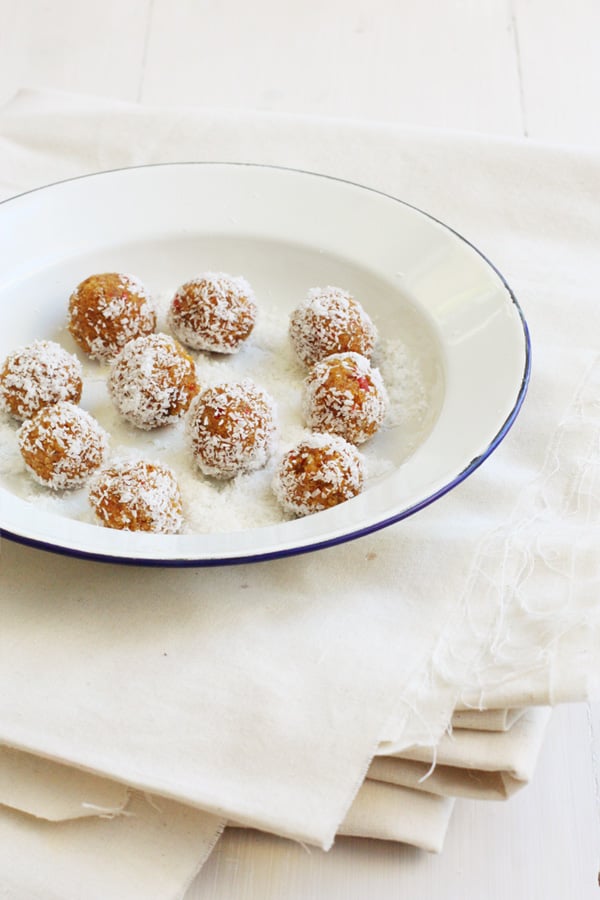 You put a group of women together and you could publish a cookbook. I say this because when women with even the slightest inclination towards food come together recipes are created, shared, swapped, evolved and adapted. It always happens to me when I get together with my friends for a cup of tea. Maybe, we should collectively write a cookbook??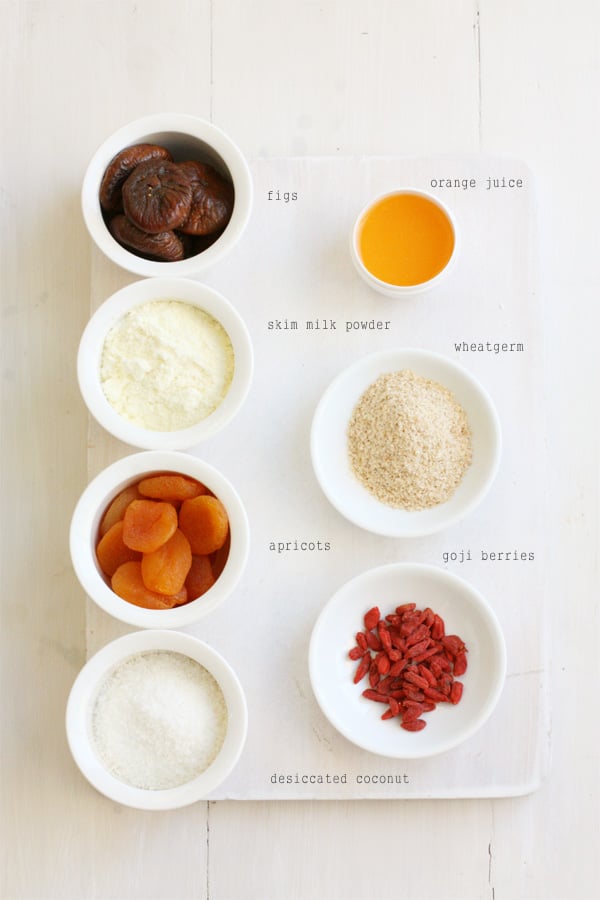 The inspiration for this particular recipe comes from my friend Julie who brought a round container of perfectly shaped apricot balls to tea last week. They sounded healthy and most importantly, my first born had a crack at them and loved them. So I decided to adapt her recipe to make one of my own.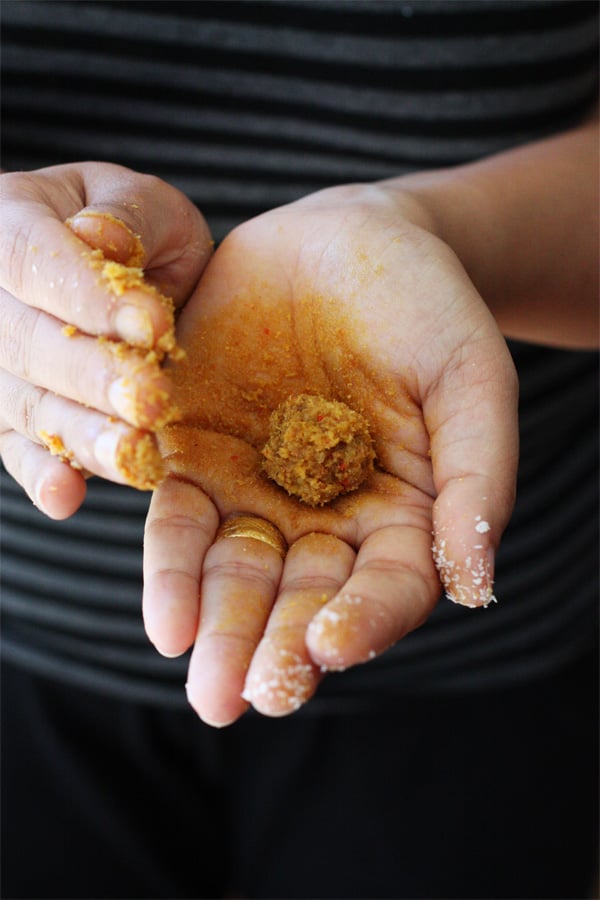 Lately, I have been playing with dried goji berries in my cooking and these little powerballs as I like to call them were a perfect excuse to use more of those antioxidant packed little red berries. The recipe is simple, no cook and ready in about 10 minutes. You can easily swap ingredients, keeping the quantities the same. My version is nut-free so I can easily include it in the school lunchbox. I am striving to have a box of these fruity balls handy for those occasional snacking bouts. And I am having goji berries everyday. That thought alone makes me happy.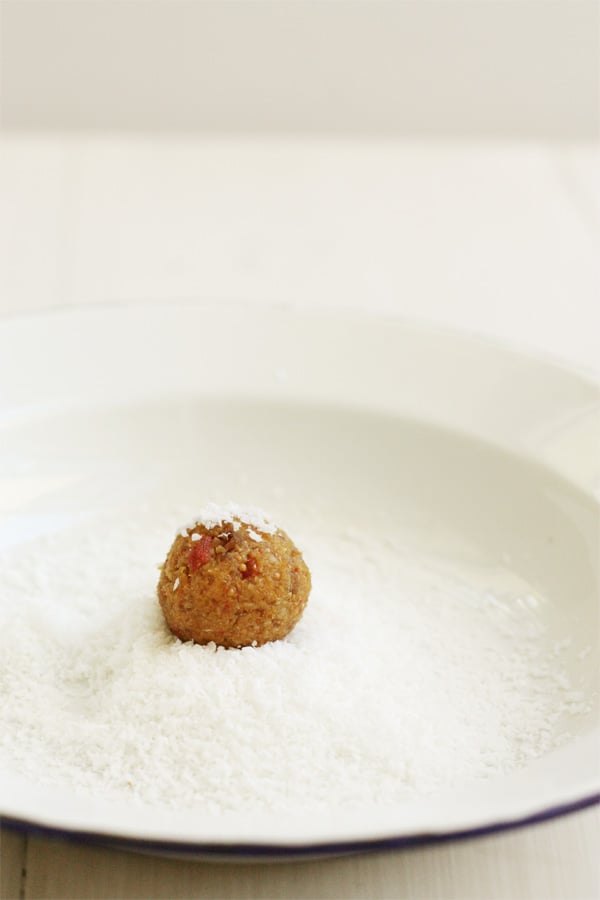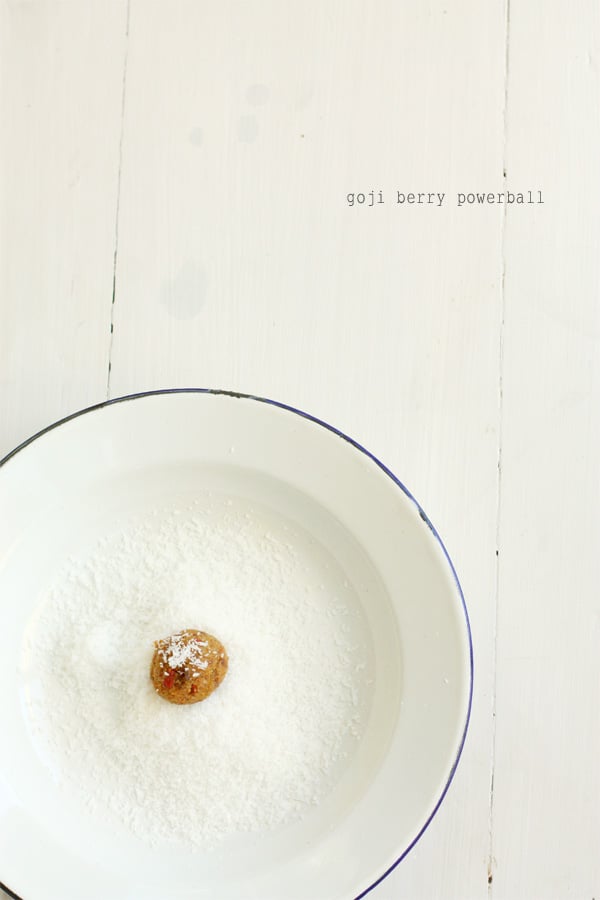 [print_this]
APRICOT FIG AND GOJI BERRY POWERBALLS
Preparation Time - 10 minutes
Makes - 30
Ingredients
1/2 cup semi-dried apricots
1/2 cup semi-dried figs
1/2 cup skim milk powder
1/2 cup desiccated coconut
1/4 cup freshly squeezed orange juice
2 tablespoons wheatgerm
1 tablespoon dried goji berries
extra desiccated coconut to roll the powerballs in
Method
Combine apricots, figs, goji berries, wheatgerm, milk powder and coconut in a food processor. Process on high for 2 minutes until the dried fruit is finely crushed. Add orange juice and process on low for 3 to 5 minutes until mixture is well combined and looks like a stiff dough ball.
Roll mixture into little balls the size of large grapes in the palm of your hands. Scatter extra desiccated coconut in a shallow plate and roll the balls in it to coat evenly with the coconut. Store in an air-tight container in the fridge for a healthy snack.
[/print_this]