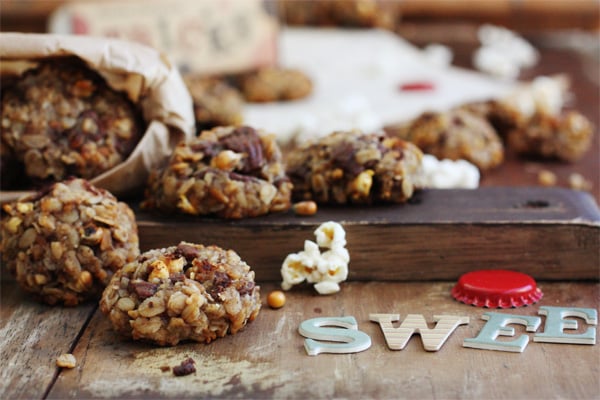 I have always fancied the idea of old travelling circuses. Right from when I was a child and watched
Dumbo
to a young girl reading Mr. Galliano's Circus by Enid Blyton under the covers at night to being fascinated by the mystery of
HBO's Carnivale
. The adventure and romance of the gypsy life and the lure of living in colourful caravans parked amidst a field of daisies in the countryside is very palpable to many.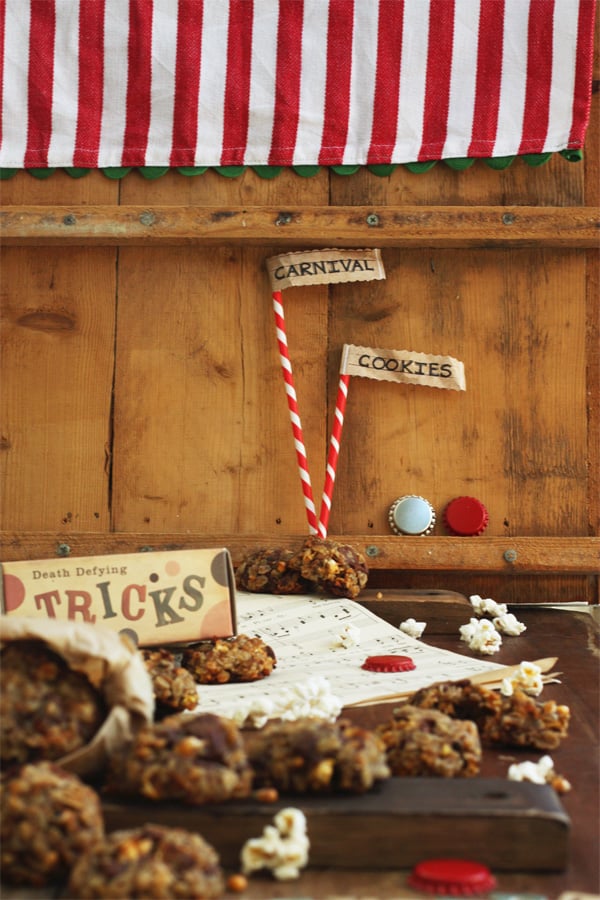 Then when you come across a recipe called Carnival Cookies, you just can't pass up the chance to bake it. Continuing my exploration of
Heidi's
Super Natural Every Day cookbook
, I was mesmerised by the ingredients in this cookie. Banana? Popcorn? Peanuts? A Popcorn cookie? Really? How insanely fun!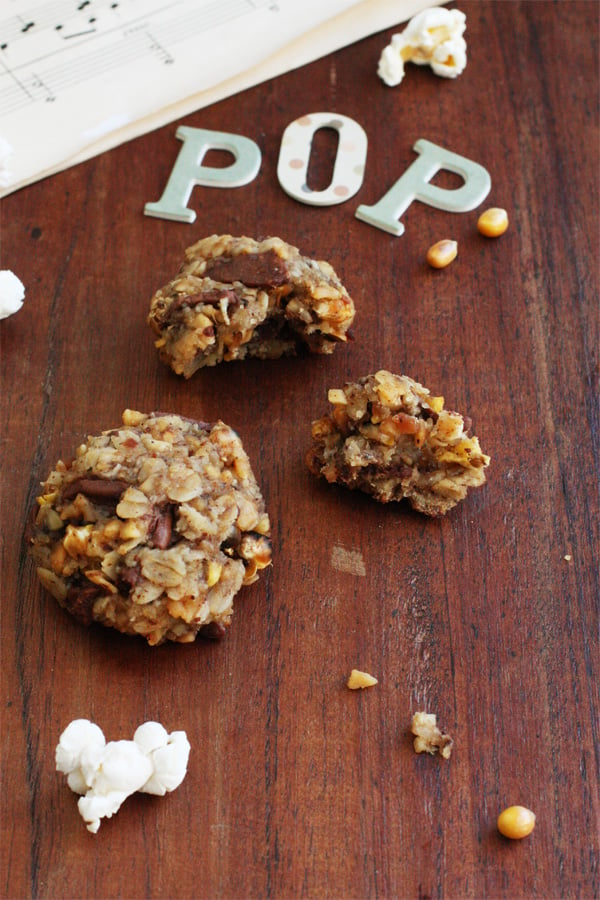 Heidi's book didn't have a picture of the cookies, so I was very excited to see how they would turn out. They looked gorgeous. And they had the makings of a proper carnival. I realised that the minute they started baking in the oven. The smell! Oh, the smell! They smelt like a banana cake smothered with buttered popcorns and kissed by milky chocolate. In other words, utterly divine! They tasted even better. There is a lot of crunch and texture to this cookie and the banana gives it a cake-like chewy middle which we all loved. There is no sugar and it is amazing how the sweetness of just 3 bananas powers up these cookies.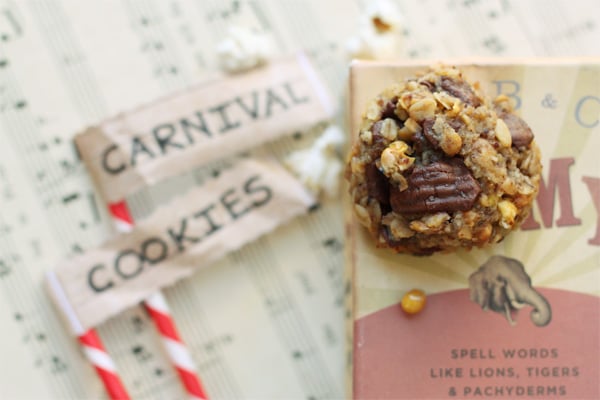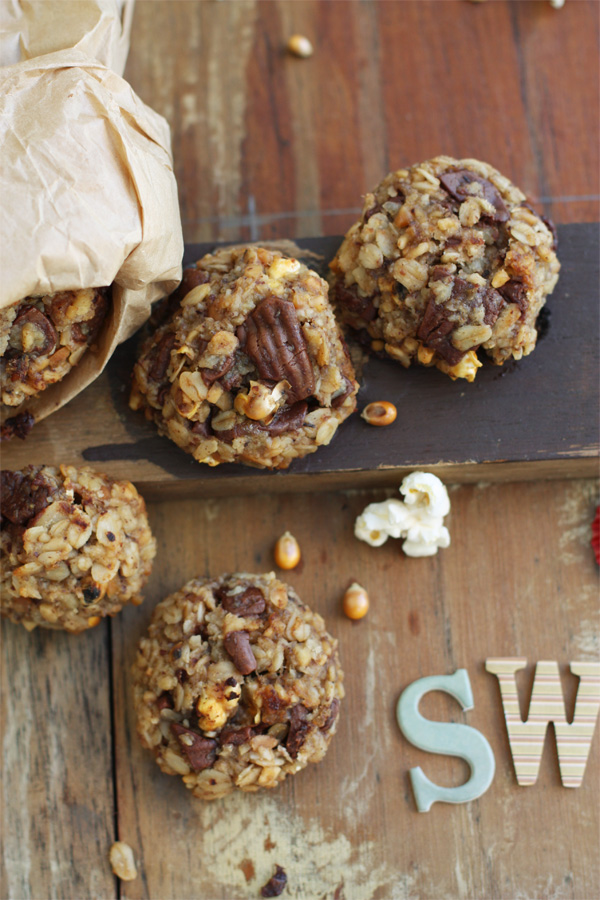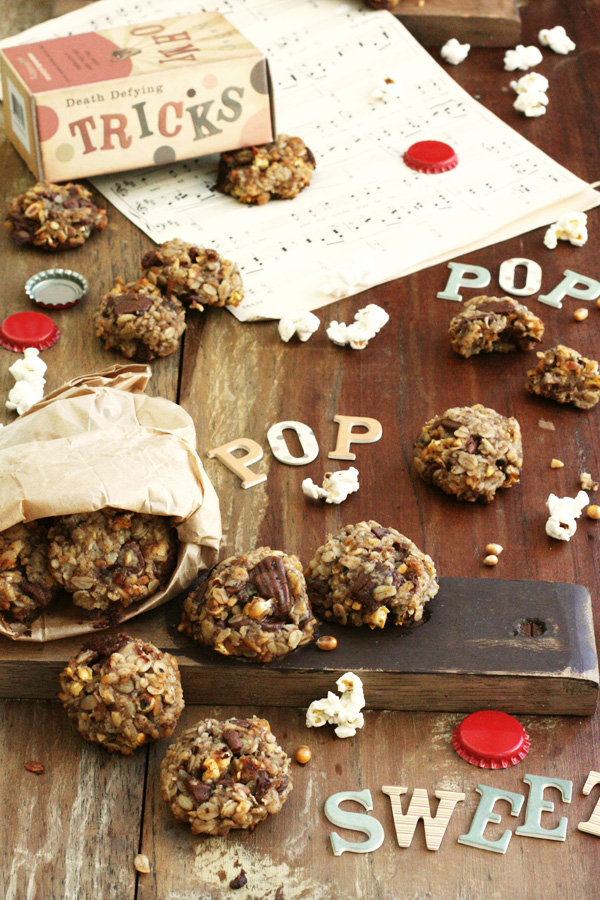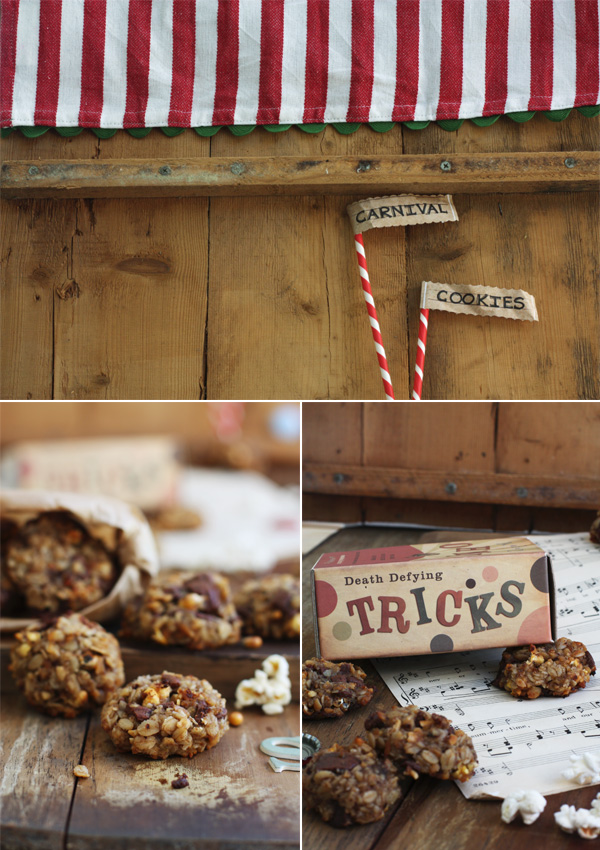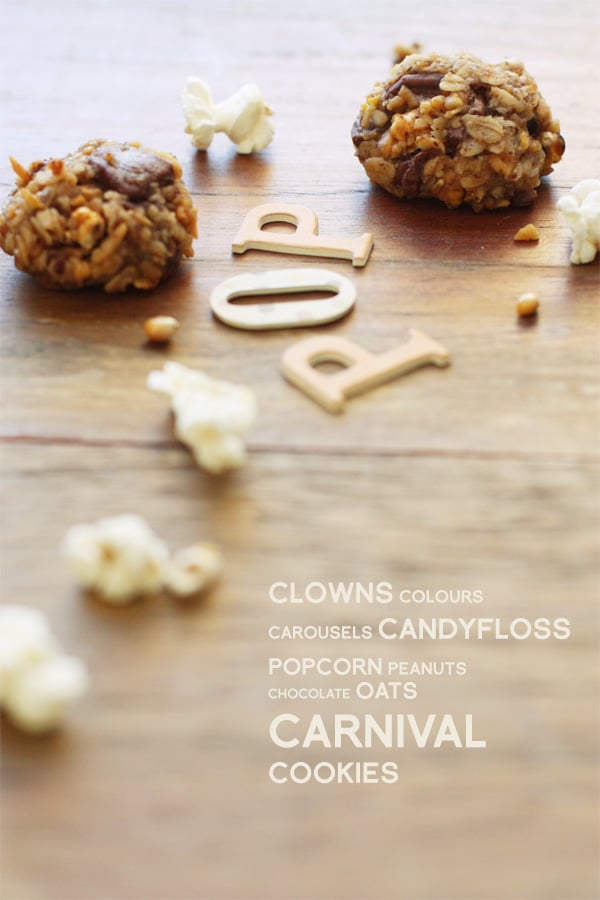 [print_this]
CARNIVAL COOKIES
Preparation Tim -20 minutes
Baking Time - 18 minutes
Makes - 24
Ingredients
3 large over ripe mashed bananas
1 teaspoon vanilla extract
1/4 cup macadamia oil
1 1/2 cups rolled oats
1/2 cup hazelnut meal
1 teaspoon baking powder
1/2 teaspoon ground cinnamon
1/2 teaspoon mixed spice
1/2 teaspoon salt
2/3 cups crushed peanuts
1 cup choc chips or broken chocolate bits (I used a smashed hollow chocolate bunny)
1 1/2 cups popped corn
Method
Preheat the oven to (180C) 350F. Line two baking sheets with baking paper.
In a large bowl, combine the bananas, vanilla and macadamia oil. Set aside. In another bowl, whisk together the oats, hazelnut meal, baking powder, cinnamon, salt and mixed spice. Add dry ingredients to wet ingredients. Mix to combine. Fold in the chocolate, peanuts and popped corn.
The dough might appear looser than most cookies, but that is alright. Heap 1 tablespoon worth of cookie dough on to your palm and shape small balls. Place about 1 inch apart on baking sheets. Bake for approximately 15-18 minutes until golden, swapping the baking sheet back to front once during the baking process. Remove from oven and cool on a wire rack. Will stay just fine in the fridge for a week in an air-tight container.
[/print_this]
January 2012 Spotlight - Heidi Swanson
Every month on Cook Republic a food hero will be featured. It could be a celebrity chef, food blogger, cookbook author, a cuisine, an ingredient or a trend. In January 2012 the spotlight is on food blogger and writer Heidi Swanson of the 101 Cookbooks fame. With one of the oldest and most original voices in the ever burgeoning world of food blogs and photography, Heidi is a much celebrated cookbook author. Join me as I explore Heidi's food philosophy to the fullest and cook from her most recent offering, Super Natural Every Day which is published by Hardie Grant in Australia.